Fat City!
When you were a kid did you ever fall in love with something a little silly? Did you want to be a veterinarian, or a princess, or learn to fly? Did you love The Lion King, the color pink, or tigers? Most people outgrow their childhood loves, but I didn't. And I fell in love with a decade and I never outgrew it. The 1950's spoke to me. I loved the bright colors and simple designs. I knew from the time I was a small child that I wanted a 50's inspired home.
Sorry! I didn't mean to bug you with my chatter. I'm Penelope Baxter, but everyone calls me Penni. You wanted to cast an eyeball on my pad? No sweat, that would be crazy cool! My house is built on the foundations of a two story family house built in 1952. They had a few too many ankle-biters and needed a bigger place. Later the abandoned house became a hang out for punks, cubes, and other bad news. Somehow a fire got started in one of the upstairs bedrooms destroying the entire top floor and some of the bottom as well. That's how it stayed until I bought it.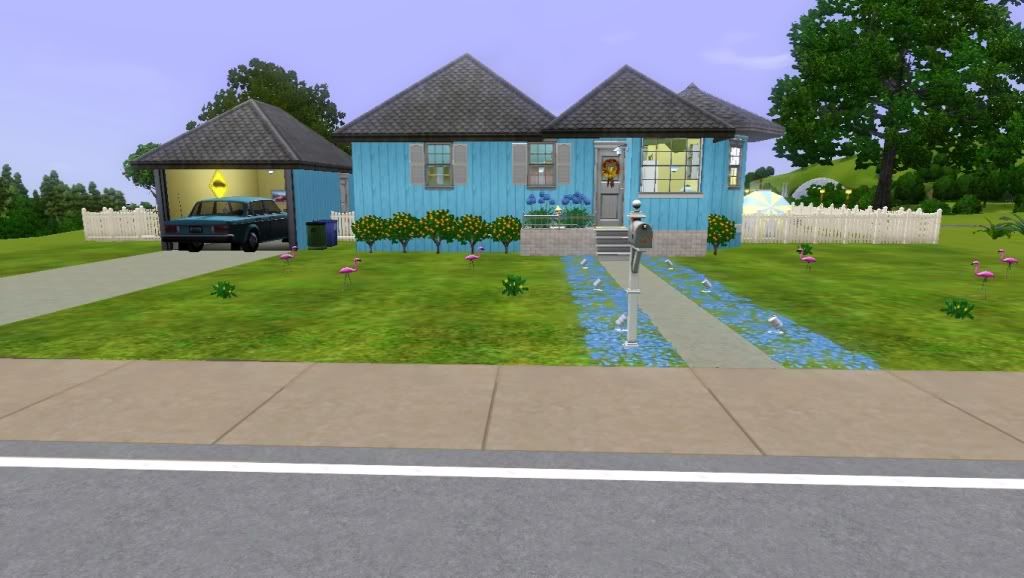 Isn't it neato now? I think it's the bees-knees myself. Me and my friends call it Fat City, no matter what you call it it's a great place to hang.
The living room is hip! Bright colors and lots of things to do. You can plop down to watch a flick or page through a great read. I've got a fish too, his name is Carl. There's also a dining area to refuel at and it's got enough room for two!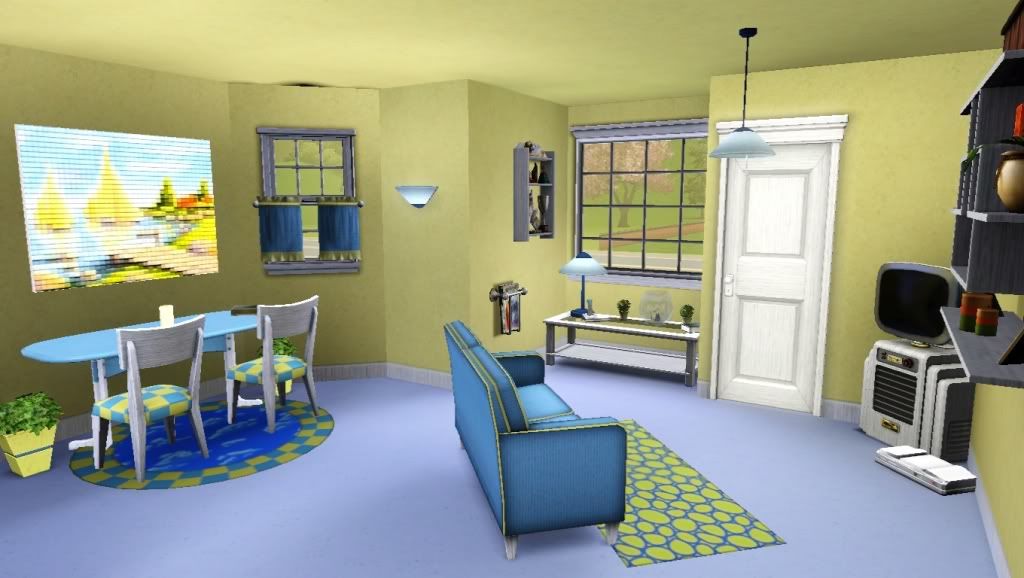 My kitchen is attached to the living room. It's out of sight! Really razzes my berries. The matching colors and hi-quality appliences make it the perfect place to whip up a slurg or two for you and your best girlfriends.
My bedroom is one of my favorite places in the house. Covered in pink, I know, it's far out. The bed is so soft, it's the perfect place to nod off and pile up some Z's. The ceiling is covered in clouds too, how hep is that? I've also got a small study area to the side for reading and homework. Yes even a radioactive cat like me has to do homework. I love the big mirrors. They make the room look so much bigger and help me getting ready to be beautiful.
By the way, don't tell anyone about the teddy bear. Don't want people to think I'm a square.
My garage is where I stable the horses, obviously. I also keep my bike inside and have all the tools for fixing it or the chariot. My set of wheels may look like a tank, but it's really a hopped up rocket. Built the engine myself, with some help from Denny. He's my beau. Sometimes we go out to the passion pit in my rod and play some back seat bingo. Not that you needed to know that.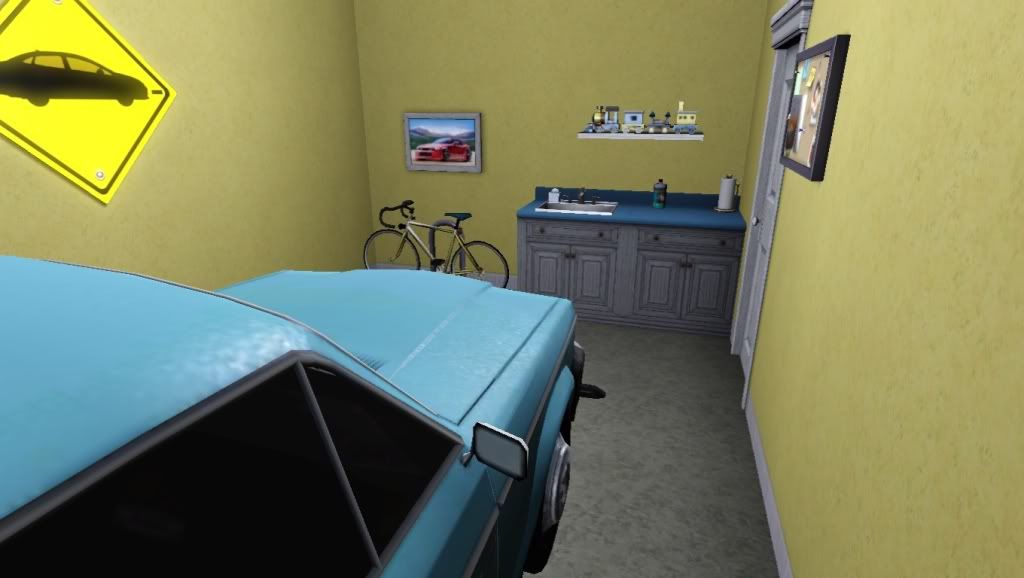 I love my garden. I learned to grow things from my aunt who raised me, she owns a farm. I grow all my own fruits and vegetables in that garden, and catch fish in my very own pond! My friends get a kick out of me growing my own food. I think it's pretty cool too. That bench under the big tree? Of that's where me and Denny sit sometimes, it's way romantic. He's so full of apple butter, makes me feel like a queen! We bash ears for hours out here, just the two of us.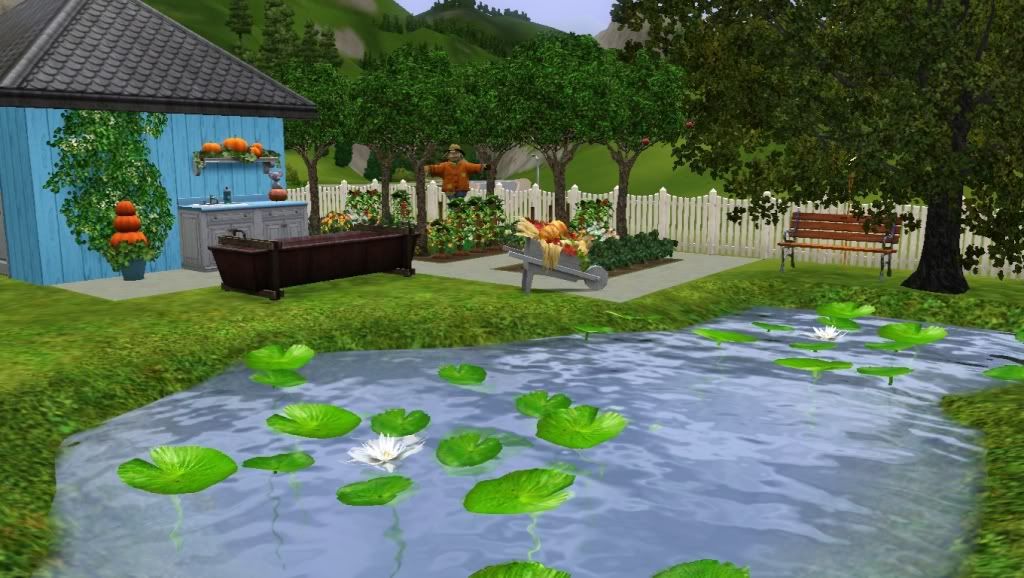 If there's one thing I love to do it's hang with my friends. That's why I installed the pool and built such a big patio area. My friends can come swim, have a drink, or just sit by the fire and gab all night long. The stereo pumps out sounds and we all dance and dance, chasing the gringles away.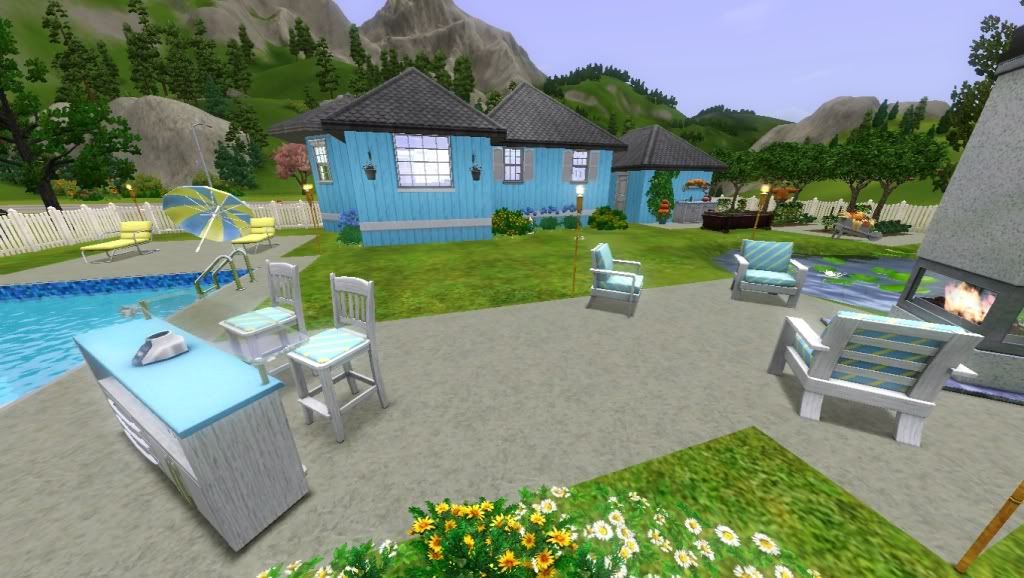 In this picture of the grounds you can eyeball the garden, the pond, the pool, the padio, and the garage where my storming machine sleeps.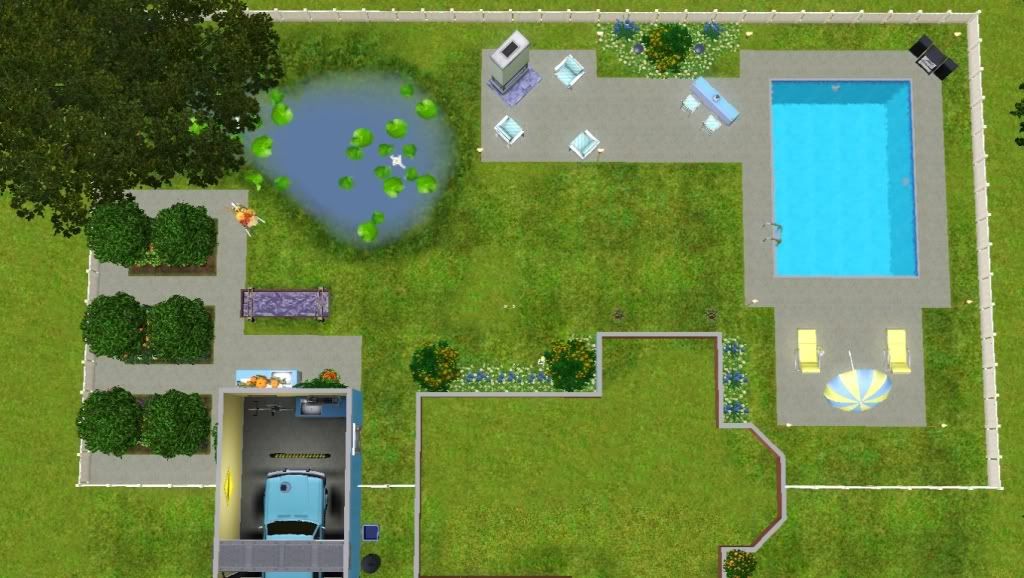 The floor plan shows the main room of the house which contains living room, kitchen, and dining area. You also get a good shot of my L shaped bedroom, including my study area. And of course there's the bathroom. Got to have one of those.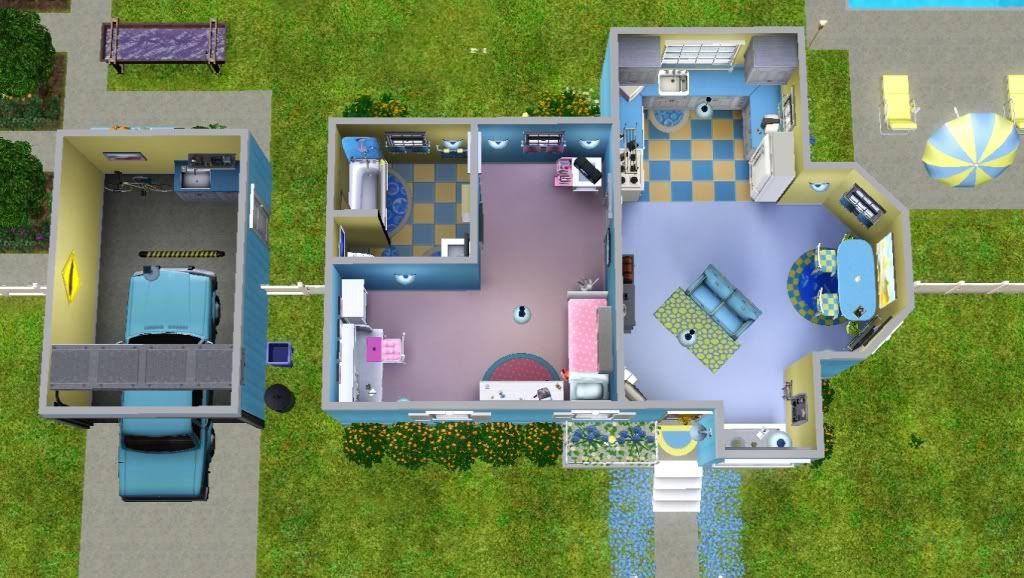 No CC was used in the making of this house
whatever that means. No animals were harmed either.
If you couldn't exactly pick up on my smooth lingo you can check out this page:
Slang of the 1950's
If you study hard we could have some kookie conversations.
Now I've got things to do, so put an egg in your shoe and beat it!