Steve's House
I was getting a modern vibe from Steve all along, but then I started doing his house and he quickly mentioned that he didn't like *current* modern, but instead like mid-century modern with a lot of dark wood, silver, and spritzed with black and white. I asked him what his favorite color was and he said '
circles
'. Rather a polarized kinda guy. Well, it's working well for him in the business world. While he is living and what could be a typical (if there is such a thing) architect's loft, he doesn't have the skill set or the right characteristics to ever achieve that dream. He is progressing nicely as a stunt double and hopes to make a horizontal move into the entertainment business soon building on his experience in show business.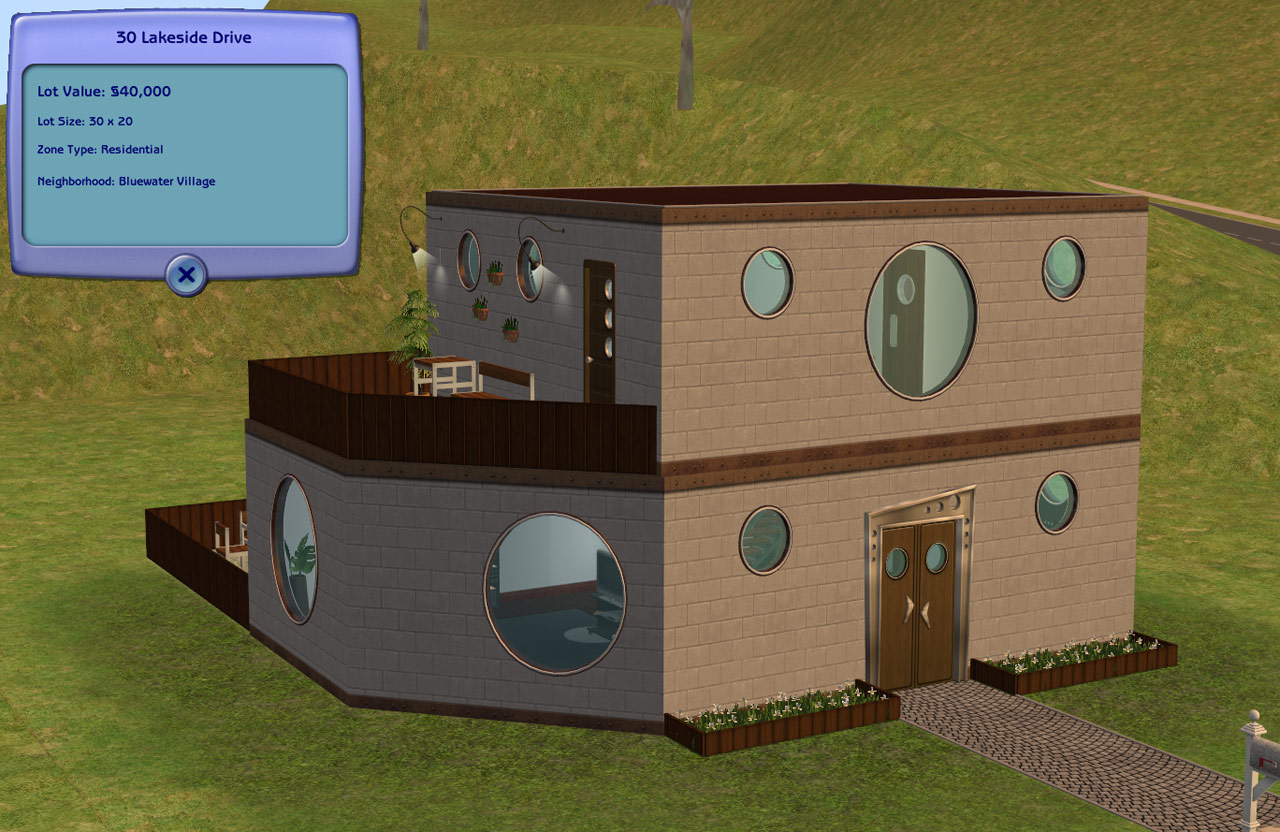 Because I like the page staying clean, I think I'll do the rest of my images behind tags from now on. It seems to work well. Be sure to click through and read my descriptions!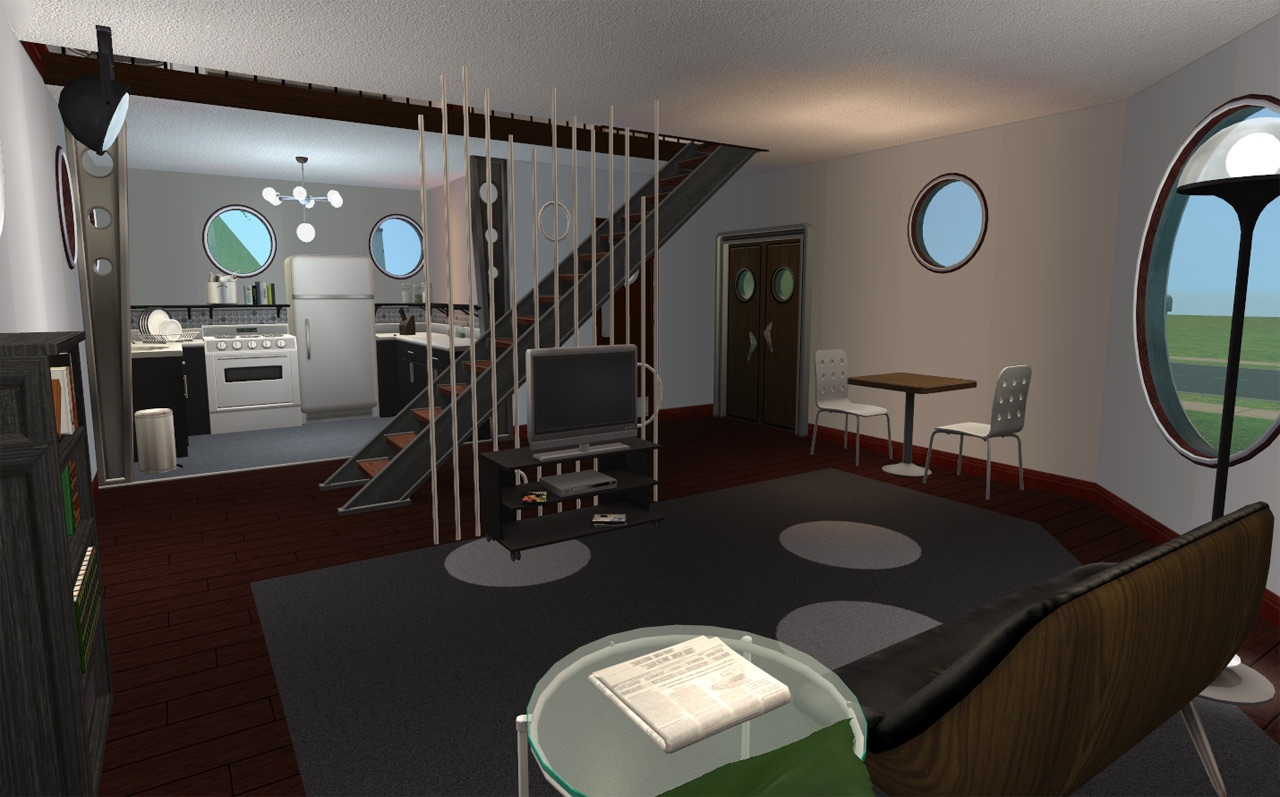 I didn't struggle with the placement of the stairs as much as everyone else seemed to. They are just kind of there and I worked around it. The main floor is very open concept and features a tv and socializing area, a small dinette, a kitchen, and in the corner is a half bath with a massage table.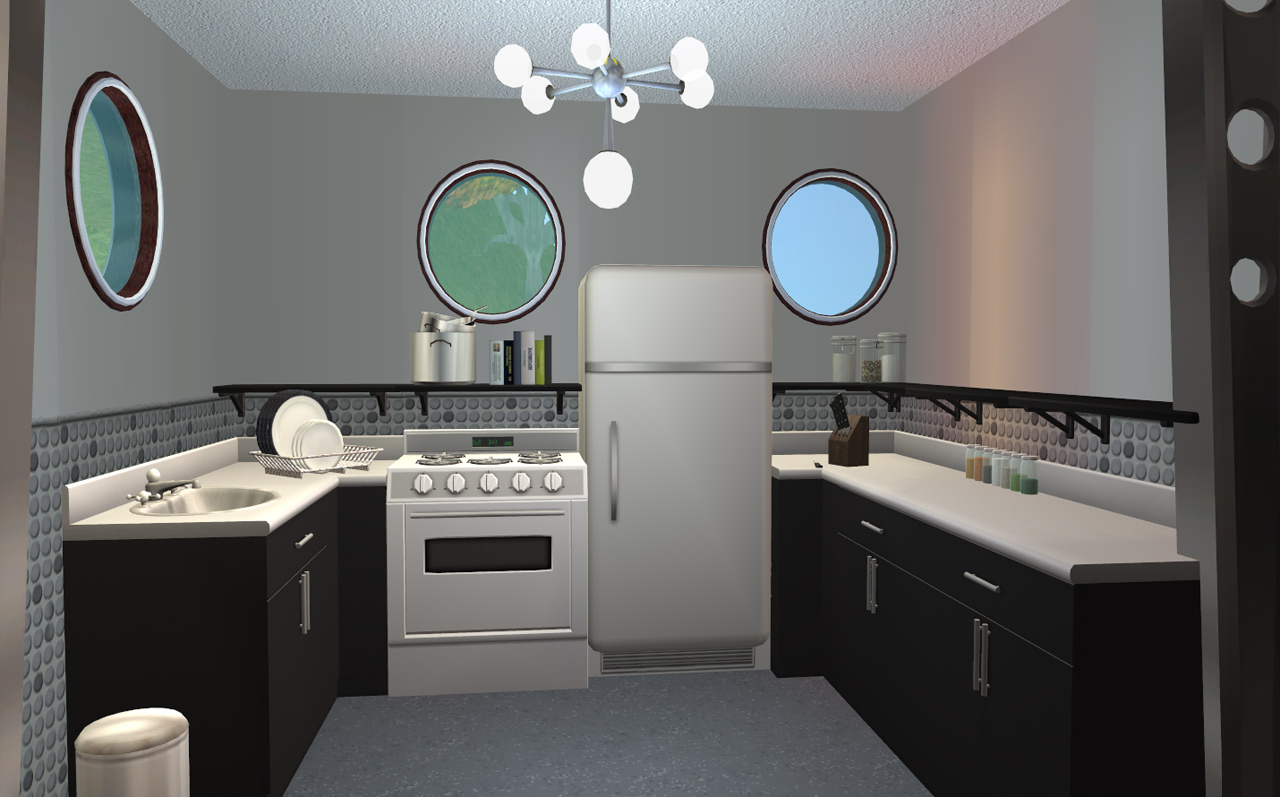 The kitchen has a retro yet modern vibe to it. Steve doesn't do too much cooking, so the pots and the cook books reside on the same shelf above the stove. On the right side is the prep area and the left is the washing up area.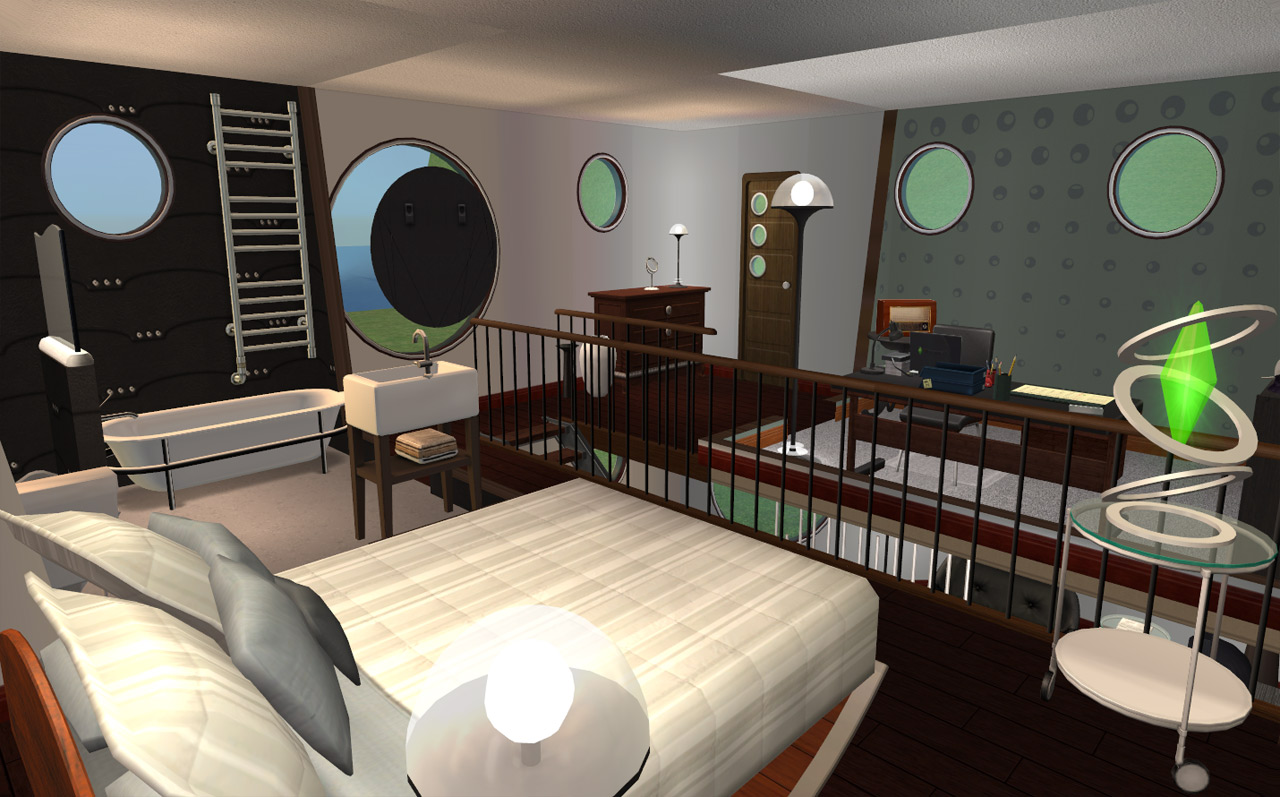 I tried taking individual images of the upstairs and it just didn't look as impressive as the place really is. I'm purposely loosing 2 points by knocking down the wall separating the skinny hallway and the master bedroom. This opens up the whole area and give Steve the option of having over a lady-friend.

The bedroom is now loft style, overlooking the living room. See the top down view to see the structural changes. The dressing area is on the other side of the stairs, not that far from the bathroom. The upstairs bathroom is a four piece, with a heated towel rack.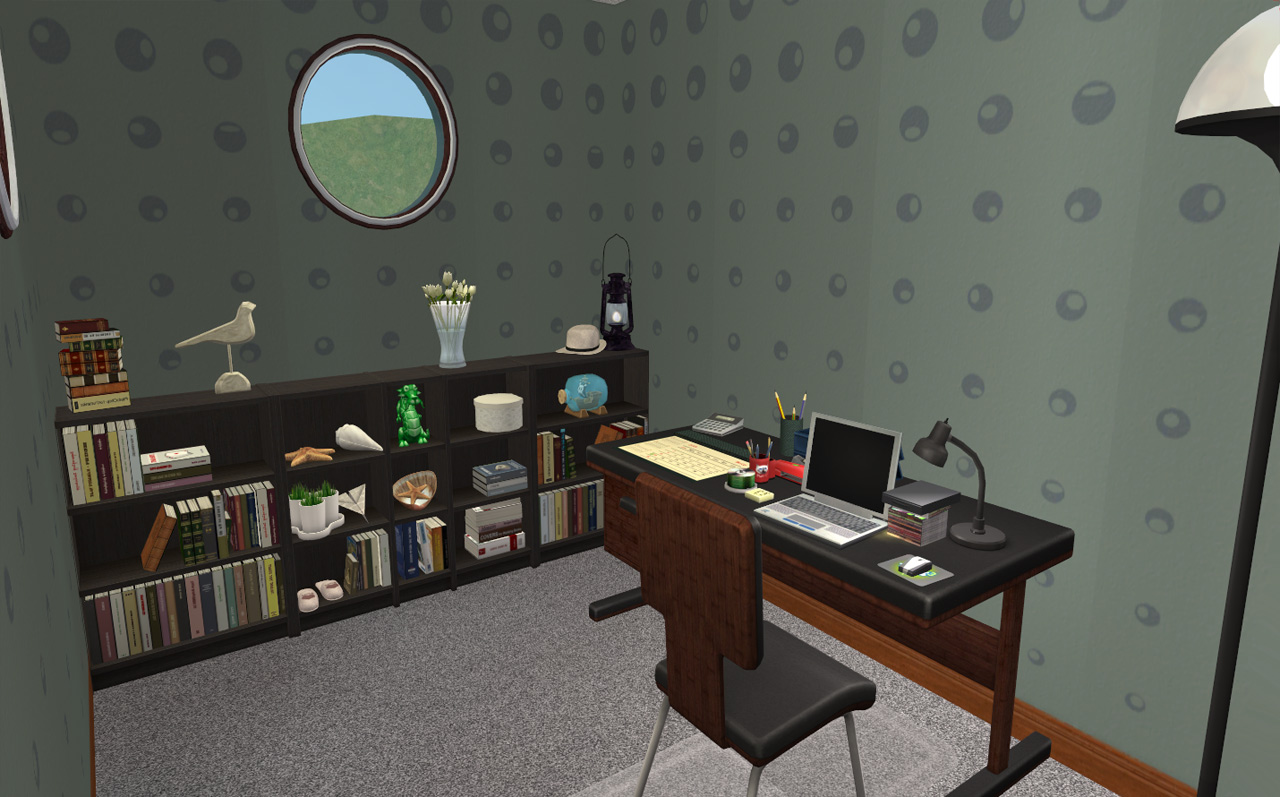 Steve's office is an important room to him, and it's much more cluttered and 'lived in' than the rest of the house looks because when he's in his office he likes to have all his inspiration around him, and when's he's not in his office he likes to be able to clear his mind. There is a sweet radio directly below the camera so he can listen to all his best music.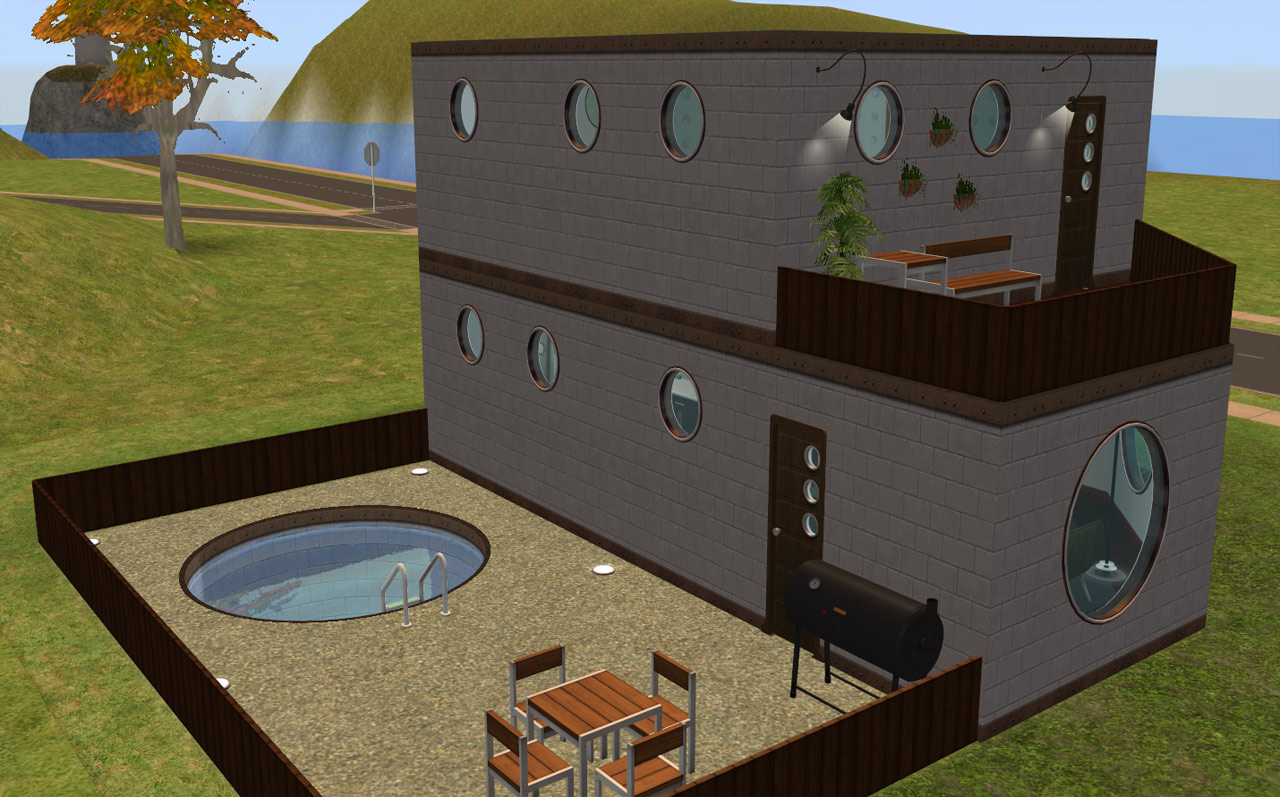 The back yard and upstairs deck are two more places where Steve can unwind. He enjoys swimming in the pool and has already had friends over for a barbeque. The upstairs deck is a great place to take a break from his work, and is perfect for watching the sunset.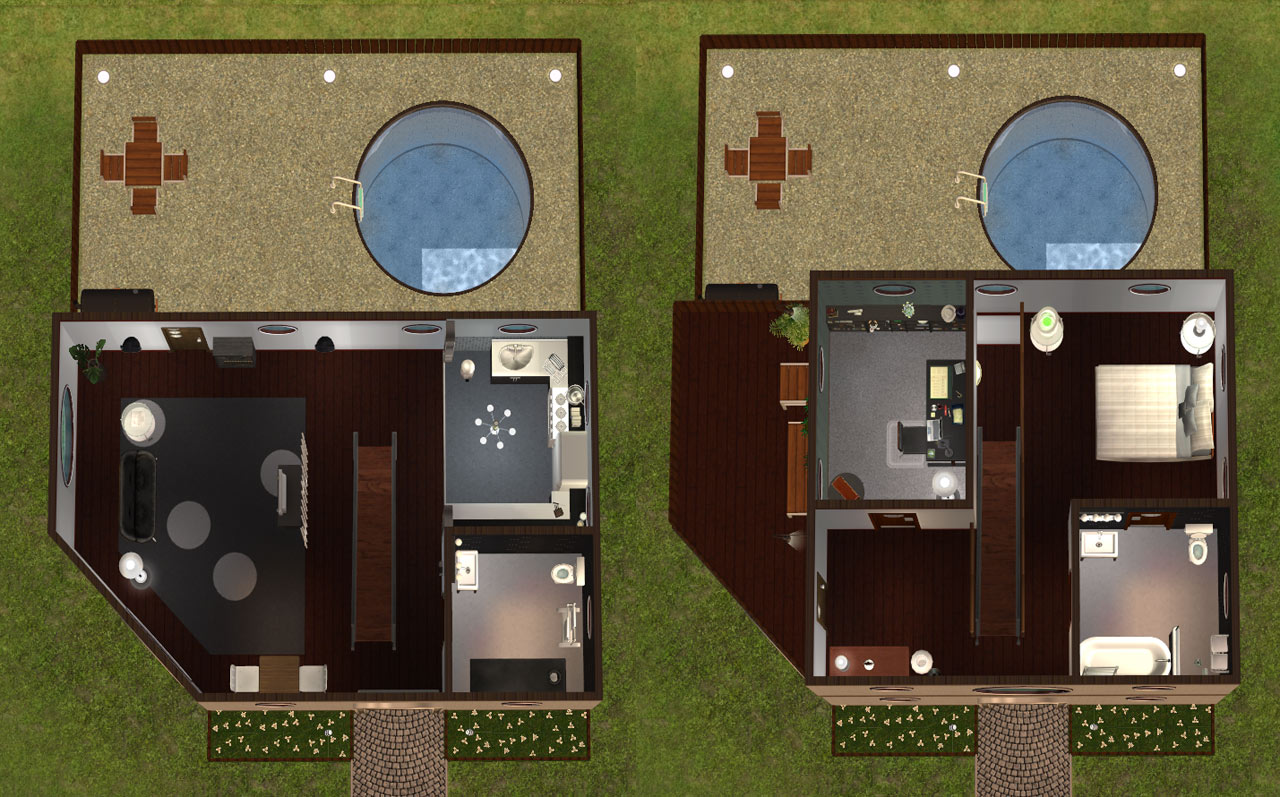 Well, that's about it! I combined these images because my game is in wide screen and they just fit. I have one less image to make up for it. Top down collage image complies with all MTS screenshot guidelines.