House 2
Once again, apologies for being late.
I had the worst day yesterday. As you know I'd planned to work on this during my lunch and that fell through, so then I'd planned to finish that night. However, the Village of Lockland police, OH had some very different plans. My commute home is supposed to only be about 20 mins. It was regular driving conditions and I was going the same speed as the rest of traffic. I have the double misfortune of having a highly visible bright blue (love the color regardless) car with out-of-state plates. He went after me like a shark. I was just having a terrible day yesterday so after being handed a whopping $140 speeding ticket for going 10 over (keep in mind, the same speed as everyone else on the packed highway - 60 in a 50) I ended up crying for 10 mins on the side of the road. He had pulled me over on the left, so even getting back into traffic after I'd dried my eyes enough to see was difficult. I was bawling again by the time I got home. It was just the last little bit that pushed me over the edge. My bf tried to comfort me, but didn't have much success until I pointed out that he was wrong and indeed they can and do give out speeding tickets for even going 1 over. He didn't believe me, so I pulled out the pay schedule. That's when he saw that it wasn't a ticket from Cincinnati, but rather the Village of Lockland. His immediate response was "oh, Village of Lockland? Those guys are DICKS." And then proceeded to tell me that this crappy little municipality was entirely surrounded by Cincinnati and that they had about 3 miles of the interstate they can patrol and that they are starved for tax money and that they've actually been sued by the State of Ohio for aggressive ticketing. That made me feel a lot better, but I'm still broker than hell so $140 is a frick lot. The rest of the city usually only charges around $70 for a ticket, and these douches are double that. Those guys are DICKS. I did not have a good day yesterday. Today has gone much better though.

Without further ado, the Winters family home: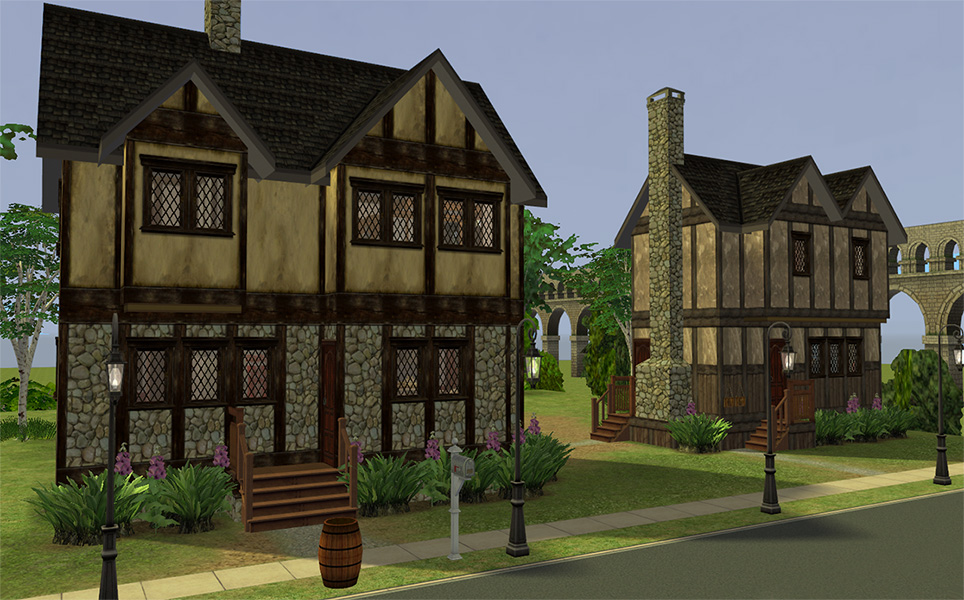 The Winters are potters by trade, Joshua learned it from his father who passed away not too long ago. His mother gifted him the house as a wedding present and she took to the apartment above their family shop. She has a spacious bedroom and a sitting room in which she does her sewing. She is renown among the town for her sewing skills and sells clothes she makes alongside the pottery in the shop downstairs.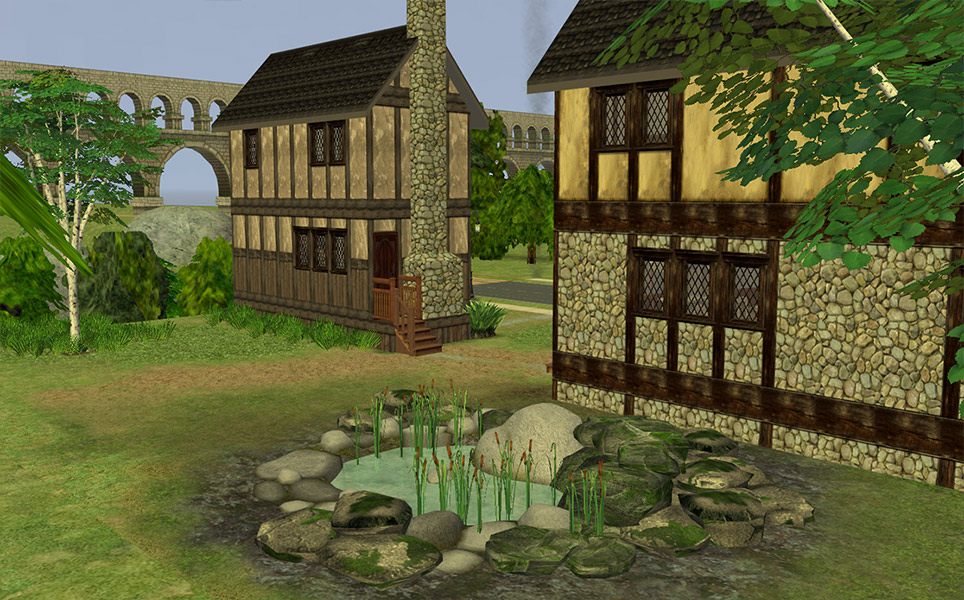 This lovely pond in the back is actually a hot spring and it is rich with good clay to work with. After a hard day's work, both the current and Winters past have enjoyed relaxing in its therapeutic heat.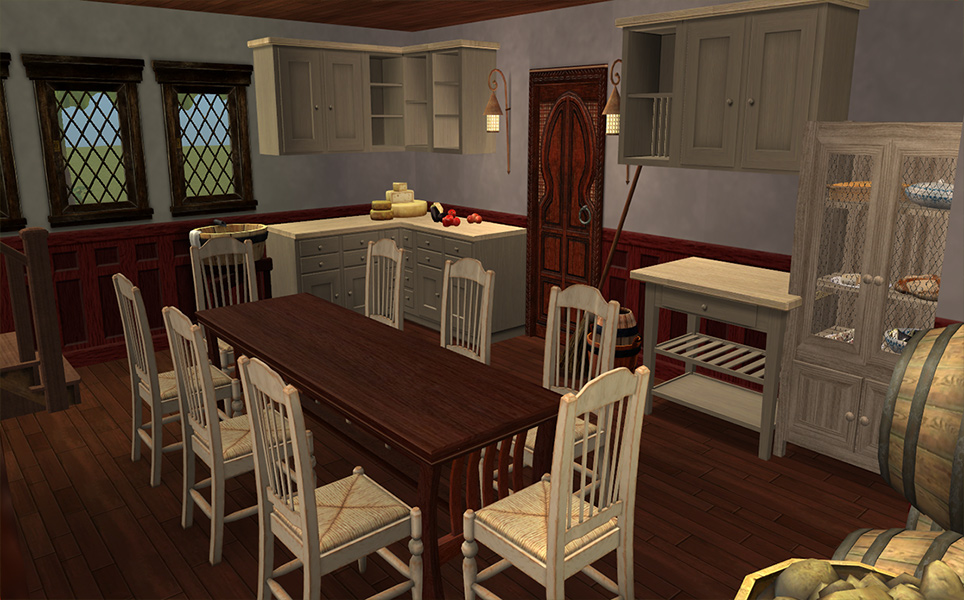 Walking in the front door of the main house you are greeted with a more modern kitchen. Lora wanted to update the kitchen when she moved in, and Joshua didn't see why not.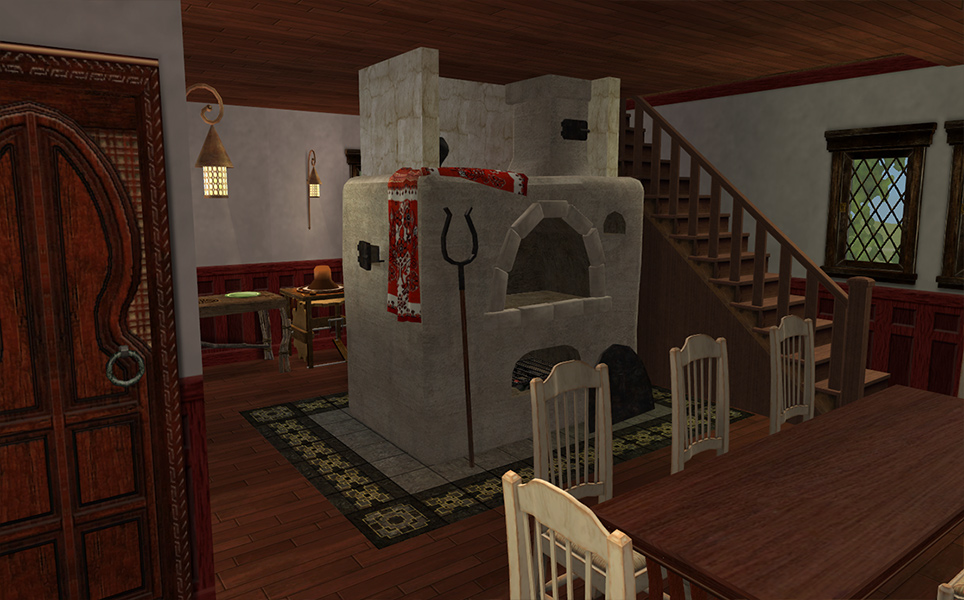 The center feature of this house is it's large hearth which doubles as a kiln to fire the pottery. The pottery workshop is in the back of the house.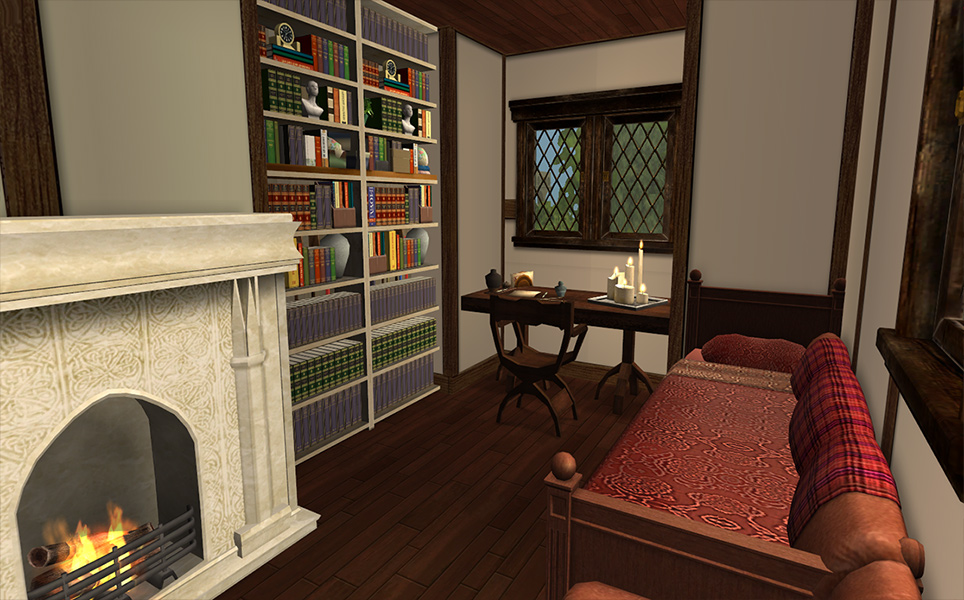 Moving upstairs, the second bedroom was outfitted as a library/guest room until the couple start to have kids (which will be soon of course!). The day bed is useable as both a bed or as a sofa to curl up with a good book.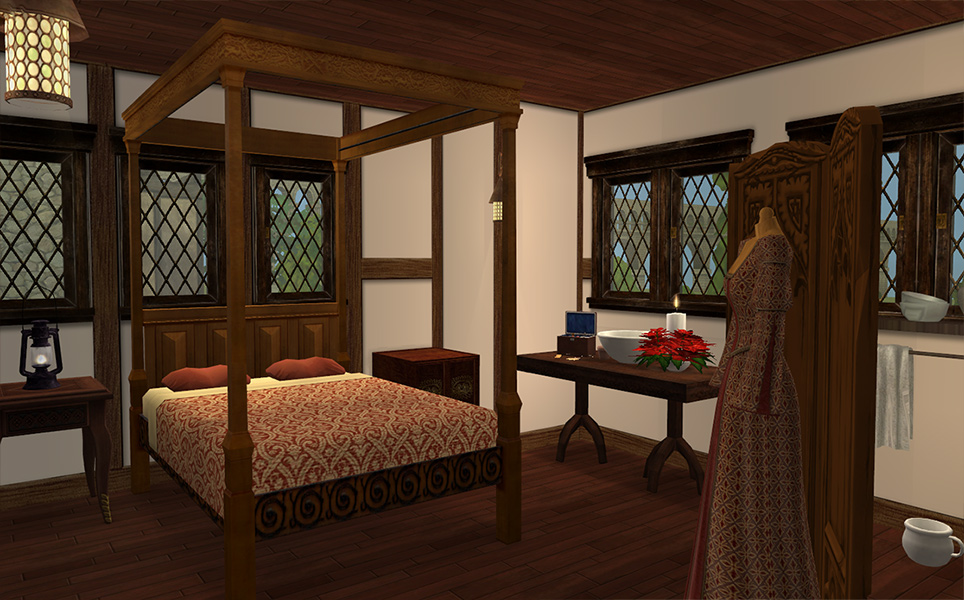 The master bedroom is simple and clean and uncluttered. Lora likes it that way, she enjoys the airy feeling that is uncommon in houses now-a-days, it's very modern of her! She also insisted on shaded lanterns as opposed to exposed candles, another new 'trend' that her mother-in-law doesn't believe will catch on!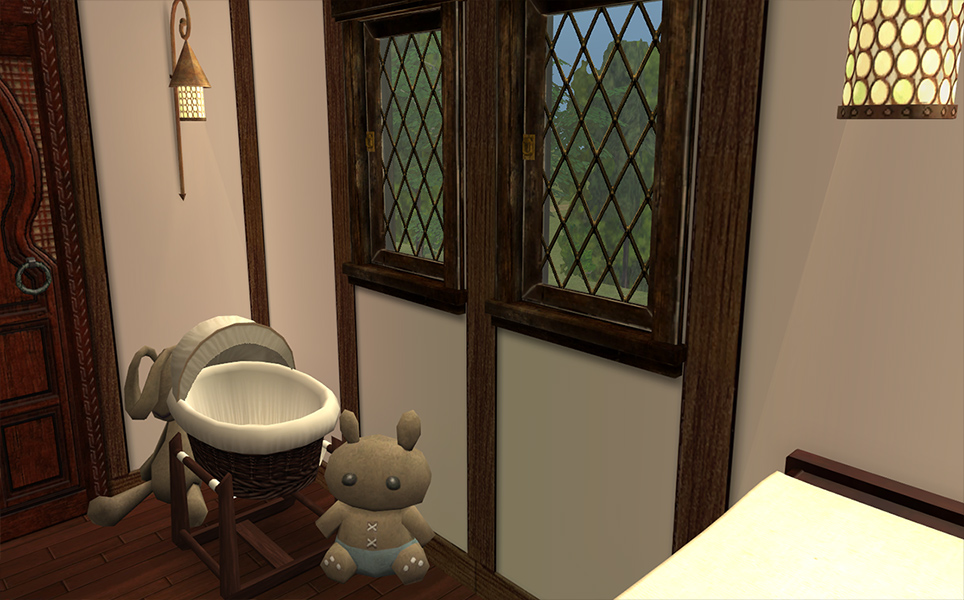 Because the whole point of marriage back in the day was to produce children, a nursery has to be included for any couple of childbearing age! Contrary to what is common now, many couples didn't get married until after the girl was pregnant, just to be sure that the couple were fertile. Makes me rethink the purpose of Chastity belts!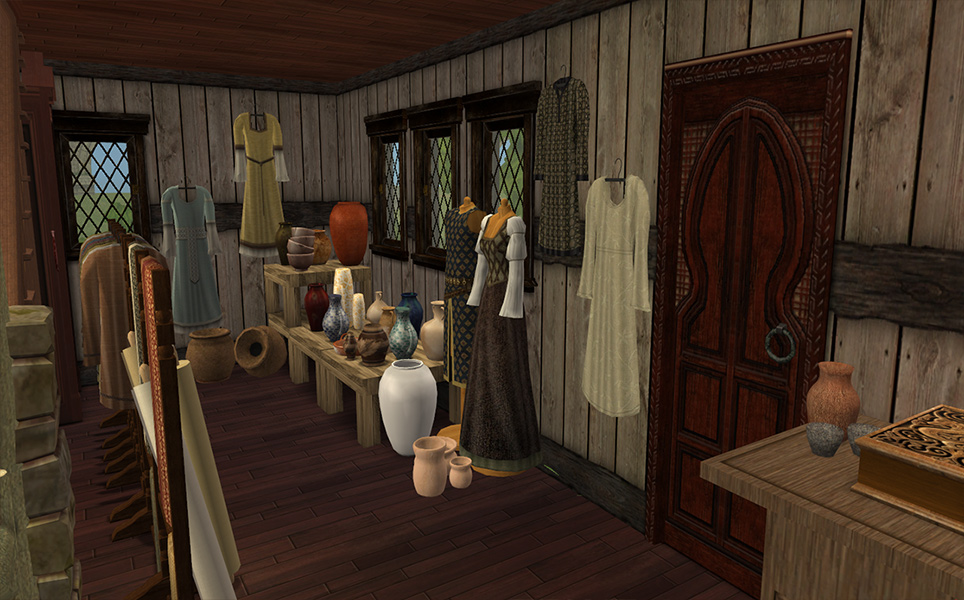 The Winters own and run a shop in their smaller building. They sell pottery and clothing. This view shows off the pottery very well.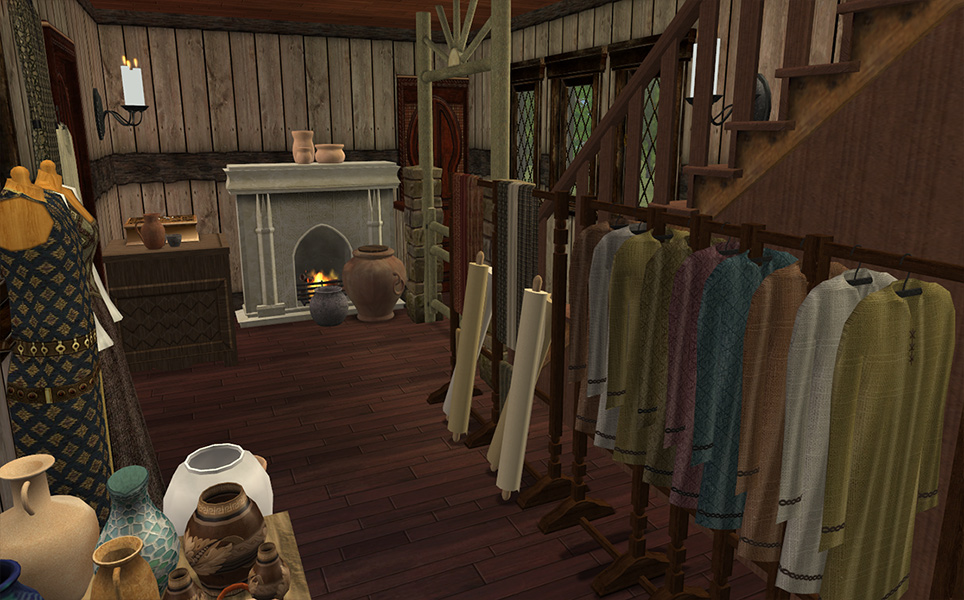 And this shot shows off the clothing nicely.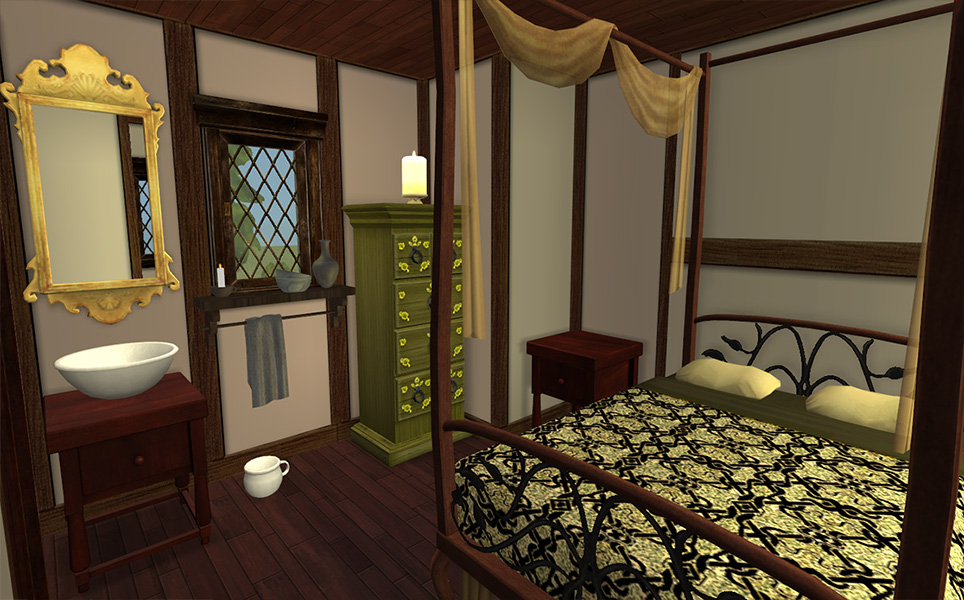 Upstairs, Edney has her own bedroom with a full sized bed. Just because her husband is dead doesn't mean her love life has to be! While she isn't a Romance sim, she isn't a prude either and will occasionally enjoy the company of a gentleman during a long Winters night...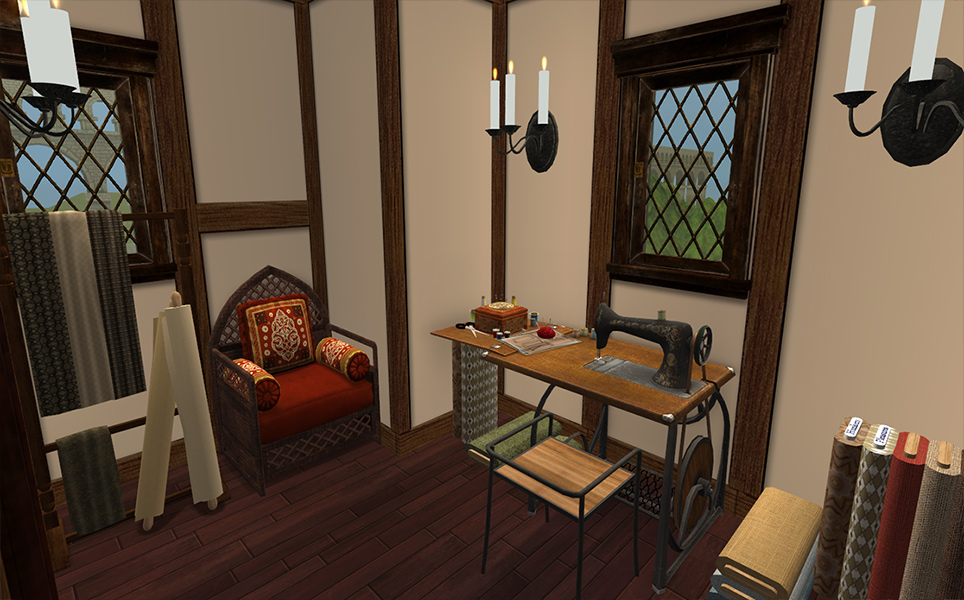 Because no lady likes to be cooped up all day in her bedchambers, Edney has a sitting room in which to do her sewing. She has her favorite old red chair nearby to have a comfy place to do her needle-pointing.