House 4
I keep thinking the house I just did is the best one I've done so far and this one is no exception! >.< I've really been enjoying making gorgeous ponds and streams.
Johanna and Lowrie Miller are still fairly new to running his family's flour mill. The two were sweethearts since they were little. He used to dream of becoming a knight, but sometimes you just can't change your stars. She was a dancer growing up and still performs occasionally at court. They are both very loyal subjects and proudly display the kingdom's banner - a golden eagle on a field of burgundy. The don't have a lot of money but are making ends meet by selling bread in addition to ground flour.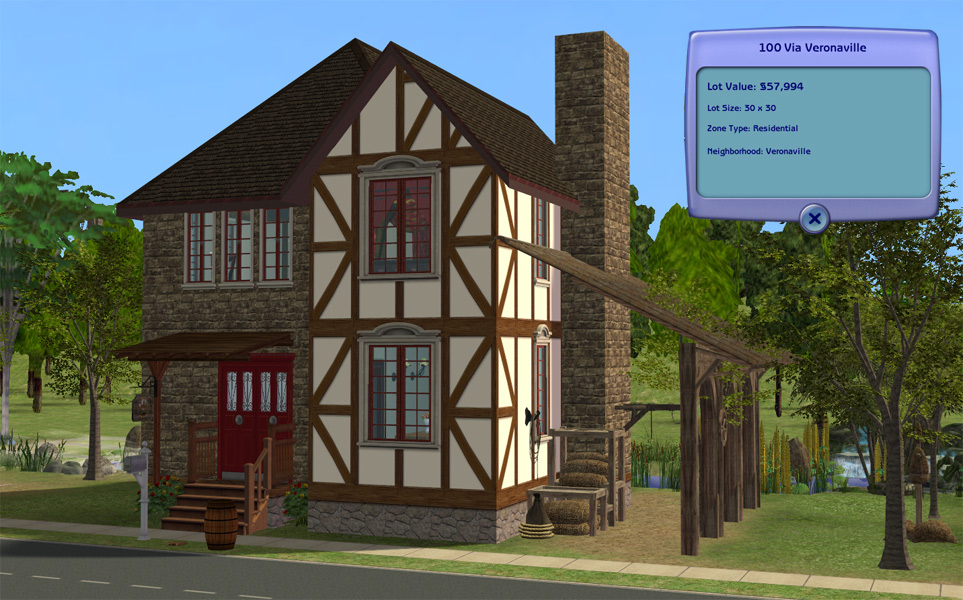 The roof overhanging the side of the mill provides storage for some of the larger pieces of equipment used at the mill and Lowrie still likes to go out and practice against his burlap dummy.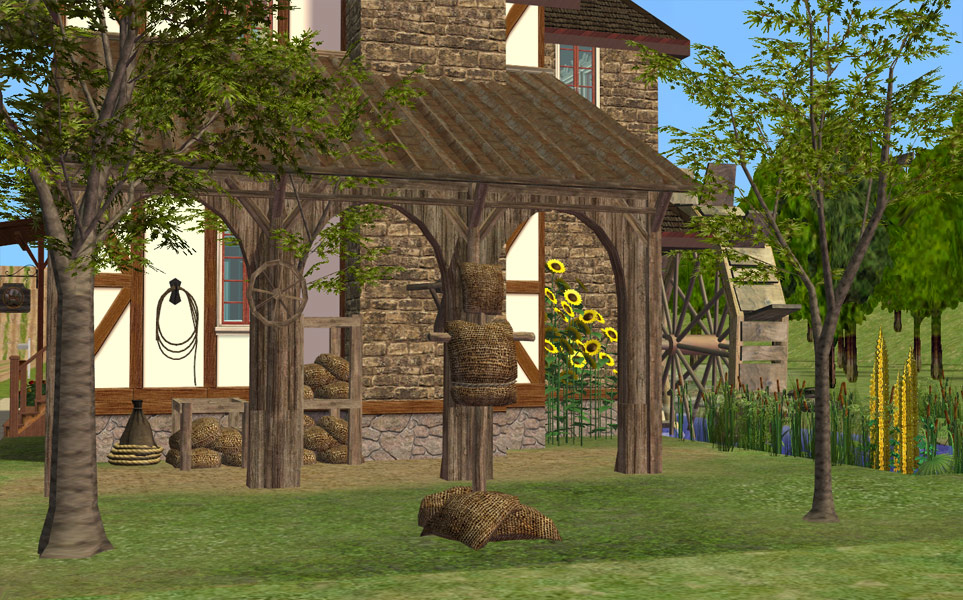 On the other side of the house is where Lowrie chops wood to keep their bread oven going. Lowrie isn't all work and no play once again, he's gotten very proficient with his axes.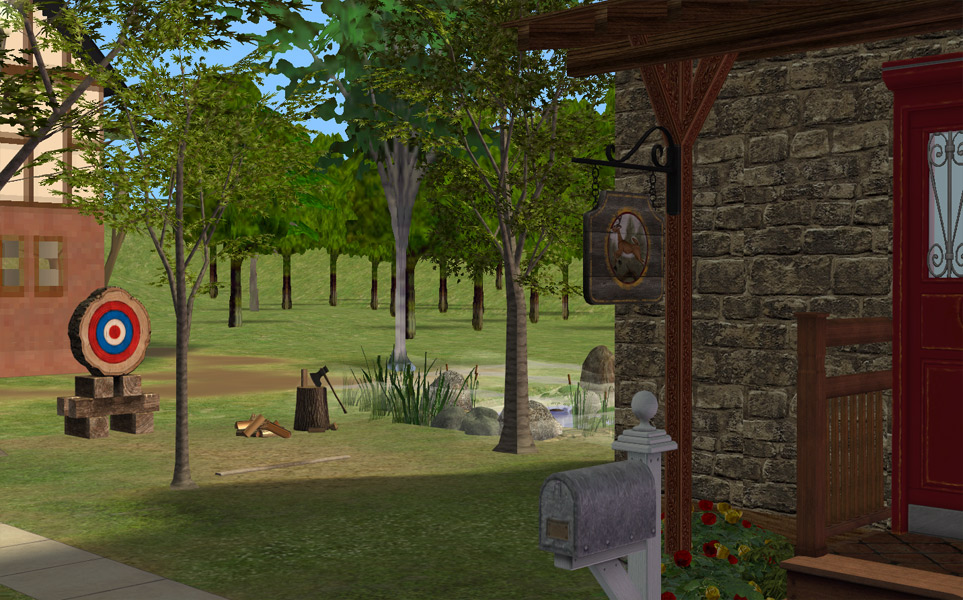 This is the real heart and soul of the mill, the water wheel. The little stream is calmer upstream near the small falls, and it picks up speed just past the mill. The location of the mill was chosen because of the surrounding rocky geography.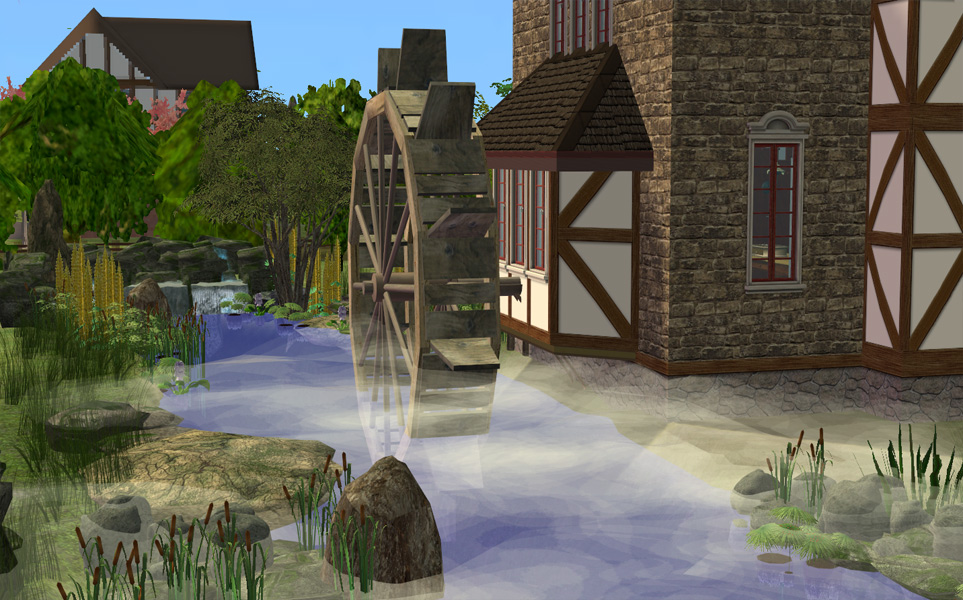 Moving inside we see the main store room. This is where most customers pick out what they'd like to purchase. It connects to the main mill room.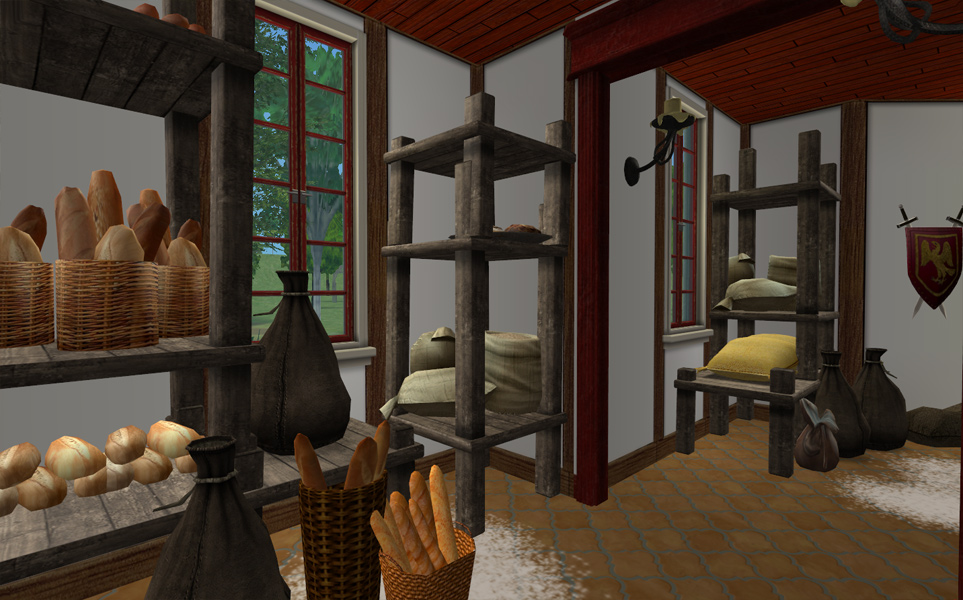 Walking through the store room in the back is the mill room. The water wheel outside turns a grindstone inside thus grinding the grain into flour. Some farmers bring their grain to have ground for themselves and others just sell it directly to the Millers.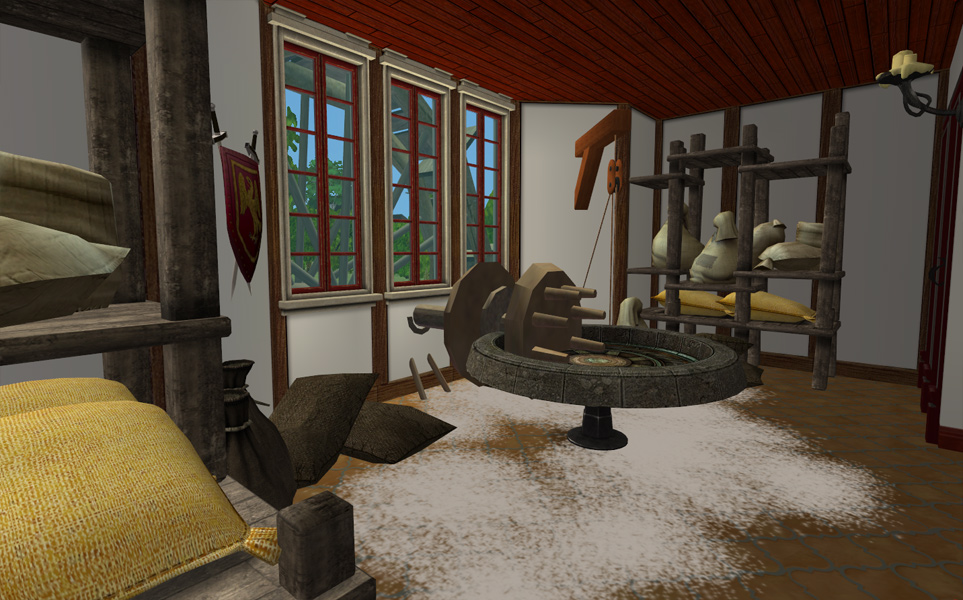 The grindstone has a lever to disengage it from the water wheel for repairs or during storms. The pulley is useful in moving large heavy sacks of flour, though often times it seems like just as much ends up on the floor.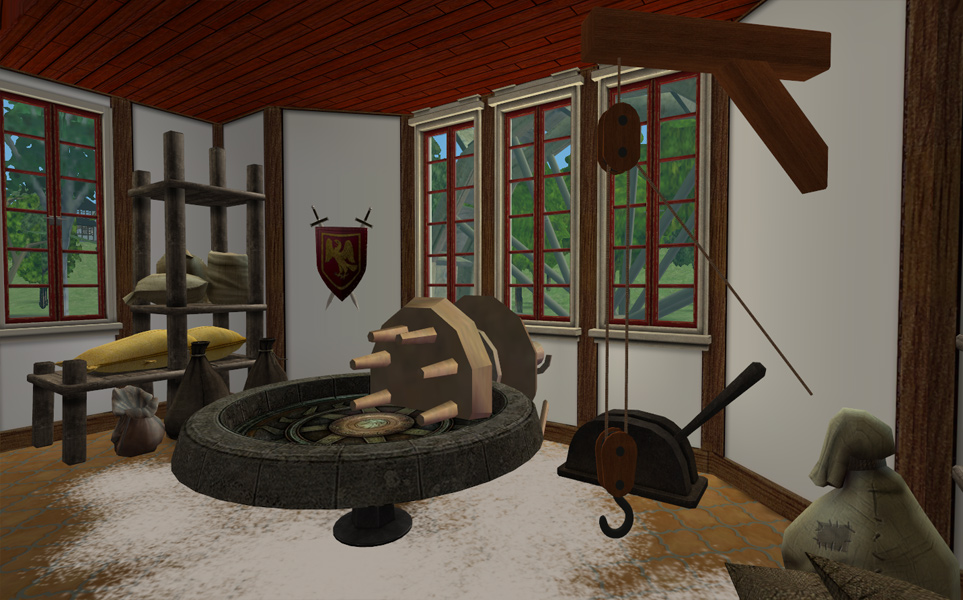 The kitchen is Johanna's domain. She has gotten quite good at making airy yet filling breads and biscuits. In the corner is a chair and a small cradle. Johanna is looking forward to the day she will be using them to keep her smallest children close.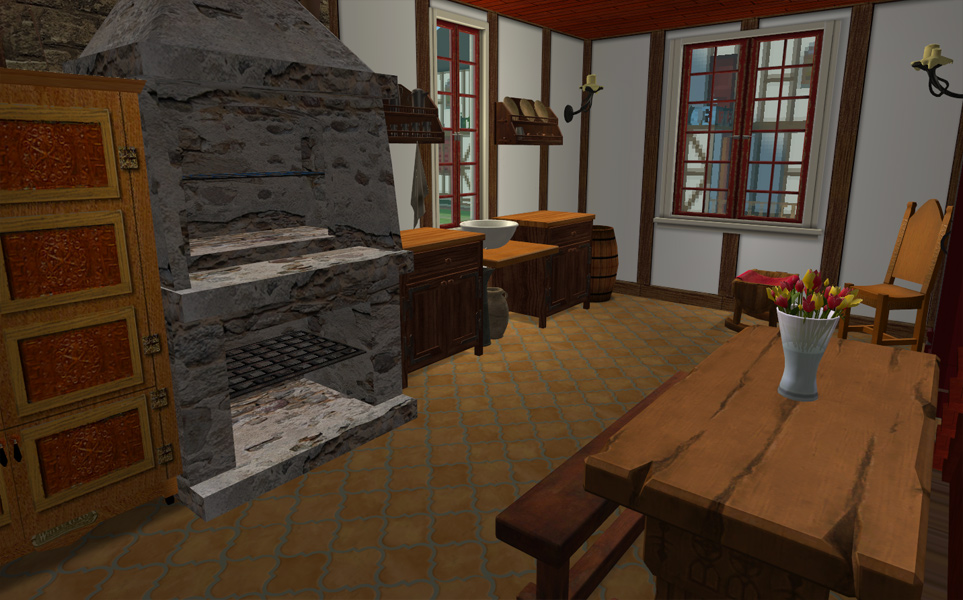 Upstairs is a small landing with a comfortable couch. The Millers wanted to provide some of their customers with a few comforts while they wait on their grain. Having them wait upstairs gives them relief from all the dust from the grindstone, and since all the upstairs rooms have doors, they do not lose any privacy.

The largest room is currently being used as an entertaining room. Johanna practices her dances there. She is also learning the harp. Lowrie has been known to fiddle once or twice but is often keeping time for Johanna with drums. The room has a day bed for visitors, and there is plenty of space to add more beds in the future. Johanna is aware that as she gets older and starts having children she will be spending less time dancing and more time changing diapers, so her hobbies will have a natural fade out. While a little saddening, she is looking forward quite eagerly toward motherhood.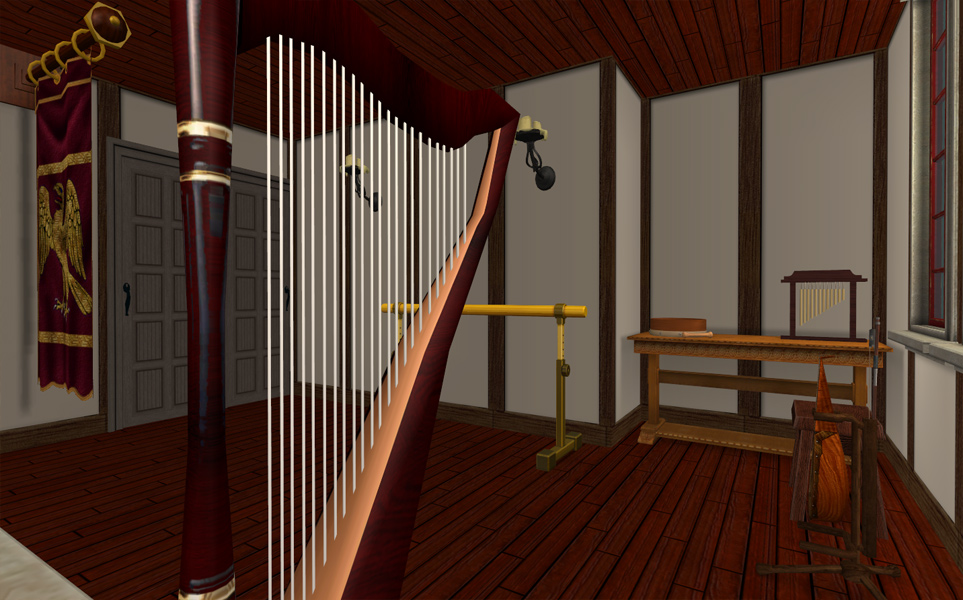 Lowrie and Johanna's bedroom is warm and cozy with a fireplace and heavy curtains. Johanna hates being cold, and even though its summer, she still pulls the bed curtains closed at night.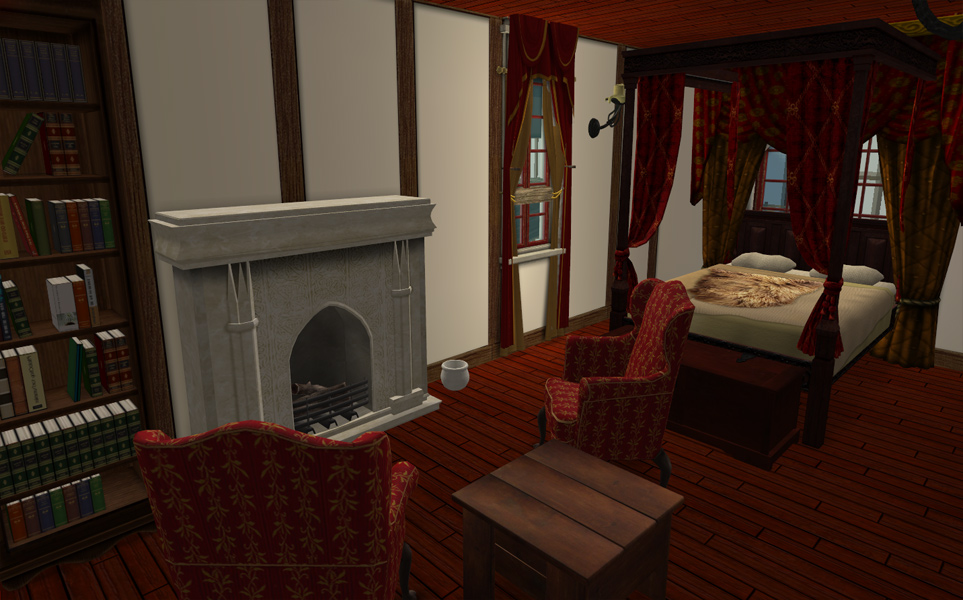 The little nursery is small but cozy. Lowrie's mother used to spin in her babies' rooms. She said it helped calm them down and lull them back to sleep. Johanna decided to put straw in the nursery because a funny little man with a very long and strange name said it would bring the baby good fortune - marrying royalty and blessed with gold and riches he said. Runtle..? Rumple... something was it? He really was a funny little man, talking in riddles and rhyme and nonsense. He even said the Miller's first born would be a daughter. Johanna figured straw couldn't hurt and put two bales in the corner for good measure. It does help the room smell nice at least.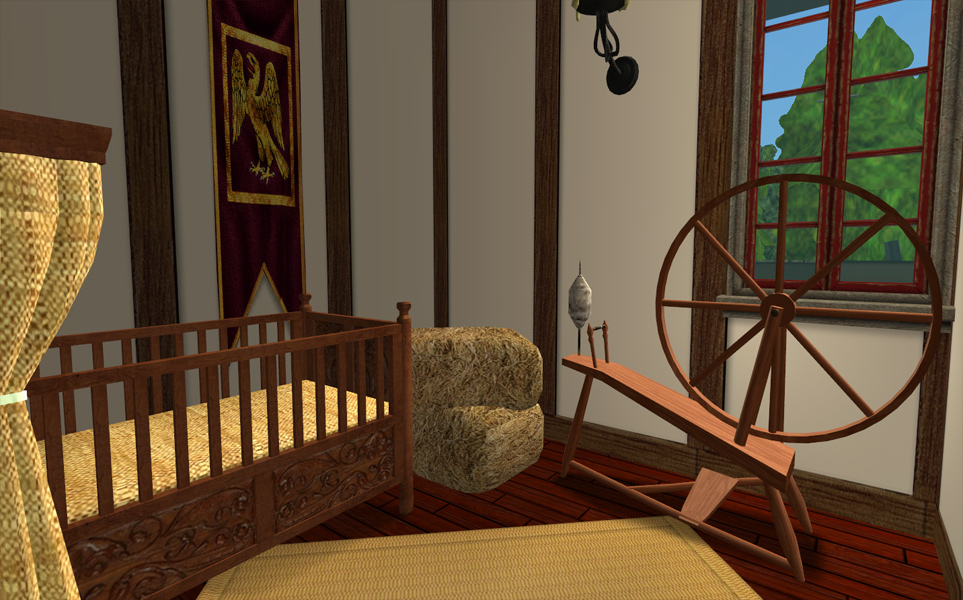 And here's the overhead shots.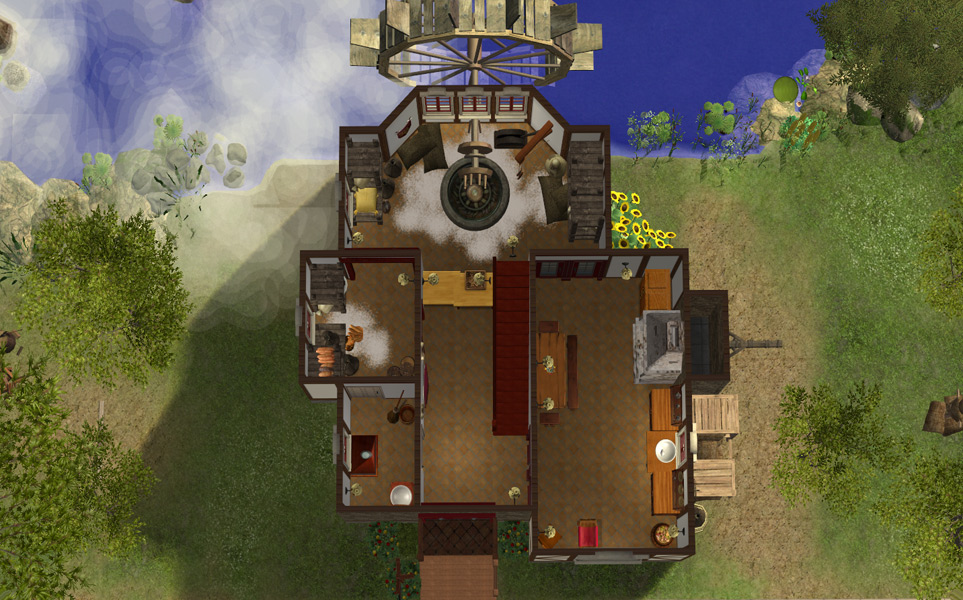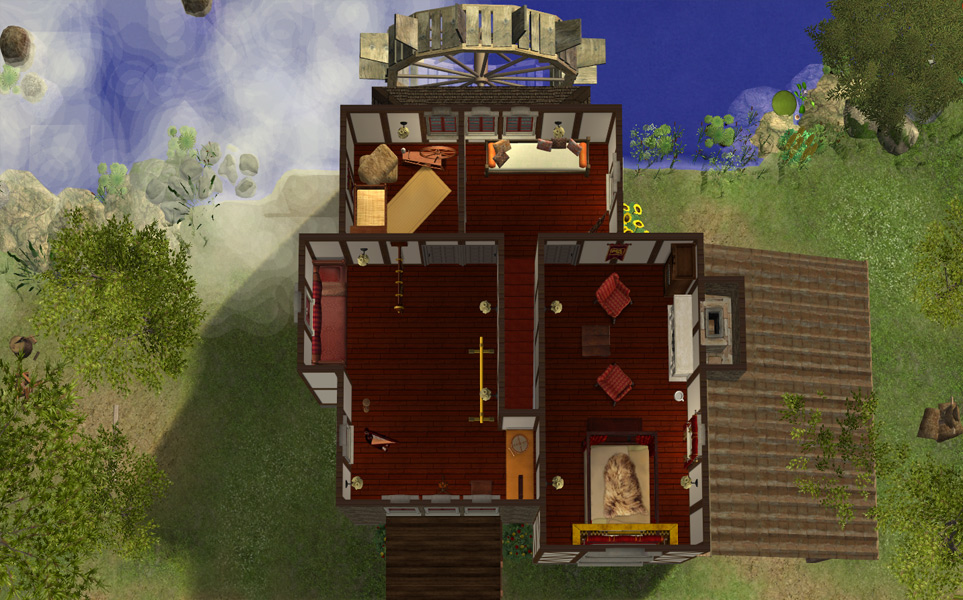 Just look at all the detail in the stream!! <3