Site Map

>

Sims 3

>

Graphics - Best Nvidia Control panel settings. [Solved] Thank you!
Replies: 2 (
Who?
), Viewed: 20089 times.

Field Researcher

Original Poster
#1

5th Jun 2016 at 6:01 PM Last edited by sirrena : 6th Jun 2016 at
10:11 AM
.
This user has the following games installed:
Sims 3, World Adventures, Ambitions, Late Night, Generations, Pets, Showtime, Supernatural, Seasons, University Life, Island Paradise, Into the Future

Best Nvidia Control panel settings. [Solved] Thank you!
Hi i would like to ask what is the best nvidia settings suited for my computer.
My specs are:
Video card : GeForce GT 740M
Cpu : Intel(R) Core(TM) i7-4500U CPU @ 1.80GHz
Cpu speed : 2.4 GHz Performance Rated at: 3.6 GHz
Ram: 6.0 GB
Free disk space : 481.9 GB
I can also provide dxdiag but i was kinda lazy to fill the form.XD
Also noted that sims 3 does recognize my graphic card (note form my device config bellow)
Name (driver): NVIDIA GeForce GT 740M
Name (database): GeForce GT 740M [Found: 1, Matched: 1]
I have no technical issues just wanted to know which are the best 3D Settings for Nvidia Control Panel.Any help would be appreciated thank you much for your time!

Mad Poster

#2

5th Jun 2016 at 8:53 PM Last edited by nitromon : 8th Nov 2019 at
6:26 AM
.
Are you asking just for Nvidia Control Panel or Nvidia Inspector?
There really is no "best" setting, it is always a trade off between Quality and Performance.
However, I can recommend my setting changes.
---
Most settings - default, which Nvidia would set at "application controlled"
Power Management Mode - application controlled. So it won't keep the frequency high when you're not needing the GPU. This keeps your GPU cool.
Verticle Sync - Application Controlled (But sometimes, like Sims 3, you need to force it on)
Triple Buffering - On (Helps Vsync)
Virtual Reality Pre-rendered Frames - 4 (improves performance, increased latency a bit but TS3 is not an action game, so doesn't matter).
---
Now there are some quality control settings which crosses over between Nvidia CP and Nvidia Inspector. These are Nvidia driver controlled and are considered "excess" to the games you run. My honest opinion is not to touch them. Because a 740 is not really that powerful. For every setting you increase, you will have to pay a FPS tax (lose framerate).
Here's a list of tweaks to the quality you can do with Nvidia Inspector, some of it is available in the CP. I wrote this for someone else in PM, so might as well share it with everyone.
Note:
This is just an archive of Nvidia quality tweaks I've preserved from this forum. I didn't actually discover any of them below.
Anti-Aliasing:
* Antialiasing - Mode = override
* Antialiasing - Setting = 8xQ [8X Multisampling]
* Antialiasing - Transparency Supersampling = 8X Sparsgrid Supersampling
* Enable Maxwell.... (MFAA) = On
(scroll down to Texture Filtering section)
* Texture Filtering - LOD Bias (DX) = -1.5
* Texture filtering - Negavie LOD bias = allow
This is the maximum AA you can have. Even those with 16x are using methods that won't give you better AA than this. The LOD Bias is to make the texture a little sharper to match your new AA. Otherwise it would look funny if your edges are so smooth but your textures are blurry. MFAA is a special feature just for the 900 series. It doubles the MSAA (if the game is supported).
Anisotropic Filtering:
(Under the Texture Filtering)
* Anisotropic filter mode = user defined / off
* Anisotropic filtering setting = 16x
This affects the texture's depth perception. Usually farther something is (such as the ground) the blurrier it becomes. This makes it so it is always sharp. So this technique is really for scenary, both indoor and outdoor. It won't affect your sim at all.
Ambient Occlusion:
Let me explain this a little bit first. Older games without AO, it would render all the objects individually and then throw them in the game. So at times, the lightings are not realistic. With AO, all the objects are rendered "together," so their shadings affect each other. Here's an example in TS2 (TS3 is not that obvious but it is still there).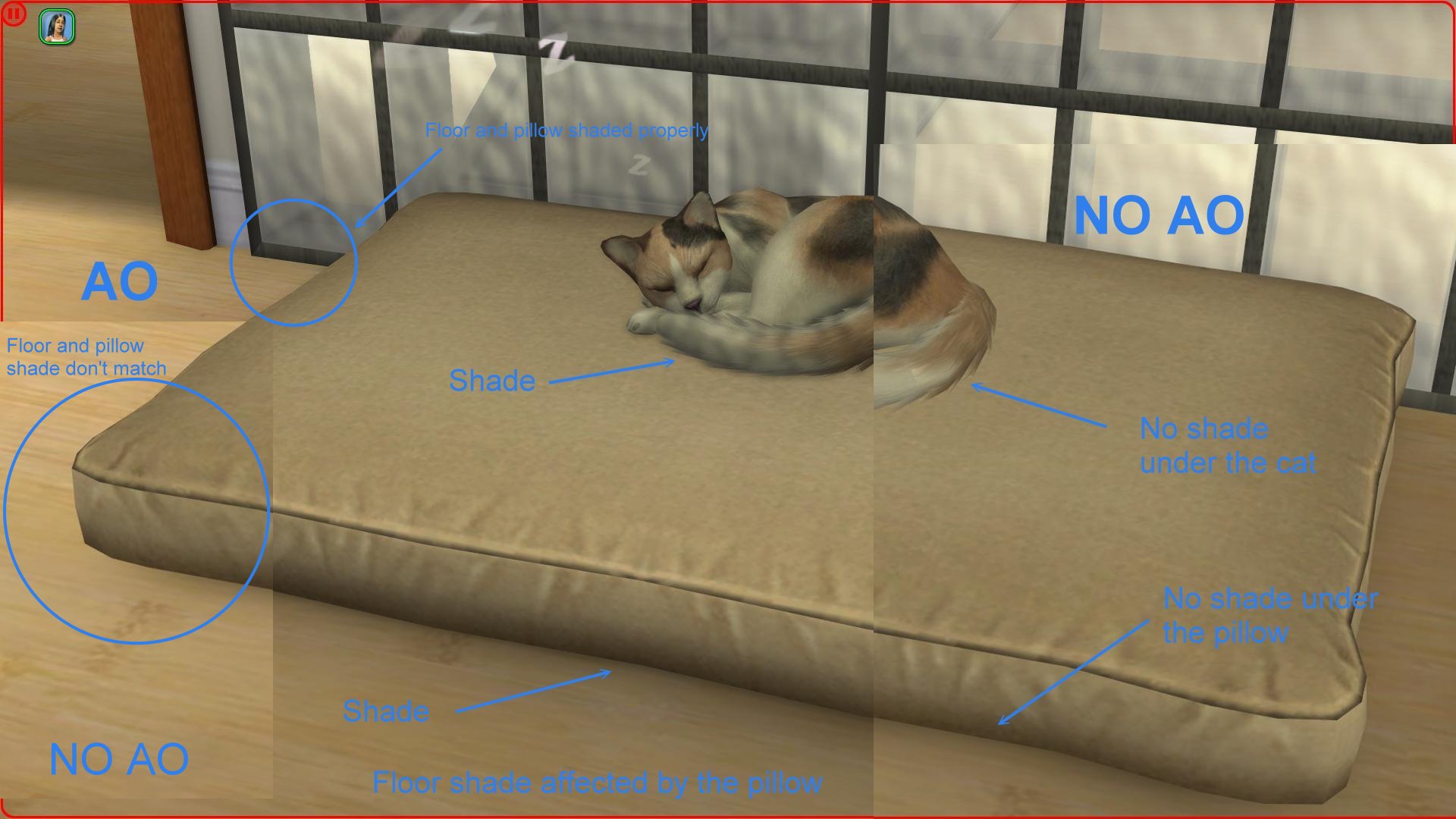 (At the very top under Compatibility)
* Ambient Occlusion compatibility = 0x00000007 (Counter-strike source)
(Go down to Common)
* Ambient Occlusion Setting = Quality
* Ambient Occlusion usage = Enable
Nvidia Quality Upscaling
With quality 5 or below, you can only turn this on. Basically it keeps the scale at 1 for rendering instead of shrinking it. If you have a better card, you can set this factor to 2x, 3x, 4x, or higher. I forgot what it was called.
http://www.modthesims.info/showthre...ality+upscaling
(Go down to Other)
* Nvidia Quality Upscaling = 0x00000001
---
Sanity is overrated.

Nitromon is a type of Pokemon encountered in the Pokemon Nitrome Version series.

There. Mystery solved.

Field Researcher

Original Poster
#3

6th Jun 2016 at 9:57 AM Last edited by sirrena : 6th Jun 2016 at
10:27 AM
.
Thank you so much for your quick reply!Yes i was referring to Control Panel settings mostly because i doubt that my laptop capabilities are enough for overclocking my card, plus i never touched Nvidia inspector ever in my life so i wouldn't want to fry anything!But to be fair i am am willing to give it a try.I understand there is no such thing as ''best settings''' i should have phrased it better i meant more suited to my specs nothing fancy, but none or less your answer was more that i even hoped for.So once again thank you for your recommended settings and the effort you put on answering me, it was exactly what i needed. Honestly i had no idea what half of the settings did and i really appreciate that you took your time on elaborating my question.
It was quite enlightening to say the least , now the only thing left is ''Trial and error'' i guess.
I hope you have a wonderful day!
Back to top