Replies: 12 (
Who?
), Viewed: 3560 times.

Mad Poster




Original Poster
#1

22nd Aug 2014 at 4:41 AM

The Sims 2 - Social Gatherings
I thought that it might be nice to have a thread for pictures of social gatherings - including parties, outings and just general gatherings with friends! There are separate threads for
weddings
,
formal events/parties
,
birthday parties
and
gatherings that occur whilst your sim is at college
but what about all of the social events that don't fall into those categories?!
I for one enjoy sending my sims out on outings (though I generally use the unscored option, for longer lasting fun!), having them throw parties for no particular reason and generally just hanging out together, be that at home or out and about. When the sims involved are all part of the same family I can share the pictures
here
, but a lot of my sims like to spend time with their friends and I'd like a thread to share their pictures too :-)
--------------------------------------------------------------------------------------------------------------------------------------------------------------------------------------------------------------------------------------------------------------------
Ruth King
didn't like the way everyone's lives seemed to be changing. Apart from her own life, that is! She missed the time when it felt like it was the "green-skinned girlies" against the world - hanging out together after school, chatting about boys and hobbies and plans for the future and anything else that came to mind. Now things were moving on - her older half-sisters and her twin brother had all moved out,
Rebecca Barnett
to live Downtown,
Rachel Barnett
to live with her boyfriend and his folks and
Ryan King
to go off to college Downtown. And it wasn't just her family, either - the final two "green-skinned girlies",
Andromeda Ottomas
and
Stella Goth
, were also at Downtown College, living in the same dorm as
Ryan
.
So when she discovered that she had a coupon for a free meal Downtown she decided to get the old gang back together for an outing.
Ryan
couldn't make it, so she invited
Tommy Ottomas
instead - he was a bit older than the rest of them, but he seemed nice and he was pleased to be invited along. They went to Speedy's Fast Lanes Bowling & Eats, so of course they started the night off with a spot of bowling!
Andromeda
and her boyfriend
Adam Carter
carried on bowling, but the others fancied a game of pool. There was only one table, so
Rebecca
and
Noah Carter
just watched whilst the others played, but it was nice hanging out together. Just like the good old days!
When it was time to eat they couldn't all sit together, which was a shame, but it was nice to have a chance to chat to each other. And the coupon definitely came in handy -
Ruth
wouldn't have fancied paying the $137 bill! Everyone had a great night, and it was almost 4am before they all parted to head home.
Left-hand table, l - r:
Andromeda
,
Tommy
,
Adam
&
Rebecca
. Right-hand table, starting from the back:
Rachel
,
Ruth
,
Noah
&
Stella
.

Mad Poster

#2

10th Sep 2014 at 3:46 PM
It's odd that it's taken me so long to post here, since I have so many social gatherings of various types; but sometimes it's hard to place a picture in that context if it wasn't what I was thinking of when I stuck it in the "Holding for Upload" file. I'm afraid these are all campus functions - but people don't post often enough in the dedicated YA threads for me to run through my YA stuff without double posting.
Dixie Land influenced her big sister Mary to talk to Woody Weiss at a party after the great Woody/Virginia/Max triangle blew up. And this happened, all by itself. Obviously, Dixie asked Mary, whose high nice points make her an excellent listener, to mediate among the parties. I wonder whose idea it was to gather round the trampoline? It has the salutary effect of blocking Max and Woody from getting in each other's faces, making it harder for them to come to blows.
Frank Munny's party is threatening to turn into a study group.
Crisis averted - no thanks to his brother Mark!
At a little sorority mixer, a couple of the guests have clearly come in from the cold!

Mad Poster

#3

16th Jan 2018 at 9:22 AM
Oooh! There
is
a thread for this!

Agora and Greg recently hosted a Hanukkah party and naturally invited the other Jewish couple (who happen to live right next door), Alexa and Mickey!
They all enjoyed some raspberry doughnuts together:
Next Hanukkah the kids will be old enough to participate too!

Agora and Greg's son Skyler aged up into a toddler during this party, and while Alexa and Mickey's son Sterling is about a day older, they're both still a little too young for doughnuts.


Scholar

#4

23rd Jan 2018 at 7:08 AM
Party Time - Catherine's Palace
Recently, I went to play with this "French" royal family who live in my grand abode called
Catherine's Palace
. Their young prince & princess grew up and decided to go to College. This royal family seems to have time to throw parties ever couple of days by inviting over the many acquaintances the Queen has made. Queen Maria of France runs a store with paintings she sells at Very Expensive prices. Below are some images of what went on from one of the parties. Thankfully, the cops didn't come this time around to break up the gathering.
Do note that these guest may not be historically accurate, nor be presented in what other Sims would consider "normal" attire. On the other hand, these guests that know the Queen may be helpful to her in the future!
---
See what images I have posted on
DeviantArt
as well related to The Sims 2 and designs.
Also check out
My Website
to see my superhero uniform creations for The Sims 2.
THANKS!!!

Lab Assistant

#5

3rd Feb 2018 at 8:08 PM
Leona and Joe's wedding xx

Scholar
#6

3rd Feb 2018 at 8:24 PM
in my BACC hood oday bay the population isn't high enough for a career in education,but i still thought they need an education so i've sent all children to the founders home for school lunch is randmas comfort soup-yum!
and yes the teacher did just give birth...
---
I May Be Life Dumb But I'm Sim Smart(mostly).
My Tumblr

Mad Poster

#7

22nd Oct 2019 at 9:15 AM

Where two or three are gathered together (Matthew 18:20)
Sunday Service at St. Simeon's Parish Church, Veronaville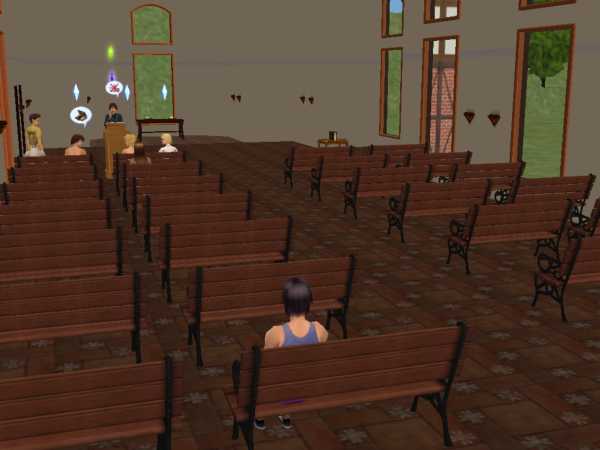 The Reverend Elspeth Anderson is preaching a three-hour sermon to her small but young congregation.
I wasn't sure which thread was most appropriate for this picture, but it
is
a social gathering, albeit a small one -- in a big space.

Just east of Lyra, northwest of Pegasus
retired moderator





#8

5th Feb 2022 at 7:32 PM
I have a few retired families at the moment, and they like nothing better than to invite as many people over as possible and smustle!
Lab Assistant
#9

26th Feb 2022 at 3:03 AM Last edited by lizard49 : 20th Nov 2022 at
6:08 PM
.
Liz & 4 friends nightclubbing
Counterclockwise, starting with the blond man at the top: Liz's baby daddy Wayne Eclair, Liz Bacon, one of her professors, her friend Billy Tiramisu, her fiance Bo Waffle.
If I create a Sim myself, I give him or her a food-related last name. After Bo & Liz tie the knot, she'll be Liz Bacon Waffle!

Mad Poster

#10

7th Sep 2022 at 8:28 PM Last edited by AndrewGloria : 7th Sep 2022 at
8:47 PM
.

Political Intercourse in Veronaville ?
I believe we're not allowed to discuss politics in this Forum, but it seems our Sims have no such inhibitions . . .
Is Enid Smythe a Bolshevik? She just threw a water balloon at Alexandra Romanov, until recently Tsarina of all the Russias.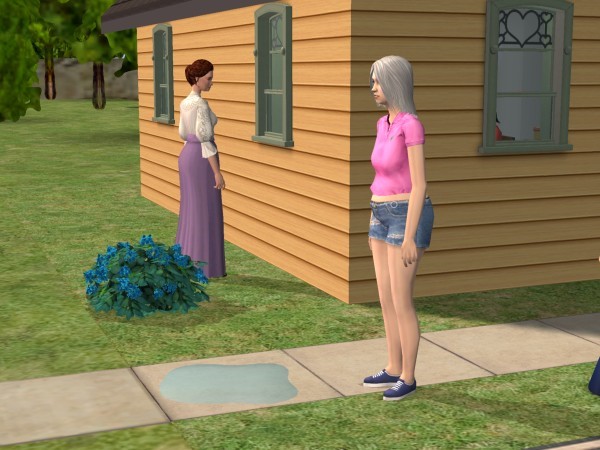 Mind you, the next thing she did was mop up the puddle -- with the former Tsar Nicholas looking on.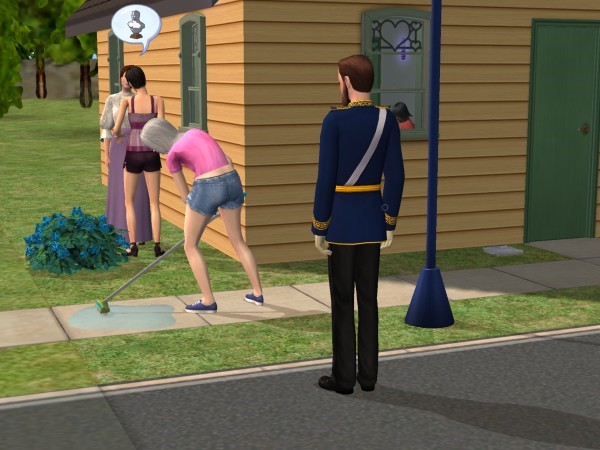 Enid however lost no time at all in getting to the table when their young hosts got the sandwiches ready.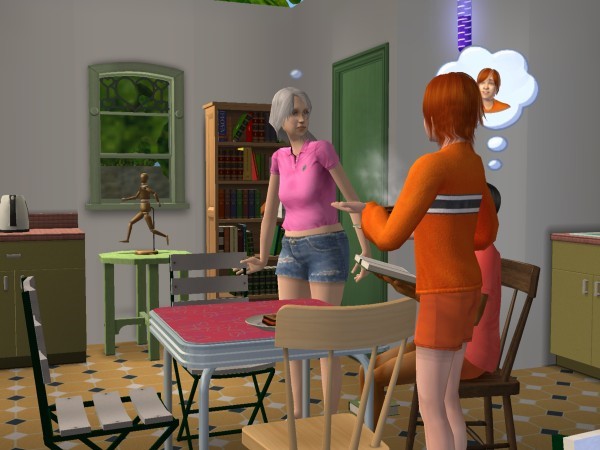 Perhaps Jodie Larson is more to Enid's taste than the Romanovs. They both seem to like the young boy who is serving them their grilled cheese.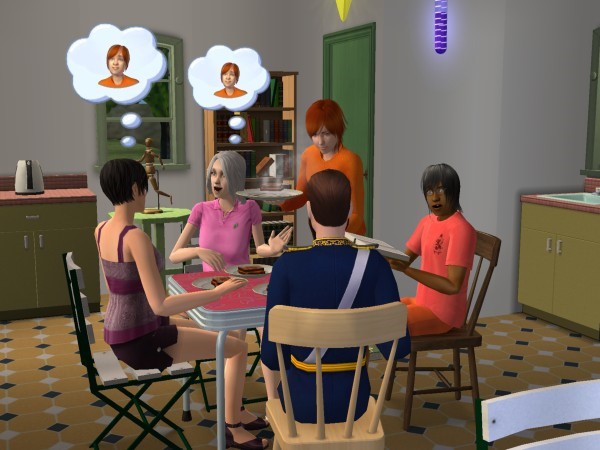 Jodie in turn has no qualms at all about telling the Romanovs exactly what
she
thinks about politics.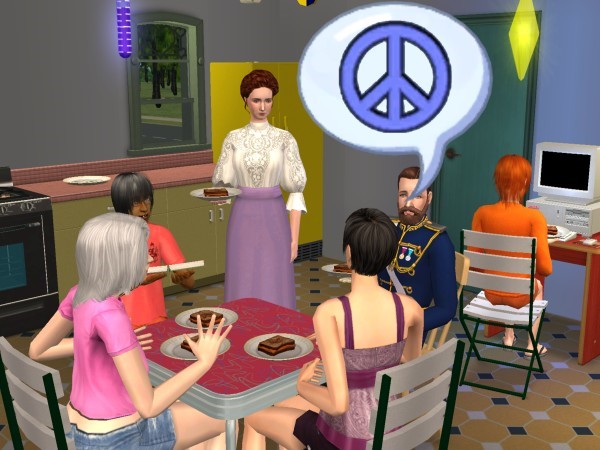 It's this ability of the game to come up with something totally unexpected that makes this game so fascinating. I thought this was just going to be the routine visit of the Welcome Wagon to a couple of young townies-to-be.
When Grand Duchess Juliette Capp decided to grant the threatened Romanov family asylum in Veronaville, I saw it has a simple act of kindness and mercy. It seems though that some of the locals see it as political, and some of them are clearly not too happy about it. This is historically interesting; I understand that it was fear of such a public reaction that caused the British Royal Family to fail to grant the Romanovs asylum in Britain in 1917. I still think it must surely be better to give the family the chance of a new life in Veronaville, than to leave them to the grisly fate that awaited them in Real Life. Especially the younger ones. But perhaps I'm being politically naïve?
This has also shown me a side to Enid's character that I never even glimpsed before. She's only been living in Veronaville since February 2013!


Just east of Lyra, northwest of Pegasus
retired moderator





#11

3rd Oct 2022 at 2:01 PM
How many sims can you get to hang out at once?


Lab Assistant

#12

5th Oct 2022 at 1:06 AM
A very important siblings meeting (The spot the older 3 chose to hang out was just perfect)

Lab Assistant

#13

16th Nov 2022 at 3:25 AM
Zach kept rolling for having a family reunion, and I knew I had to organize it pretty for picture purposes

Parties in the sims are like 5 minutes and it took me like 30 to make everyone sit and eat at the same time. He even wanted to hold his new grandson and I didn't know how to include him in the photo, and since he doesn't live in that household, I couldn't sit him down in a chair like I originally wanted to.
It turned out well anyway I think!
+ My one sim I thought would be single during his adulthood ended up booty calling his crush to join the party. I loved that he did that! And now he has a girlfriend!

Back to top