Lab Assistant
#26

17th Oct 2019 at 12:59 AM
This challenge looks interesting. Is anyone still running it?

Me? Sarcastic? Never.
staff: administrator





#27

17th Oct 2019 at 3:49 PM
Challenges are not
run
by anyone. They are simply presented for the user to guide them to challenge themselves in their own game.

Mad Poster
Original Poster
#28

22nd Oct 2019 at 6:41 PM
Yeah. I be happy if more people contribute to it, since I love to see how creative members are

---
P.S. Sorry for my bad english.

Mad Poster

#29

3rd May 2021 at 11:41 PM

"Hotties" - The Ranch Retreat rebuilt as a Boutique
Better late than never?! This is the conversion of Maxis Ranch Retreat that I promised back in July 2018. I made a start on it soon after. I changed the zoning to Community and I provisionally gave it the name Capital Clothing. I relaxed the rules as I always intended to do -- basically making the structural changes that I felt were necessary to fit the building for it's new purpose. Basically I would (if the budget permitted) make the same changes if it were a real life building.
I put Maxis Match plate glass shop windows, with matching double doors, all along the frontage of the building. I replaced the door into the front bedroom with a single arch, to ease access, and to make it easier for the cashier to keep an eye on the whole shop. And I put a dividing wall inside the original long bathroom, diving it into 2x2 toilet cubicles, each with a wash-hand basin. The rear bedroom was retained, redesignated as a staff mess room. And then my inspiration deserted me, and I left it uncompleted for the next couple of years. I couldn't think what to do with the internal decor and the actual shopfitting. Only when I shifted my game to my new laptop at the beginning of October last year did my Muse return, and I finally completed and opened the shop.
In the end I fitted it out as a boutique specialising in lingerie, swimwear and suchlike items. The name "Capital Clothing" no longer seemed appropriate so I changed it to "Hotties". If you're familiar with teenage Romance Sims, you'll know they're called "hotties" when they're in Gold Aspiration. (And I'm sure a lot of mine -- boys as well as girls -- like being called hotties!)
So here it is, Hotties boutique in Monopolis:
First some general views of the building's exterior: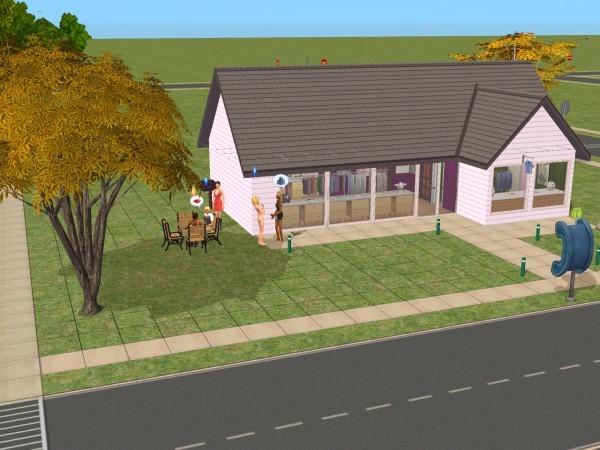 This is how the shop looked on its opening day.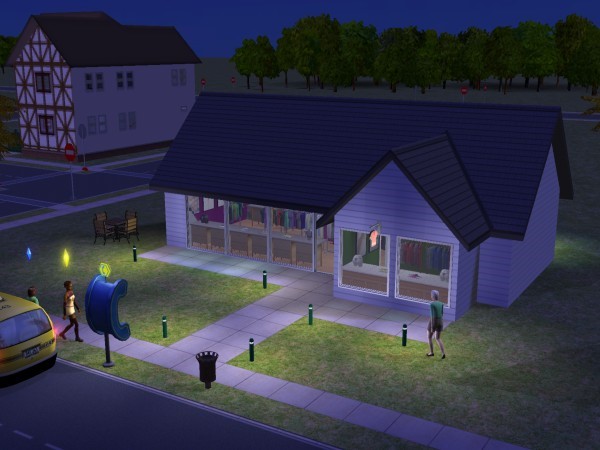 And this is how it looked that evening.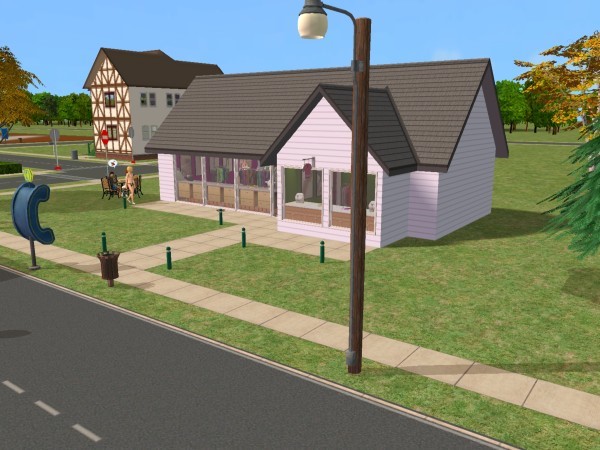 This is a slightly more recent photograph of the shop, after the Monopolis Development Corporation (CEO Milburn Pennybags) had added streetlighting
Now a couple of pictures showing the general layout of the shop: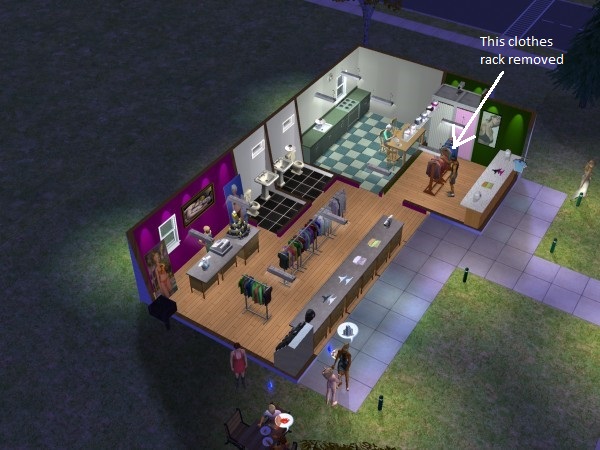 This cut-away view shows the interior layout of the shop. The clothes rail indicated by the arrow has now been removed as it was obstructing access to the changing booths.
I realized that the cut-away view really doesn't clearly show the interior layout, so I have added this floorplan.
Notes: (1) This is where the clothes rail mentioned above was removed to improve access to the changing booths.
(2) This single-width archway is proving a bit of a bottleneck. I am minded to replace it with a double-width arch.
Now some pictures taken inside the shop: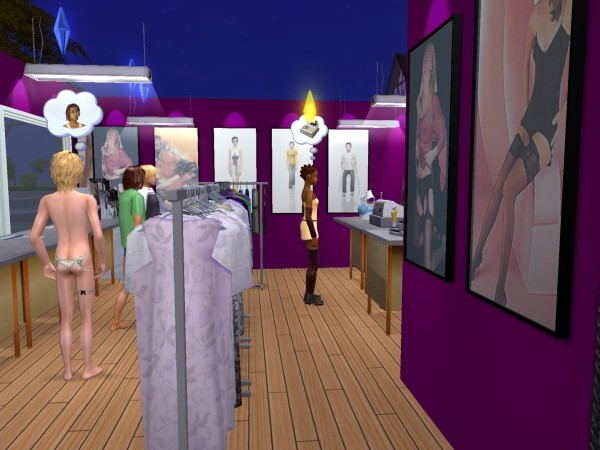 This shows the main part of the shop. Melody Tinker is just paying for her purchases. The three boys she took with her are on the left. From camera Julian Moltke and CAS townies Kieran Doyle and Jeremy Livingstone.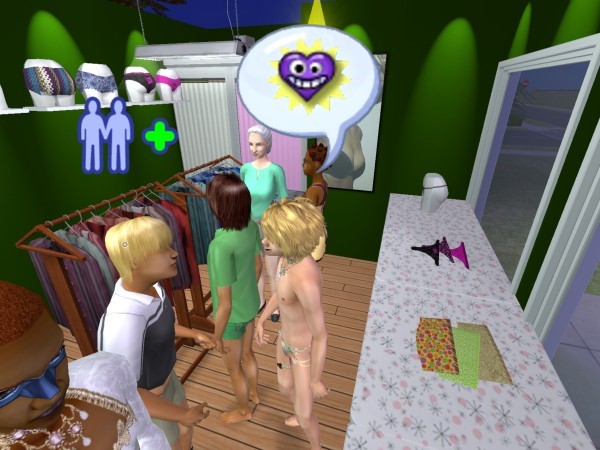 I've posted this picture before (in the funny pictures thread) but it's a good view of the second room of the shop, and it was taken during the same visit as the last one. Only a few days after his wedding Julian just had to tell Jeremy Livingstonde how good his very first woohoo was. The skimpy clothes that Julian is wearing are part of his wedding outfit. Julian got married in virginal white, which he insisted was his right, as Andrew refused to have woohoo before the wedding.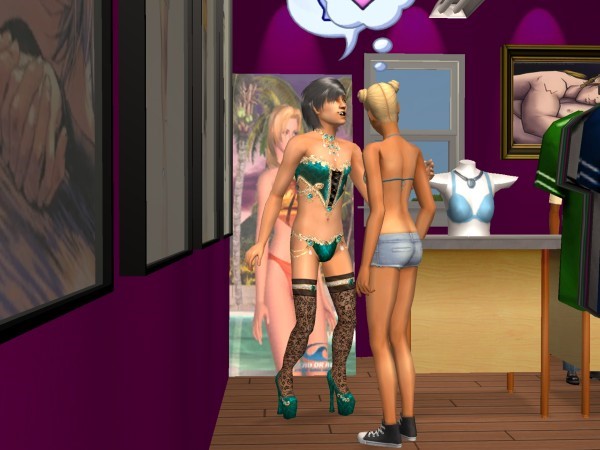 This picture was taken a few days later. Male model Gerard Paton and his teenage girlfriend Nancy Philippine are buying new outfits.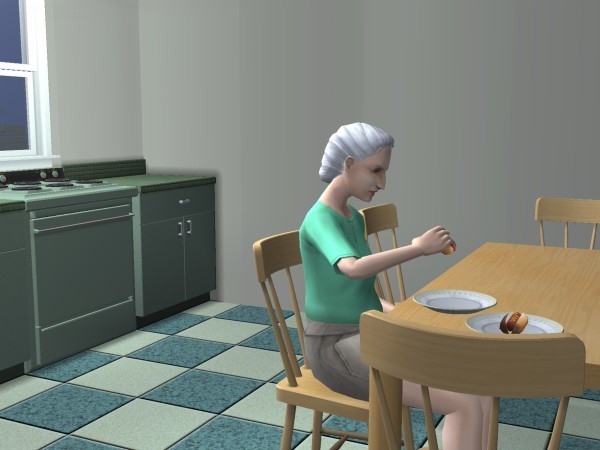 This is the staff mess room, converted out of the original rear bedroom. I don't know why Denise Jacquet has chosen to eat her hot dog here. Actually this room is far larger than is sensible for an unowned business. I might convert part of it into a store room if I can find some CC cardboard boxes.
--------------------------------------------------------------------------------------------------------------
@SneakyWingPhoenix : I hope you don't mind that I've built this, inspired by your challenge, but with the rules significantly relaxed. I think it still fits in with the spirit of your challenge, and the shop still has much of the look and feel of the original Ranch Retreat. I wouldn't have said anything, but I see that child_of_air got very upset because TadOlson was playing her Homesteader Challenge by different rules, and in the end got so upset that she completely deleted the thread (which I honestly think was an over-reaction). I hope you're happy with the way I've done this, but if you are upset by me not playing by your rules, please let me know. If necessary, I can delete this post, ad re-submit it as a new variant of the challenge. Whatever you do, please don't delete the whole thread like child_of_air did. Amongst other things that would mean deleting gazania's submission, which would really be a loss, as I fear that gazania is no longer with us.
Anyway, thanks for thinking up the challenge and starting the thread!

Back to top