Replies: 329 (
Who?
), Viewed: 77209 times.
|
Locked by:
HystericalParoxysm
Reason:
Closed for judging.
Page 14 of 14

Lab Assistant

#326

6th Aug 2010 at 6:53 AM
True, it is finding inspiration that takes a lot of time. The building itself usually don't take that much time if you know what you're going to build. But if you don't have inspiration, then you'd build something, it looks awful or blah, discard it, start over, and so on... That's what takes a long time, and that's what happened to me with foundation 3! :D

Forum Resident

#327

6th Aug 2010 at 6:53 AM

The Fallen Cliffs Inn
Henry Soleil had been a pirate, an excellent one to boot. He sailed the oceans blue without a care in the world, pillaging and stealing, and all other things that pirates have a wont to do.
But then, during a routine voyage, his ship had beached at a supposedly deserted island. As he and his ship mates explored the island, they discovered that they were not, in fact, alone, but rather encroaching upon the territory of a tribe.
The tribe welcomed them freely, for they had no reason to not trust the outsiders, and offered them food and shelter while they all worked to fix the ship. There he met Katana, the beautiful daughter of the head chief, a free-spirited woman with eyes the color of the jungle around her.
It didn't take long for him to completely fall for her and the two married in a beautiful island ceremony. But what Henry failed to tell Katana, and what Katana had failed to realize, was that Henry would bring her back to his home, a land where society was much stricter where women were concerned.
When the ship was finished, Henry sailed away with Katana by his side. When they reached Henry's home, they had her name changed to Katherine Lucille Soleil. Although the newly named Katherine loved her husband, and loved this new adventure, she was despondent in the cramped society, and Henry became miserable at the thought that his wife was so unhappy.
One day, Henry was walking along the cliffs, looking out at the sea he missed so much, when he came upon the idea to buy the land at the cliffs and build a new home for Katherine, one that would suit her wild and uninhibited ways. And in this new home that he fashioned for her, he placed an enclosed jungle that soared through all three floors and up to the roof. This way, she could have a piece of what she loved, and he could have a piece of what he loved.
Katherine loved the open walkways and the spaciousness of her new home, but she most especially loved the jungle Henry had given to her, a slice of the land she missed so dearly. She would sit and stare for hours at the enclosure and wish she was back home.
It came to pass that Henry had to leave for a voyage, a task that he was unable to refuse, and he left Katherine in their spacious home. For over a year, Katherine waited patiently, growing lonelier and sadder as the days passed by. Soon, though, she learned of terrible news: that her beloved Henry and his ship had been over run by another band of pirates and that Henry had been killed.
Katherine had been left alone in a strange land with no way to return to her old home. Now destitute and widowed, Katherine, in a fit of sorrow, flung herself from the cliffs that Henry had loved so much and drowned.
The home laid abandoned for a long time until Marcus Edgecombe bought the property, fixed it up, and decided to turn it into a cliff-side retreat. Some say, though, that Katherine's ghost still walks along the halls of her home, looking for Henry and staring at the jungle still enclosed within its glass prison.
Street View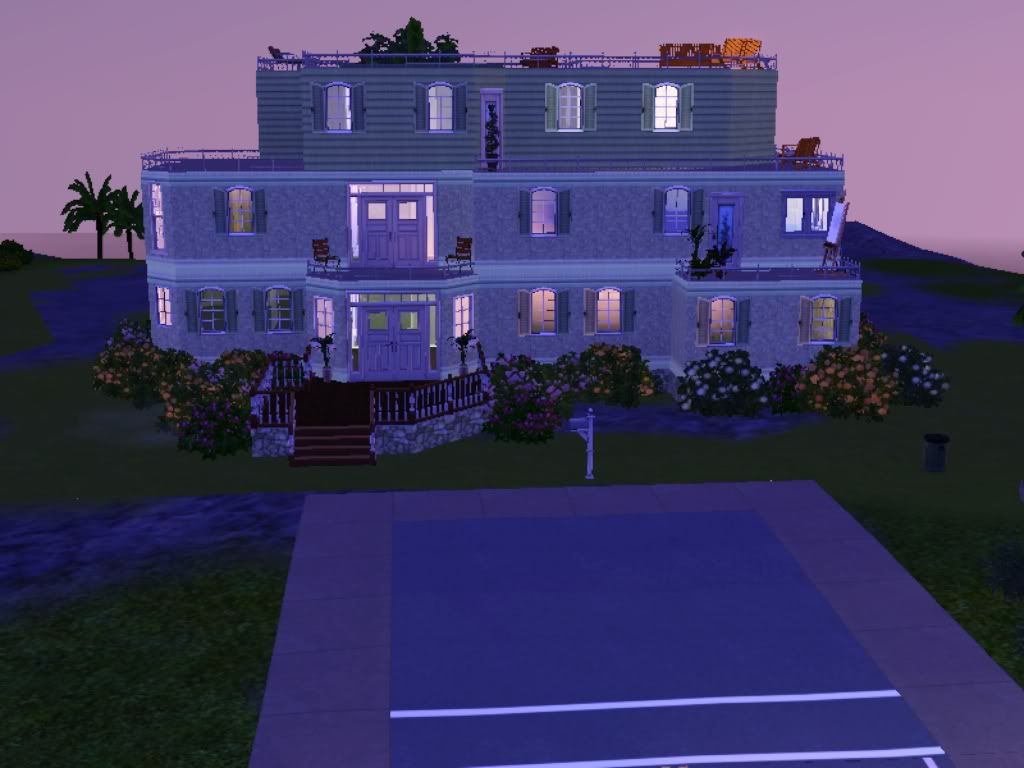 Lot Description:
The hotel offers three full-sized rooms, each with their own connecting bathroom, as well as a fourth bathroom on the third floor. There is a full-service kitchen, as well as a connecting dining room and tables for two, three, or four.
There are plenty of cozy couches and chairs scattered along the floors for anyone who wishes to take a breather from their room or the garden and curl up with a book. Of course, there is the living room on the top floor that features floor to ceiling bookcases, as well as a TV for those who are so inclined.
We hope you enjoy your stay at the Fallen Cliffs Inn.
Pictures!
Living Room
Kitchen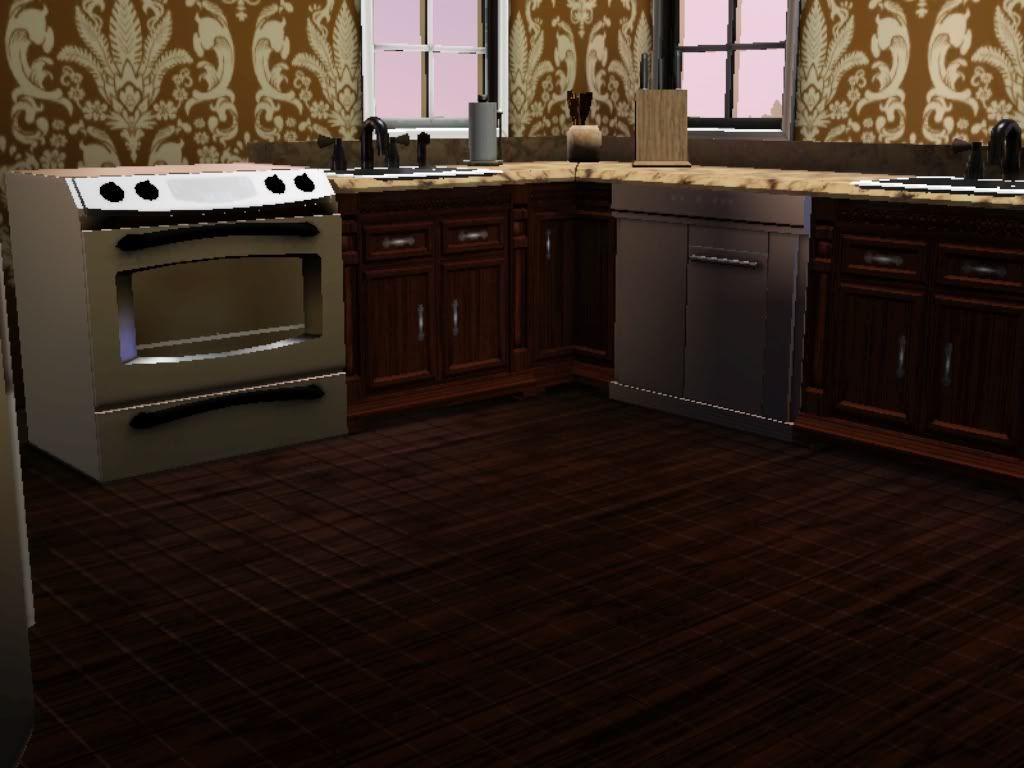 Bedroom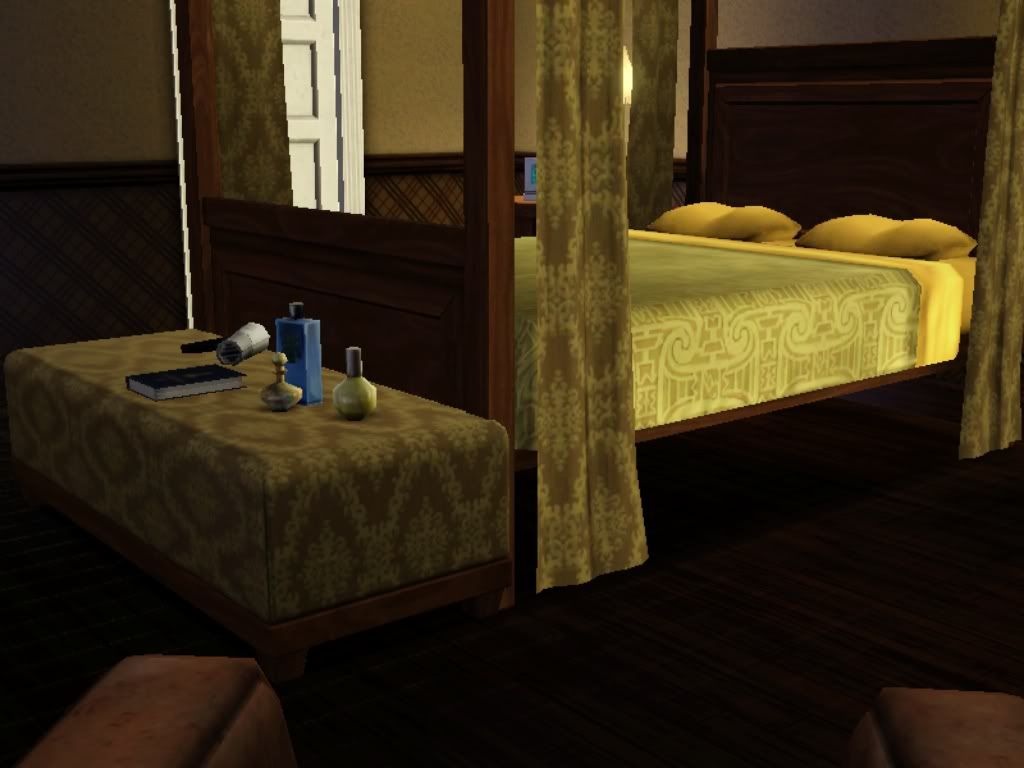 Floor Plans
Level One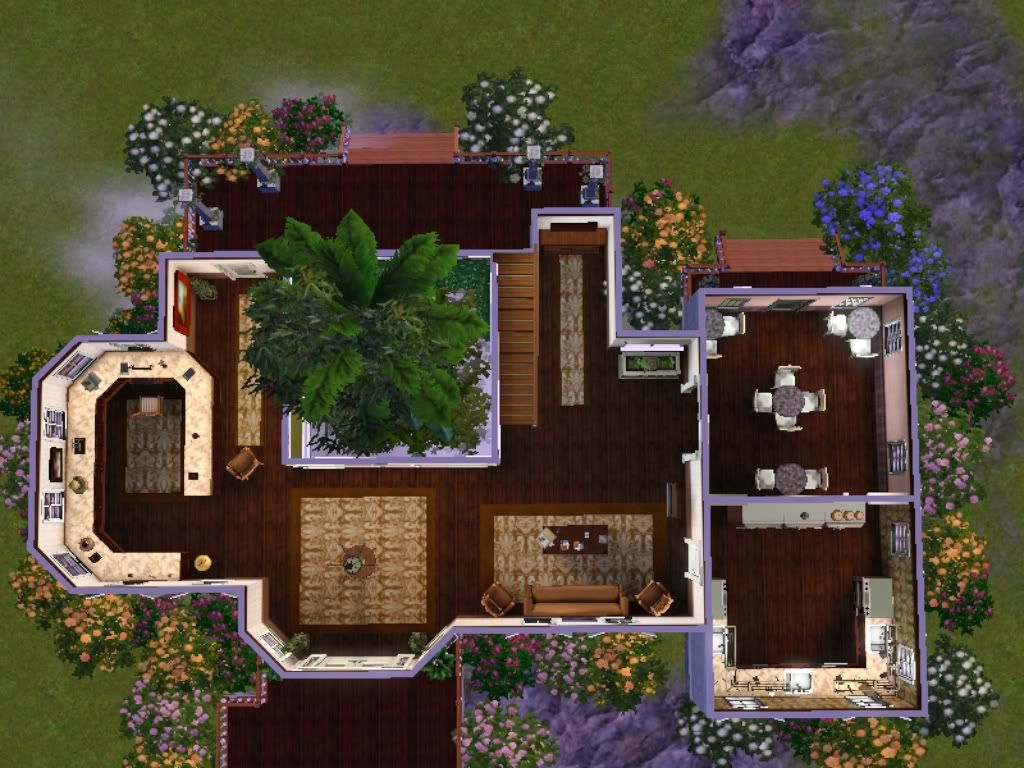 Level Two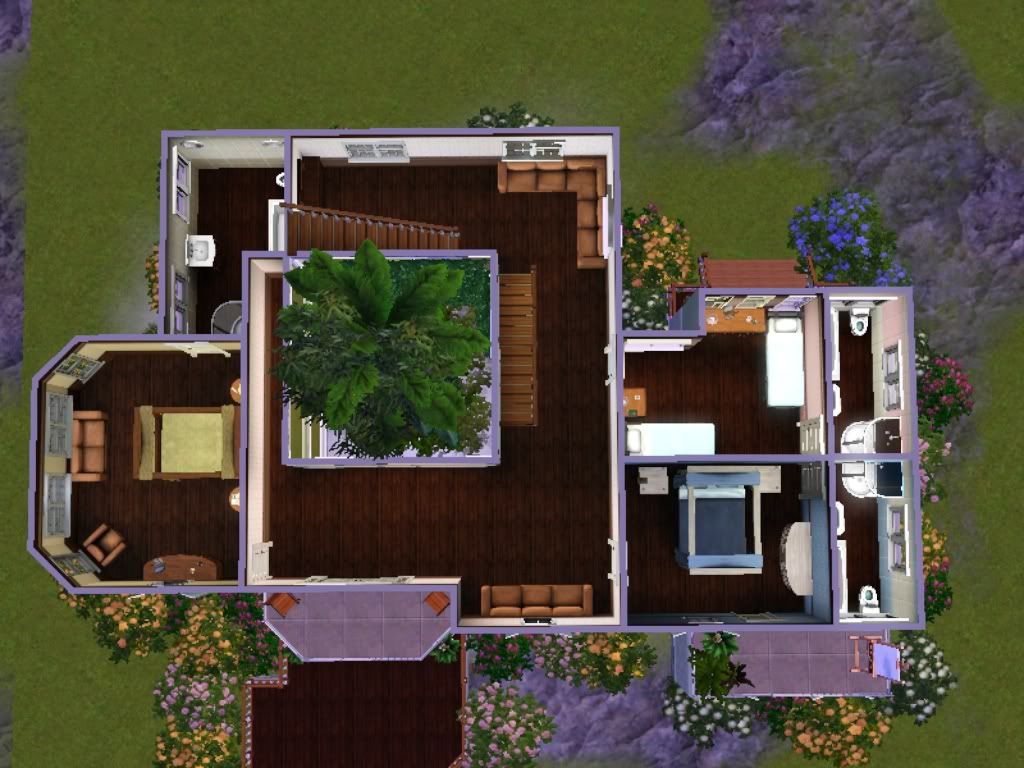 Level Three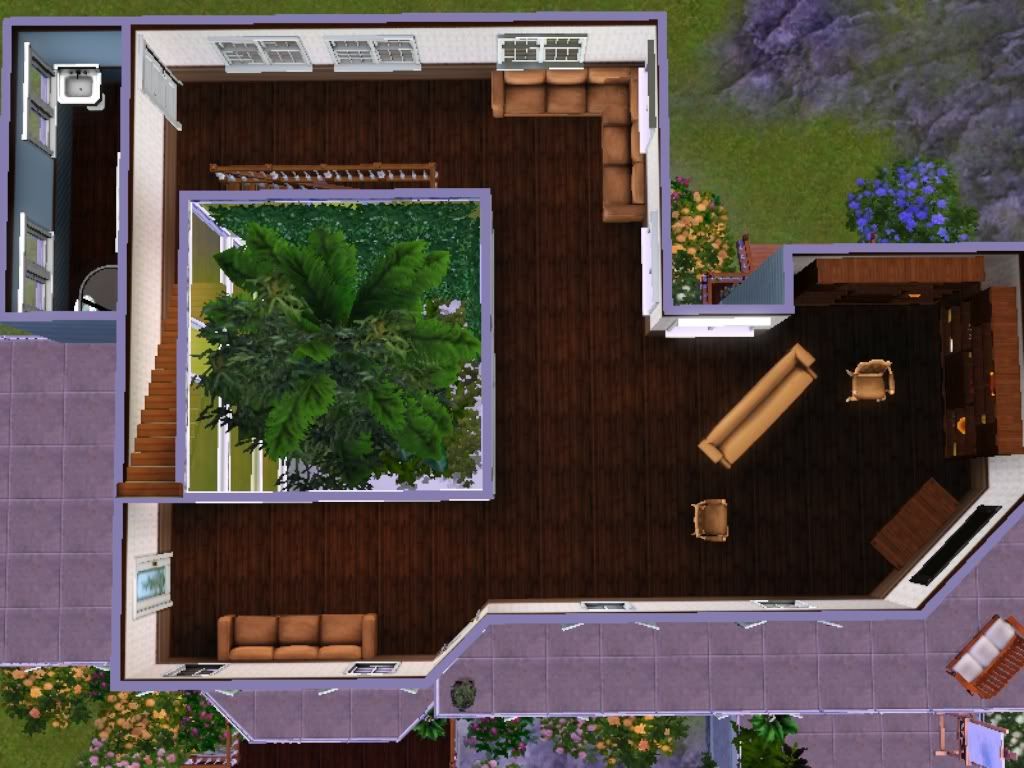 Level Four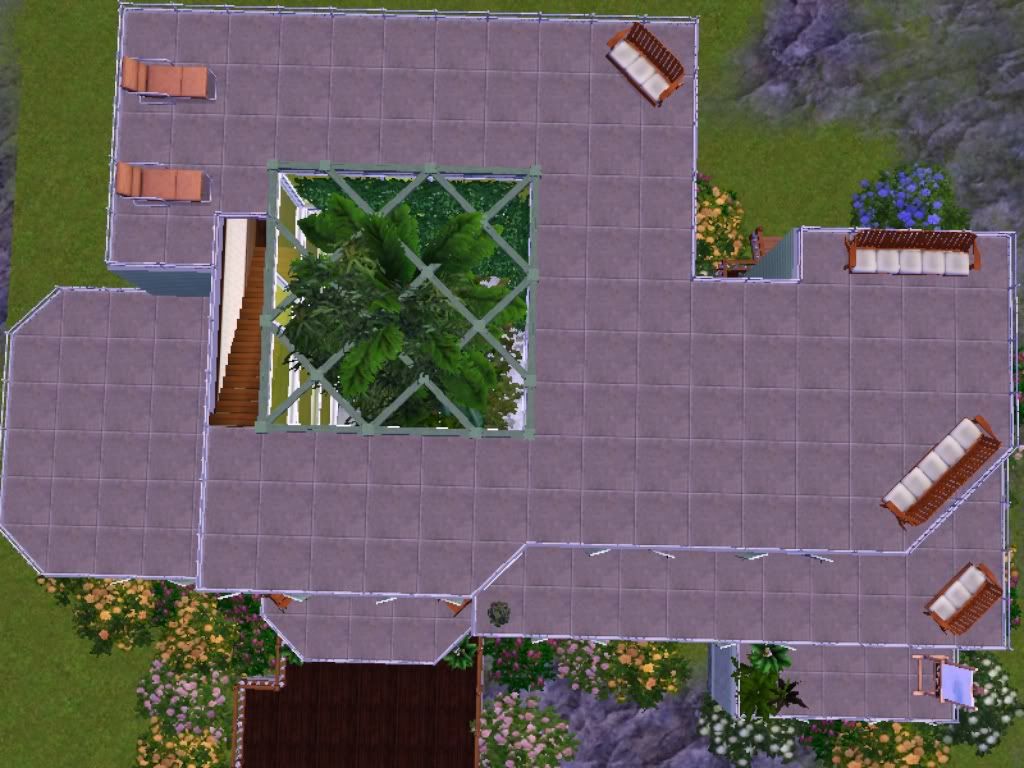 Bonus Pictures!
Reception Area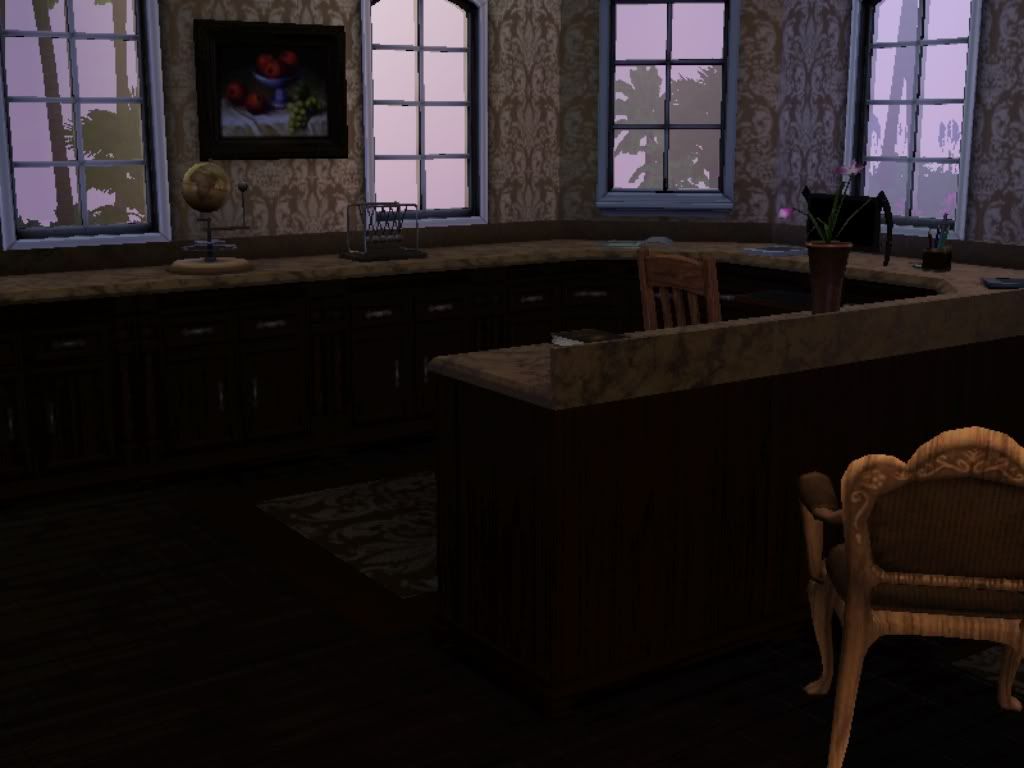 Dining Room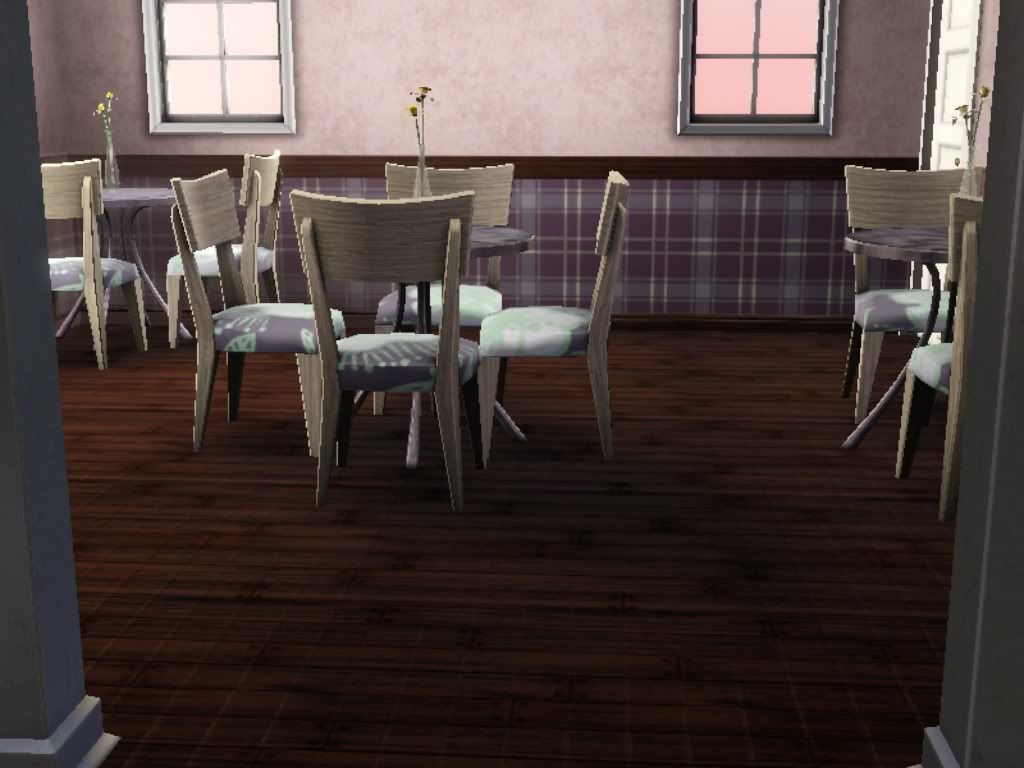 Rooftop Deck (with view of the sea and the top of the small jungle poking out)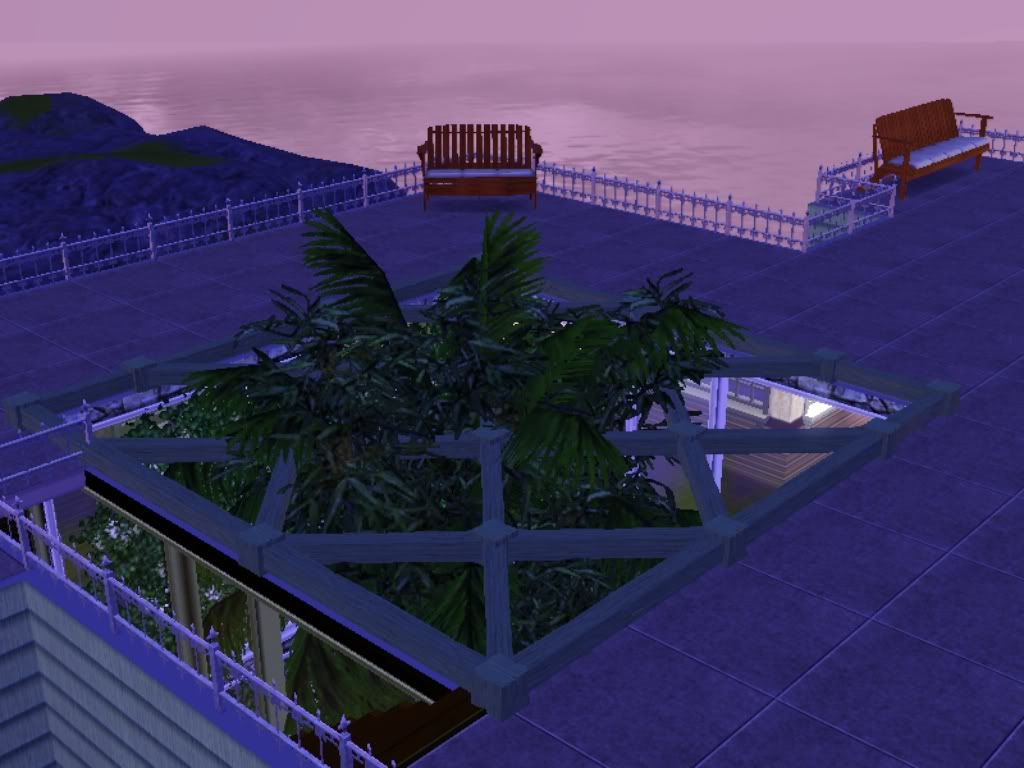 No Custom Content!
I thought I was being so original when I came up with the inn idea. It was only after I was more than two-thirds done with the house (and a deadline fast approaching) that I learned that there was not one, but two hotels in this round. Had I had time, I would have gone for something different. Now I feel so unoriginal.
---
[you say you believe me but you don't deceive me]

world renowned whogivesafuckologist
retired moderator





Original Poster
#328

6th Aug 2010 at 7:37 AM
Round 3 will be closing soon!

It's about 8:35 AM for me right now - R3 will close at 10:00 AM my time - so you have a little under an hour and a half to finish.

If you are rushing to get your entry in and will need just a little more time (an hour or so) I am happy to hold the contest open a little bit longer - please just drop into the #create chat (Community > Live Chat) to let me know. I'm on as "Aychpee" right now. If nobody does so, the contest will be closed on schedule.

The other one



#329

6th Aug 2010 at 8:07 AM
Breaking Waves
Breaking Waves is the family home of Maria and Stefan Lebowitz and their young son, Jeremy. Maria is a local styllist while Stefan is Sunset Valley's resident marine biologist. When they moved to Sunset Valley back when they were a young, newly married couple they set about building their dream home. Their tastes differed slightly but they agreed that their dream home would be modern, but comfortable. Maria preferred the more classical and elegant looks so when Stefan begged for an oceanic theme Maria shuddered at the thought of tacky dolphin wallpaper and bright coral colours everywhere. Nine long years and many arguements later the pair finally complete their dream home; 'Breaking Waves'. It has a maritime theme throughout to suit Stefan but still remains stylish and elegant (for the most part) to suit Maria.
Level 1 contains the kitchen, Dining Room, Aquarium, Reading Room and Living Room with Office space
Level 2 contains the master suite, an en-suite child's room, a guest room and an open balcony with views of the aquarium and the ocean.
In the back yard there is a pool, a BBQ area and a relaxation garden.
The kitchen is rather small but since neither Lebowitz can cook more than a boiled egg they didn't feel the need for a grand kitchen.
The reading room is Maria's favourite room in the whole house. It's at the centre of the ground floor so she can sit in there and relax with a book while keeping an eye on her husband and son wherever they might be.
This is Jeremy's favourite room since it's his pirate bedroom.
Whilst not technically a room, this is Stefan's favourite place in the whole house. It runs through the centre of the house and can be viewed from just about any room in the house. His favourite aspect is that when you walk through the front door the first thing you see is the aquarium, followed by the ocean behind.
(Note: There are fish and bubbles here but they come out quite small, you may not notice them if you're on a small screen)
No CC
was used in this house
---
Guys, rules are good! Rules help control the fun. ~ Monica E. Geller

world renowned whogivesafuckologist
retired moderator





Original Poster
#330

6th Aug 2010 at 9:13 AM
Round 3 is now closed for judging!
Back to top