Site Map

>

Building

>

[Tutorial] Create Your Own Home Office

>

Discussion about building Lots in TS3
Replies: 5 (
Who?
), Viewed: 7410 times.
#1

3rd Dec 2010 at 9:27 PM

[Tutorial] Create Your Own Home Office
Sims need money to live. Unless you use cheat codes to pay their way, you need a source of income. But what if you don't want to drive to work each day? What if your Sim wants to be a writer? Well, then, a well-furnished home office is very important.
Sure, you could just plop a desk, chair, and computer somewhere in your living room, but a nice space for your Sims' work would be a much better option. So let's see how to make a nice work space for your Sim.
First, you need a house (duh). I am using my basic house for demonstration purposes only. Isn't it lovely?
This house uses a basic squared floor plan. The following tutorial should work for any shape and size of house, on any floor. But, as a demonstration, here is my floor plan:
It's not very well decorated, but that's fine. For our use, this is all we need. Remember, your home office can be placed on any floor.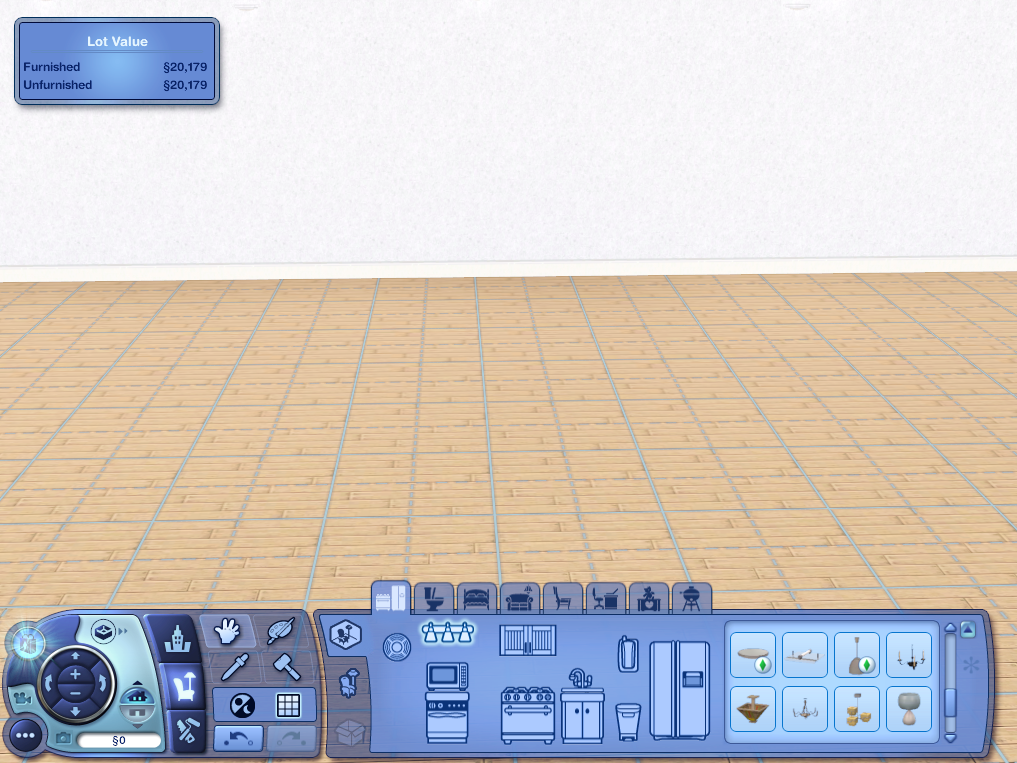 So here's one wall of our living room. Exciting, isn't it? But that's okay. We're not here to work on the living room. We're here to create a home office.
Our home office will be a small addition to our home. I made the diagonal walls 3 sections long and the middle wall 6 sections long. You can experiment and come up with something that looks good for you. D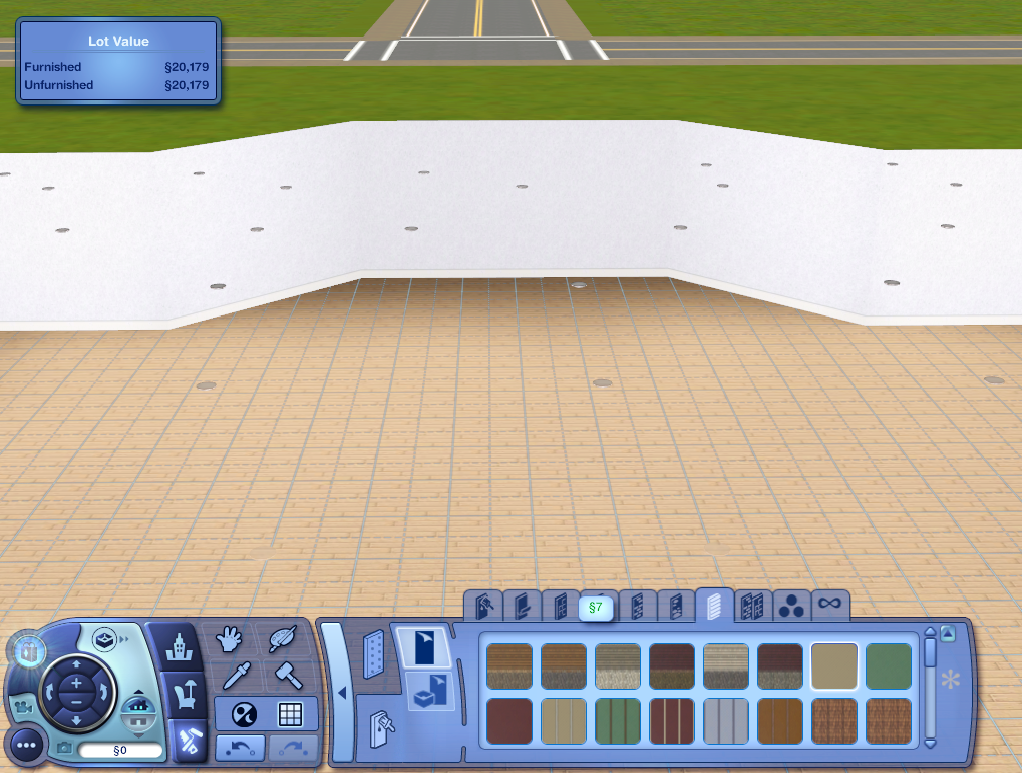 Delete the old wall and you'll have a nice balcony-esque addition. If you're on the second floor, this looks even better, because it really pops out.
The color you use for the wall is very important. This will set the tone for the entire room. I chose a calming pale tan color. I suggest a plain wall, but you can try a pattern if you wish. The trim should complement the wall color.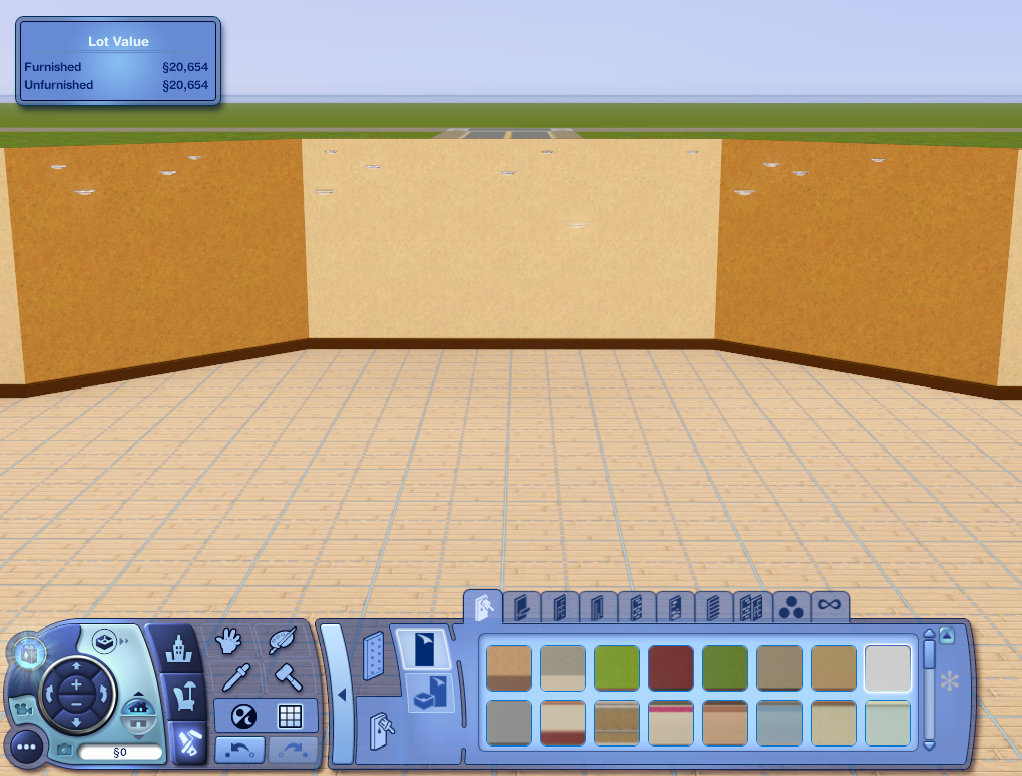 The horizontal part of the wall should be lighter than the diagonal sides. I used a darker, richer tone that works well with the lighter tone. The trim is the same. This seems strange now, but it will make more sense later.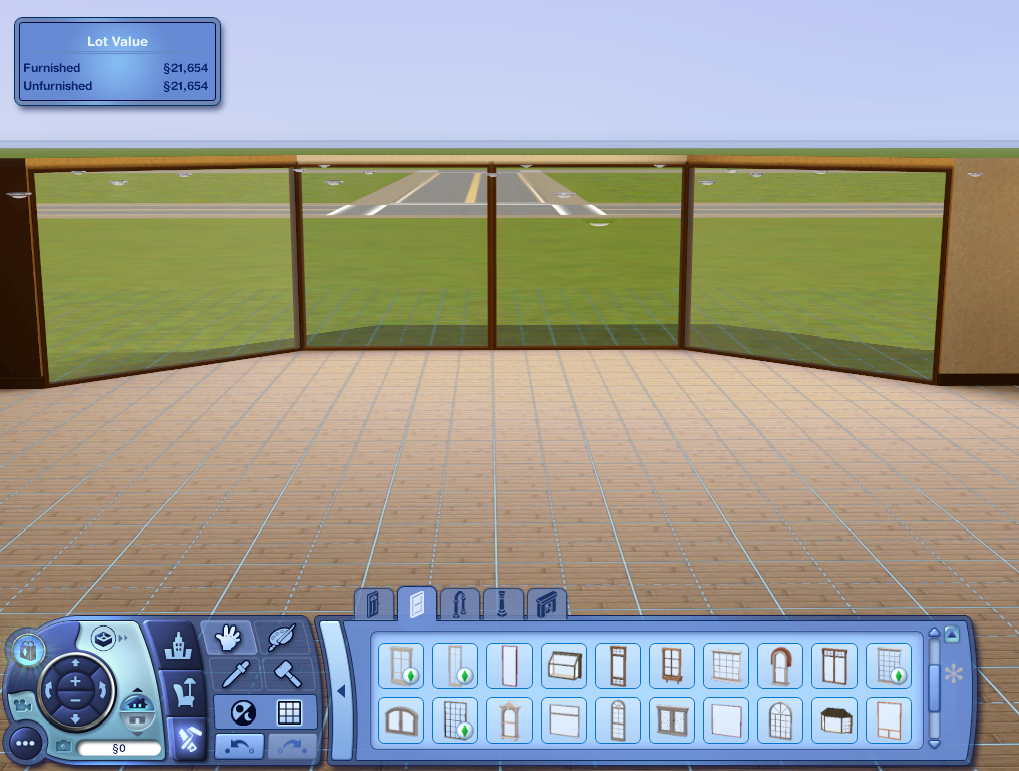 To give lots of light, I covered the walls in large windows. The color for the edges of the windows matches the old trim of the walls. This will become important later.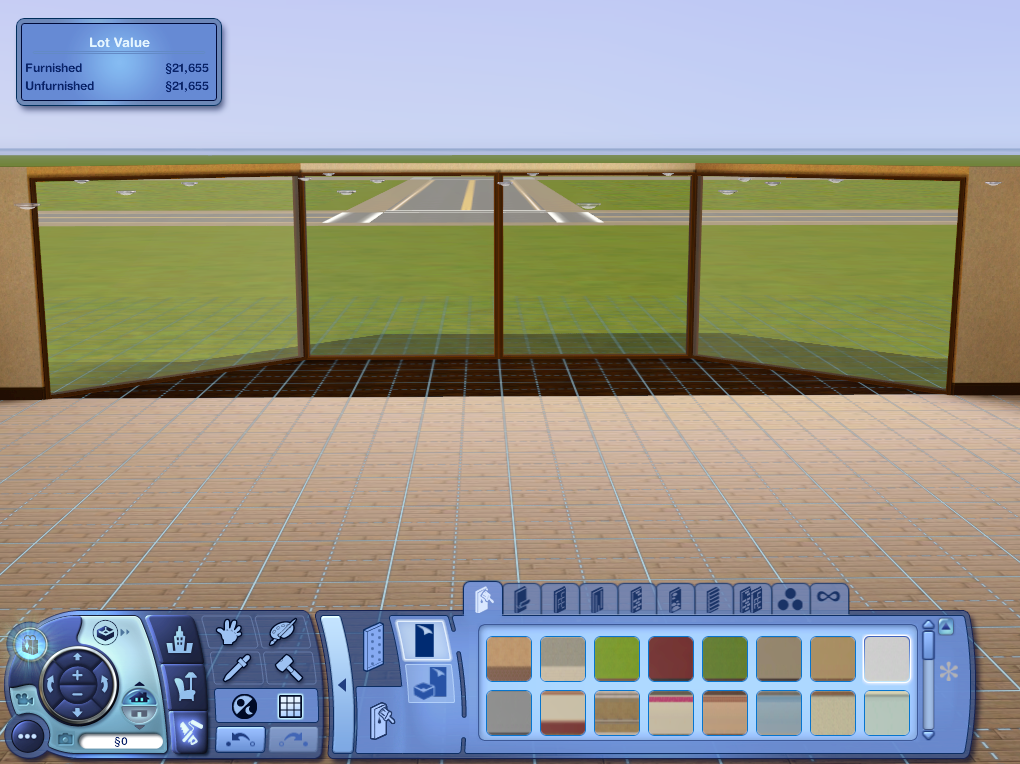 I like hardwood floors in my home offices because it makes the atmosphere crisper and more professional, but you can do carpet or even tile if you want. I chose a color slightly darker than the edges of the windows. This makes the room look thinner and more comfortable.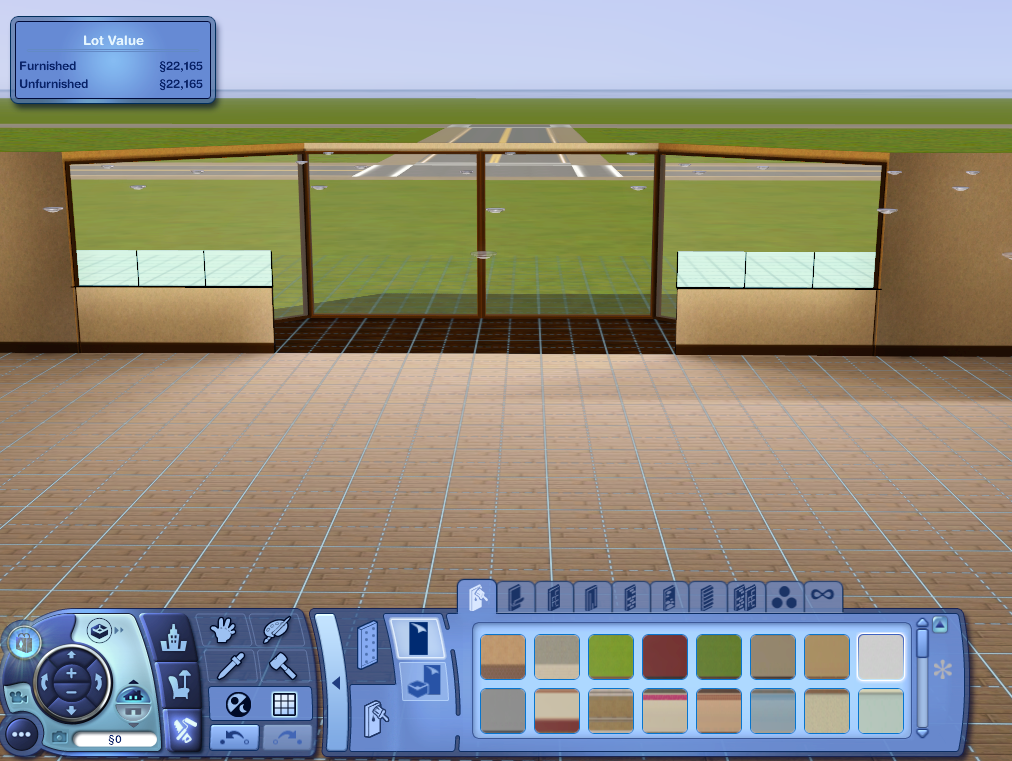 Next come the half walls! You can bring the half walls in more to create a door, but I wanted to keep it open. On the outside of the room is the lighter wall color, and on the inside, the darker. I chose the glass top because it works with the windows.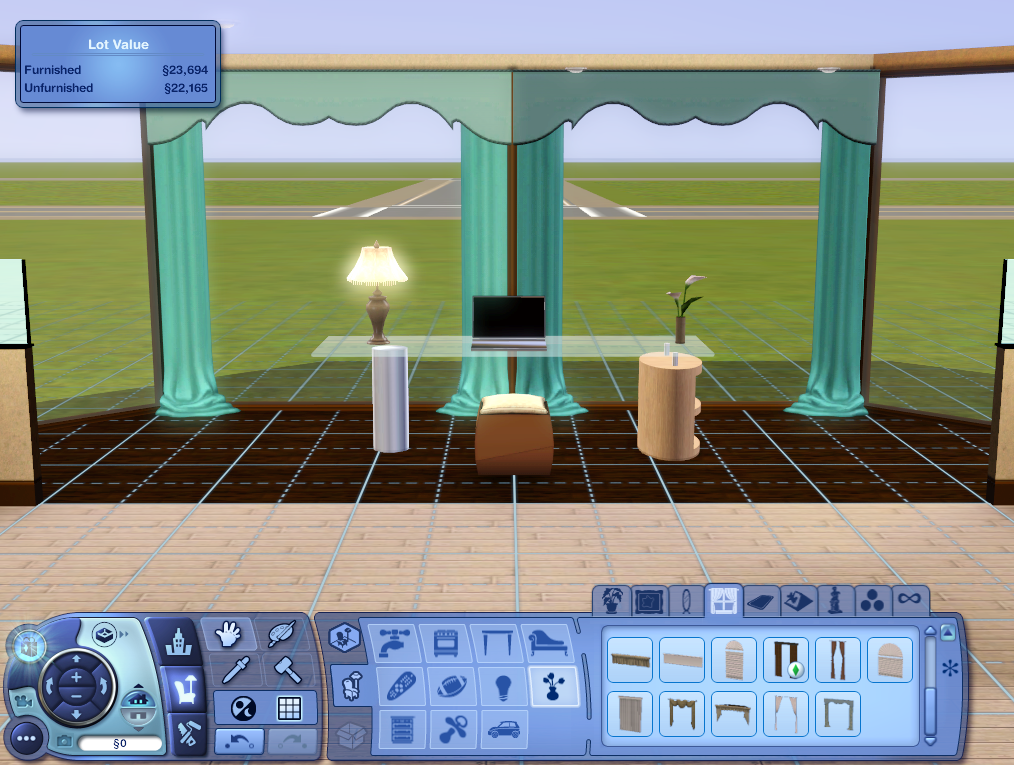 Now here comes the fun part- decorating the room. I picked this desk because it goes well with the glass theme of the room. The wood is the same as the lighter wall color. I put a laptop and a vase of flowers on it, just as a nice touch. The lamp has a dark tannish grey base. The curtains on the window add a splash of color to the room. The blue and brown complement each other very well, and I like the wide style of these curtains.
You could have a computer chair, but sitting in a stiff-backed wooden chair all day just isn't good for you. You could pick a stumpy armchair, or do what I did- a stool or cushion.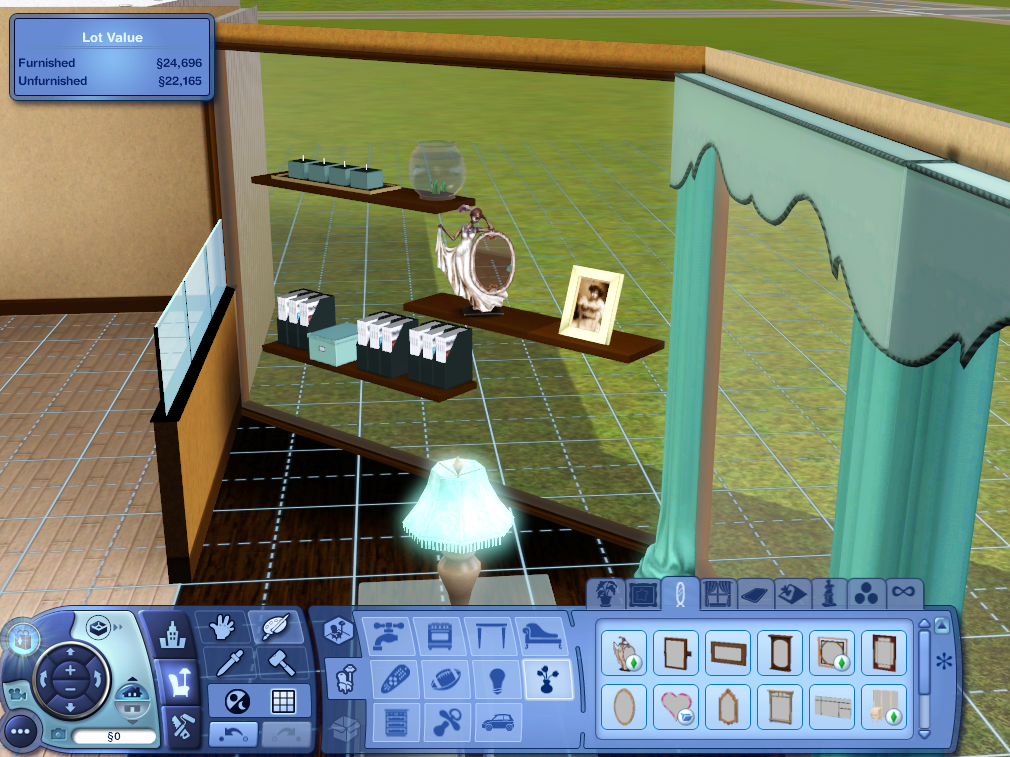 I added shelves to one of my windows. On the bottom shelf is a little lockbox to hold anything you can imagine, and the box is nestled between some files. Above that is a picture, because pictures are nice to have (they turn a cubicle into a home-away-from-home). The mirror is just something I added to fill the space. And above that I have a goldfish bowl for keeping a little pet. Next to that are a few candles for when you need to relax.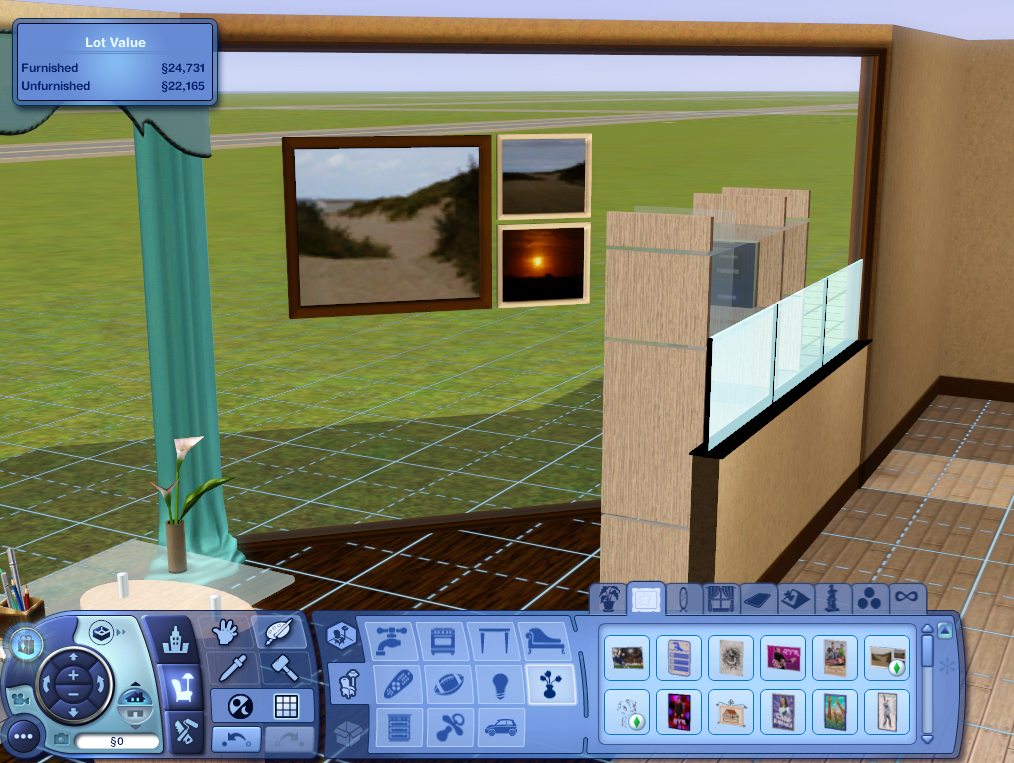 On the opposite wall is a collection of pictures. The big frame has the same color as the window edges, and the smaller frames match the desk and bookshelf.
And speaking of the bookshelf… I added a bookshelf with glass shelves to take up some of the dead space between the wall and half wall. I didn't do anything on the other side because it would have been a bit too symmetrical.

And here you are. A home office space your Sim will love to stay in. Wondering about the two different wall colors? Well at a quick glance, the light wall color makes the room look flatter and wider. It sort of disguises the shape of the room. It also highlights and draws your attention to the desk. You may not notice it, but you look more towards the center of the room, where the computer is, than to the decorations. This way you're not distracted by the background.
I hope you enjoy your home office. Feel free to post some pics to this thread! I'd love to see what you all have done with your offices.
XOXOXO,
Kay
#2

3rd Dec 2010 at 9:34 PM
Could a staff member please move this into the Tutorial folder? Thanks (:

Theorist

#3

5th Dec 2010 at 2:08 PM
Cute little space, thanks for the ideas

---
Hi I'm Paul!

Lab Assistant


#4

7th Dec 2010 at 11:49 AM
Oh, thanks, you've got some really good Tips hidden in that Tutorial, I, for example, didn't knew about different color shades changing the Feeling of a room, and the Tutorial was very inspiring. Now I just wanna go ingame and build my own home office... Sadly I don't have any writer Sims - I better create one now!
#5

24th Dec 2010 at 4:44 PM
Thanks for the nice comments (:

Forum Resident




#6

24th Dec 2010 at 5:52 PM
It's a cute space and all, but I personally find it a bit unrealistic to hang shelves and pictures on big plate glass window walls. It would make more sense, I think, to position the bookcase against the window to act as shelves instead. I do love the colors you chose, though. I find I use those a lot myself in the homes I build. You could also add some benches on the other side of the half walls to make a proper reception area if you were so inclined.
Back to top