Site Map

>

CAW Terrain - Lucky Palms' distant terrain doesn't show up in CAW

>

CAW tools and resources which don't belong in the Downloads section - terrains, roads, etc.
Replies: 4 (
Who?
), Viewed: 9128 times.
#1

12th Feb 2017 at 12:00 PM

Lucky Palms' distant terrain doesn't show up in CAW
Hello! I have been browsing the web looking for answers but unfortunately have been unable to find any. Therefore I am opening this new thread. I have been wanting to create my own world for quite a while now. From the get go I wanted anything but an island, meaning I will need some kind of distant terrain. Seeing as my world will be desert-like, I chose to use Lucky Palms' distant terrain, as it suited my tastes. I followed instructions posted in threads like
http://modthesims.info/t/485395
and even consulted this site
http://simsexpressie-caw-resources....n-previews.html
as it provides instructions in my native language, thinking that the name of the distant terrain might have been altered from English to Dutch, since that is the language my CAW-tool is set to. However, I have had no luck in locating this file in CAW. I have it in both my package folder in my CAW framework as well as in the mods folders of my Sims 3 folder. So now I am stuck with this problem where I either cannot find the distant terrain, or that it doesn't show up in CAW at all (though the latter is more likely). I am hoping someone on here will be able to guide me through this problem, so that it can be resolved. Any help will be appreciated!

Be like the 22nd elephant with heated value in space, bark!
retired moderator





#2

12th Feb 2017 at 2:13 PM
Do you also have Lucky Palms installed? It could be that the creator made this so that it uses resources from the original.
By the way, it would be better if you had posted in the CAW forum- this subforum is specifically for CAW downloads.
#3

12th Feb 2017 at 4:15 PM
I do have Lucky Palms installed, yes. Despite this it still does not show up. Distant terrains like the one from University or Riverview however, do. Though I think Riverview's distant terrain is included by default(?). I'm not sure where the issue lies or how to get around it. Also, thanks for letting me know, I'll make sure to post in that forum instead in the future.

edit: I think this issue might be exclusive to store-bought worlds. I own Aurora Skies as well but the DT for it doesn't show up in CAW either.

Be like the 22nd elephant with heated value in space, bark!
retired moderator





#4

13th Feb 2017 at 9:06 PM
No, Riverview's DT requires a mod to show up too. The reason being that the Store worlds have the assets (including the DT) packaged in the world file, so are only available when the world file is loaded (i.e, when the world is being played).
Do you have your game and CAW in a language other than English? It could be that the people who cloned the DT did not copy the name string to the other languages, so perhaps that's why it's not showing. Do you have any items that look like a series of numbers, like this: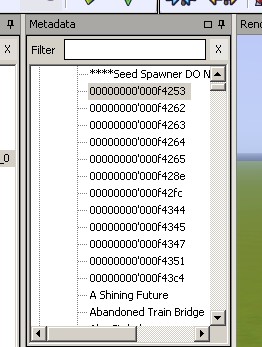 If so, try clicking those- one of them might be your DT!
#5

16th Feb 2017 at 4:10 PM
Upon further inspection I found that there was something wrong with the resource.cfg file in my caw framework. After deleting and setting it up once again it seems to work just fine. I was able to locate the distant terrain for lucky palms under the name Verre Woestijn in the metadata, which is in Dutch; the language my game is set to. Thank you for all the help!
Back to top