How do I change the appearance of my sims?
How do I change my sims' hair, makeup, facial hair, eyebrows, and accessories?
For this, you can use any mirror in the game (Maxis or custom). With the sim you want to change selected, click on the mirror and choose Change Appearance. Your sim will walk to the mirror, and you'll get a window that will allow you to change their makeup, accessories, facial hair, and eyebrows.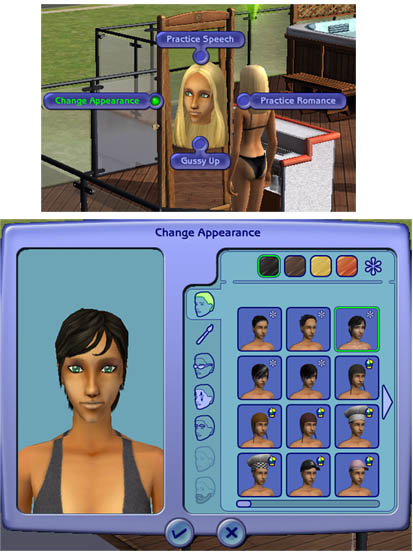 How do I change my toddlers' appearance?
If you have Open for Business or later expansions, you can have an adult or teen pick up the toddler, then change the toddler's appearance by clicking on the mirror with that adult or teen selected.
How do I change my sims' eye colour?
The easiest way to change a sim's eye colour is by using contacts. Contacts are full-face makeup or other makeup that cover the sim's eyes, very similar to real coloured contacts.
Try using the Google search or downloads search to search for "contacts" to find all sorts of eyes that can be applied after creating a sim.
How do I change my sims' skintone?
Changing skintone is actually fairly tricky. There are only a couple ways to do so.
One way is to use SimPE's Sim Surgery option. Clone the sim whose skin you want to change. Change the skintone on the cloned sim in Body Shop and make a new copy. Then go into the game, create that copy, and exit. Use SimSurgery to apply the skintone from the new copy to the old sim.
How do I change my sims' clothing?
Sims only come with the clothing you put them in when you created them in Create a Family. You will need to have them purchase more clothes before they can change outfits.
One adult sim can buy clothes for the whole family.
To purchase more clothing, have a sim drive to a community lot (via an owned vehicle or taxi) that contains a clothing rack. If you are playing a built-in neighborhood there are generally several community lots with clothing store functions.
Click on the clothing rack and choose your outfits. You can browse, try on, and purchase. Purchase the clothing of your choice. Remember, if you get separate everyday clothing you will need to make sure to purchase at least one top and one bottom in order for that clothing to work.
When you have finished purchasing clothing, have your sim return home.
Your sim will need to own a wardrobe or dresser to change their clothes. Click on the wardrobe or dresser and choose Plan Outfit. Choose the clothing you would like your sim to wear for that type. If you would like them to change into that outfit, click on Change Into... and choose the clothing type you would like.
How do I change my toddlers' clothing?
Have an adult or teen pick up the toddler, then, with that adult or teen selected, click on a changing table and Plan Outfit/Change Into the same way you would on a wardrobe or dresser for an older sim.
How do I put clothing on babies?
There's no way to really change infant/little baby clothing the same way you can for other sims. However, there are a couple options so they don't have to just wear a diaper.
The first are skintones: the parents must both have the custom skin with texturing painted onto the baby's body to make it look like it's wearing something other than just a diaper. If only one parent has that skin, the baby will have a 50% chance of having that clothing. There are no other options besides which skintone has which baby clothing, and which of these you use for the parents, to choose the baby's clothing.
The second option are default replacements that change the default mesh for the baby body into a onesie with a texture. You can only use one at a time, so you can't have blue boys and pink girls, for instance. You can switch clothing by changing which default replacement you have in your game, but that requires exiting the game.

For a listing of clothing-as-skintones and default replacement clothing for babies/infants, see here: Child Clothing.
If you found this article useful, please remember to click

Credits
Thanks to HystericalParoxysm for the original article.
Related Links