How to take better screenshots, control the game's camera, and adjust your graphics options for best results.
Big Enough
The larger your pics, the better! Tiny pics won't show enough detail to see what you've made.
Minimum Size: 800 pixels wide by 600 pixels tall is a good size for the smallest pic you would want to upload. You may have smaller pics for thumbnails and the like, but for your required screenshots, please go as big as you can!
Maximum Size: MTS allows pictures up to 2560 pixels wide by 1440 pixels tall, and a file size limit of 800 kbs - so you can have nice, big, pretty pics. You may have to resize your pictures or apply compression to get them to fit within that limit.
Please don't just take a small pic and size it up in your graphics program to get bigger pics - this only makes the dimensions larger but doesn't add any detail and just gives you a blurry, pixellated larger pic, not a nice clear one.
Well-lit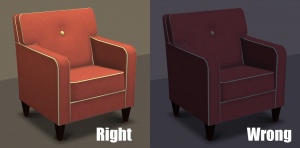 Make sure you take your pictures during the daytime in bright sunlight, in a well-lit room, etc., - make sure your screenshots are nice and bright enough that people can see what you've made. Nighttime shots or those in a dark room really don't show off your creation very much.

At the same time, make sure you don't use too much light: if you put light-coloured item under a bright light, it can wash out and lose a lot of the detail of what you've made.

Camera Controls
Take some time to just play around with the camera. It can take a while to get used to the camera controls, and even once you are experienced in their use, it may be challenging to get the shot you want with the constraints on the controls.
If you haven't taken many sim pictures before, here is a list of camera controls:
Puts the game into Cameraman mode, allowing better and more control of the camera, and removing the blue user interface. Make sure you are in live mode before going into Cameraman mode or you will see grid lines on the ground and floating where floor tiles may be placed. TS3 Note: You will only be able to go into cameraman mode once per load if you are in buy/build mode (without a family moved in). You can either exit to the neighborhood and return to take more pictures, or instead just move a family in for taking your pics.
W moves the camera forward. S moves it backward.
A moves the camera left. D moves it right.
Q lowers the camera. E raises it.
Zooms in and out.
Windowed Mode
TS2: In order to take your pictures using the methods described here, you will need your game running in a window, so you can easily switch to other applications without causing major instability and lag. Instructions on setting up Windowed Mode for Sims 2 may be found here: Game Help:Windowed Mode. Windowed mode should be perfectly safe - in fact, some users actually report better game performance when running in a window. Your mileage may vary.

TS3: In Sims 3, you can use windowed mode by simply choosing it in your game's options. Full instructions can be found in Game Help:TS3 Windowed Mode. Windowed mode will allow you to use Print Screen or FRAPS or whatever screenshotting program you desire, without getting dark pictures. If you choose to NOT use windowed mode for TS3, you must use the C key to take pictures using the in-game camera - taking pictures fullscreened in TS3 without using the C key will result in icky dark screenshots.
C Key vs. Screenshot Program/Print Screen
TS2: In order to take nice big pics, you should not use the game's screenshot system, using the C key or the camera button on the game's controls to take your pictures. Even on the highest picture settings, pictures will still be small, with a very high level of JPEG compression, making them blurry and crunchy. Instead, use Print Screen or a screenshot program.

TS3: The C key camera is much improved in TS3, making it possible to use to take pictures for upload and still have nice big, pretty pictures. You can still use a screenshot program or print screen if you desire, but you will need to run your game in Windowed Mode (see above) to keep your pictures from getting dark.
Screenshot Program
There are many programs available, free and pay, that will take screenshots for you by using a hotkey, and save them to a folder - just like The Sims 2 with the C key, but with options for much better quality settings.
A quick Google search for 'free screenshot program' will also bring up many other options, which may have other features that are of interest to you.
Print Screen
If you have enough RAM to run Photoshop or another graphics editing program at the same time as Sims 2, you may want to take screenshots yourself, without the use of a program to store them for you.
To do that, simply press the Print Screen or PrntScn key on your keyboard - it's usually off toward the right, over the arrow keys, above Insert and Delete. This will copy your current screen to your Windows clipboard, as if you had selected and copied it as an image.
Then open any graphics editing program, create a new document the size of your monitor's resolution, and paste into that document. Your screenshot should appear in the document.
Optimizing your images for upload
Many simmers struggle with getting their images to be clear, crisp and under the required file size while keeping the image size larger than 800px by 600px. After getting your images from the in game camera or using a print screen program you will need to resize them and compress them into a jpeg image. Many graphics programs have a built in optimizing feature.
We have instructions on using the image compression features of the following programs:
Maximum Number of Inline/attached screenshots
Inline screenshots are images that appear in the text of the upload that load for the viewer along with the rest of the text. Inline screenshots can either be linked from the attached screenshots, or from an external hosting site like Tinypic, Photobucket, or Flickr.
Attached screenshots are screenshots that have been attached to the upload using the "manage attachments" feature on MTS. They display as small thumbnails until clicked on.

You may host your inline screenshots elsewhere like Photobucket, Tinypic, or Flickr - however, these screenshots hosted elsewhere must be additional "bonus" screenshots. All of the screenshots we actually require for your upload need to be attached to the thread itself. If your Photobucket account runs out of bandwidth or you delete the pics, people still need to be able to get the required screenshots on your thread.
You may now upload up to 100 pics! Of course, please keep it to a reasonable quantity... only things like huge sets, full worlds, etc. should have that many pics! Remember, you can always collage several different images together into one image if you have a bunch of stuff to show off, or want to show multiple angles of an item.
For the bonus photos, we recommend you use a spoiler tag to hide the images, then people can click on it to see them. Their pages will load faster if all the images aren't downloading at once. [spoiler=interior rooms]http:// wheveremypictureis/picture.jpg[/spoiler] The 'interior rooms' can be replaced by whatever grouping you want to present, 'hidden garden', 'pool views', 'master suite', 'kids room', etc.
You may place as many photos within a spoiler grouping as you'd like.