>

Pixel dollhouses/For sims to live their lives in/Nice houses for sims
Castle Le Fay
MTS has all free content, all the time. Find out how YOU can help to keep it running.
Tell me how...
Featured Upload! This is a featured upload! It showcases the best talent and creativity available on MTS and in the community.


Created by Tatiana Dokuchic View Policy / About Me View Downloads Home Twitter
Uploaded 12th Nov 2007 at 10:26 PM · Updated 25th Dec 2012 at 4:59 AM by Tatiana Dokuchic
Castle Le Fay by Tatiana
This is a 4x4 lot (5br/5ba) valued at $169,068 and comes fully furnished.
This specific package has been played/tested for 10 sim days so please forgive a few weeds in the lawn.
It requires everything up to & including Bon Voyage.
I created 37 new walls, 1 picture mesh and 3 rug recolours for this lot.
Many thanks to all of the talented artists who's inspiring cc contributed so much to this lot.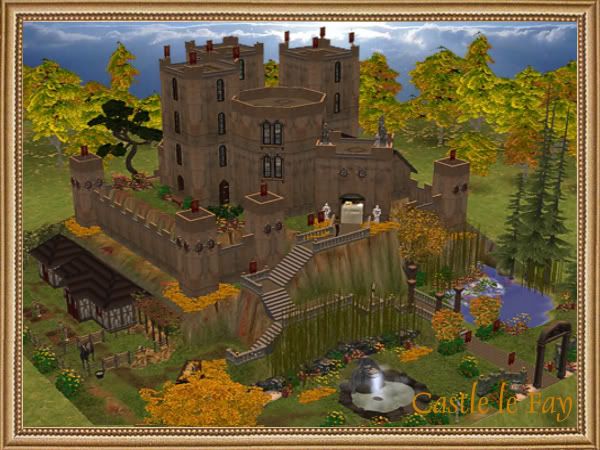 Morgaine Le Fay, a prominent figure of Arthurian Legend, was said to be a sorceress, priestess, queen and would-be world conqueror. Rumoured to be half-human and half-faerie her base of operations was
Castle Le Fay
in the Valley of Wailing Mists. I have imagined her home to be a place where a lot of living, learning and magic occurs and this mid-sized castle is great for all of these activities. I had so much fun playing it that I kept dragging my feet to actually upload it.

The peasant cottage offers a bit of a retreat for those castle dwellers that need a break from the intensity of Morgaine's personality. In my game, I turned it into a small home business selling various baked goods. The hot-springs provide well-earned relaxation after a hard day of brewing potions.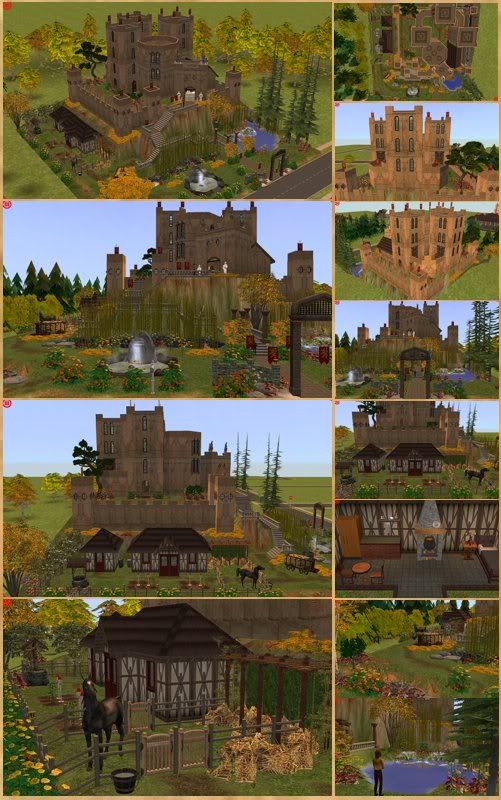 Please click picture for larger image
Morgaine's magic (and Targa's ascension stairs) allows all sims to move mysteriously through the 5 levels of the castle without all of the tedious climbing of stairs. Medieval tapestries adorn the walls and floors throughout the castle. Morgaine is immortalized in the portrait in the ground floor study and Circe (another "strong" woman is featured in the entrance. A great hall, music room (forgive the modern piano), kitchen, nursery and baths are also found on the ground floor.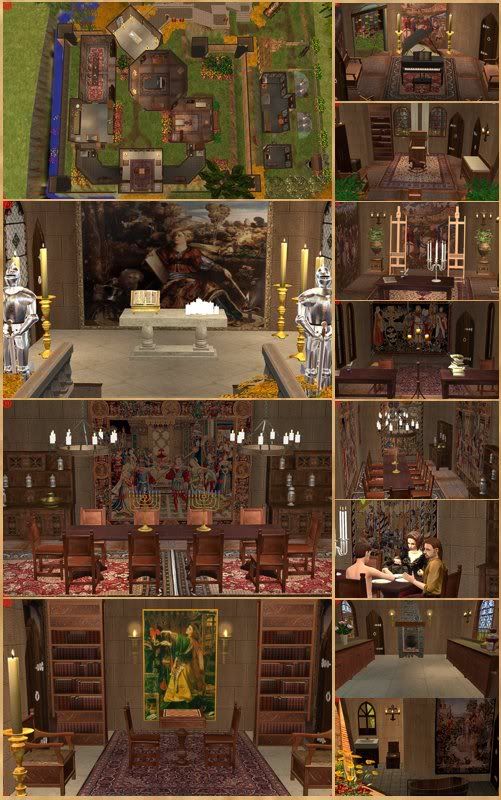 Please click picture for larger image
You will find the 5 bedrooms located on the 2nd, 3rd & 4th levels as well as various baths & libraries, an art studio and a place to enjoy the healing public bath.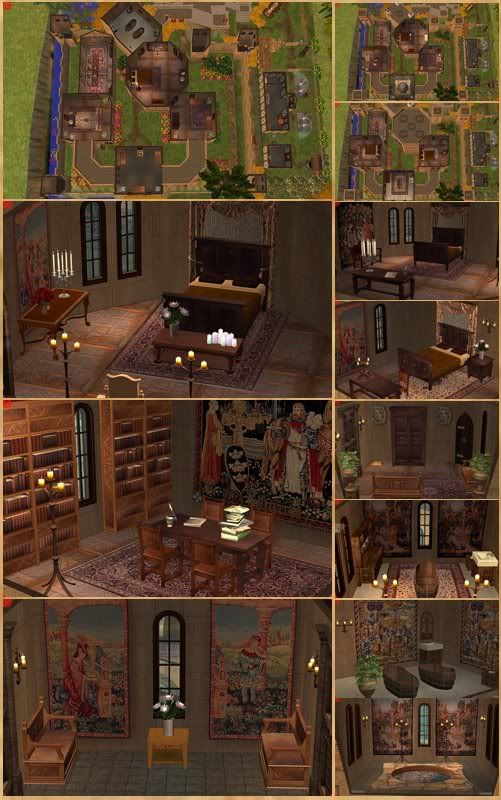 Please click picture for larger image
Custom Content
46 walls & 2 floors by Tatiana of
SterlingSims2
1 terrain by Cheryl of
SterlingSims2
Building & Furniture:
Tatiana's Art Gallery (2x3) by Tatiana of
SterlingSims2
Castle Le Fay recoloured rugs by Tatiana of
SterlingSims2
Oldham Stone Wall by Maltha & Fido of
Isle of Maltha
Cupid by Maxis at
TheSims2
Windows & waterfall by Macarossi of
MTS2
Amicus Curiae Wall Torch by Kate of
Parsimonious
Outdoor hot tub by Jasmine of
Sims In Paris
Furniture by Taroo of
Tarox 4 Sims 2
Antique Cooking Fireplace by Maylin of
MTS2
Just one of those knights by gromit of
MTS2
Stallion - Blackbird by Dragon Slave of
MTS2
Hay wagon & hay by feeEssen of
MTS2
Gothic chamber door, magic circle & accessories by Lethe_s of
MTS2
Medieval banner pole by Marina of
Marina Sims
Window by Steffor of
Avalon
Ascension stairs by Targa of
MTS2
Chateau collection by Frances of
Caravan Shop Sims 2
(follow this link for meshes)
Eglise collection by Lithium of
Caravan Shop Sims 2
(follow this link for meshes)
Candle Pack & Candle Stand by Alban of
French Sims Luxury
(follow this link for meshes)
Plants:
Midbiscus recolours by Skye of
SterlingSims2
Plants & pond rocks by Macarossi of
MTS2
Plants by Kate of
Parsimonious
Birch Tree Shrubby by Khakidoo of
MTS2
Plants by Steffor of
Avalon
Note that you will need both parts for this lot to function and appear as designed.
You will also need the meshes from:
Caravan Shop Sims :
Under
Castle
look for the Medieval Living Room, Medieval Nursery, Medieval Bedroom, Medieval Bathroom part 1 & 2, and Decoration/ Misc Altar Chapel. Under
Church/Objects
look for the Bible and Candle.
French Sims Luxury:
The candle pack from the
Juliette Bathroom
and the candle stand from the
Trocadero Living Room
.
I had a wonderful time creating & playing this lot. I hope that you enjoy it as much as I do.

UPDATE (December 2012):
Unfortunately Caravan Shop Sims & French Luxury Sims no longer exist but you can find the complete package, including all meshes at
Castle Le Fay at SterlilngSims2
Tags: #castle, #fairytale, #witch, #sorceress, #magic, #legend, #Morgaine, #Arthur, #Tatiana
Tatiana's Tea Room - MTS2
My cc may be reused on FREE SITES only.
My lots are for your in game use, please DO NOT UPLOAD them under any circumstances.

Feel free to recolour and include my meshes in your packages. I would ask that I receive proper credit for my work.

I DO NOT give permission to transfer my creations to other software. Please DO NOT convert and transfer them to TheSims3 for example.

It can take me months to do the research, design and building of my creations. I love every minute of it and I hope that you will enjoy using them as much as I do creating them. :)