Sims

>

>

Big eyes and blue hair/All the boys look like they're girls/DESU DESU YO
Cait Sith FFVII
MTS has all free content, all the time. Find out how YOU can help to keep it running.
Tell me how...
Created by Taure View Downloads Home
Uploaded 23rd Feb 2009 at 8:19 PM · Updated 25th Oct 2010 at 10:10 PM by Taure
Be careful what you say to me, I just might try and do it! XD
I think this is as close as I can get to making a Cait Sith without being able to mesh. And aww, come on. I know it's far from purrfect but...he is kinda cute, no? It's one of Square's redundant characters but after you find out what he really is in the game, I thought he was ok. And he's sooo cute in Dirge of Cerberus! So, whether you want it or not, I present you..Cait Sith!!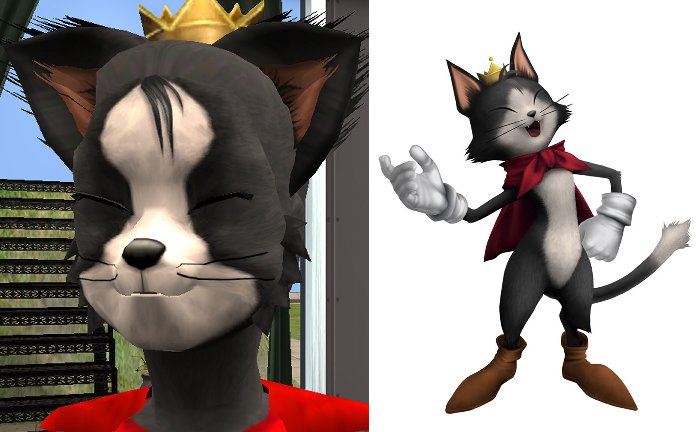 I used kingtorrid's anthro face to get him to look like a kitty, thanks for that. I don't think it's necessary to be able to see CS in game, but here's the link just in case:
http://www.modthesims2.com/download.php?t=277425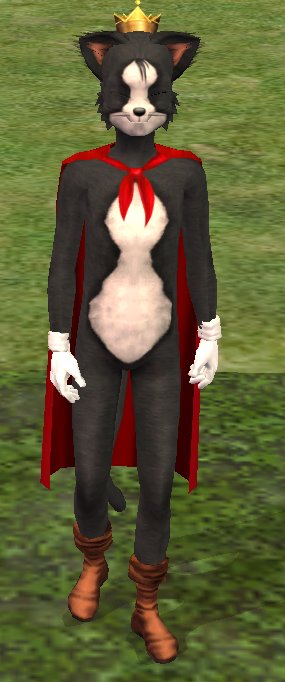 Everything in the pack is a recolour by me. I'm never going to do a skintone again, haha. CS is a stuffed kitty, so I tried to stick to that (but I think non-final fantasy fans might enjoy this sim/skintone for just being a cat :D) His outfit is just a Maxis mesh. His little lock of hair is face paint, because I forgot to add it to the skintone. Needless to say, he's a child. An adult Cait just looked..silly. Maybe you can have Reeve babysit 'm?

You need a gazillion meshes for this to work unfortunately. In addition to the ones already listed in the meshes needed section, you'll need these as well:
http://www.modthesims2.com/download.php?t=102893
(bootcuffs Zoi)
http://www.modthesims2.com/download.php?t=102893
(cuffs Zoi)
http://<br /> Find the mesh for th...ad.php?t=123609
cuz it's so darn cute when he opens his mouth and you can see the fangs!!
Well, sorry for the huge size of custom meshes but I couldn't resist!! (thanks all mesh creators) I bet you never thought you'd have Cait Sith in your game

**BONUS**
He looked SOOOOO CUTE as a toddler that I decided to include the toddler pack. No cuffs and a painted on cape but just look at that face :'D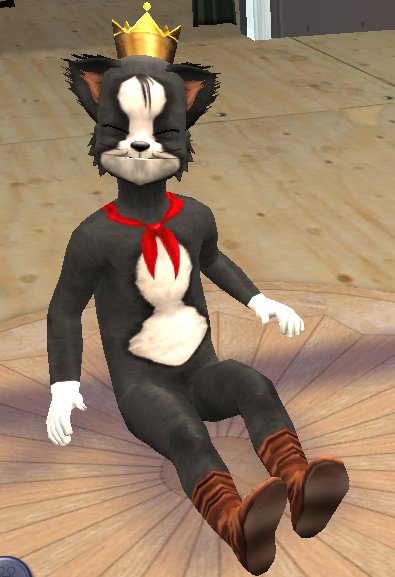 The wellknown unlocked maxis toddler undies mesh is here:
http://www.modthesims2.com/download.php?t=255243
I included the baby screenshot to show how cute this skintone is, haha. Yeah...I had fun doing this.
Custom Content by Me:
- Cait Sith Face
- Cait Sith Eyes
- Cait Sith Boot Cuffs - Sylvie
- Cait Sith Tail
- Cait Sith Cape - Sylvie
- Cait Sith Fur - Sylvie
- Cait Sith Crown - Sylvie
- Cait Sith Ears - Sylvie
- Cait Sith Lock - Sylvie
- Cait Sith Skin - Sylvie
- Cait Sith Hair
- Cait Sith Outfit - Sylvie
- Cait Sith Face Toddler
- Cait Sith Toddler Crown - Sylvie
- Cait Sith Toddler - Sylvie
Custom Content Included:
- Vampire Fangs by
general zoi