>

A little dab'll do ya. Or maybe a lot. Paint your Sims faces at this makeup counter.
SAMCRO Tattoos & Scars Pack
MTS has all free content, all the time. Find out how YOU can help to keep it running.
Tell me how...
94,855

Downloads
644

Thanks Thanks
185

Favourited
108,186

Views
Personal Picked Upload!
This is a personal favourite of the creator!

Uploaded: 8th Mar 2015 at 11:38 PM
Updated: 9th Mar 2015 at 8:56 PM
about:
Eleven designs tattoos based on SoA TV Series of SAMCRO members (
Otto, Jax, Opie, Chibs, Clay, Happy, Bobby, Tig, Juice, Gemma, Tara
) and three additional scars for Otto, Chibs and Gemma.
Available for both genders. Ages Teen, Young Adult, Adult and Elder.
This packs comes with two packages file, first for male (
Otto, Jax, Opie, Chibs, Clay, Happy, Bobby, Tig, Juice
) and the second for female (
Gemma, Tara
).
You can find them under: Body --> Tattoos
(Custom Thumbnails)
BACKSTORIES:
GEMMA
Flower (RA): the delicate flower on the inside wrist of Gemma is in stark contrast to all she represents. It makes a subtle statement to her femininity.
Crow (C): as the old lady of a SAMCRO member Gemma has the Crow tattoo.
Chest Scar (C): the scar she has had since birth because she was born with the "family curse" – a heart problem. Thomas and Abel were born with it, also.
TARA
Crow (B): like Gemma, she got a crow tattoo on her lower back representing her connection to SAMCRO.
Back: Rose (as seen as on SoA opening credit)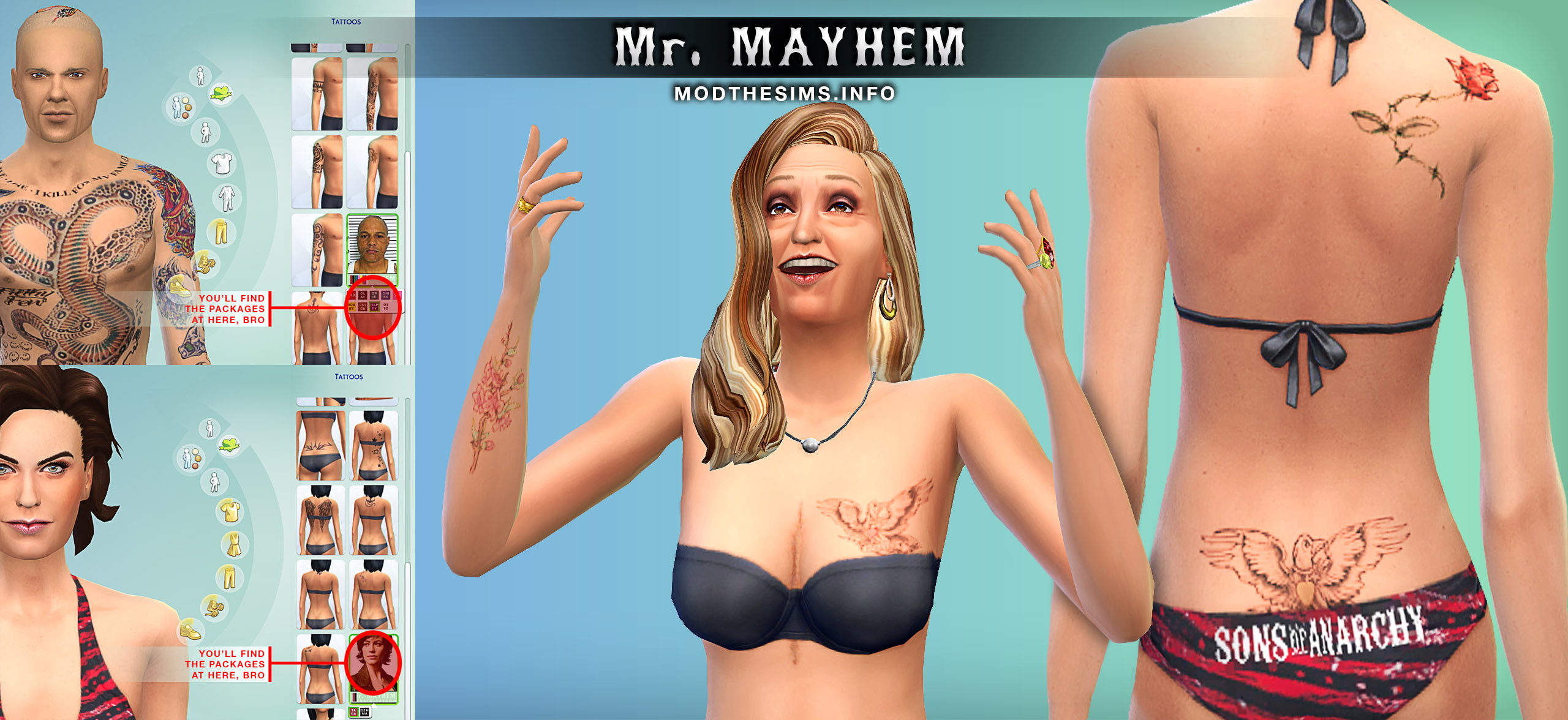 JAX
JT's Grave (RA): a tribute to his lovely father, John Teller.
Abel (C): on his chest, Abel is the name of his first son.
Thomas (L): on his left arm, Thomas is his second son, also the name of his deceased brother.
Back: Club's Logo.
CLAY
Paratrooper (LA): it represented Clay's combat service with a Paratrooper's Unit in Vietnam.
Rifles & Flags (LA): standard Vietnam vet tattoo. Stock, found online, but added to the overall effect of the Vietnam vet having served his time.
Spider Web (E): a deeply coded tattoo – meaning different things to different cultures, gangs, etc. For Clay, the spider web tattoo was a prison time tattoo.
Dead Cong (LA): an infamous Sailor Jerry original, this is from a tattoo "flash" collection he drew for servicemen in the late 60's.
SOA Reaper: an iconic tattoo on right arm and back, after Season 5, when it was brutally blacked out by Happy.
Right Forearm: Gemma.
OTTO
Luann (LA): Otto's Luann tattoo is in honor of his wife and was obtained before he went to prison.
Face: Eye Scar.
Neck: SOA Lettering.
Left Arm: SOA Reaper.
Fingers: Robur Wires.
Back: Club's Logo.
OPIE
Donna (LA): Opie's Donna tattoo was in honor of his wife Donna Winston. After she was killed, actor Ryan Hurst requested wings be added to the tattoo, which was approved by Kurt Sutter.
Opie's Kids (LA): the tattoo was applied over the top of actor Ryan Hurst's existing Buddha tattoo, which head makeup artist Tracey Anderson had to cover with make-up.
Tantum-deus (LA): on Opie's left forearm there's Tantum-deus typo mean Only God in Latin.
Moth (T): on Opie's throat was the last tattoo this character received. The beautiful design consists of skulls incorporated into the wings of a moth.
Gracie (N) : on Opie's neck, Tracey Anderson recounts how the Gracie tattoo was a stock Tinsley transfer and that no Gracie actually existed. However, that didn't stop her from creating her own backstory for this mystery name!
Chest: The Center Cannot Hold, Anarchy is The Only Hope, SOA Reaper.
Right Arm: Redwood Original.
Wrist: SOA Skull & Bone.
Back: Club's Logo.
TIG
Knife's Girl (LA): being an ex-Marine, Tig was outfitted with a typical Marine tattoo designed by a WWII vet on his left arm.
Doll (C): After the death of Opie's wife Donna, actor Kim Coates and creator Kurt Sutter decided to have a tattoo designed to honor her, which ended up being a doll with the AK-47 and a rose. Thisy legendary tattoo artist Mark Mahoney.
Left Arm: SOA Reaper.
Right Arm: SOA Circle Logo.
Back: Club's Logo.
HAPPY
Happy's Face: he has a happy face tattooed onto him every time he kills someone.
Head: Snake
Chest: I Live. I Die. I Kill for My Family., Snake, Filthy Few, Japanese Demon.
Right Arm: Dragon, Geisha, Happy's Dog Face.
Left Arm: Tiger, Japanese Masks.
Back: Club's Logo.
BOBBY
Crow Skull (LA): Drawn by actor Mark Boone Junior, this tattoo, which incorporates a crow into the image of a skull, is his own homage to SAMCRO.
Skeletal Snake (RA): The tattoo was drawn by actor Mark Boone Junior, who was inspired by a California American Indian belief that placing poppies on the eyes of the deceased would bring them back to life.
Back: Club's Logo.
JUICE
Tribal (H): Juice's head tattoo is derived from one of the tattoos on Kurt Sutter's arms. Actor Theo Rossi believes that Juice got the intimidating tattoo on his head when he was young and innocent to inspire respect and fear.
Son Shine (C): Son Shine tattoo as the representation of the inner conflict that defines Juices. Juices' Son Shine tattoo was pretty huge for the story point after he kills Darvany.
Right Arm: Skulls.
Left Arm: SOA Reaper.
Back: Club's Logo.
CHIBS
Money (C): the tattoo on Chibs' chest wasn't chosen by actor Tommy Flanagan, but according to him, it means "F**k you, pay me."
Kerrianne (C): is the name of Chibs' daughter. He gets her name tattooed on her chest after he finds her in Season 3 and forms a tight bond with her.
RIP Ray Ray (RA): located on his right wrist, is a tribute to a costumer on the show who was killed in a car accident during the show's first season.
Face: Glasgow Smile.
Right Arm: Rosary, Anarchy Logo.
Left Arm: SOA Reaper.
Back: Club's Logo.

DO NOT recolors & re-upload to pay sites, especially "Sims4Forum" and "EA The Sims 4 Gallery."
Please read my full policies on my profile page
and give me credit with a link when using my work, brother.

And let me know that.

Hope you guys like it! Enjoy, bro!
Gemma & Tara's Bikini:
HERE
Jax Sim:
HERE
and if you want to download just the Club's Tats on back, my friend here
ironleo78
already made that,
HERE
and
HERE
little bit different with mine, but those are great too.

Additional Credits:
- Sons of Anarchy TV Show
- Kurt Sutter
- Sims4Studio
- All SOA Fans Worldwide
☠ ABOUT MY MODS ☠
☢ DO NOT re-upload to pay sites, especially Sims4Forum and EA The Sims 4 Gallery. ☢
► DO NOT claim my mods as your own. ◄
► NOT allowed to recolors. ◄
► NEVER will make SOA's Cut for female, so don't ask/request. ◄
► PLEASE give credit with a link when using my work, and let me know that. ◄
• REALLY really appreciate any kind of feedback from all of you. •
• VERY thankful to Kurt Sutter and Sons of Anarchy TV Show. •
• ENJOY with all my mods, brothers! ☕ •
http://i58.tinypic.com/122g46w.jpg
Now we're all set. Let's take everyone to the table!
❝All in favor of obeying my policies? Yeeaaa!❞