Sims 2

>

Careers

>

>

Custom majors for your scholarly Young Adult Sim (University EP only).
Horology Major
1,023

Downloads
40

Thanks Thanks
13

Favourited
9,947

Views

Uploaded: 6th Oct 2016 at 6:25 PM
Tic toc... Here is a major based on real life on that can be studied at Birmingham City University and it is heavily based on that course. I came across it on the UCAS website and found it incredibly interesting; I never knew that people could take a Bachelors course about studying clocks and watches.
What is Horology?
"Horology is the art and science of time measurement, and the study of clocks and watches, both mechanical and electronic."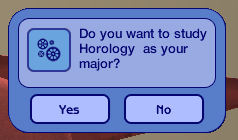 Info about my Trichology Major


Description: Horology: the art and science of time measurement, and the study of clocks and watches, both mechanical and electronic.

8 Class Titles:
1. Contextual Studies; A series of lectures on the history and evolution of horological mechanisms, including exploration and in-depth evaluations.
2. Design Drawing; An introduction to engineering drawing to latest standards using traditional (pencil) and digital techniques, to produce design drawings of individual components through to complex escapement drawings.
3. Horological Theoretical Studies; An introduction to principle constructs underlying simple horological mechanisms and escapements. This module ¬¬covers their evolution, design and operation.
4. Applied Studies; A series of practical projects making items out of ferrous and non-ferrous metals, assessed for accuracy and finish, followed by more advance projects as you progress.
5. Manufacturing and Finishing Techniques; This module explores various production and repair techniques, both traditional and modern, alongside advanced surface finishing skills.
6. Commercial Awareness; An introduction to a range of skills necessary for vocational practice, designed to increase employability and potential career progression.
7. Specialist Studies: You will produce your 'masterpiece' during this module - a significant horological mechanism that will showcase your combined workshop and employability skills.
8. Professional Practice; Service and portfolio presentation of a variety of simple mechanisms and your 'masterpiece' project.

1 primary skill: Mechanical
3 secondary skills: Logic, Creativity & Cleaning

Cloned from: History
Linked to Careers in: Military, Artist, Politics, Law

Class Times/Lengths: Same as History Major
GPA Points Lost if Final Exam Missed: Same as History Major

*It has its own unique GUID and will not overwrite any Maxis or any other Custom Majors!*


*Requires: University Expansion Pack*


*Requires: FrickaC's Majors Made Easier *
Packs Needed

For a full list of packs with names, see the Packs Needed popup.
Other Information
Major type
:
– Historical
– Realistic
Packs Needed
| | Base Game |
| --- | --- |
| | Sims 2 |
| | Expansion Pack |
| --- | --- |
| | University |
Hewwo there!
Hewwo there!

I've been playing sims since I was 9.
I like recolouring items to create more maxis match stuff. I try keeping as much of it simple and base game so it's fun for all!

General Policies:
-DO NOT reupload any of my work.
-DO NOT edit/modify any of my work without my consent.
-IF you use my work for any photographic or video work, please let me know and also credit me.
-Please DO NOT steal my trademark names that I use for colours.
With my recolours/textures:
You may include with Sims.
You may re-use my textures for related projects.

Uploading Terms for anything else:
-Upload to MTS ONLY!
-DO NOT upload onto TSR/ the Exchange

-Let me know if you've credited me, love to see what you've made!
-Have fun!
-A big thank you for those who have downloaded, thanked, favourited and commented! You guys bring joy to me.