>

Mods that run in the background that modify game play in all lots without player intervention.
No watchout for driverless vehicle and no shuffling *UPDATED to v1.2*
MTS has all free content, all the time. Find out how YOU can help to keep it running.
Tell me how...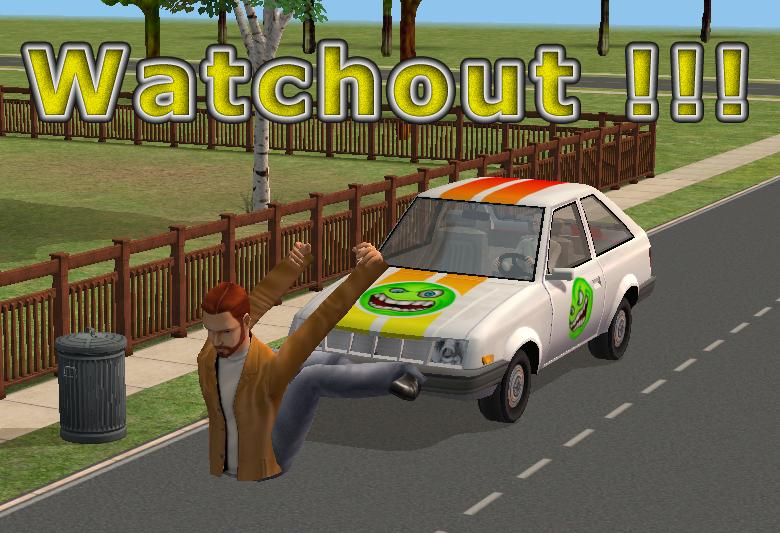 No watchout for driverless vehicle and no shuffling
* Requires : Nightlife or Bon Voyage or Store Edition or FreeTime or Apartment Life
* Compatibility: Nightlife, Open For Business, Pets, Seasons, Bon Voyage, FreeTime, Apartment Life, & all Stuff Packs
* Modifications: Semi-Global (affects all ownable vehicles)
* Hack Version#: 1.2
Update ( 10/14/2008 )
~~~~~~
1.2
- Now requires my Game Edition addon to fix compatibility with IKEA Stuff Pack
- Fully fixes previous 1.0/1.1 issue of Sims complaining that something is blocking their path, possibly becoming trapped in place unable to move
Quick Info
~~~~~~~~~~
* You must also download the following addon for this hack to work correctly:
df_game_edition_addon.package
http://modthesims2.com/showthread.php?t=303431
"Watchout!" - exclaims one of your Sims, directed at a non-moving vehicle with no driver. "OMG!!! It's going to run me over!"
Well obviously not, when there is no driver while the vehicle is parked and not even moving. This hack stops pointless "Watchout!" interactions, similar to the antiwatchout hack from MATY. While that hack conflicts with my "Vehicles cost money to drive" hack, this one does not. You should also read about the problems with the MATY hack in the Known Conflicts section.
The second part of the hack is the "no shuffling" fix. The Watchout and Shuffling issues are intertwined, so I fixed them both in the same hack file. This second part is related to Sims shuffling around endlessly when trying to get into a vehicle. It stops the problem from ever happening.
This hack does not alter taxi behavior; only ownable vehicles are affected.
* Check out the readme.txt file for more information.
Type: Fixed

God of Mod
You love my hacks?