Maxis Match Recolours of XM Sims Hair - Two Styles
8,380

Downloads
646

Thanks Thanks
53

Favourited
40,528

Views

Uploaded: 21st Nov 2008 at 8:29 PM
Updated: 9th Jul 2009 at 7:32 PM
Here are more hair recolours: the bun hairstyle from flora at xm sims, which is avaiable in two styles, one version with these long streaks or without them. I recoloured both. So you can get one set or two, as you want

The mesh you have to get from
here
, it´s the same one for the two hairstyles, only the alpha is different.
The hair is from toddler to adult, so no grey. It comes in the 4 basic colours and it´s in the right colour bins

the useless age (elder) is removed and the hair is family linked.
Set without streaks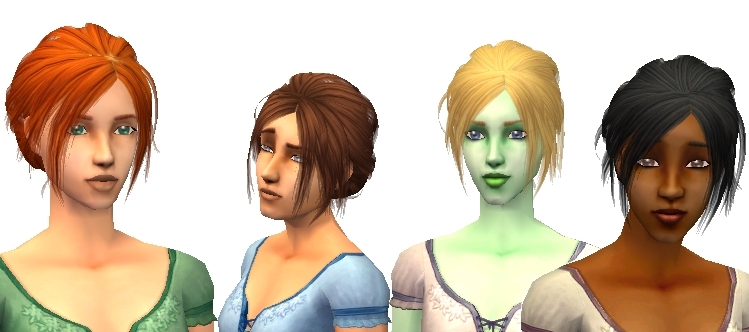 the red hair looks a bit blond on the top of the head, i fixed this, it looks now as the other hairstyle below, i only was too lazy to make a new pic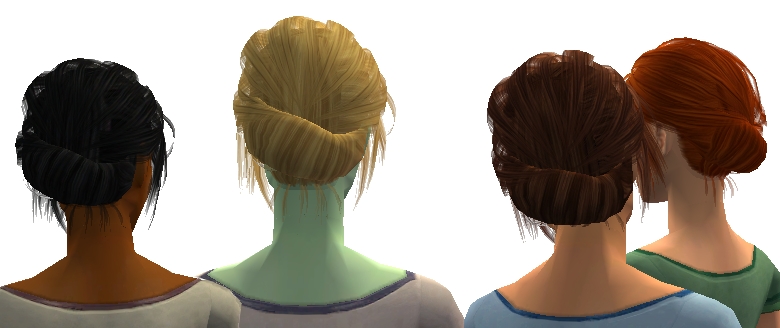 Set with long streaks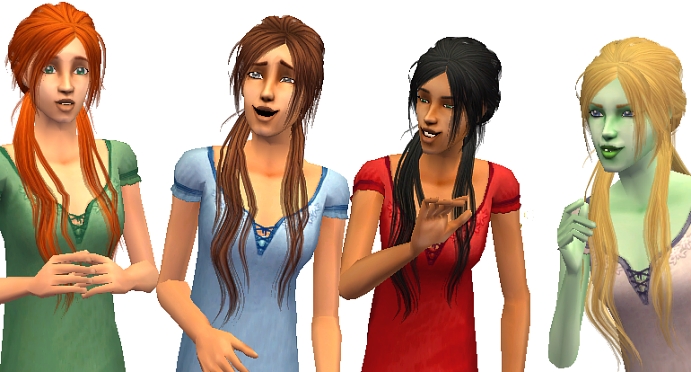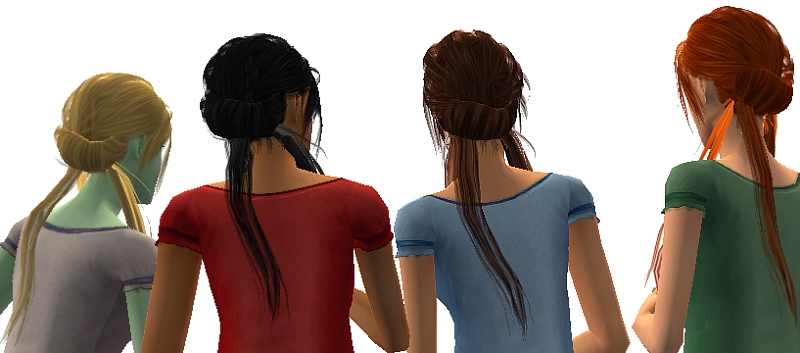 For more detailed pics look below.I hope you´ll like these

Additional Credits:
Flora for the nice mesh
I used the Compressorizer to make the files smaller.
Packs Needed
None, this is Sims 2 base game compatible!
Other Information
Hair Style
:
– Natural Colours
– Maxis-Match
Maxis Flags
:
– Not Applicable
Age
:
– Toddler
– Child
– Teen
– Young Adult
– Adult
Goodbye Folks + Huge Thanks
Hey guys,
I haven´t created or downloaded anything for months, I haven´t even played the game and I haven´t visited sims-related websites or Livejournal.
I cannot explain why, I´ve just lost interest and I am quite sad about it since it was a great hobby for a long time. I am sure it could be again, but I have to concentrate about real life (school, my health etc.). I am afraid I would got addicted to this game again if I started playing, really!
When I started creating, I would have never dreamt of becoming so 'successful' with my stuff!
I want to thank everyone out there, who liked and downloaded my creations, who told me about it and who did recolours. I´ve 'met' very nice people!
You often made my day :)
Thanks for all the picked uploads^^
But now this 'time' is over for me.
Below you can find my policies. These are still valid, except the fact to ask me before altering my meshes - you are allowed to do it without asking me before :)
Who knows, maybe I´ll be return to the Sims one day... I´ve read about a Sims game taking place in the Middleages (my dream comes true^^) which sounds/looks interesting to me - but I´d only play it :) TS3 and me haven´t become friends yet and I don´t think we will ever be. Maybe I also stopped creating because of TS3 - suddenly there were so much more TS3 lovers... I dunno and I don´t wanna prattle too long, so...
Bye and maybe we will 'meet' again some day,
Dustfinger (08/2010)