>

Pixel dollhouses/For sims to live their lives in/Nice houses for sims
La` Haus! Modern/Contemporary with gorgeous Vista views...
MTS has all free content, all the time. Find out how YOU can help to keep it running.
Tell me how...
329

Downloads
142

Thanks Thanks
10

Favourited
24,871

Views

Uploaded: 15th Dec 2009 at 3:17 PM
Updated: 23rd Dec 2009 at 5:22 AM
Hiya MTS, long time no see..

.
Okay, so yes, it's been a while since I myself uploaded something, and even longer since I uploaded a house (I think september's a good guess), so I decided to go back to what made me a creator in the first place - building houses.
Although Honestly, I can't say this was my planned next future upload, but I didn't have the inspiration to finish the other two houses in the my bachelour series, so I started work on this one. (and one other one, but I've been working on that one for months, time will tell what that one is.

)
ooops. Sorry for the rant, onto business (before I say anything else)

.
Please Note
that this house will require the most recent update, (and possibly World Adventures (though I'm not sure)), sorry about this.

This was one of those houses that just 'came to me'. It was just, 'OMG, that design is brilliant' *rushes to his computer to put his ideas to work before he forgets* things.
The name is
La` Haus
.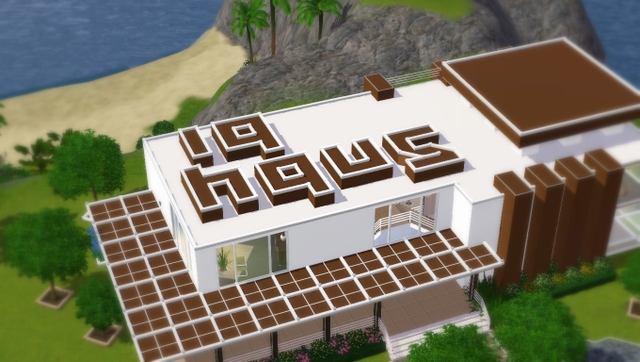 This was the first thought of design, for a change I knew the name before anything else.
(orginially this house was meant to have french infulences, hence the name, but I ahh *ahem* forgot.

Basically the goal of this house was to combine natural with modern. I wanted a home that, sort of had the landscaping
inside
, as well as out. But also one that created an open feel, taking in the surroundings (like the beautiful ocean views).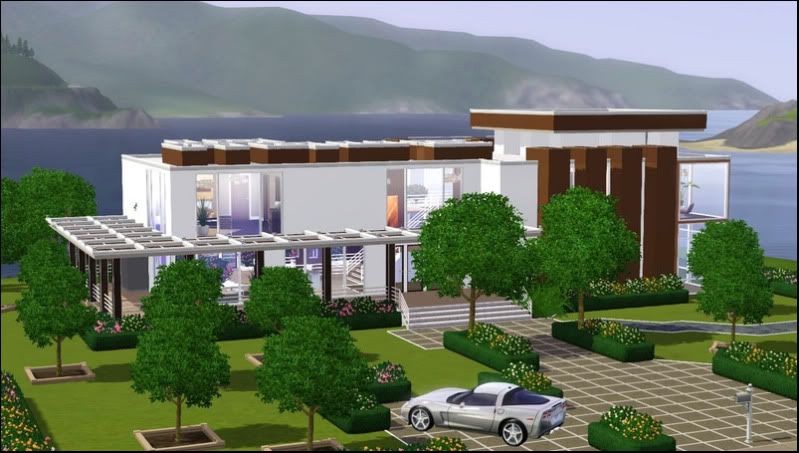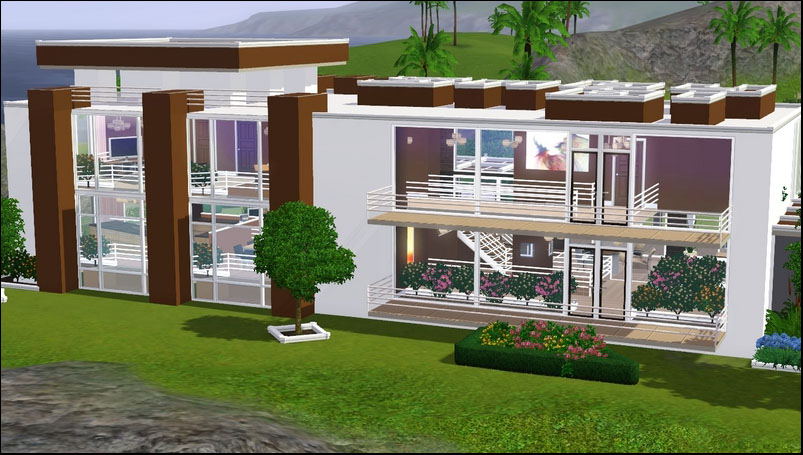 I also wanted the house to be as stunning at night as it is during the day.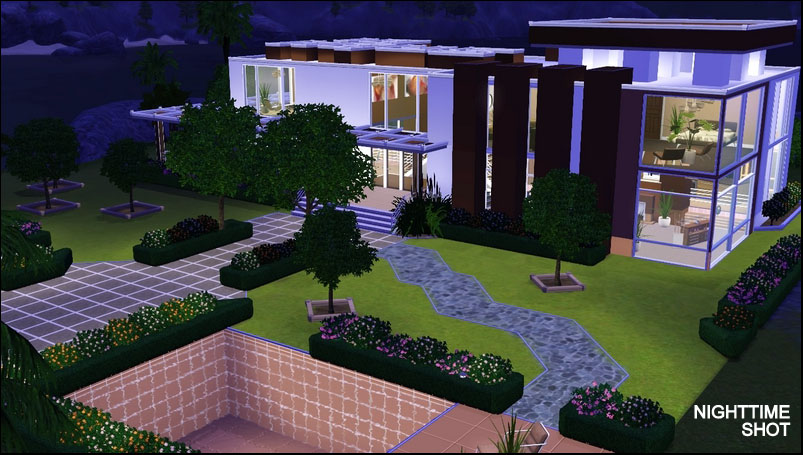 The interior design was somewhat... open. It doesn't really have specified rooms, per say. (well it does, but it's just one big open space devided by plants, water features, and furniture (also stairs). The actual placing of the rooms was also done last, which is why the kitchen suffered somewhat more than what it probably would have normally. But it's still nice all the same.
NOTE:
I only just realised this morning that I forgot to include a sink, dishwasher or trashcompactor in the kitchen, Sorry! It's hard to just put one in though.

HOUSE INFORMATION
Features:
Grand Entrance
Open plan living areas, with open-void galleries, water features and outside bought indoors styled landscaping.
Kitchen/Dinning
Split Level! (this part includes the study, and living room)
Another study in foyer area, with Sitting Room
Upstairs TV Room, also with study
3 Bedrooms
3 Bathrooms (2 upstairs; ensuites to Master Bedrooms and shared ensuite between Bedrooms 1 & 2; as well as one downstairs)
Pool, and beautiful landscaping
Room for expansion
Costs:
Furnished: $355,866
Unfurnished: $264,292
Ideal lot placement:
500 Sunnyside Boulevard (however can be placed on any 40x40 lot)
Other Notes:
The stairs leading down from the landing into the split level area
DO NOT WORK
, I repeat
they are NOT functional
, so please don't get up me. :P. I wanted the staircase in that design, I just couldn't get sims to use it properly, so this was the best option. Sims will just use the other way up the stairs (they won't complain they can't get their destination).
CUSTOM CONTENT
First of all, sorry for such a big CC list, but I just couldn't help myself. I tried to limit it down to as little sites as possible though for your benefit, and hopefully most of you will already have the majority of the content listed.

The following items are from Stylist Sims
-Dinning Room set 01
http://www.stylistsims.net/sims3/ob...ingroom_01.html
(the second post, (first)(very last on page))
-Living Room set 01
-Living Room set 02
http://www.stylistsims.net/sims3/ob...ingroom_01.html
(first 2 on page)
-Study set 01
http://www.stylistsims.net/sims3/objects_office_01.html
-Bedroom set 02
-Bedroom set 01
http://www.stylistsims.net/sims3/ob...bedroom_01.html
(first 2 on page)
The following items are made my ME (VoiceIHear)
Abstract Paintings can be found at my blog,
here
The Invisible Light, can be found
here
The MinusOne Refrigerator, can be found
here
The following sets from Simpossible
-Bonnie Living Room Set
-Flamestone Living Room Set
http://www.simpossible.net/objectsets1.html
(they are the first two items listed)
Other CC
2005 Chevy Corvette, by Fresh-Price,
here
Semi-Invisible Driveway, by Nandonalt,
here
I'm (almost) certain that's all of it.

Also, check my journal for the latest updates and future projects. =)
I think that was all I had to say, so..
Until next time,
~VoiceIHear
Lot Size:
4x4
Lot Price:
355,866 [furn]