Sims 3

>

Sims

>

>

Big eyes and blue hair/All the boys look like they're girls/DESU DESU YO
Bayonetta - The Umbra Witch
12,280

Downloads
403

Thanks Thanks
105

Favourited
99,668

Views

Uploaded: 2nd Jun 2010 at 2:07 PM
Updated: 8th Jan 2011 at 2:45 PM - text..

UPDATE 8.Jan

BASIC sim file added, means: packed without hair and skintone, to fit the new MTS guidelines.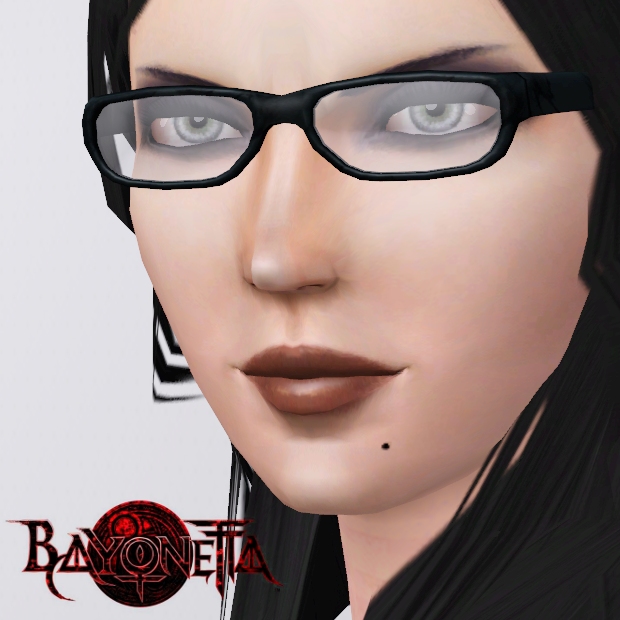 DESCRIPTION:
So this is my 2nd testsubject with LadyFrontbum's new Non-Default naughty skintone. Recently i played this fantastic game which walks into the steps of Devil May Cry and turns out to be even better than it. Bayonetta is a new female hero created by Hideki Kamiya who is also responsible for the DMC games.
Unfortunately i can't offer the outfit or her special hair, this is beyond my knowledge about creation. So i tried to create some outfits with available CC to create a little different outfit for her, which still looks good on her. Still i must admit, without her "real" outfit there is something missing

If you don't know anything about the game Bayonetta, i have prepeared a small 'media corner' where you can browse the wikipedia pages, watch some gameplay videos or listen to the excellent soundtrack, if you are interested..
Would you like to know more?
"Bayonetta, the titular character of the game Bayonetta, is a flamboyant and mysterious Umbra Witch who possesses remarkable talent for the bullet arts. After a 500 year slumber in a coffin submerged at the bottom of a lake, she was awakened twenty years prior to the beginning of the game by Antonio Redgrave and his son Luka Redgrave. With the help of Rodin, her demonic informant, weaponsmith and proprietor of The Gates of Hell bar, Bayonetta fights to find the truth of her past. She is hounded endlessly by hosts of angels along the way."

...

Bayonetta Character Info: http://bayonetta.wikia.com/wiki/Bayonetta



Bayonetta Game Info: http://bayonetta.wikia.com/wiki/Bay...28Video_Game%29



SOUNDTRACK:
A Click'n'Watch playlist with 28 selected tracks from the soundtrack with a wide variety of musictastes, open the link and just press play to listen in autoplaymode.
http://www.youtube.com/p/03B815BECE04553B&fmt=18



GAMEPLAY VIDEOS:
A Click'n'Watch playlist to a gameplaythrough in HD quality, open the link and just press play to watch in autoplaymode. You see Bayonetta pretty much all the time.
http://www.youtube.com/p/32CE5C1672F52C73&hd=1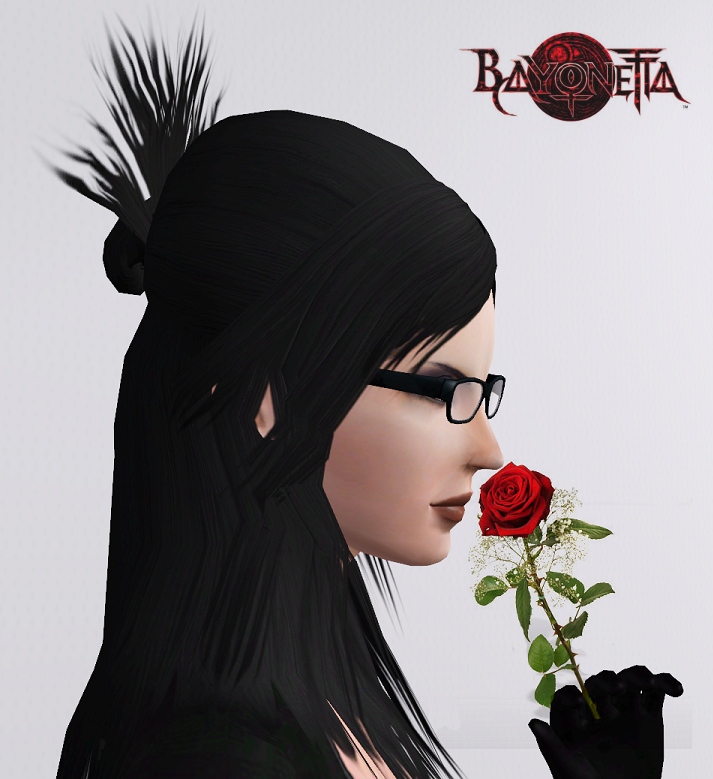 --= TRAITS =--
- Ambitious -
- Athletic -
- Brave -
- Flirty -
- Schmoozer -
- Food: Lollipops -
- Color: Black -
- Music: Her soundtrack of course! But especially...
"Let's Dance Boys"
--> CUSTOM CONTENT:
NOTES:
- At first i planed to only make only one outfit, but i filled the rest of the categories.
- I labled each CC clothing with the respective category, so it's easier for you to choose which piece you want and which not.
- The formal boots were a free Store item as i can remember, but i couldn't find it anymore, so you might want to just replace them with lili's, they just look a bit different.
- I converted Bellamy's beautymarks with Delphy's CTU to the "left earring" category, so it doesn't conflict with escand's contacts.


-INCLUDED-:
→ Beauty marks by
Mermaid Bellamy
→ "Oh my Eyes - Contacts" by
escand
→ "Eyebrows" by
heleane
→ "Adult + Young Adult Thong" by
innocentsheep
(sleepwear, swimwear)
→ "Wayfarer"-like Eyeglasses by
tamo
→ "afAccessoryStockings_cottonAboveKnee" Sims 3 Original Item enabled for all 5 categories. (formal)
→ "afBodySwimsuitOnePiece" Sims 3 Original Item enabled for all 5 categories. (athletic)


-NOT- INCLUDED:
→ "Non-default Naughty Skins" by
LadyFrontbum
→ "Hi-Def Blush Facemask" by
kittyklan
→ "Plump Lipstick" by
Channy & Vivin
(Search for the word
"megaupload"
to quickly find the downloadlink!)
→ "Stylish Top" by
7hir7een
(everyday)
→ "One sleeve asymmetrical dress" by
Liana
(formal)
→ "Lace Corset" by
Mirel
(sleepwear)
→ "Tight Leggings" by
Lili
(top right on page) (everyday)
→ 2x "Lady boots" by
Lili
(first and second on page) (everyday, athletic)


-MODS- which determine Bayonetta's look, like she looks in the pictures:

You also must download
Rez Delnava's UI Mod
in order to get LadyFrontbum's non-defaultskintone to work! Don't miss this mod, it's another must have!

To achieve the shape of the Bayonetta's glasses i used the genious "Glasses Sliders" by
james_rocks89
, with these you can make countless different glasses out of one single model.
-- Latest Patch, Awesomemod sliderhack (x5): ->
>> CLICK <<
-- Facial sliders: -> by
bella3lek4
, and download here:
>>CLICK<<
Thanks to "candy1985" for providing a downloadsource!
-- Facial and body Sliders: -> by
jonha
-- Head Shape slider by
jonha
-- Adjustable Female Breast sliders -> by
Delphy
-- Non-Default Naughty skins by
LadyFrontbum
-- "Oh my Eyes" Contacts by
escand

Very Important!
You NEED any sort of sliderhack, or her face will snap back, if you try to edit it! Additionally you also NEED all the sliders and "Awesomemod" OR any mod which increases the sliderlimit like "S3Z's IncreasedSliderLimit", or her face looks not exactly like in the pictures!
--> HOW TO INSTALL:
--> Just put the ".sim" file from the download
rar
into the
"My Documents/Electronic Arts/The Sims 3/SavedSims" folder.
--> The ".package" files which are included in the download file must be installed correctly to create her unique look. The easiest way to install them is to download Delphy's
"TS3 Install Helper Monkey"
. Package files must be placed in your game directory "xxx/Sims 3/Mods/Packages" and the CC shows up correctly.
--> ADDITIONAL INFO:
- I cannot say it often enough: Download all the sliders which are available, they open up lots of new possibilities for CAS and are pretty much a must have. All you have to do is grab one of the sliderhacks (Awesomemod or johna's) to open up the EA sliderlimit, the sliders don't conflict with anything, or produce crashes, they are just... awesome!
- Download Rez Delnava's UI Mod, to get the non-default skintone to work! (Featured Downloads, you can't miss it)
- And yes, fans will understand and possibly agree with the following picture

Can Dante tame the mighty Bayonetta..?
HF with Bayonetta
Custom Content Included:
- "Wayfarer"-like Eyeglasses by
tamo
- Adult + Young Adult Thong by
innocentsheep
- Beauty marks by
Mermaid Bellamy
- afAccessoryStockings_cottonAboveKnee by
Sims 3 Original Item
- afBodySwimsuitOnePiece by
Sims 3 Original Item
- "Oh my Eyes - Contacts" by
escand
- Eyebrows by
heleane / http://helaene.wordpress.com/
- Mocha Eyeshadow by
LadyFrontbum / http://www.ladyfrontbum.com/
About Me
-------------------- W E L C O M E --------------------
---------- TO THE WORLD OF DARKNESS ----------
------------------------------------------
I have quit creating for Sims 3 and moved on to other games. I enjoyed creating for MTS and i am happy that so many people liked my sims. I'm still lurking, but i am not active anymore. Hope you still find my sims here and enjoy playing them.
Farewell! But i will probably be back for Sims 4, let's hope they get it right with the editor ;)
!! Must have mods !!
Alternative UI mod for Non-default Skintones by Anach
(Anach_CASSkins6x4_1.17.package)
Mastercontroller mod by twallan
(Install it and experiment with this baby, you will be surprised!)
Alternative sliderhacks by [B]aWT
and
CmarNYC
(If you don't like awesomemod for some reason)
HQ Modification by aWT
(used for HQ textured uploads, you'll see them more often now i guess)
__________________________________________
[B]Q/A
- I create for the BASEGAME ONLY, no Addons! For maximum compatibility.
- All my sims are tested in the basegame without CC (to test , if they crash) and with all used CC before uploading, to make sure they look like in the pictures, if you installed all the needed CC correctly. So if my sims don't work in an addon it might be, because some mods or CC doesn't work there, or a new patch screws with mods.
- If you ask why i add musiclinks to my uploads. It's my way to share my musictaste with the community and i try to make the tracks fit the character.
- ''Why do you have such nice graphics?'' I have every graphic setting ingame and in my card's driversettings absolute max (x16 Ansitropefiltering, Antialiasing max ingame) and i use the max allowed filesize for jpg(250kb) and png(150kb), so i get the best picture quality possible. For the thumbnails i use png format, to avoid pixelation and the slight blurriness the jpg format gives these small pictures.
I use XP-Paint and
GIMP
to edit the raw bmp-screenshots, which i take with FRAPS.
- ''Do you take requests?'' Nope, sorry. I have too