MTS has all free content, all the time. Find out how YOU can help to keep it running.
Tell me how...

Liu Dongmei, the heartthrob of Shang Simla
by
CannotThinkofaName
Posted 21st Apr 2013 at 6:43 PM - Updated 26th Apr 2013 at 1:09 PM by CannotThinkofaName
181
Thanks
Thanks
39
Favourited
Note: Some of Dongmei's clothing/traits/favourites/etc. require the World Adventures EP - I believe they'll just be substituted for something else or left blank if you don't own the EP, however.

Also, sorry for the...err, uninspired screenshots, I'm still learning how to use the camera lol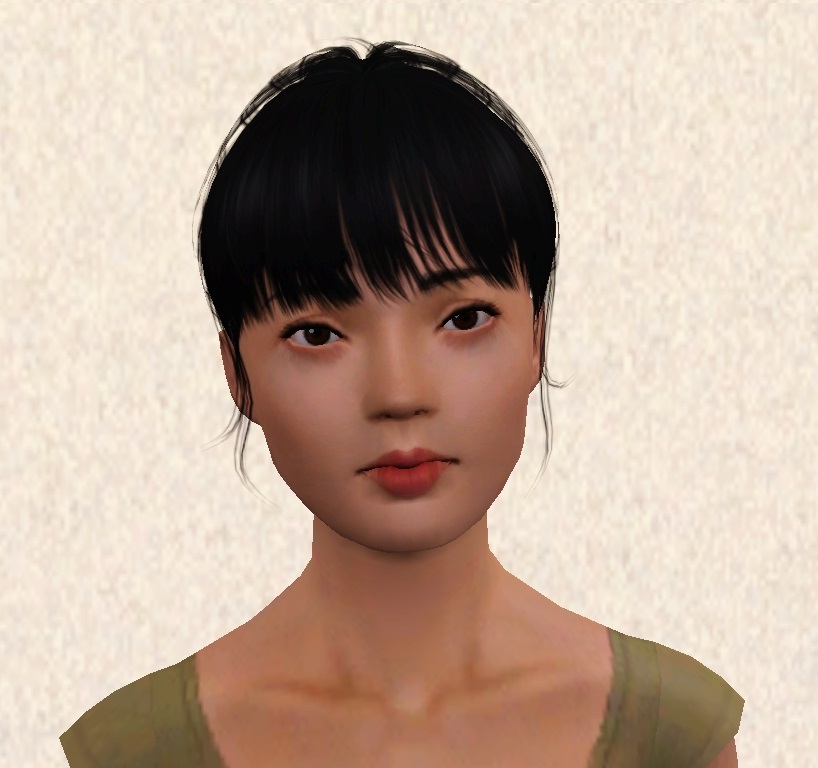 Hailing from Shang Simla, Liu Dongmei spent much of her childhood hopping from country to country due to her father's career as a high-ranking politician which required the family to travel around quite a bit. It is during these seemingly chaotic early years of her life that Dongmei developed her passion for travel and adventure, and the dangers she occasionally encountered in these foreign lands helped to harden her up enough to become a true explorer.
When she was a young adult she settled in Sunset Valley, following in her father's footsteps by joining the political career. However it wasn't long before she became tired of being stuck in this quaint little suburb where the biggest mystery was what in the heck happened to Bella Goth, so, grabbing her suitcase, passport and a big sack of Simoleans she had saved from those long hard days of polishing podiums, Dongmei said a cheerful goodbye to her coworkers and set off to travel the world.
One thing you should know about Dongmei is that, as pretty and innocent as she may look, she certainly doesn't fit into the screwed up "delicate lotus flower" stereotype. She may have been raised in a faith that preaches peace and tolerance...But this won't stop her from using her blue belt to kick your unenlightened behind if she feels it necessary!
Having grown up an only child, both because of China's one child policy (which doesn't seem to apply in the game but bear with me here--) and her parents being "too busy" to give her a sibling, Dongmei was often lonely as a child and always longed for a brother or sister to be her little adventure buddy, always with her no matter what country she was in. Because of this she plans to have many children once she meets that special someone and finally settles down in one country, so her offspring don't have to feel the same loneliness and isolation she did growing up.
PERSONALITY
Traits
- Adventurous (requires WA)
- Brave
- Daredevil
- Disciplined (requires WA)
- Family-orientated
Likes
- Favourite food: Egg rolls (requires WA)
- Favourite music: Chinese (requires WA)
- Favourite colour: Red
Star sign
- Libra
Lifetime Ambition
Seasoned Traveler (requires WA)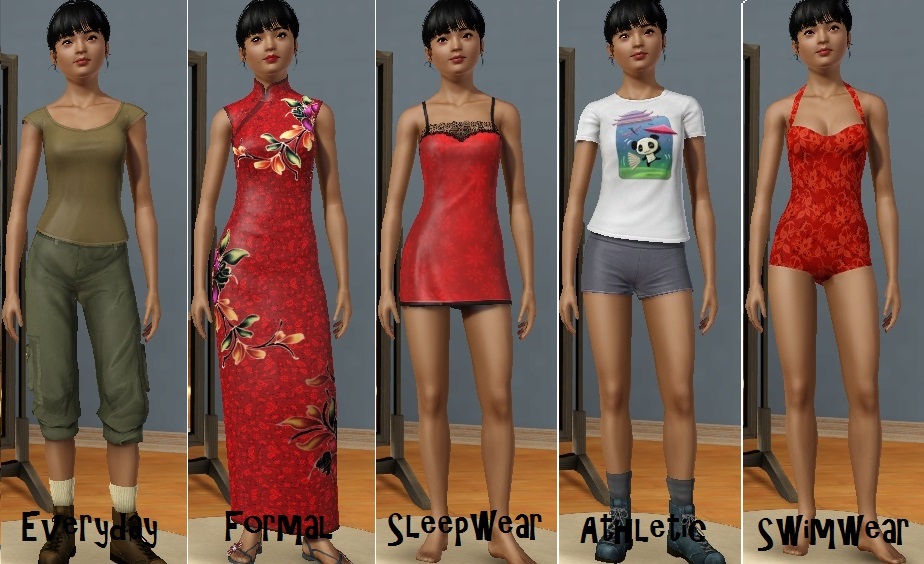 CUSTOM CONTENT
Dongmei is, of course, packaged with default...uh, everything. However if you want her to look exactly as she does in the above pictures, you'll have to download the following -
Skintone and Eyes
- ESkin-nAtural+TAN by teru_k -
http://modthesims.info/download.php?t=493687
- Tiffany Glaze contacts by escand -
http://modthesims.info/download.php?t=397231
Hair and Eyebrows
- Retexture of Raon Female Hair 13 by Anubis360 -
http://anubis360.blogspot.co.uk/201...d-pookletd.html
- "Bare Naturals" eyebrows by Elexis -
http://modthesims.info/download.php?t=463728
Makeup
- Cotton candy lip gloss by Elexis -
http://modthesims.info/download.php?t=468083
- Eye Baggage by KittyKlan -
http://www.kittyklan.com/content/eye-baggage
Clothing and Shoes
- Relaxed cargoes by All About Style -
http://all-about-style.com/Sims3adult_fecabottom3.html
- Boots 3Dsockified by traelia -
http://modthesims.info/download.php?t=470124
- Cheongsam N2 by LemonLeaf (requires WA) -
http://www.mtsims-cakestore.com/%E6...1%A3%E6%9C%8D2/
- "Retro to Go" swimwear by Juliana -
http://acecreators.blogspot.co.uk/2...by-juliana.html
You will also have to download Wotjek's From Chin to Neck Slider http://linna.modthesims.info/download.php?t=489289 if you want to edit Dongmei's facial features.
Note: The reason why I call her "the heartthrob of Shang Simla", by the way, is because, as you'll soon notice if you keep her traits (and have a fairly recent patch for your game - I forget which), every male Sim in Shang Simla seems to find Dongmei attractive...which unfortunately includes those who are married .///.
Additional Credits:
A special thank you to FREEDOM_55 and SimmyRN for replying to the feedback thread and helping me to improve Dongmei's appearance :D
13 Comments / Replies (
Who?
)
Users who thanked this download also thanked: