Buy Mode

>

>

Entertainment, TVs & computers, audio, and small electronics.
View Old Style
Community Lot Speaker Recolors
MTS has all free content, all the time. Find out how YOU can help to keep it running.
Tell me how...
Created by iCad View Policy / About Me View Downloads Home Tumblr
Uploaded 27th Dec 2014 at 1:15 PM · Updated 27th Dec 2014 at 1:27 PM by iCad
This was the result of the discussion forum thread about TS2 hacks/CC that people would like to see. It was mentioned that people wanted different colors of the station-specific speakers that can be placed on community lots, so that there are color options for each one. Since this was something that's been on my to-do list for a while anyway, I thought I'd take up the project.
And what a project. For whatever reason, not all of the speakers are recolorable. The "Indie Wave" one from Freetime and the ones from Bon Voyage are not recolorable. There are also three -- the Heavy Metal, New Age, and Jam Band ones -- that I chose not to recolor. The Heavy Metal one looks like an amplifier and different colors don't look all that great on it. The other two are metallic and differently-shaped, so I chose not to do them.
So, that leaves 10 of them. I recolored each of them in two versions. One version is the 12 of my wood colors that I use for furniture. These have a subtle wood-like grain. The other version is 18 of Poppet's "Lonesome" colors, which have a speckly finish. (Except for the Classical and Oldies one, which have a grain. Why? Because they do.) So, you can potentially have 30 color options for each speaker...so you can potentially acquire 300 new files here. They're small, though, so even if you choose to download and keep them all, they won't do too much damage to your Downloads folder.
They all look pretty much the same, with just a few minor differences in shape/detail, so here are the wood colors on one of them: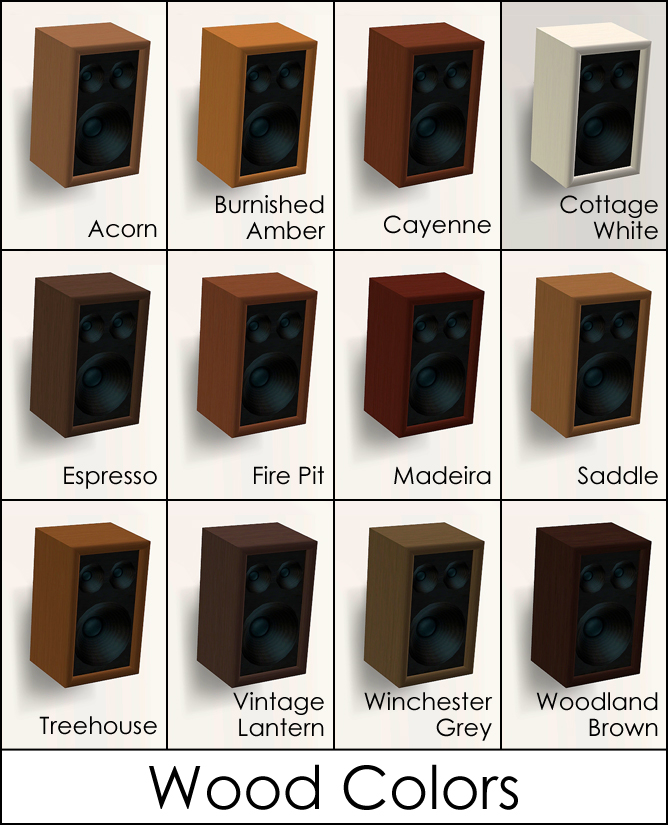 And here are the Lonesome colors: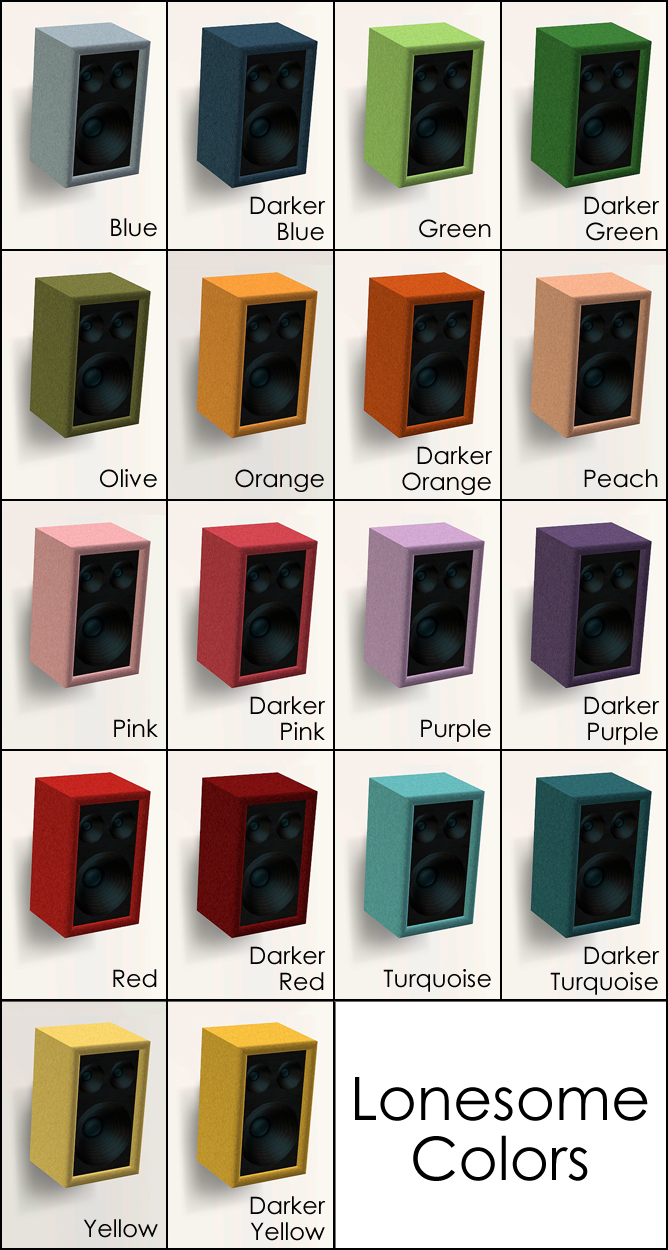 I've uploaded the files for each speaker separately, so you can pick the ones you want/use in your game.
Some of them are basegame, but some require an EP, which is noted in each file's description.
Inside each
zip
there's a folder for the wood colors and a folder for the Lonesome colors, so if you don't want both, only extract what you want. There are also copies of the images above in each
zip
for your reference when weeding out colors. The files are all compressed and clearly named.
Credits:
The usuals:
Photoshop CS2, SimPE, The Compressorizer
Stargate Atlantis
, which I watched while making the files for these, which was a long, VERY boring, and extremely repetitive job. The Atlantis crew kept me entertained so I didn't go stark raving bonkers and subsequently decide to stab my eyeballs out with a spork.
Style: Contemporary Modern
Room: Living
Maxis Flags: Not Applicable

Tags: #maxis recolor, #icad wood, #poppet, #community lot