Sims 4

>

Buy Mode

>

>

Plants, sculptures, wall hangings & paintings, mirrors, curtains, and miscellaneous.
Spoonie Love - Chronic Illness and Disability Paintings
11,393

Downloads
146

Thanks Thanks
57

Favourited
18,492

Views

Uploaded: 2nd Oct 2016 at 10:06 PM
Updated: 3rd Oct 2016 at 12:51 AM - fixed misspelling, because grammar is important
In honor of Dysautonomia Awareness Month, here are 5 paintings for my fellow Spoonies!*
*do not need to be a spoonie to use
From Wikipedia (because I suck at summaries):
The spoon theory is a disability metaphor used to explain the reduced amount of energy available for activities of daily living and productive tasks that may result from disability or chronic illness. Spoons are an intangible unit of measurement used to track how much energy a person has throughout a given day. Each activity requires a given number of spoons, which will only be replaced as the person "recharges" through rest. A person who runs out of spoons has no choice but to rest until their spoons are replenished.

One of the tenets of the spoon theory is that many people with disabilities or chronic illness must carefully plan their daily activities to conserve their spoons, while most people without any disabilities or chronic illnesses don't need to worry about running out. Because healthy people do not feel the impact of spending spoons for mundane tasks such as bathing and getting dressed, they may not realize the amount of energy expended by chronically ill or disabled people just to get through the day.

Spoons are widely discussed within autoimmune, disability, and other chronic illness communities, but the concept of spoons is otherwise considered a neologism. The term Spoonie is sometimes used to refer to a person with a chronic illness that can be explained with the spoon theory.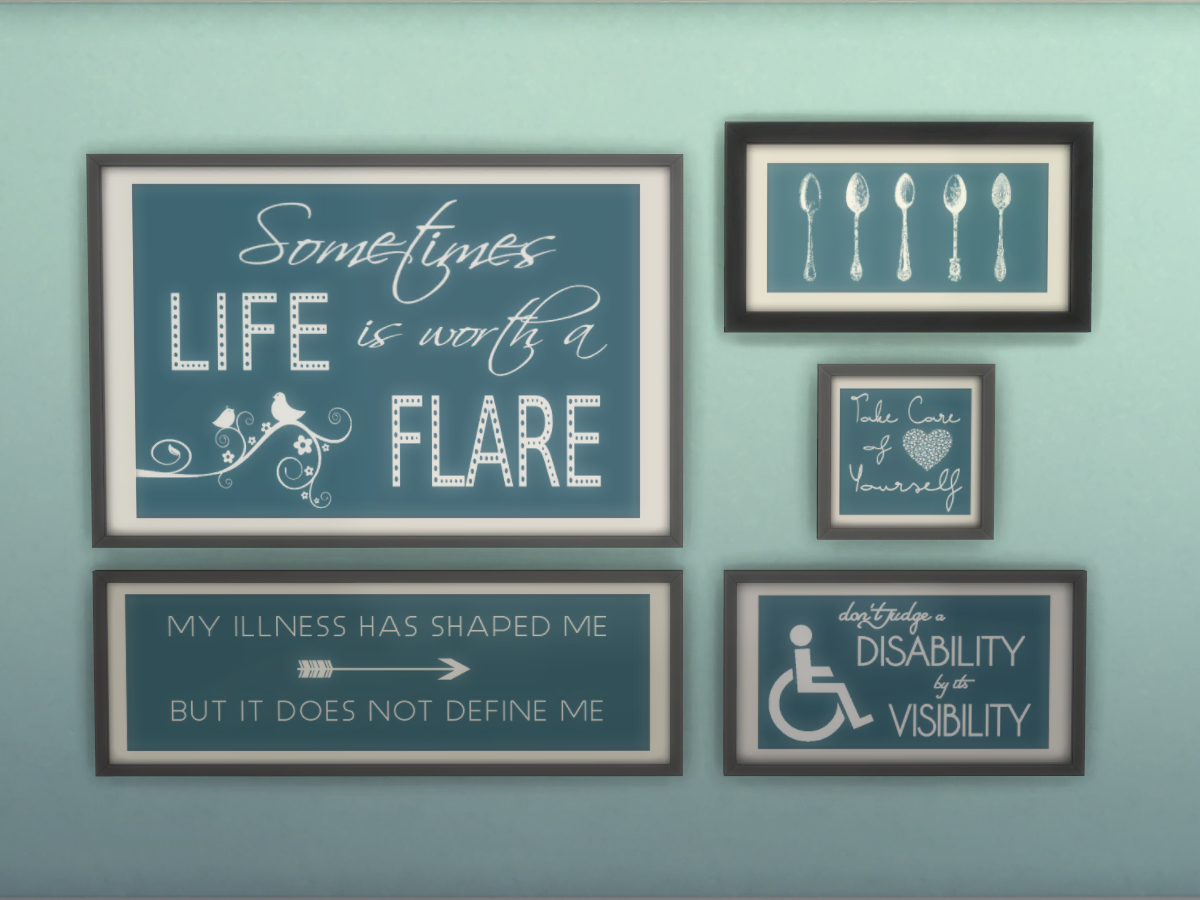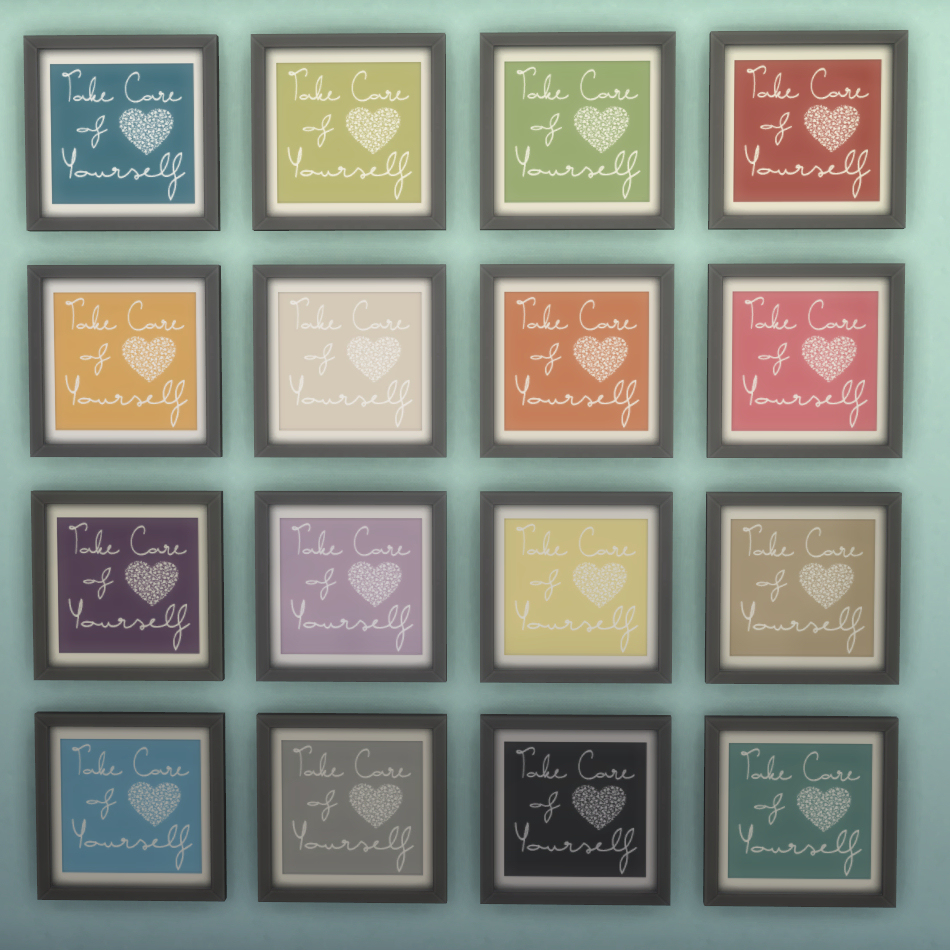 The paintings are cloned from the collectible paintings and are stand-alone. Each comes in 16 lovely colors.

As these particular paintings probably won't appeal to everyone, I've included recolor files for easy retexturing. The recolor files already have the different parts separated into layers, just make your image the stated size and copy & paste, easy peasy!

Files-->

SpoonieLove: separate packages

SpoonieLove_Merged: files merged into one package

SL_RecolorFIles_PSD: recolor files in Photoshop .psd format

SL_RecolorFIles_PSP: recolor files in Pantshop Pro .pspimage format

SL_RecolorFIles_XCF: recolor files in GIMP .xcf format
Use, share, recolor, whatever with link and credit please. Also, a PM would be nice, but it's not necessary.
Please do not upload to any paysites or sites that require you to download through revenue-generating links (eg, adfly).
Polygon Counts:
All paintings found in Paintings & Posters for $100 each
| Object | Polygons |
| --- | --- |
| Spoonie Love #1 | 67 |
| Spoonie Love #2 | 67 |
| Spoonie Love #3 | 67 |
| Spoonie Love #4 | 67 |
| Spoonie Love #5 | 48 |
Additional Credits:
Sims 4 Studio (ALL HAIL ORANGEMITTENS)
Blender
Paintshop Pro
Packs Needed
None, this is Sims 4 base game compatible!
Other Information
Style
:
– Not Applicable : None of the above
Room
:
– Kitchen
– Living : Living Room
– Dining : Dining Room
– Bedroom
– Nursery
– Study : Study/Office
– Outdoor
Maxis Flags
:
– Not Applicable
I'm a spoonie with diabetes and POTS, I make stuff so I don't go insane.
*I'm going to be taking a little break from modding for a while to deal with some personal stuff. I may upload occasionally but not nearly as often as I have been.*

I don't really take requests, but I do take suggestions. So if you have an idea for something awesome, let me know!
I usually have a list of projects to work on and it entirely depends on how well I'm feeling so, unfortunately, I can't make any promises ¯\_(ツ)_/¯