>

Fireplaces, Pool Accessories, Columns, Fences & Gates
Animated - Water Reed + Pond Animals Effects
MTS has all free content, all the time. Find out how YOU can help to keep it running.
Tell me how...
12,723

Downloads
393

Thanks Thanks
53

Favourited
22,218

Views

Uploaded: 7th Feb 2020 at 8:25 PM
Updated: 22nd Aug 2021 at 6:16 PM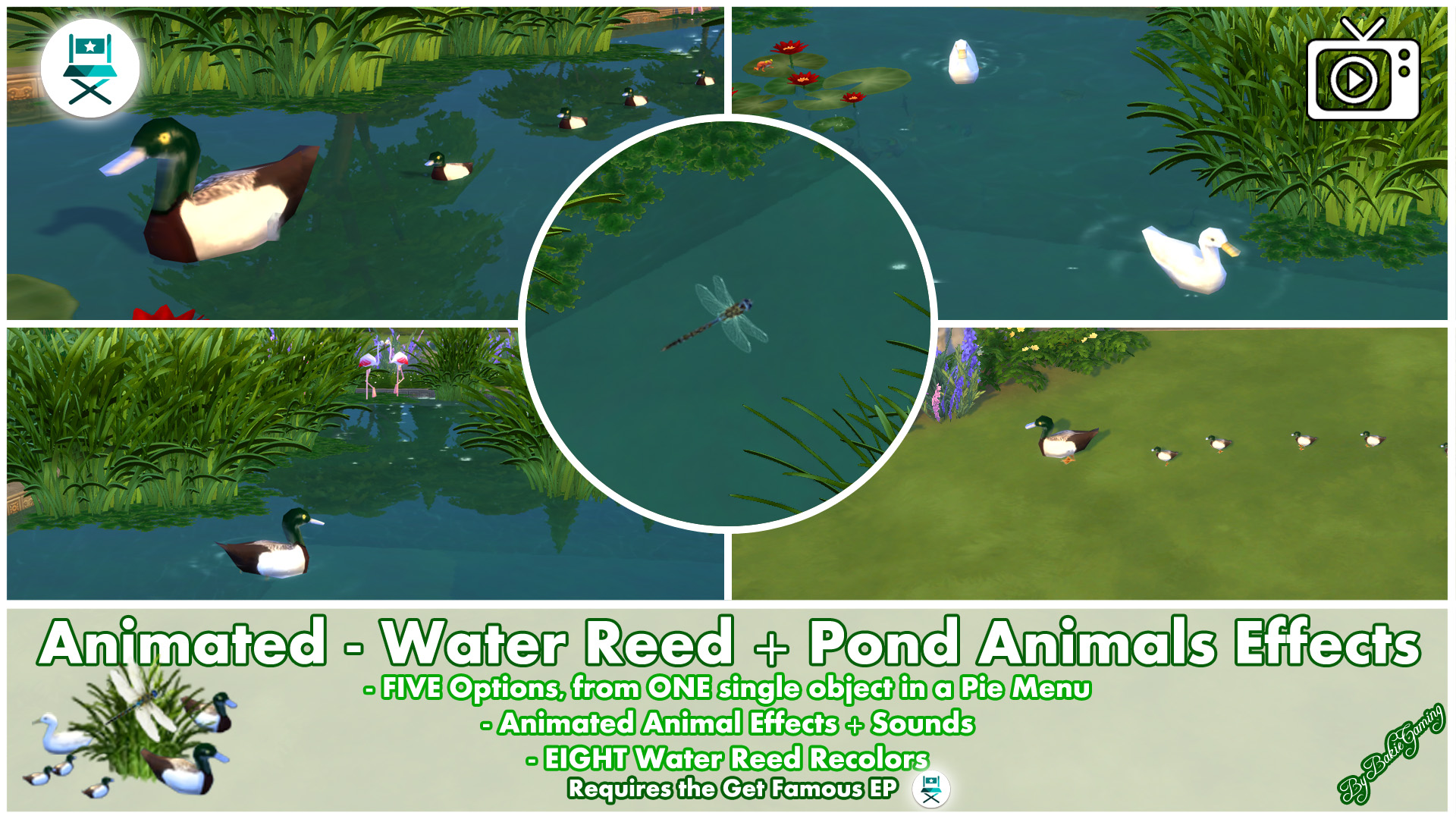 For the actual effects in motion, more info and some example scenes, please click this
Youtube Video Link
:
Bakies The Sims 4 Custom Content: Animated - Water Reed + Pond Animals Effects ????

This file has been UPDATED on 21-08-2021 with the following things:

- Makes the item to appear in the Pond VFX section of Build Mode
- Placeable on ponds.
- Updates on the object's title + description.
- Object's price has been changed to 15 simoleons, so they will appear behind EA's water reed objects.
Please RE-DOWNLOAD and delete the old files!
Animated - Water Reed + Pond Animal Effects
This time I merged four of my older mods into one!
Instead of having 4 of the exact same water reed objects in your game catalog, each spawning a different effect, you can now have only one water reed object in your catalog capable of spawning five different animal effects.
To be able to use the new Option Menu on this water reed object, you do need to have the Get Famous Expansion Pack installed. If you don't have this pack, you can download my older Base Game Compatible Water Reeds mods which I updated to fix some small problems with them. For links to these old files, take a look below.
If you do have the Get Famous Expansion Pack, I recommend using this new mod, as you only need one single mod instead of four.
When using the option menu / pie menu you can only activate one single animal effect each time.
The effects from which you can choose are: Dragonflies, White Ducks, Wild Ducks, Wild Ducks + Ducklings in water & Wild Ducks + Ducklings on terrain.
If you want to switch effects, simply click the water reed object again and click on another effect.
To turn an effect of, click the object and choose for the "Pond Animal Effect Off" option.
As for the white ducks, using the option to switch them off or to switch them with another effect only works if you zoom way out and after that back in for them to disappear. This is a problem with the effect in game rather then with my mod, so there's nothing I can do about that.
Be aware that effects may not appear when your graphical settings are set to low, your game is a certain seasons which stops the effect from appearing or the time of the day does.
For example, you won't see dragonflies in the evenings or at night.
As for the water reed object itself, you can choose between 8 different recolors.
If you would like to see the animal effects in motion and some more in depth information about this mod, please click the video link above.
Object information:
This mod requires the Get Famous Expansion Pack.
It's a Standalone object, so it won't override any other objects in game.
To easily find it, type "Water reed" into the search bar.
You can also find it by going to the Fountain's Decoration section.
it can be recognized by my "BakieGaming" icon in the lower right corner of the thumbnail.
The cost are: 150 Simoleons
Game Requirements:
Requires the Get Famous Expansion Pack
Game Version:
Tested with gameversion: 1.61.15.1020
Older Updated Water Reeds Mods for if you don't have the Get Famous Expansion Pack
Water reeds + Wild Ducks & Ducklings Effect
Water reeds + Ducklings Effect
Water reeds + Dragonflies effect + Catch interaction
Water reeds + White Ducks effect
Custom Content visible on the Thumbnail made by me:
Animated Water Shimmering
Animated Frogs (All 25 Species)
Animated - Flamingo + Water Ripple Effect
Animated - Waterlily Recolor + Fish Effect
Unlocked and Recolored - Group of Rocks
For the BONUS Default Base Game Boulder Rocks Override + Additonal Recolors you need to go to the YouTube video of the "Unlocked and Recolored - Group of Rocks". Click
HERE
and take a look in the video description.
Raisable Rocks - Cliffs
I hope you like this Water Reed + Pond Animals Effects mod and if you do, please leave a comment!
If you want to use it in screenshots or videos, be sure to give me some credit!
>> Want to share my mods? <<
Besides giving me credit and linking back to this page, I would appreciate it if you could add my video instead of (only) the thumbnail.
Additional Credits:
Thanks to the Sims 4 Studio
Thanks Adobe for making Photoshop
About Me
Hi everybody!
Nice to see you're curious about what mods I made so far for The Sims 4!
As I would like to see more awesome stuff for The Sims 4 from other creators too, I make easy to follow step by step video tutorials on my
BakieGaming YouTube channel
. So if you would like to learn how to mod yourself too, that's the place to go! You can also find videos about all the mods I made and an Effect Player series on my channel.
If you like my mods and videos and want to give me some extra support, please take a look at my
BakieGaming Patreon page
.
Policy
You may share my creations, but always give me credit and link back to the original MTS description page of that mod.
You may not upload my content to any other distribution sites (i.e. sites similar to ModTheSims4) unless you acquire my explicit permission to do so.