Sims 2

>

>

Wallpaper, Paint, Ceramic Tile, Siding, Ceramic, Wood, Paving, Carpet, Linoleum, and Ground Cover or Sets of all of those
Craftsman Panels ~ 2-part Floral Wall Panels
266

Downloads
29

Thanks Thanks
7

Favourited
664

Views

Uploaded: 23rd May 2021 at 6:05 PM
Three floral designs from
Milton & King
.
The snippets of these bold floral patterns just would not 'tile' properly; So, I combined them with Craftsman style panels. I think they work really well together, I hope your simmies will like them too!

Garden State
: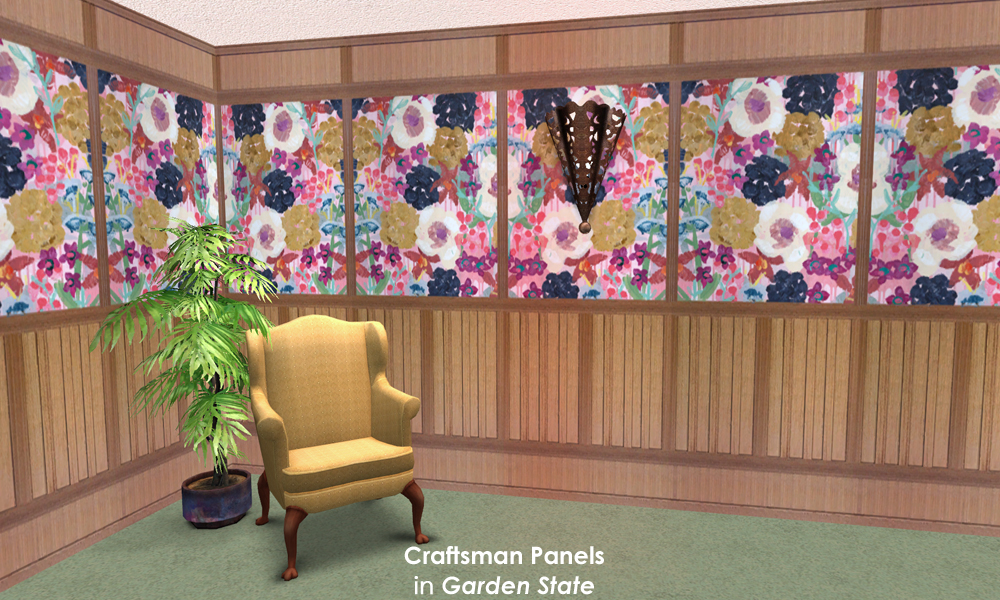 About the design:
"Garden State Wallpaper is a rich full floral that is both fun and modern. Its deep maroons and mustards give it mood and the rough blending of dual tone paints give enormous visual texture to the brush strokes. The soft pink background will provide lightness to your space and the flowers will become the feature of the room. There is plenty of playful movement and so many beautiful painterly textures to admire. Garden State is perfect for the bedroom, bathroom or virtually anywhere."
Blossom
: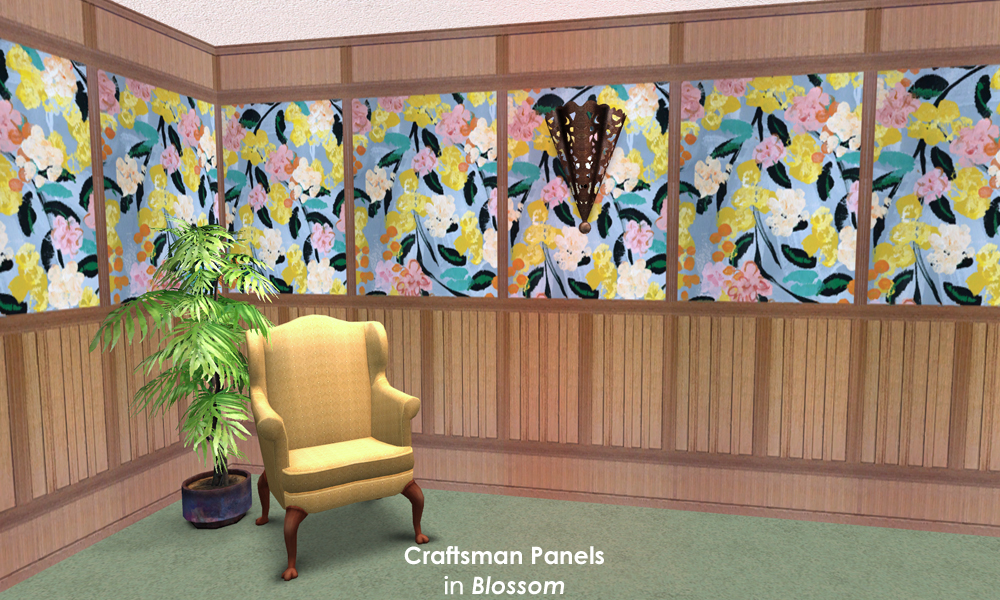 About the design:
"Blossom Wallpaper is an interpretation of an old fashion floral, by artist Tiff Manuell. She says, it's the kind you might find on your great grandmas couch or bedspread. This is a fresh but mellow floral wallpaper design with a neutral grey background. The deep greens of the leaves contrast with the warm florals in golds, pale peaches and rusty oranges. It evokes a sense of history with a bridge to the modern home. The application of the acrylic paint is loose and often messy using a range of brush shapes to create the visual textures."
Acacia
:
About the design:
"Acacia Wallpaper is a deep rich interpretation of Australian flora but with an Aussie floral retro edge. Beautiful mustard and mottled beige tones scraped over the canvas surface helps to create a beautiful rough earth like visual texture. From there, finer paint brushes are used to build up the spikey petals of the proteas, the olive greens of the leaves and stems that are roughly scattered to give depth to the flowers. The bright yellow wattle and pink gum nut blossoms are created using the oldest of brushes that have become split and almost hairless. The paints are thick and bulky to give the flowers depth and character."
These are 2-part walls: Panel A & B.
Find these walls in the Panels category for $8 each. A swatch is included in the download file.
Enjoy!

Packs Needed
None, this is Sims 2 base game compatible!
Other Information
Style
:
– Antique : Antique or Historical
– Retro
– Contemporary
– Modern
– Fantasy : Fantasy styled things
Maxis Flags
:
– Not Applicable
About Me
I mostly "build" - houses, apartments, recreational, and community lots - but, I also create walls (and murals), floors, terrain paint, and various other recolors. And I've written a few tutorials too. :luff: