>

Bon Voyage type lots/Such as hotels and camp grounds/Home away from home
Amsterdam
MTS has all free content, all the time. Find out how YOU can help to keep it running.
Tell me how...
1,960

Downloads
377

Thanks Thanks
59

Favourited
35,634

Views
Picked Upload! This is a picked upload! It showcases some of the best talent and creativity available on MTS and in the community.

Uploaded: 28th Oct 2007 at 12:46 AM
Updated: 13th Oct 2008 at 4:01 PM by mike19
Amsterdam, Holland
(City-Lodging)
lot size
: 5x2
furnished
: totally
played/tested
: yes
Room prices
: from 800 to 1100 §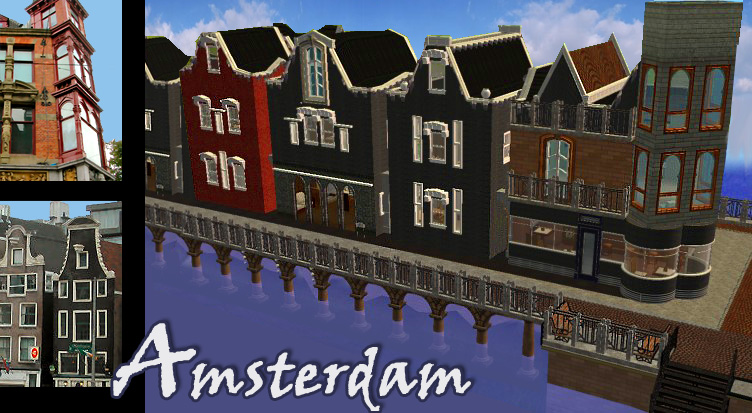 This lot reproduce part of
Amsterdam City Center
, with its peculiar houses and roofs.
It's a "lodging" because it's better living the city then visit it.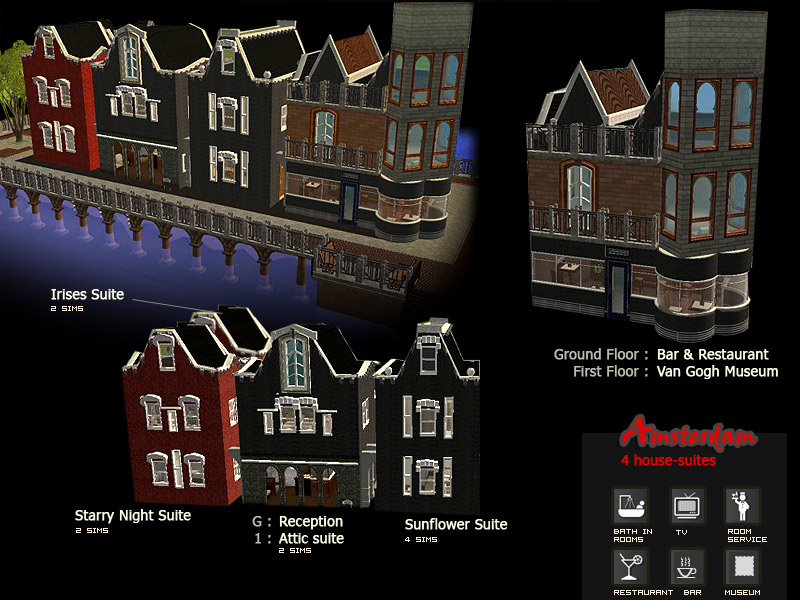 Rooms are whole houses (black and red ones), with ground floor for dining room and bath, and first floor with bedrooms.
Four Houses-Rooms:
- Sunflower House, for 4 sims
- Attic Suite, over reception, for 2 sims
- Starry Night House, for 2 sims
- Irises House, for 2 sims
At your right, a typical holland bar&restaurant.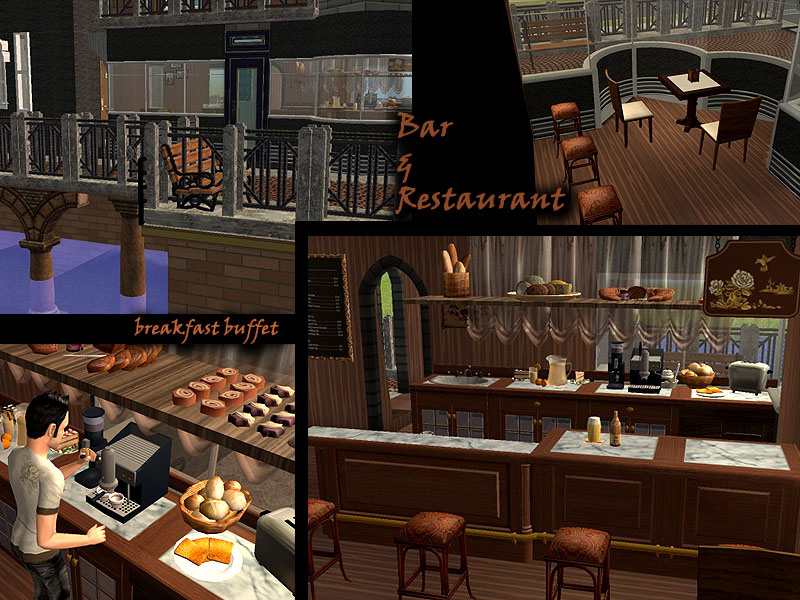 You can reach the Van Gogh museum taking Lift.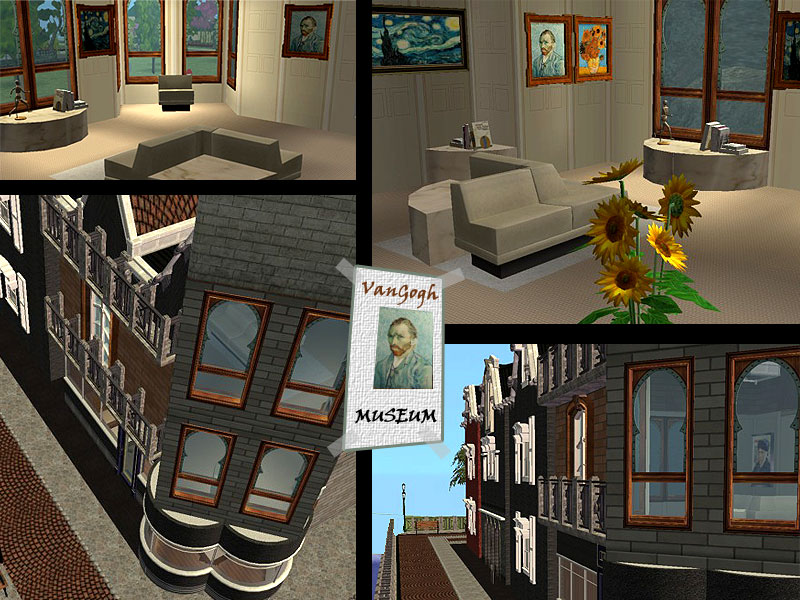 Amsterdam Lot has of course reception and Public Bathrooms.
Here you can see furnishing style
of house-rooms

Custom Contents NOT included
- Van Gogh Paintings
from great collections of
thehobbitwaffle
- Download here
and
OpenHouseJack
- Download here
- Recolours of maxis 1 tile table from
MissPiggi at www.piggis-sims.net
-
Download Here
- Recolours of Ofb restaurant podium from
MissPiggi at www.piggis-sims.net
-
Download Here
- Recolours of Hotel Desk Small from
MissPiggi at www.piggis-sims.net
-
Download Here
- In the bar-photo I put Barstool from Sandy @
http://www.aroundthesims2.com
-
you can find it here
but in the pack file I inserted Maxis barstool
Lot Size:
5x2
Lot Price:
199,000 §
Custom Content Included:
- Deco books by
Jope at SimplyStyling.de
- Kitchen shelf by
Jope at SimplyStyling.de
- Brown recolour of kitchen shelf by
Jope at SimplyStyling.de
- Africa Vase by
Jope at SimplyStyling.de
- White recolour of africa vase by
Jope at SimplyStyling.de
- relax room lamp by
Jope at SimplyStyling.de
- Fruits "Romantic Garden" by
Suza at SimplyStyling.de
- Recolour of fruits plate by
Suza at SimplyStyling.de
- Edge Smoother Black by
Ailias at MTS2
- ATS Tropezienne - Bathroom - Coffee end table 001 by
By Sandy @ Around the Sims 2
- Panel Walls by
Komosims at komosims.net
- Mexican Panel Walls 1 by
Komosims at komosims.net
- Mexican Panel Walls 4 by
Komosims at komosims.net
- Glass Wall by
DonnaANN @ MTS2
- Window Balcony 2 Tile by
macarossi @ MTS2
- Victorian Window by
macarossi @ MTS2
- Modern Connective Wall Spot Lights by
Ailias @ MTS2
- Modern Connective Wall Spot Lights by
Ailias @ MTS2
- Fusion Window narrow (1/3 height, center) by
Tolli at simgedoehns
- Fusion Window narrow (2/3 height, top) by
Tolli at simgedoehns
- White recolour of Fusion Window 1/3 by
Tolli at simgedoehns
- White recolour of Fusion Window 2/3 by
Tolli at simgedoehns
- Samsung 19" HDTV by
ogularama at http://ogularama.com/
- Red Stucco by
Jilly at LSRE
- Rock Fencing (Grey) by
Jonesi at MTS2
- Glass Wall by
DonnaANN at MTS2
- Paper Moon Ceiling Light by
Ailias at MTS2
- Antique Tall Bread Basket by
mdhttr323 at MTS2
- Delectable Bread Spread by
mdhttr323 at MTS2
- Delectable Cheesecakes by
mdhttr323 at MTS2
- Recolour of Cheesecake by
mdhttr323 at MTS2
- Le Petite Cookie Assortment by
mdhttr323 at MTS2
- Antique Bread Roll Basket by
mdhttr323 at MTS2
- ATS Compo - Kitchen - Deco Toaster by
By Sandy @ Around the Sims 2
- Halloween Stone by
Sky at Avalon
- Sip outdoor3 -decojuice- by
by Jasmine at simsinparis
- Unfinished Pine floor by
jendea at jendea.net
- Recolour of chair by
funny2401 at pimp-my-sims
- Spiral Staircase that look good...AND work well! by
XxHalfBloodPrincexX at MTS2
- "Oxygen" Wall Light by
by Kate @ www.parsimonious.org
- Curtain 1 tile by
Jasmine at simsinparis
- Curtain 2tile- by
Jasmine at simsinparis
- bedroom5** -curtain1- by
by Jasmine at simsinparis
- nanisim lintel 1 by
nanisim at MTS2
- nanisim lintel3 by
nanisim at MTS2
- Wall Arch by
nanisim at MTS2
- Recolour of wall arch by
nanisim at MTS2
- Recolour of dresser by
Funny2401at pimp-my-sims
- Chrissies Wardrobe by
Funny2401 at pimp-my-sims
- Art Bedroom Decoboard by
Funny2401 at pimp-my-sims
- Artbedroom Endtable by
Funny2401 at pimp-my-sims
- Recolour of decoboard by
Funny2401 at pimp-my-sims
- Recolour of endtable by
Funny2401 at pimp-my-sims
- Brown recolour of fresh bed by
Funny2401 at pimp-my-sims
- Fresh Bed by
Funny2401 at pimp-my-sims
- woodland floor by
From sim-placement @ TS2
- Mini-Pediment in Stucco by
macarossi @ MTS2
- The Simland Cinema Window by
von olemantiker at insimenator
- The Simland Cinema diagonal window by
von olemantiker at insimenator
- Livingroom - Chair by
Solander at pimp-my-sims
- Black Wall by
Tolli at www.simgedoehns.de
- Stucco Wood trim by
holysimoly at holysimoly.com
- Bavaria Floor by
made by Nofrena @Wood for Sims
- Black bamboo floor by
made by Nofrena @Wood for Sims
- Black Africa floor by
made by Nofrena @Wood for Sims
- Brown Africa floor by
made by Nofrena @Wood for Sims
- WT floor by
made by Nofrena @Wood for Sims
- Barn Brick Floor by
made by Nofrena @Wood for Sims
- Africa Wall by
made by Nofrena @Wood for Sims
- Barn Brick Grey wall by
made by Nofrena @Wood for Sims
- WfS2 Wine Tavern Door Frame by
made by Nofrena @Wood for Sims
- Black Recolour of Door Frame by
made by Nofrena @Wood for Sims