Sims 2

>

>

New terrains for your custom neighborhoods & CAS screens
Golden Creek – Neighbourhood complete with Lots
9,972

Downloads
962

Thanks Thanks
109

Favourited
103,446

Views
Picked Upload! This is a picked upload! It showcases some of the best talent and creativity available on MTS and in the community.
Personal Picked Upload!
This is a personal favourite of the creator!

Uploaded: 28th May 2008 at 10:03 PM
Updated: 26th Mar 2010 at 12:55 AM by Phaenoh - fixing category
Golden Creek – Neighbourhood complete with lots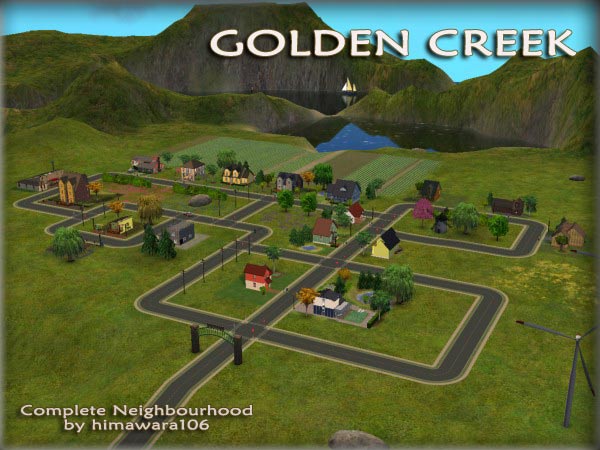 Description:
This little Neighbourhood is located on a warm sunny place near the sea, with lakes and rivers.
It is pretty landscaped and flat in the buildable areas.
It features 18 lots and 5 of them are community buildings which are fully open for business.

So you can visit them or buy them and run your own business.
All lots are fully furnished. The townhouse features 2 apartments and 1 is fully furnished. The sizes of the lot is appropriate for enlarging your houses - especially the starter lots.
You will only need 3 EP's: Nightlife, University, Open for Business

There are three main streets:
Stafford Lane:
Here you find the more expensive houses. They are built in a modern way and feature everything for better situated families with children. One of the houses is a home business.
Golden Drive:
On this drive you can find cottages. Two of them are starter cottages. They are very cozy and some fit perfectly for a retired couple, single etc.
Blueberry Lane:
This Lane is exclusively built for starter houses.
Main Street:
Townhouse: The Townhouse is situated on the main street in the Downtown.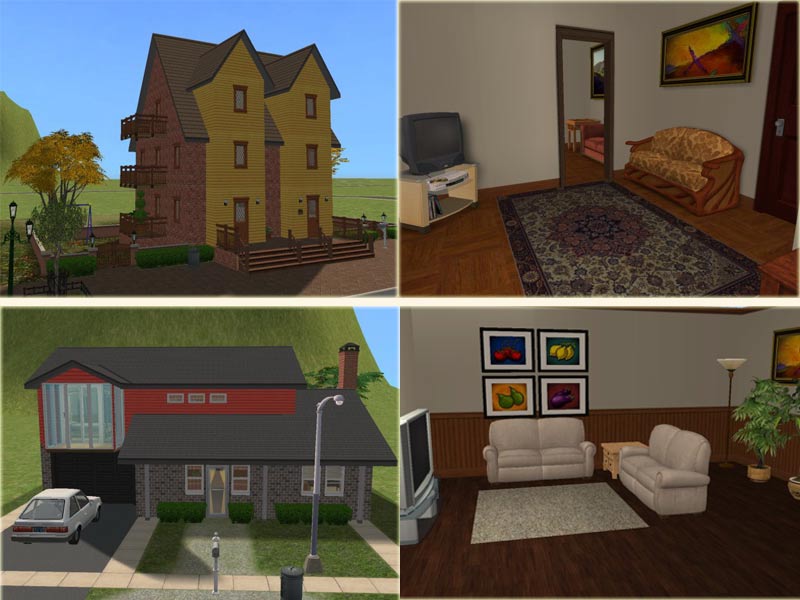 And five Community Lots:
Bruce Inn:
A restaurant with bowling
Martys Mart:
A small food Store
Pub:
A small and cozy pub with seating outside and inside
Fabrics for Everyone:
Clothes Store
Mikes Recreation Paradise:
Here you find a beautiful park with a pond, a house with gym and games and an outside swimming pool.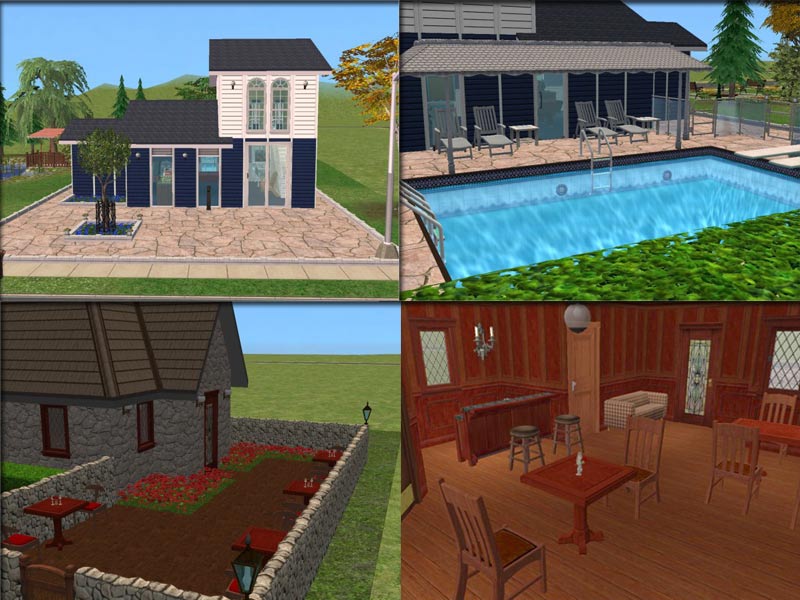 Map of Golden Creek
: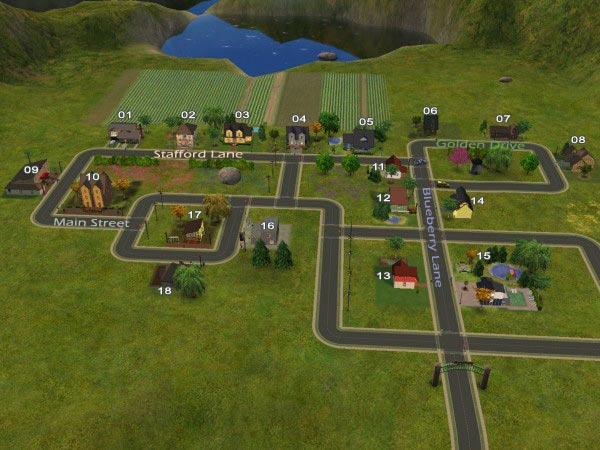 1) Stafford Lane 5: 2BA, 2BR, 1 Nursery (59.232, 2x2)
2) Stafford Lane 4: 1BA, 2BR (48.006, 2x2)
3) Stafford Lane 3: 1BA, 2BR, 1 Nursery (74.500, 3x2)
4) Stafford Lane 2: Home Business – 3BR, 2BA (43.345, 3x2)
5) Stafford Lane 1: 2BR, 2 ½ BA (45.482, 3x2)
6) Golden Drive 1: Starter Cottage - 1BA, 2BR (19.859, 3x2)
7) Golden Drive 2: Starter Cottage - 1BA, 1BR (19.055, 2x2)
8) Golden Drive 3: Cottage – 1BA, 1BR (20.004, 3x2)
9) Bruce Inn: Community – Bowling + Restaurant (3x3)
10) Townhouse: 2 Apartments (1 fully furnished: 2BR, 3BA, 1 Nursery)
11) Blueberry Lane 1: Starter - 1BR, 1BA (19.349, 2x2)
12) Blueberry Lane 2: Starter – 1BR, 1BA (18.597, 3x2)
13) Blueberry Lane 3: Starter – 1BR, 2BA (19.800, 3x2)
14) Blueberry Lane 4: Starter – 1BR, 2BA (19.416, 2x2)
15) Mikes Recreation Paradise – Pond, Gym, Outdoor Pool, Games (3x3)
16) Fabrics For Everyone: Community - Clothes (2x2)
17) Martys Mart: Community – Food Store (2x2)
18) Pub: Community – Pub (2x2)
INSTALLATION INSTRUCTIONS:
First: The neighbourhood will install as N106. So if you have a neighbourhood already with this number, please rename this one.
1. Download GoldenCreekCustomContent.rar
, expand and put in My Documents\EA Games\The Sims 2\Downloads
2. Download N106.rar
, expand and put in My Documents\EA Games\The Sims 2\Neighbourhoods
3. Download GoldenCreek_SC4.rar
, expand and put in My Documents\EA Games\The Sims 2\SC4Terrains
You are done! Start your game: Golden Creek should appear as last entry in your Neighbourhoods menu
The three files:
GoldenCreekCustomContent.rar : This file is needed for the custom content to show up properly.
N106.rar: This is the full neighbourhood. It comes only with lots. I used clean templates, so there are no sims in it.
GoldenCreek_SC4.rar: This is the neighbourhood terrain. You can download it separately, if you just like to use the terrain.
Custom content by me
Floors: Old wood5, Deluxe white, Warm cozy wood, Old warm wood, Worn floor 1, Light and cozy wood ,Old fashioned wood, Grey fluffy carpet, Modern grey, Parquet flooring 3, Pink fluffy carpet, Sand of white
Wooden floor 2
Walls: Mossy wall 1, Weathered red brick wall, Stone wall grey plain 1, Worn wallpaper 3, Panels orange, Panel yellow with borders, Light wood panels 2, Panels dark blue, Yellow panels, Worn wallpaper 1, Panels dark blue with borders, Panels red, Green wood panels, Green wood panels with borders, Project haunted mansion medium wood panel
Object recolor: Red blossom painting
Terrains: Flower power 1, Project stonehouse terrain 1, Project stonehouse terrain 2, Stones with grass 2, Grass with stones, Stones with grass 3
Custom Content by other creators:
Flowers: 4esfoutdoor 5 carnation, 4esf outdoor 5 rosebush, 4ESF outdoor rosebush white recolor, 4ESF outdoor rosebush yellow recolor,
http://www.4eversimfantasy.net
Fence: Stockade Fence design:
by cooldadx4
Floor: Marbelesque Plain Tiles in slate, wall: Marbelesque tile & plaster in slate, fence: Victorian Quaint Fence in white,
by Holy Simoly
Floor: Rubix,
by brighten11
Floor: Beach,
Parsimonious
Ladder: Just a ladder by marvine, Marvine ladder animated raw wood, Marvine ladder light wood,
by Marvine
Walls: Summerbluevicdv1, Summerbluevicdva,
by Christine
Wall: Residential Siding,
by MzCinnamon
Info:
You can download the lots separately in the posts under this post if you are only interested in some of them. For the full neighbourhood you don't have to download all the lots from the posts, everything you need is included in the files from this post to play the full neighbourhood.
Thanks
I want to thank plasticbox for the fast answers on my questions and for the inspiration on making a hood on my own.
Thanks to "The Modfather" Numenor

for the
Base Game Starter
.
Thanks to SaraMK and Argon for their
Empty and Cleaned up Templates
.
Thanks to all the creators which cc I used!
And last but not least:
Thank you for your interest on my creations, for your feedback and comments. If there are download issues please post them in the site issues thread.
For comments on the neighbourhood please tell me what you think. I appreciate all comments!

Packs Needed



For a full list of packs with names, see the Packs Needed popup.
Packs Needed
| | Base Game |
| --- | --- |
| | Sims 2 |
| | Expansion Pack |
| --- | --- |
| | University |
| | Nightlife |
| | Open for Business |