>

Glasses, necklaces, earrings, and anything else you want to decorate your Sim's face with - get them here!
Four Forever Rings
MTS has all free content, all the time. Find out how YOU can help to keep it running.
Tell me how...
24,981

Downloads
1,069

Thanks Thanks
199

Favourited
78,276

Views
Picked Upload! This is a picked upload! It showcases some of the best talent and creativity available on MTS and in the community.

Uploaded: 29th Dec 2012 at 6:51 AM
For modthesims' theme "Time," I have decided to illustrate a love story expanding through the precious moments of two souls, told by four forever rings. These rings have presets which toggle between white gold, yellow gold, rose gold, and engravings. And yes, the four forever rings I created are up for download

They are available for teen, young adult, adult, and elder female sims. They should show in: Naked, Everyday, Formalwear, Sleepwear, Swimwear, Athletic, and Career.
Couple's Birthstone Heart Ring
This story begins with the embrace of Brian and Jodi's young love. The birthstone heart ring is set in yellow gold and displayed here in sapphire - September - and opal - October. Their promised love is celebrated with their unique birthstones snuggling side by side. But will their love stand the test of time?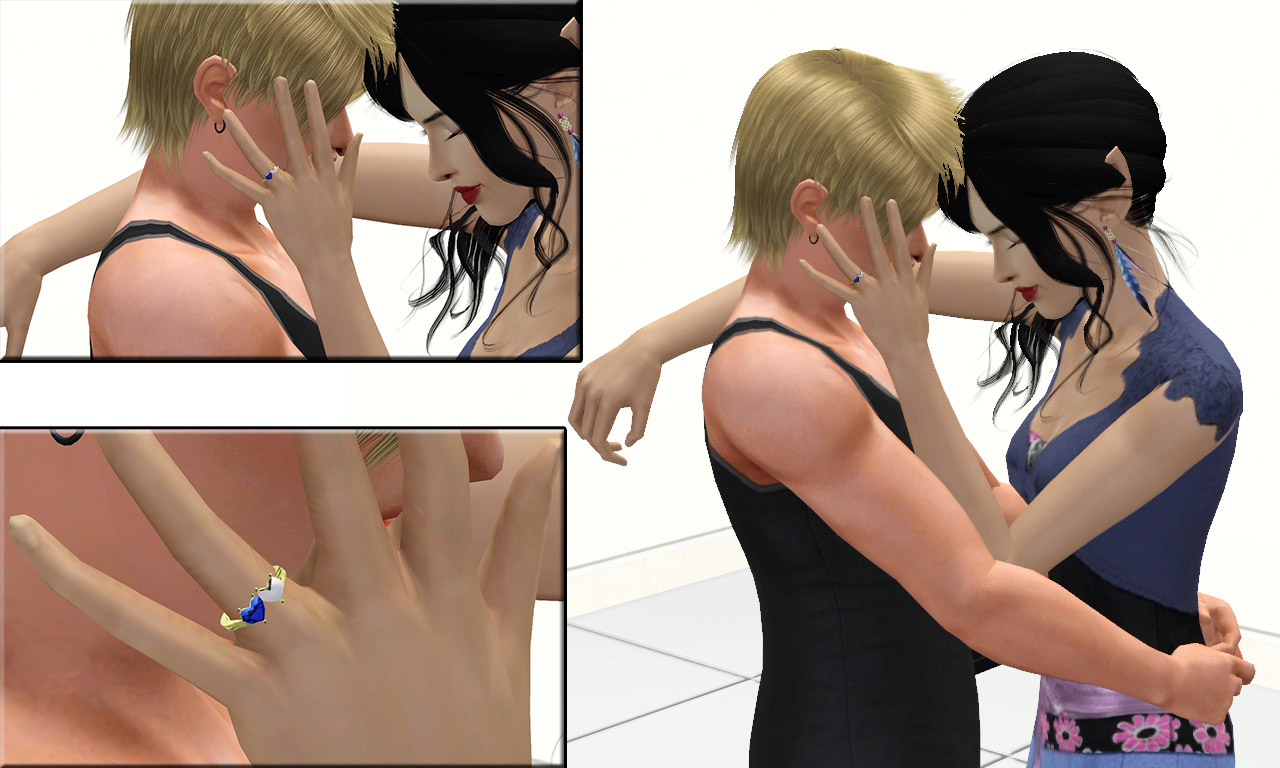 The actual ring composes one recoloarble area while the two heart-shaped gemstones each have their own recoloarble area. The first, fifth, and seventh designs do not have engravings. The second design has the engraving "Forever Yours." The third, fourth, and sixth designs have 'forever yours' engraved in Simlish.
The preset designs cycle through these colors:

Garnet (560A07), January and Amethyst (5E2180), February [White Gold]
Aquamarine (C4F3F8), March and White Topaz (C1C1C1), April [Yellow Gold]
Emerald (28965E), May and Alexandrite (4E518A), June [Rose Gold]
Ruby (F33122), July and Peridot (B6DC54), August [White Gold]
Sapphire (3B57FD), September and Opal (C3C3C3), October [Yellow Gold]
Citrine (FCC134), November and Blue Topaz (9EDDE7), December [Rose Gold]
Onyx (495355) and Moonstone (B1CAC6); Double Opal [White Gold]

Diamond Solitaire Engagement Ring
As Brian and Jodi become increasingly inseparable, Brian proposes to Jodi. With a big diamond mounted on yellow gold, Jodi is swept off her feet and caught by Brian. Will they stay together through this crucial time and finally vow to love each other forever?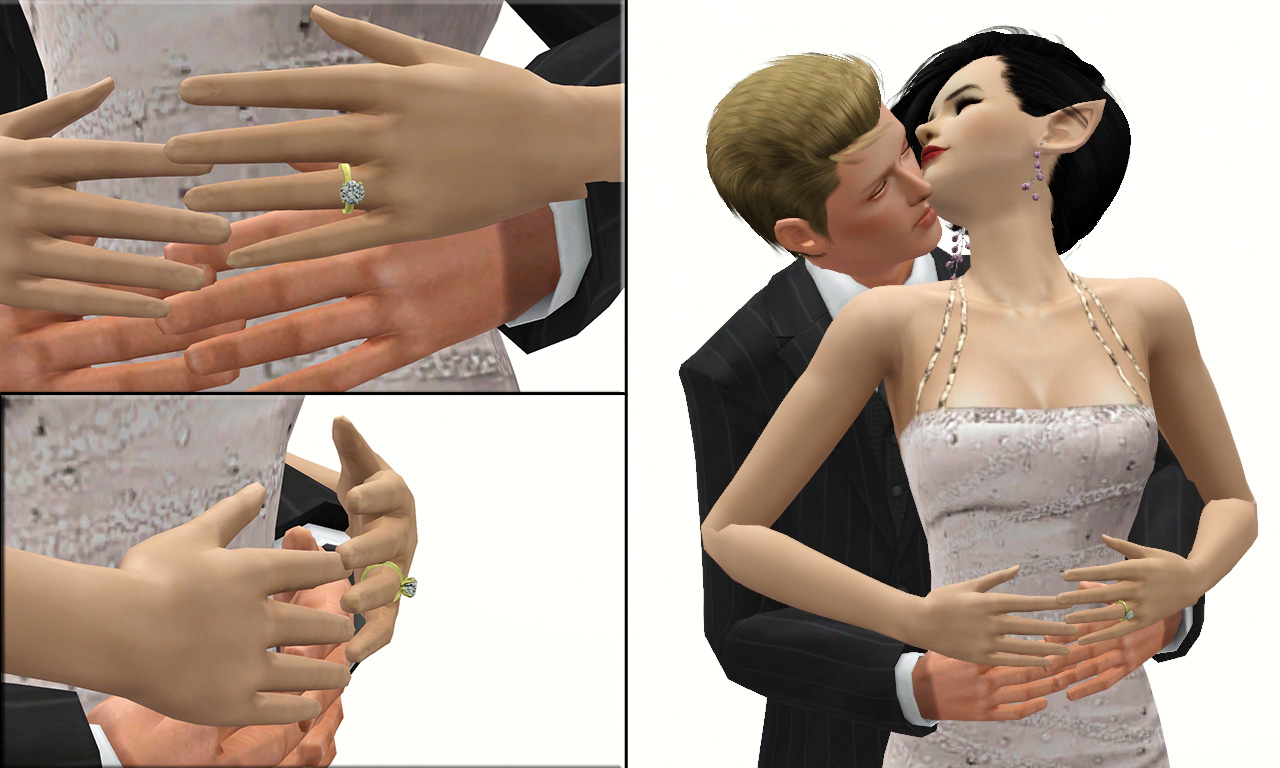 The ring and its planters compose one recolorable area while the actual diamond has its own recolorable area. This ring is not engraved since it is based on Tolkowsky's designs; but there is a T engraved on the inside part of the ring. The preset designs cycle between white gold, yellow gold, and rose gold.
Diamond Eternity Wedding Band
Brian and Jodi have just vowed to spend eternity together in front of their friends and family. Cold feet were felt, a secret affair was put out, and true feelings were finally revealed. As their eyes meet during their first dance as husband and wife, the only thought that crosses their mind is, "I love you and I can't wait to spend the rest of my life and all of eternity by your side - for better or for worse, for richer, for poorer, in sickness and in health." One can only guess whether this marriage will last or end in a divorce.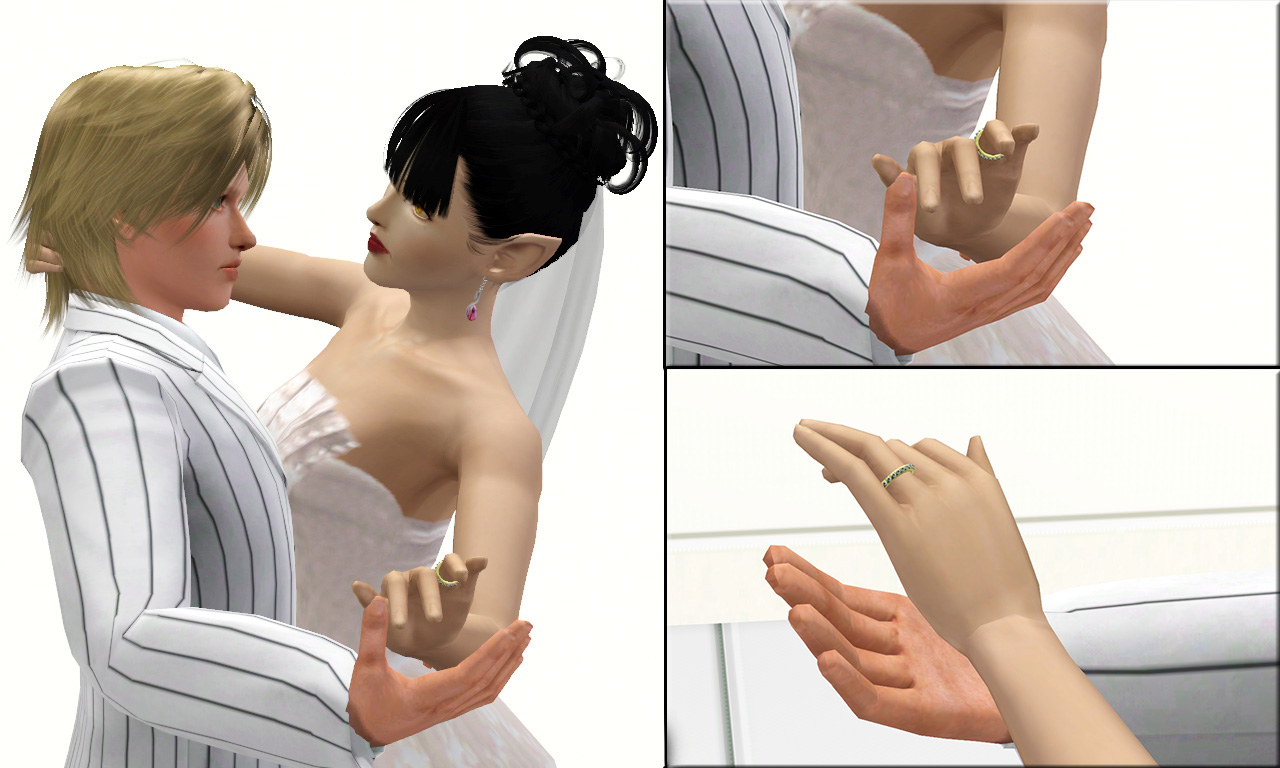 The row of diamonds and their shadows have one recoloarble area while the outer ring has another recoloarble area. The details of the individual 23 diamonds are too tiny to see, but I have meshed out each diamond individually. Which is also why it has a high poly count. This eternity band should serve as more comfortable to wear around your sims' daily lives. The presets cycle once again between white gold, yellow gold, and rose gold.
Diamond Anniversary Ring
It has been 10, 25, or 50 years - since Brian and Jodi vowed their love for each other on the wedding alter. What better way to show their everlasting love than an anniversary ring with ten brilliant diamonds. Careers ended, children were born, bad news from doctors arrived, mid-life crises exploded, and years of devotion have passed. Grey hair has rooted itself, but Brian and Jodi's love is just as vibrant as the days they promised themselves to each other, became engaged, and happily danced at their wedding. Only time will tell whether their love will end by tragedy, bitter resentment, or intertwined into one another's hands.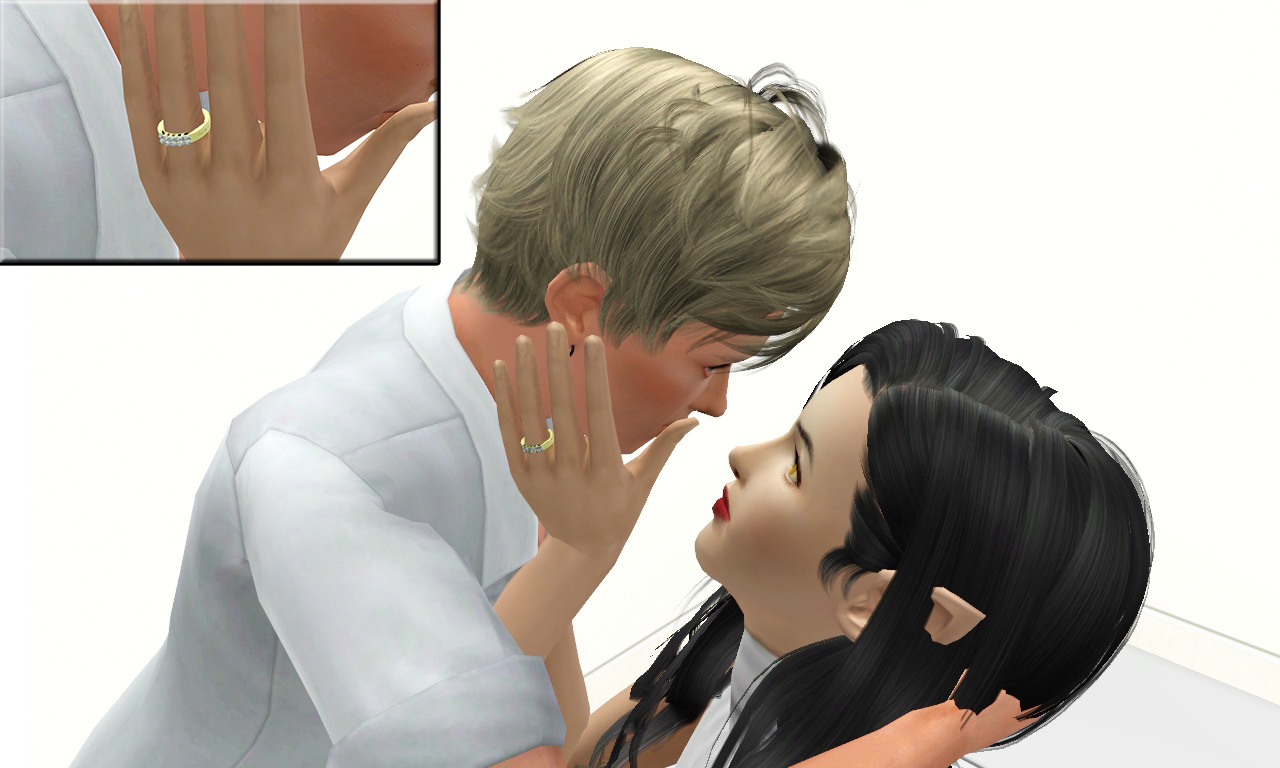 The actual ring is cut similarly to Leo's design and has one recolorable area while another recoloarble area covers the Leo diamond knock offs. I say knock off since I couldn't get the brilliance of the Leo diamonds to be true visibly brighter diamonds. This ring still embodies Leo's breath-taking designs. The first preset design does not have an engraving, while the remaining designs have "Eternally Yours" both in English and in Simlish engraved on the sides.
CC
Jodi
Hair:
NewSea
Angel Beats
,
Shero
,
BabyFace
, and
Shaine
Accessories:
Feather earrings by
Lorandia
, Crystal earrings by
Lorandia
, Wedding Veil by
Traelia
, and Swan Crystal Earrings by
S-Club Privee
Clothes:
Casual outfit by
Liana
, Formal dress by
Liana
, Wedding dress by
Lorandia
, and Stefani top by
Sentate
Eyebrows, Skin and Eyes:
Ephemera
NV1 / NV2 Asia
Eyelashes:
S-Club Privee
3D Eyelash Design Set I
Brian
Hair:
Lapiz
Djinn
,
Blue
, and
Night Springs
as well as
Soledad
by NewSea
Clothes:
Base,
Three Piece Suit
by DarkSilence, and Late Night
Eyebrows, Skin and Eyes:
Ephemera
NV1 / NV2 Asia
Poses:
Amber's Creations
,
Twinsstar
, and
Dream_Painter
Guidelines
The code is more what you'd call "guidelines" than actual rules
Please do not upload my creations to pay sites such as TSR or the exchange
Give proper credit when using my creations
Do not upload my creations together with a sim or lot, please link to the download page instead
Don't forget to leave feedback and/or comments and visit my new blog at
http://cyclotripz.blogspot.com/
(\/)
(0_0)
C(")(")
Polygon Counts:
Couple's Birthstone Heart Ring: lod0&lod1 680, lod2 340, and lod3 150
Diamond Solitaire Engagement Ring: lod0&lod1 376, lod2 214, and lod3 150
Diamond Eternity Band: lod0&lod1 906, lod2 450, and lod3 151
Diamond Anniversary Ring: lod0&1 604, lod2 304, and lod3 188
Additional Credits:
The creators of
CTU
and
S3PE
Wes Howe for his GEOM plugins
-Mallow- for his awesome tutorial on accessories
Kay, which I based my rings off of
Tolkowsky and Leo for their amazing designs
Milkshape by chUmbaLum sOft
Mesh Tool Kit by CmarNYC
Adobe Photoshop CS6
3DS Max 2011
Cinema 4D R13
About Me
The code is more what you'd call guidelines than actual rules

General Policy:

1. Please do not upload my creations to pay sites such as TSR or the exchange

2. Give proper credit when using my creations

3. Do not upload my creations together with a sim or lot, please link to the download page instead

Don't forget to leave feedback and/or comments and visit my new blog at http://cyclotripz.blogspot.com/

All creations are uploaded first at my blog as well as previews and exclusive items

(\/)
(0_0)
C( )( )