>

Pixel dollhouses/For sims to live their lives in/Nice houses for sims
Skyrise Highrise
MTS has all free content, all the time. Find out how YOU can help to keep it running.
Tell me how...
1,563

Downloads
41

Thanks Thanks
13

Favourited
7,268

Views

Uploaded: 5th May 2019 at 5:44 PM
Updated: 6th May 2019 at 12:33 AM
Ever wanted to bean somebody from your rooftop driving range? That's only ONE of the activities you'll enjoy as a tenant of the amazing Skyrise Highrise. The available unit is two stories, four bed, 2.5 baths, and includes office space. But you're not moving in for the apartment, are you? If you don't mind HOA fees as long as you're getting sweet stuff in return, this is the building for you! In the basement, tenants have access to a workout room and sauna, game room, and laundry facilities, as well as your own storage room in the sub-basement if you have extra stuff you can't fit into your unit. Got cars? We got off-street parking! The rooftop boasts two levels of awesome! Our pool has an overhang so you can spy on the people below you. Come sit in the hot tub and gaze at the stars. And enjoy a meal with a view! On the top level, accessible by ladder, you can nap in a comfy lounge chair or grow some excellent produce. And yes, bean somebody with a golf ball. Seriously, why are you still reading this? You should be moving in!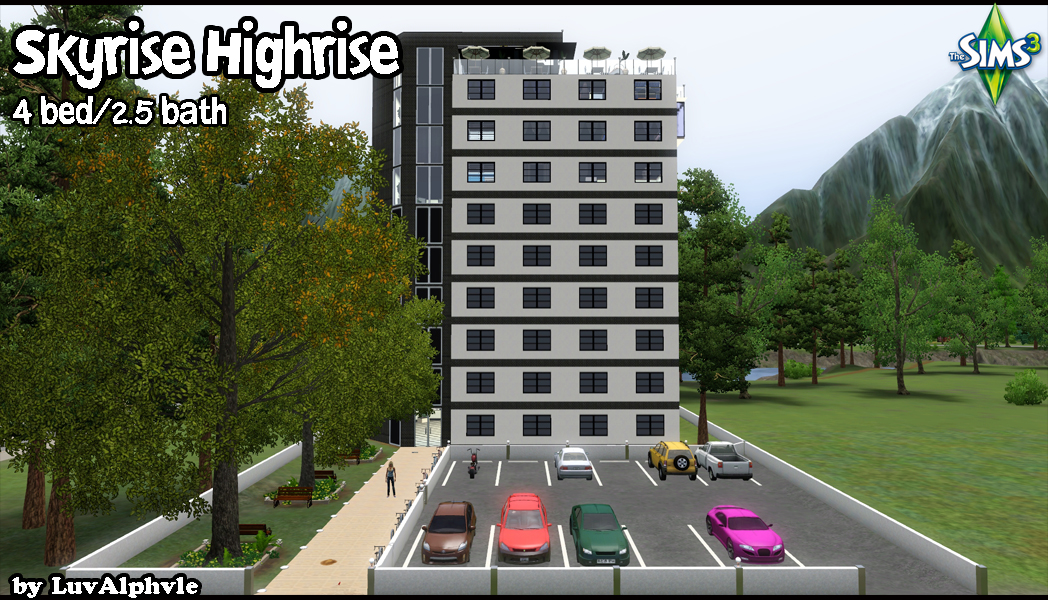 The custom walls are non-recolorable. They may create duplicates in your paint folder and this is annoying but harmless (but if anybody knows how to fix it let me know). The custom walls are strictly for looks, to make the exterior of the building look like there are more floors, and not necessary for game play. All appliances have been upgraded. Building includes one player unit and three NPC units. The one-bedroom unit is currently classified as NPC, but you can remove the lot markers if you want to move in Grandma and Grandpa. There is one visible storage unit in the lowest basement level, but you can remove the lot markers and open the others if you want more space. To look like the photos you have to have the items listed below. If not, the game will replace them with comparable items. (Check out the list to see what was used where. You still may be able to download even if you're missing some things.)
To adjust lot markers on an apartment:
● Type control+shift+C
● Type "restrictbuildbuyinbuildings false" (without quotation marks) and hit enter
● Delete/move the hidden room markers in the apartment you'd like to make the player unit (DO NOT MOVE/DELETE THE COMMON ROOM MARKERS IN THE HALLWAYS)
● Add hidden room marker to apartment you don't want to live in
● Shift+click on the empty apartment door and select "Make NPC Door"
● Type control+shift+C
● Type "restrictbuildbuyinbuildings true" (without quotation marks) and hit enter
ITEMS USED:
"WORLD ADVENTURES" EXPANSION PACK
Box Tree
Le Grand Amour Park Bench
Umbrella Sculpture
"AMBITIONS" EXPANSION PACK
A Simple Door
Cleanesque Brand Detergent
Cleanesque Detergent Bottle
Cozy Counter
Le Dryer du Clunk
Picture Parfait
Pizazz Laundry Detergent and Softener
Sparkling Clean Solutions
Sword Holster - Home Edition
The Clothing Bouquet
The Clothing Hamper by Full Load, Inc.
The Swashbuckler Washing Machine
Violetta's Drum
"LATE NIGHT" EXPANSION PACK
Barney's Trash Chute
Beautiful Bevels Hanging Light
Callbox
Classy Dining Chair
Club SoVino Patio Lounger
Criss Cut Diamonds
Darwin's Revenge
Deco Elevator
Freezer Bunny Adventures
Fridge of the Future
Industrial Sink
Modernosity Counter
Modernosity Counter Island
Modernosity Overhead Cabinet
Perennial Heather
Squares with Border
Streamlined Stove
Synesthesia
Toothbrushimus Maximus
Wall Mailbox
Z Light by Ice Lightning
"GENERATIONS" EXPANSION PACK
All Aflutter Flies
Beacon of Freedom Poster Set
Bedside Hideaway
Benny's Tennies
Bent Color Spectrum
Bulleteen Board
Bunny in the Rain
Dr. Tinner's Olde-Fashioned Toy Robot
Dream of the Windrunner
Dreamer's Costume Chest
Eco Friendly Terra Tile (3 Styles)
Framed Scout Badge
Framed Sports Jersey
Frilly Framed Picture
Great Haven Bunk Bed
Hewnsman Spiral Staircase
Incomparable Idol Poster
Lil' Rebel Clothing Chucker
Little Rawr Plush Dragon
My Uni-Pal Eunice
Retro-Tastic TV
Scouting Trophy
Shrunken Retro Rocket
Signed Movie Poster
Spooky Graveyard Poster
Sweet Cupcake Painting
Wall Walking Animals
"PETS" EXPANSION PACK
Bird Tree
Slippery Elm
"SHOWTIME" EXPANSION PACK
Aloe Thera Plant
Conquistador XS Patio Loveseat
Kingdomino Table
PowerMax 50x120
Robots vs. Monsters Arcade Table
Satellite Speaker by NuSound
Side Pocket Pool Table
Simply Stylish Wall
Slice of Life Golf Driving Range
Super Skee Ball
"SUPERNATURAL" EXPANSION PACK
Cottonwood Tree
Diatrode Crackler
Giddy-Up Rocker
Relax-O-Rocker
Shadow Men
Smack-a-Gnome!
Spectrum Mood Lamp
Sunnytime Antique Rocking Chair
The Claaaaw
The Head and the Shoulders
Timeless Memories
"SEASONS" EXPANSION PACK
Boulder Built Patio Table
Mirror of the Meadow
Perfect Fit Dresser
Spring Serenity Shower
The Permachair
Tower Path Lights
Very Symmetrical Table
"UNIVERSITY LIFE" EXPANSION PACK
Arthropode Arcade Table
Big Stomper Rug by GoTeamGo
Bumper Buffer Parking Stripe (Double Line)
Bumper Buffer Parking Stripe (Single Line)
Choosy Choices Vending Machine
Fire in the Skies Arcade Machine
Fizzy Festival Vending Machine
Flippity Flop Foosball Table by GoTeamGo
Longhorns and Laser Beams Arcade Machine
Mastodon Television by Stardard Issue
MyPuter by PeachySoft Systems
Night of the Shambling Shades IV Arcade Machine
Parked Car Coupe B
Parked Car Hatchback B
Parked Car Pickup
Parked Car Sedan A
Parked Car Sport Utility
Plink Plonk Tennis Table
Sugar Slide Vending Machine
"ISLAND PARADISE" EXPANSION PACK
Hydroglide Waterslide by DeLuge Inc.
The All-in-One Bathroom
Wet-Side Hot Tub
"INTO THE FUTURE" EXPANSION PACK
"Music Moves" Arcade Console by Korben Computing
Just a Square Window by Hill Gulch Furnishings
Nature's Soil Rug (2X2)
Nature's Soil Rug (2X4)
Straight and Narrow Window by Hill Gulch Furnishings
"FAST LANE" STUFF PACK
Lulu's Loveseat
The Wynndale Estate Sofa
"MASTER SUITE" STUFF PACK
Cherished Delight
From the world of Lucky Palms
Contemporary Curtains by Dave
From the world of Roaring Heights
The Up and Up Window
Buzzer Beater Free Throw Machine
Solace Snugabunny Deluxe Baby Swing
Steam-It-Up Sauna
Athena's Olive Tree
Bed Barthelme
Comprende Lamp
Elegant Swirls Deluxe
Forte Loveseat
Forte Sofa
Galactic Simball Arcade
Leaftastic
Mirror Study #4
Murano Retro and Ripe Fruit Bowl
Rocket Johnny's Retro Ride
Secrecy Curtain
Shrub of Tranquility
Study in Shattering
Super Sim Television DLX
Terra
The Modernist's Dresser
Topper
Tuco Table
Lot Size:
40x30
Lot Price (furnished):
§95,580
Lot Price (unfurnished):
§42,836
Custom Content by Me:
- Wallpaper for Skyrise Highrise
About Me
Welcome to my page! Enjoy my builds but please don't re-upload without permission.