MTS has all free content, all the time. Find out how YOU can help to keep it running.
Tell me how...


Yevonite Career (Final Fantasy X)
by
laaaaaaaa
Posted 12th Jul 2008 at 8:34 AM - Updated 9th Jan 2009 at 9:26 PM by laaaaaaaa : descriptions
225
Thanks
Thanks
12
Favourited
This is my first time posting anything, so hopefully I've got this all done right.
I should mention right off the bat that this occupation is based off of the video game Final Fantasy X.
I decided to make my own Yevonite career because I want my Yuna sim to find some aspiration other than to have five million babies. There wasn't the kind of room for growth with just a plain "Summoner" job as there was for something involving the whole religion, so for this I basically mashed together all sorts of viable occupations within the religion of Yevon.
This probably doesn't follow a very regular career path, I imagine, but that's because I wanted some pseudo-realism to things like pay and work (ie. why on earth would you be paid to attend church ? Therefore the 1st job level is unpaid). There is lots of reasoning behind most of this, so if you're curious, just ask. Hopefully the order of ascension is satisfying for the most part.
Because of the (at times) dicey salary I suggest you use this career with financially independent sims, especially since some of the chance cards are, well, chancey. You can stand to lose as much as you stand to gain and that can be a lot.
This isn't a really serious religious career or anything, it's slightly tongue-in-cheek at times, but hopefully that's a good thing. Chance card opportunities range from actual game related situations (1st pic) to things that probably would never have made the drawing board (2nd pic).
Chance Card Samples:
Chance Card #1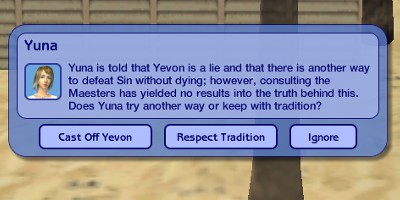 Chance Card #2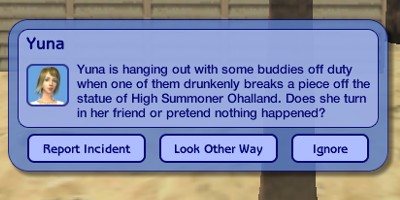 Name of career: Yevonite
Type: Adult
Status: Pre-release
Version: 1.0
Reward: N/A
Base Career: Servants
GUIDs:
Career Adult: 0x004C7002
Reward: N/A
Memories: Base Career
Overwrites Base career? No
Pre-EP compliant: Yes
EP1 Compliant: Yes
EP1 Required: No
Languages: English Only
Adult
Number of Levels: 10
1) Practicing Yevonite
W, Sa, Su, 9:00 am - 12:00 pm; $0 per Day
You dig that religion thing, but you don't do much more than pray as needed.
2) Temple Acolyte
M, Tu, Th, F, Sa, Su, 7:00 am - 1:00 pm; $15 per Day
You have decided to devote your life to worship, and will enjoy years of being ignored by your religious superiors.
3) Apprentice Summoner
M, W, Th, Sa, Su, 7:00 am - 1:00 pm; $40 per Day
You decided that defeating Sin and getting everlasting fame could be your thing, but you need training first.
4) Temple Guard
W, Th, F, Sa, Su, 8:00 am - 4:00 pm; $80 per Day
After a brief flirtation with self-sacrifice, you decide protecting others is more important, and enlist as a temple guard.
5) Warrior Monk
Tu, W, F, Sa, 6:00 am - 4:00 pm; $100 per Day
You got good at that whole guarding thing, and better at aceticism so now you're Temple Guard, First Class.
6) Summoner
M, Tu, Sa, Su, 8:00 am - 1:00 pm; $400 per Day
Years of training finally paid off, and now you get a free around-the-world trip with your best buddies!
7) Maester
W, Th, Sa, Su, 9:00 am - 1:00 pm; $800 per Day
Your networking skills are so good you managed to convince higher-ups that you should have their job.
8) Grand Maester
M, Tu, F, 9:00 am - 3:00 pm; $1000 per Day
Loved by the masses, lauded by your subordinates, capable of eliminating anyone who does not jive with that, you are the Grand Maester of Yevon.
9) High Summoner
M, Tu, W, F, 8:00 am - 2:00 pm; $1500 per Day
Being the most important figure in Spira was nice and all, but what about ever-lasting fame? You finally screwed your courage up to become High Summoner.
10) New Yevon
W, Sa, Su, 10:00 am - 12:00 pm; $2000 per Day
Now that the old god is gone and everyone still loves you, why not replace him yourself? Immortality and fame, baby, immortality and fame.
Any comments or questions I'll gladly respond to.
22 Comments / Replies (
Who?
)
Users who thanked this download also thanked: