>

Pixel dollhouses/For sims to live their lives in/Nice houses for sims
The Spooky Mansion
MTS has all free content, all the time. Find out how YOU can help to keep it running.
Tell me how...
1,875

Downloads
192

Thanks Thanks
41

Favourited
42,901

Views

Created by candlelight82 View all Downloads
Uploaded 21st Jun 2010 at 4:11 PM · Updated 17th Jan 2011 at 7:36 PM by candlelight82
Hi folks,
I present you a new piece of my Mansion series..

The Spooky Mansion
After building the Fantasy Mansion I had to build something dark and gloomy

..yes, I was inspired by some famous tv series when I built the house..

Expansion Pack 1 (World adventures) required
Expansion Pack 2 (Ambitions) required
Saved with game version 4.0.87.006
Furnished: 324,203
Unfurnished: 179.807

Details:
Inside
Washroom 2
Big living room
Kitchen
Dining room
Relax area
Training room
Bedroom Single 2
Bedroom Double 2
Office
Bath 5
Inventor room
Empty rooms 2
Balcony 2
Some smaller rooms
Plants room
Torture chamber
Family Tomb (don't be too greedy there, or face the revenge of the mummy)
Outside

Outdoor chess
BBQ
Parking lots 3
Kitchen garden
Graveyard with ghosts
Pool
Moth
Fish
Stones
Seeds
Swing
Tree house
Gnubb-set
Apple, Cherry,.. trees

Have fun

Hint:
When you place the lot in your world, have a close look at the ground painting,.. if you feel it doesn't look right, then please turn the lot around before placing! That's a general problem when placing lots with ground paint, it has nothing to do with my lot.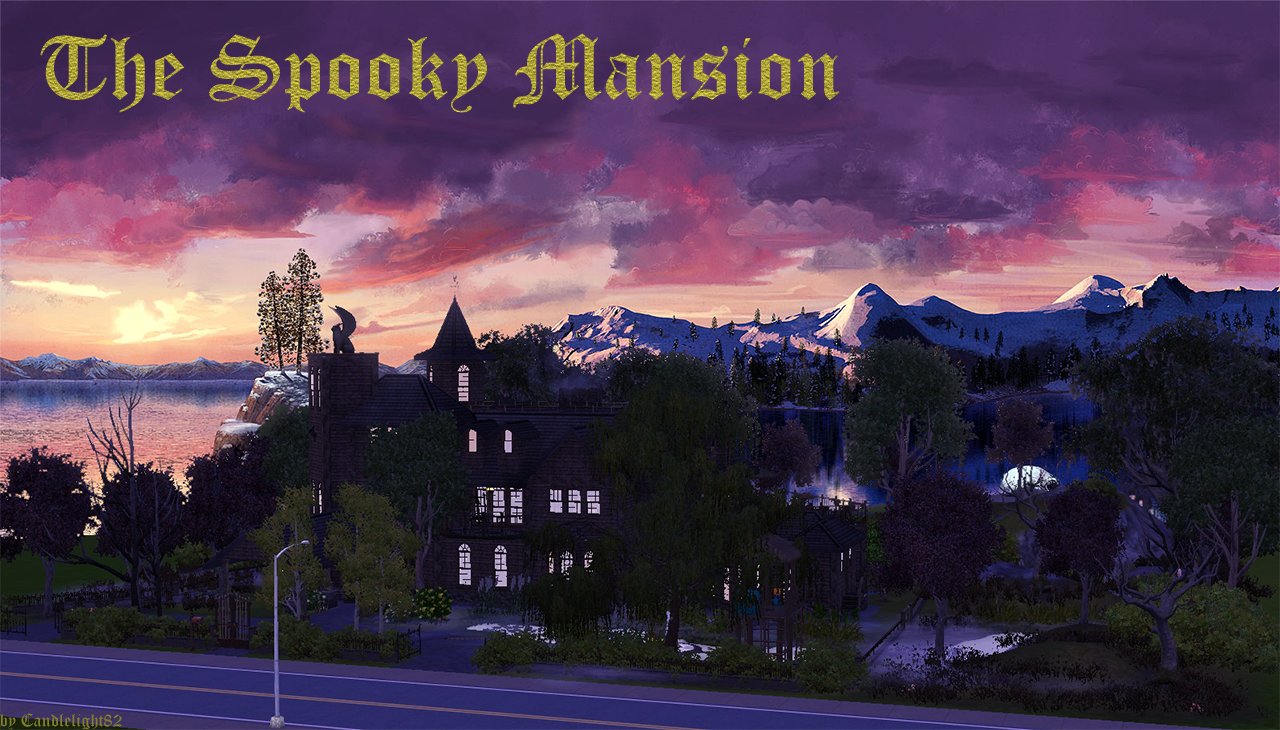 The background is changed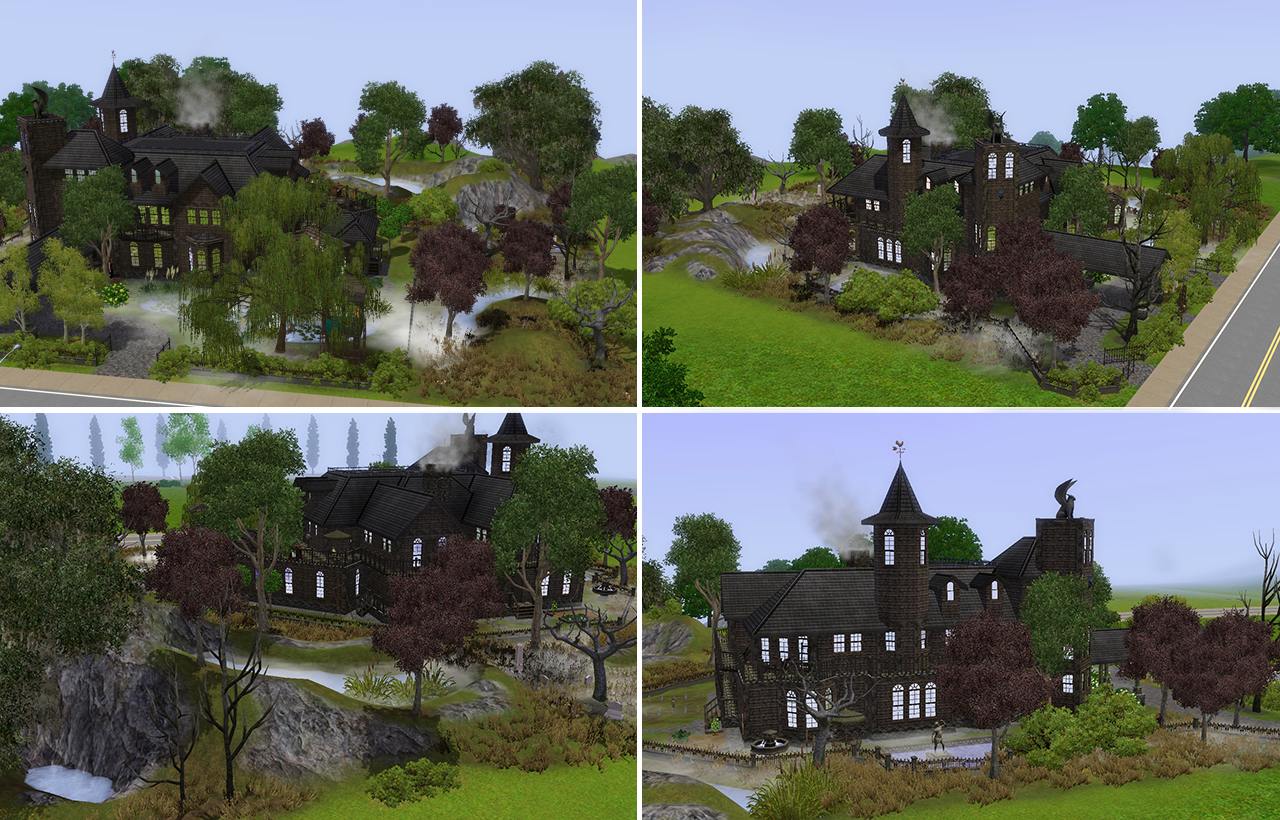 MTS:
Thanks to
ninotchka
for starting the Latest freebie post here
http://www.modthesims.info/showthre...5#startcomments
Thanks to
Winterhart
for uploading the effects list here
http://www.modthesims.info/download.php?t=408016
A lot of stuff, yes.., but only decoration. So you don't need it, of course it looks better wit
h

Store Content:
Buy
Mystic Mushrooms: 25 SimPoints
http://store.thesims3.com/productDe...emale&startAt=0
Advantageous Washstand: 25 SimPoints
http://store.thesims3.com/productDe...male&startAt=45
Treasures of the Realm Chest: 25 SimPoints (also part of the Full Interior Castle Set)
http://store.thesims3.com/productDe...male&startAt=60
The Great Lord So-and-So's Shield and Sword: 25 SimPoints (also part of the Full Interior Castle Set)
http://store.thesims3.com/productDe...male&startAt=75
Knighting of Sir Asad: 25 SimPoints (also part of the Full Interior Castle Set)
http://store.thesims3.com/productDe...male&startAt=75
Treasure Box: 25 SimPoints
http://store.thesims3.com/productDe...male&startAt=90
Little Tiki Idol: 25 SimPoints
http://store.thesims3.com/productDe...male&startAt=90
Pedro Estate Chandelier: 25 SimPoints
http://store.thesims3.com/productDe...emale&startAt=0
Pedro Estate Candelabra: 25 SimPoints
http://store.thesims3.com/productDe...emale&startAt=0
Gothique Candle Stool: 25 SimPoints
http://store.thesims3.com/productDe...emale&startAt=0
Home Hokey Table: 75 SimPoints
http://store.thesims3.com/productDe...emale&startAt=0
Galileo's Observer: 75 SimPoints
http://store.thesims3.com/productDe...emale&startAt=0
Gothique Skull Chest: 25 SimPoints
http://store.thesims3.com/productDe...male&startAt=45
Gothique Armor: 25 SimPoints
http://store.thesims3.com/productDe...male&startAt=45
Gothique Glass Spider: 25 SimPoints
http://store.thesims3.com/productDe...male&startAt=45
Reynard The Raven: 25 SimPoints
http://store.thesims3.com/productDe...male&startAt=45
Free
The Ultimate Career Bundle: free (requires Registration of Ambitions on the EA site)
http://store.thesims3.com/setsProdu...=OFB-SIM3:21267
Fanta(R) Fridge: free
http://store.thesims3.com/productDe...emale&startAt=0
Harvest Bounty: free
http://store.thesims3.com/setsProdu...=OFB-SIM3:18280
Generation Clock: free
http://store.thesims3.com/productDe...purchaseHistory
Earth Day: free
http://store.thesims3.com/setsProdu...=OFB-SIM3:20378
Eco set: free
http://gb.store.thesims3.com/renault.html
Halloween Treats: free
http://store.thesims3.com/setsProdu...=OFB-SIM3:18069
Paris Wall Clock: free
http://store.thesims3.com/productDe...=OFB-SIM3:18564
Other Custom Content
seen on the pictures but NOT included:
Medieval Dungeon Museum by D&M Creations-Demonic: free
http://dymcreations-demonic.blogspo...d92bf00938e8aed
Lot Size:
6x6
Lot Price:
324203