Sims 2

>

>

Pixel dollhouses/For sims to live their lives in/Nice houses for sims
Gwrych March Set One: 6 RESIDENTIAL Lots (Castle, Hovels, Parson Cottage)
16,286

Downloads
253

Thanks Thanks
29

Favourited
27,181

Views
Picked Upload! This is a picked upload! It showcases some of the best talent and creativity available on MTS and in the community.


Uploaded: 7th Sep 2010 at 2:15 AM
Updated: 17th Oct 2010 at 2:16 AM - Updating Text
Welcome to Gwrych March!
******************************************
Gwrych March Set 1A: 6 RESIDENTIAL Lots (Castle, Hovels, Parson Cottage)
******************************************
General Gwrych March Notes
:
Welcome BACK to "Gwrych"! There are 27 lots divided between 4 Posts. Post 1 has 6 Residential Lots. Post 2 has 6 Residential Cottages (13 downloads). Post 3 has 2 Hotel Lots. Post 4 has 6 Community Lots. The lots in this collection are mainly EDITED versions of lots from the "A Small Kingdom" collection. They have been revised with MEDIEVAL decor using ALL EPs and STUFF PACKS as well as User Created Custom Content. Also, I've included several alternative versions of stoves, trash cans, dishwashers, trash compactors and sewing machines in these lots. Each FURNISHED residential lot in this collection has an invisible smoke alarm and I've hidden the burglar alarm behind furniture or inside barrels. So, please be sure to play test your lots to discover where everything is and what everything does. Each lot should contain all your Sims need to live!
While the Gwrych Kingdom and Duchy lots were moreso designed for the upper nobility, the Gwrych March and Barony are designed for the lower nobility and the lower classes. The buildings will be a bit more worn and fitting to the lower classes. Even within the hovel community, there is a ranking system for the houses.
There is no "separate" objects download
zip
for the Gwrych "March" Collection (as I included in the original Gwrych post of 45 lots). All objects are included in the lots. The
zip
folders also contain Maxis/EA recolors that do not automatically
zip
with the lots. Be sure to include add these objects to your Downloads folder. I also encourage allowing the objects you download in this collection to override older versions of the objects shared in the original Gwrych post (45 lots), as some of the objects used have been updated.
The lots in the Gwrych March were designed for my
"GWRYCH NEIGHBORHOOD MAP 4"
found in Post 2
HERE
. Of course you are free to use another Neighborhood Map, but keep in mind that the Beach Lots (in the upcoming Barony set shares this map) may not show properly in neighborhoods they were not designed for. Please keep this in mind.

See the following image to set-up you Gwrych March Neighborhood.
Lastly...for those of you who cannot download this collection for one reason or another, please understand that these lots are also represented in the "A SMALL MODERN KINGDOM" collection found
HERE
. However, "A Small Kingdom" lots are decorated using Maxis/EA only furnishings and objects, therefore it is moreso a "Modern Meets Medieval" collection.
Please enjoy the downloads and happy Simming!
******************************************

Gwrych March Set 1A: 6 RESIDENTIAL Lots (Castle, Hovels, Parson Cottage)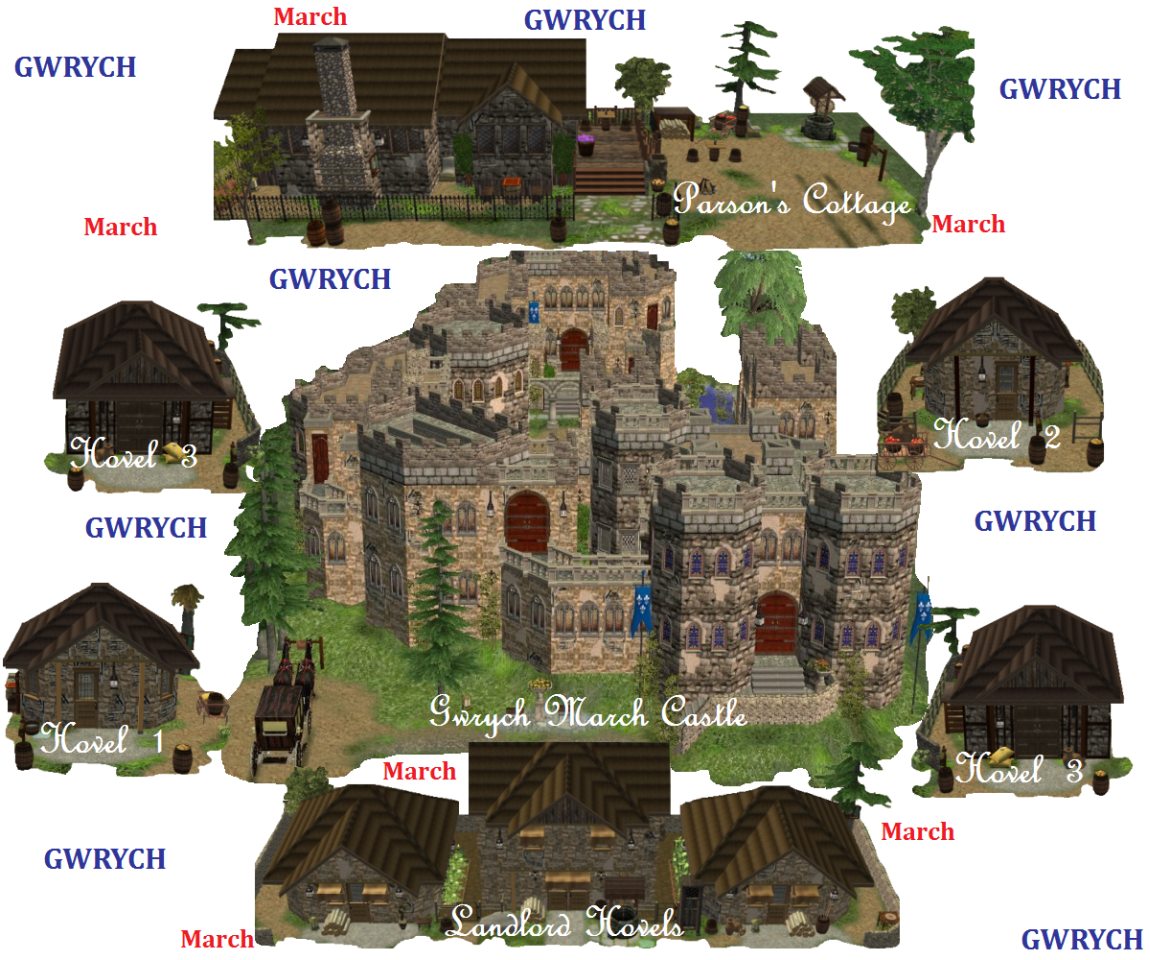 This set includes the following lots:
1. March Castle (1 RESIDENTIAL LOT)
2. March Hovels - 1 Lot for the Landlord and 2 Assistants & 3 Separate Serf Hovels of Different Classes (4 RESIDENTIAL LOTS)
3. March Parson's Cottage (1 RESIDENTIAL LOT)
Note
: There are 2 extra "Gwrych March Hovel Field" lost to place near your Gwrych March Hovels found in Set 3 of the Gwrych March posts.
******************************************
March Castle (RESIDENTIAL)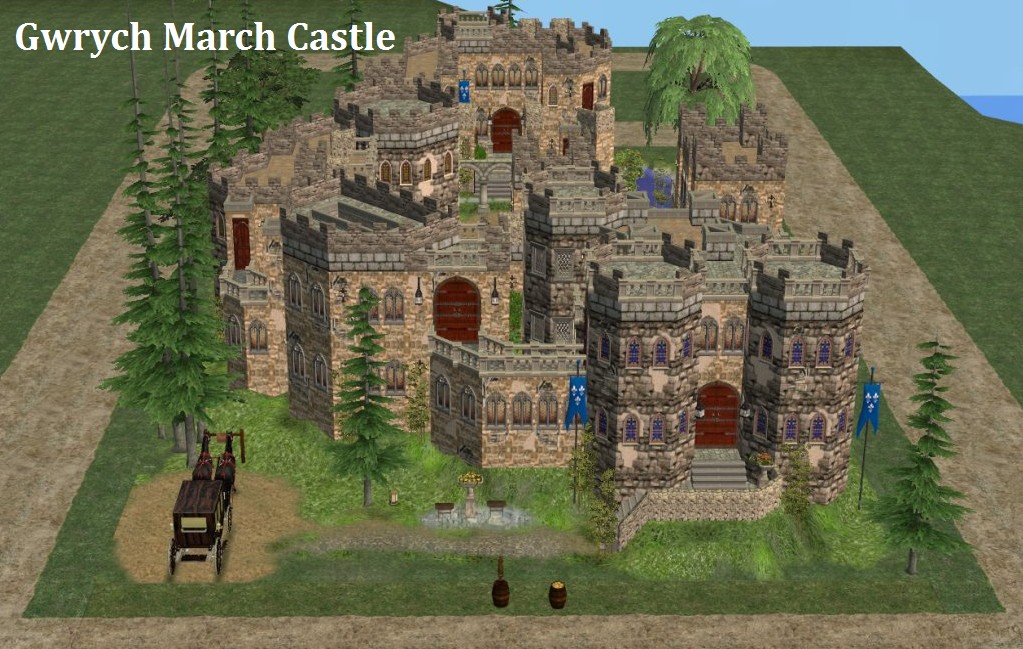 LOT INFORMATION
Lot Cost: 393, 398 Simoleons
Lot Size: 3 x 5
# of BEDROOMS: 4 (2 Servants/2 Nobility)
SLEEPS: 6
# of Tubs/Showers: 5
# of Toilets: 5

Lot Description:
This castle has a BIG feel for it's actual size and is perfect for your noble Sims. There are 4 bedrooms (2 for nobility and 2 for servants). The King/Queen Suite includes an office, a parlour, a bedroom, a private balcony and a bathroom. The 2nd nobility suite has a private bathroom outside the bedroom and an activity nook in the suite. There are 3 additional 1/2 baths (toilet and sinks only) and 2 private showers (in the servant quarters). The lot also includes a Piano Parlour, a Main Lounge, a Kitchen, a Royal Throne Counsel Room, a Library, a Great Hall Dining Room, a Private Nobility Buffet Room (upstairs), several winding castle corridors, an extensive Inner Courtyard with a closed private Courtyard for Nobility, a closed-in Outer Courtyard (for barbecues and Ax-Throwing) and a fishing area.



____________________________


NOTE:
There are 4 different Hovel lots available here for download. There is 1 3x1 Hovel Lot that has room for a Landlord and 2 tenants and 3 1x1 Hovel Lots as well.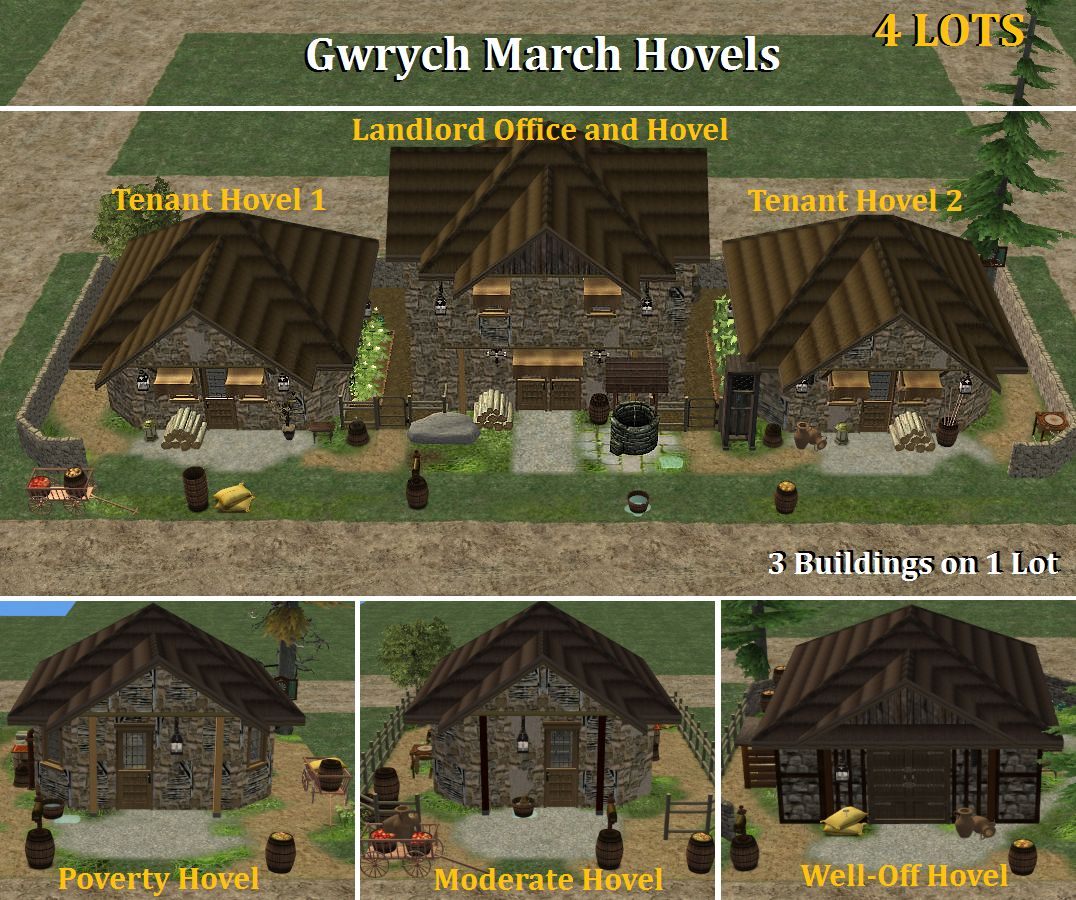 March 3x1 Hovels - 3 Hovels on 1 Lot (RESIDENTIAL LOT)



This lot contains 3 small buildings (1 for the Serf Landlord and 2 for the Tenants).

LOT INFORMATION
Lot Size: 3 x 1
Lot Cost: 74,951 Simoleons
Total Bedrooms: 3
Total Bathtubs/Showers: 3
Total Toilets: 4
SLEEPS: 6 (5 Beds)

Lot Description:
This lot includes common areas (with various activities like a buffet, darts, chess and a barbecue area). There are 3 cozy hovel spaces. The central hovel belongs to the Reeve or Serf Landlord and has a double bed and full living suite. The other 2 hovels are identical and both sleep 2 Sims in single beds.



____________________________

March Serf Hovels - Individual Peasant Hovels (3 Three 1x1 Lots) - (RESIDENTIAL LOT)



Lot Descriptions for Hovels 1, 2 and 3:
There are 3 hovels all under 20,000 Simoleons - keeping the houses at STARTER price for your medieval serfs. Hovel 1 is the cheapest and simplest in decor and Hovel 3 is the most expensive of the 3 with more elaborate decor. Hovel 1 has 2 single beds, a kitchen, a dining space and a bathroom. Hovel 2 has 2 single beds, a kitchen, a dining space and a bathroom. Hovel 3 has 1 double bed, kitchen and a parlour area. There is a barbecue area located outside of Hovel 3.

***SPECIAL NOTE***
All hovels that have a 2 tile eating table has an invisible sewing machine aligned with the table. However, you will only be able to access the sewing machine by clicking on the left side of the tabletop. By off-setting the invisible sewing machine, it makes it possible for your Simmies to use the table for sewing and eating.



LOT INFORMATION: HOVEL 1
Lot Size: 1 x 1
Lot Cost: 9,129 Simoleons
Total Bedrooms/Beds: 2 Single Beds
Total Bathtubs/Showers[/b]: 1 Shower
Total Toilets: 1
SLEEPS: 2

LOT INFORMATION: HOVEL 2
Lot Size: 1 x 1
Lot Cost: 15,520 Simoleons
Total Bedrooms/Beds: 2 Single Beds
Total Bathtubs/Showers: 1 Bathtub
Total Toilets: 1
SLEEPS: 2

LOT INFORMATION: HOVEL 3
Lot Size: 1 x 1
Lot Cost: 18,993 Simoleons
Total Bedrooms/Beds: 1 Double Bed
Total Bathtubs/Showers: 1 Bathtub
Total Toilets: 1
SLEEPS: 2



____________________________

March Parson's Cottage (RESIDENTIAL LOT)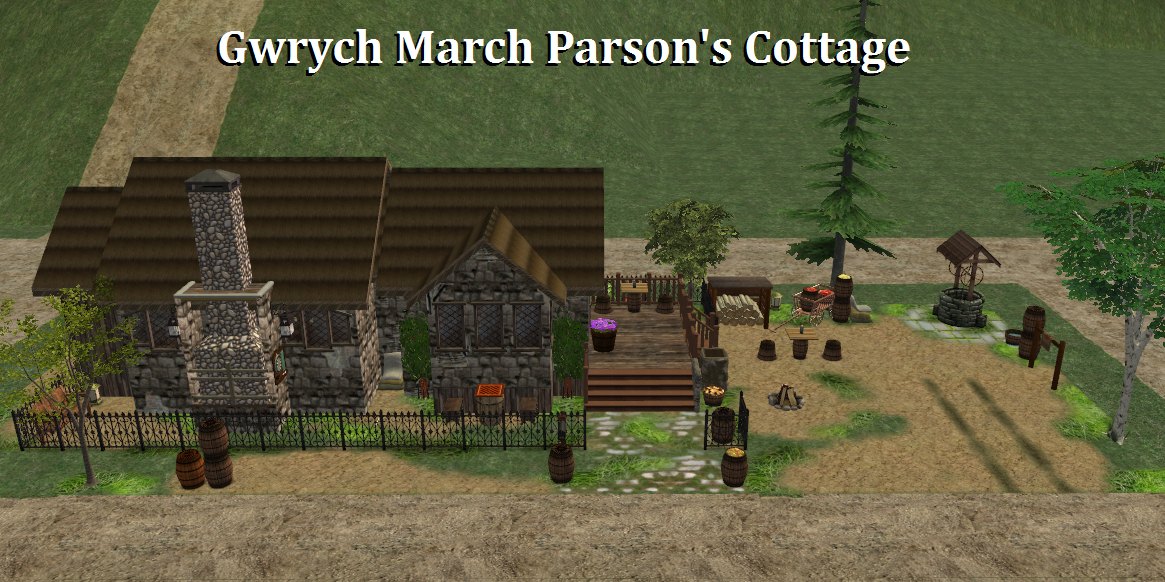 LOT INFORMATION
Lot Size: 3 x 1
Lot Cost: 47,334 Simoleons
Total Bedrooms: 1
Total Bathtubs/Showers: 1
Total Toilets: 1
SLEEPS: 1

Lot Description:
This lot is meant to compliment the Gwrych March Church Community (in Set 2 of the 3 Part Set of the Gwrych March Collection) and is designed to be placed across from or near the Church lot. It is a moderate cottage, perfect for the local Gladmorganshire March parson. The cottage has a small sitting porch, a back garden, a driveway and a variety of activities for the Parson to entertain a few parish members.



******************************************




KITCHEN SINK CLUTTER DRAMA


Please read this if you are having problems AFTER entering a lot or are receiving an error message about "counters without doors". Otherwise, view this as general information about Gwrych lots.

Apparently, you CANNOT use "move objects on" to place objects on the back of a counter where there is a kitchen sink. In some of my Gwrych lots, I found an error with placing sponges in the back corner of counters that have kitchen sinks. Initially, I thought it was that sponges could not be placed on counters where there is a kitchen sink, but have since discovered that no objects should share the counter tile when there is a sink in the counter. If you have found you were receiving a counter error when entering a Gwrych lot with a Sim...there may be objects sharing kitchen sink counter space (like the hour glass, sponge, plant or jars) that I overlooked in the process of fixing this problem. Please understand that this may NOT be the issue if your game is constantly crashing. It is just one possible solution I offer. Testing the Gwrych lots on different computers has resulted in ALL Gwrych lots being playable from this end. As errors are encountered during game play, solutions are also sought. If you are only having problems with a few lots, this may (or may not) be part of the problem. To fix this problem, all you need to do is to load a new version of the lot, enter it WITHOUT A SIM and delete any objects that are sharing a counter with a kitchen sink. Also, if you notice there seems to be no sink in an area where there should be one (especially bathrooms and kitchens)...try adding a sink to the empty counters. If you cannot place a sink on a counter, that counter should be deleted and put back in the game before adding a sink. Sorry for any inconvenience this may have caused. Remember, enter the lot WITHOUT a Sim to make changes.

Adding clutter to the back slots of counters that do not have a kitchen sink appear to work just fine. So clutter away on counters without sinks!





******************************************



Maxis/EA Recolors Custom Content Used (Included In Download Zips)
- Dynasty Dresser Grey Wood Recolour by BillySIMS139
- Maxis Telephone Wood 1 Recolour by BillySIMS139
- Maxis Just A Door Wood 3 Recolour by corvidophile2
- Maxis Open Sesame Recolour 2 by corvidophile2
- Maxis Uprite Column Dark Wood Recolour by corvidophile2
- Black Bear Bedding by DLMulsow
- Dark Wood Furniture Recolours (Chair, Table, Chest of Drawers) by DLMulsow
- Hearthstone Quilt Recolour 2c and 3e by Gwenke33
- Handset for Scroll Telephone by HystericalParoxysm
- Open Me Door Ash Square Door and Prairie Door Recolours by Kimdelee
- Dark Brown Dartboard by Macey246
- Serf Furniture Recolours (Chair, Table, Counter, Bed) by Magick Modders
- Straw Bedding 1 and 3 by Magick Modders
- Darker Pine Cheap Bookcase Recolour by mia86
- Fallout Easel, Piano and Rubber Tree Recolours by Purity Project
- Invisible Driveway by roddyaleixo
- Hovel Wood Bed 2, Bench 3, Chair 2, Endtable 1 and Table 2 Recolours by roseisred
- Invisible Sewing Machine, Trash Compactor, Mini Fridge and Dish Washer by Sophie-David
- Maxis Dark Wood Counterclub Recolour by sophisim
- Open Me Window Stone Recolour by windkeeper

Custom Content by Me:
- Moss Brick Terrain
- Beach Grass Terrain
- Stone in Grass Terrain
- Gravel Stone Terrain
- Medieval Terrain # 6
- 10 Medieval Walls
- 16 Hovel Walls
- 3 Gwrych Broken Walls

Custom Content Included:
- Fur Rug Recolor by 15pupmaus49
- Merry-making Dining Table (Ailias 1 Tile Variance) by Ailias
- Gray Edge Smoother Fence by Ailias
- Cracker Barrel Chess Table by Aligeth
- Single Floor Mattress by Atavera (Retired)
- Sack Chair by Berg
- Egyptian Vases & Recolours by Blacky's Sims Zoo
- Medieval Awnings by Crocobaura
- Medieval Door Recolors 1 and 2 by The Dark Project
- Mysterious Tome & Recolours by The Dark Project
- Wallpaper Mask by The Dark Project
- Dark Wood Wall and Floor by DL_Muslow
- Edta Medieval Cupboard by Edta
- Wood Pile by feeEssen
- Dark Pelt Rug Recolours 4 and 6 by The Guild Masters
- Rounded Castle Door by The Guild Masters
- Wall Mask Pelts 2 and 4 Recolours by The Guild Masters
- "Anno Farm" Hand Cart & Farm Tools by Hexameter
- Quill and Ink by Huge Lunatic
- Antique Scroll-in-a-Box Table Phone - BASE/HANDSET by Hysterical Paroxysm
- Banya Broom by Jeka
- Celtic Daily Scripture Cross by KevinsHope
- Stone Slab Sofa by Khakidoo-MTS2
- Mortar and Pestle by Lethe_s
- Targa's SupaFridge by Lord Darcy
- Pedestal Planter by macarossi
- Pelt Rugs 1 and 3 by Magick Modders
- Athelyna BathTub, Sink and Toilet by -Maylin-
- Black Lantern & Red Recolor by Maylin
- Old Coffee Maker by -Maylin-
- Antique Bread Roll Basket by mdhttr323
- Long Medieval Table Middle Section by mia86
- 3x4 Floor Rug by Nicolafred
- "Good Ol' Times" Coal Stove (UV) by Numenor
- Barn Set Hitching Post by Paleoanth
- "Community Pay Phone Cover" & Rustic Recolour by Parsimonious Sims 2
- "Eponymous Garden" Plant Set by Parsimonious Sims 2
- "Monte Carlo" Bedroom Chair and Armchair MESH by Parsimonious Sims 2
- "Monte Carlo" WORN Green Chair & Arm Chair Recolour by Parsimonious Sims 2
- "Oggs & Ends" Coffee Table and Broom by Parsimonious Sims 2
- "Pirate Bay" Build Set (Windows, Doors, Fences and Column) by Parsimonious Sims 2
- "Sultana" Bowl, Jug and Vase by Parsimonious Sims 2
- "Woodcutter" Kitchen Bathtub by Parsimonious Sims 2
- Invisible Smoke Detector by pfish
- Firewood Shed by RealGanacampo
- The Invisible Window by Rebecah
- Castle Rock Fence by Rebecah
- Ye Old Cooper Barrel Set (Chairs, Sacks, Trashcans, Food Content, Decorative Buckets & Recolours) by Sophie-David
- Grill - Steinzeit by Speedymaus 22 at Blacky
- Medieval Toilet, Sink and Mirror by Tarox
- Stack of Dishes and Vases by Tarox Sims 2
- Medieval Column 1 & Recolour by UK1967
- Medieval Flag & Blue Recolour by UK1967
- 2x3 Floor Rug by Windkeeper and Numenor
- Crystal Ball TV by wintermuteai1
- Crystalsphere Personal Conjurer (PC) by xanathon

Enjoy the Downloads!
Packs Needed








+
9 SPs
For a full list of packs with names, see the Packs Needed popup.
Other Information
Number of bedrooms
:
– 1 Bedroom
Custom Content Included
:
– Build and Buy Mode Content : Furniture, decorations, etc.
Furnishings
:
– Fully Furnished : Lot is completely decked out in furnishings
Special Flags
:
– Not Applicable
Packs Needed
| | Base Game |
| --- | --- |
| | Sims 2 |
| | Expansion Pack |
| --- | --- |
| | University |
| | Nightlife |
| | Open for Business |
| | Pets |
| | Seasons |
| | Bon Voyage |
| | Free Time |
| | Apartment Life |
| | Stuff Pack |
| --- | --- |
| | Happy Holiday |
| | Family Fun |
| | Glamour Life |
| | Celebration |
| | H&M Fashion |
| | Teen Style |
| | Kitchen & Bath |
| | Ikea Home |
| | Mansion and Garden |
~*~StephSim's Creations~*~
❤ Welcome to my little space of the Simming Community!❤
As of July 2016, I've decided to reinvent myself (again). Basically, my Sim Creation Renaissance is long overdue! It's time to release the old and move forward, doing things that sustain me in meaningful ways. ◕‿◕
I shall start with a wonderful new Sim Place to call home! And now the Official Unveiling (....drum roll...):
CLICK HERE to experience StephSim's BRAND NEW SIMS 2 WEBSITE called *** Proudly Banished *** !!!
Proudly Banished is my little storage place for a select few of my Sims 2 creations. Since I will NOT be Simming as much, I wanted to provide a small landing pad for random creations I will be sharing. I will on occasion share NO CC/ LOW CC Lots and MTS related recolors here on MTS. However, my CC LOADED Lots will be Housed at Proudly Banished. I've also add the updated Fully Loaded Versions of the American Gothic Mansion. Be sure to click on the Slideshows when available! You will find a few lots, object recolors, clothing recolors and the Regina Mills Sim (from Once Upon a Time)! There should be a little something for everyone!
Take your time and explore the site and be sure to check out *Sherwood Forest* for my PBK Community Goodbyes!
See you there. (。♥‿♥。)
POLICY
All StephSim walls, floors, and ground covers can be freely used in lot creations on any free or pay site. Feel free to use my neighborhood maps/terrains for any and all of your Simming needs. Feel free to use any objects or object recolors shared on MTS or elsewhere in the Sims 2 community in your creations (lots, movies, stories) Feel free to recolor objects I upload and include the mesh. Feel free to use any Sims I create or my lots for your Sim movie making purposes! In using any of my creations. Credit is not necessary, but please do not claim any shared creations by myself,
Sophie-David
,
Jason Duskey
or anyone who I team with as your own.