>

Pixel dollhouses/For sims to live their lives in/Nice houses for sims
Fallingwater at Bear Run - NO CC Version
MTS has all free content, all the time. Find out how YOU can help to keep it running.
Tell me how...
3,036

Downloads
107

Thanks Thanks
15

Favourited
25,821

Views


Created by StephSim View Policy / About Me View all Downloads
Uploaded 28th Nov 2011 at 2:33 PM · Updated 11th Dec 2011 at 1:50 AM by StephSim
Lot Backstory
After seeing
"The Waterfall Castle"
by
triciamanly
, I decided to explore the concepts of
waterfall
and a
swimmable lake
on one lot. I am in the process of creating a Gwrych lot that requires me to use one or both concepts for execution. It was "supposed to" be just for practice, but I got engrossed in the lake, the waterfall and of course Fallingwater itself.
So, this is the
NO CC
version of Fallingwater.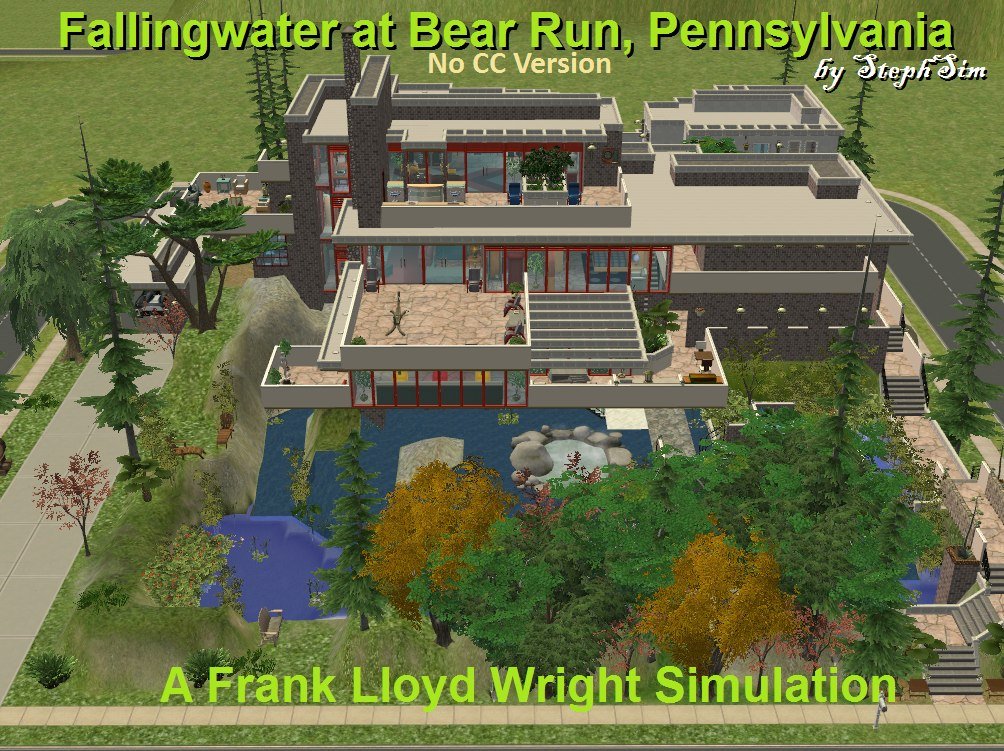 Fallingwater History
Fallingwater was completed in Bear Run, Pennsylvania by architect Frank Lloyd Wright in 1935 for the Kaufmann family. For me, this house is the ultimate to create in the Sims, as it's design is quite unique and challenging to simreplicate. It looks as though the rock on which it is built gave birth to it. By combining terrain paint, floors, walls and rocks, my version of Fallingwater is an intentional attempt to make the landscape and the house seem as one. This is especially true of the left side of the house where the rock extends from the exterior, to the basement and into the living room.
I did take a bit of creative license, designing many aspects of the lot to appeal to my personal sense of style, fluidity in lot layout and playability. With things like support columns, the location of the garage and the design of the Guest House, I changed things up a bit and tried to make the lot more Sim friendly. With that said, there is no mistaking that this is a
bonafide

Sim Version of
Fallingwater
. As I created the lot, I felt as though I got into the mindset of Frank Lloyd Wright and while my version is
NOT
an exact replica, I do believe it truly captures the spirit of the original design. Enjoy the lot!
---------------------------------------------------------
THINGS TO KNOW BEFORE WE GET TO THE LOT:
1st - Swimming Pool Diving Board
When play testing, my Sim was very iffy about jumping in the Swimming Pool (
not
the lake), using the diving board. Sometimes she would, sometimes she wouldn't. Of course, if you have an unseasoned Sim they often hesitate about jumping in the pool until their skills build up. But, if your Simmie refuses to use the diving board after their swimming skills improve, I suggest deleting the "pool" diving board and allowing them to use the ladder to get into the pool. Since there is a diving board to get into the Swimmable Lake, this would be a refreshing change.
Another thing I discovered is that when I removed the wall directly in front of the diving board tile (the wall the Sim would face if standing on the diving board that is part of the "newspaper" kids walking path on the little bridge), the Sim was more likely to dive into the Swimming Pool. After the Sim dived into the pool a few times, I replaced the wall and it was no longer an issue.
This does not impact the Swimmable Lake diving board. Sims dive into the lake without a problem.
2nd -This is a BIG LOT with TWO VERSIONS available for download
Due to the nature of how this lot (multi-level with less support on lower floors, with a swimmable lake/waterfall and surrounded by mountainous rocks), I would not advise mucking about with the exterior and landscaping aspects of the lot without caution. For this reason, I am offering the helicopter versions for download as well.
----------------------------TO THE LOT!-----------------------------
Lot Information
: (Both Lots)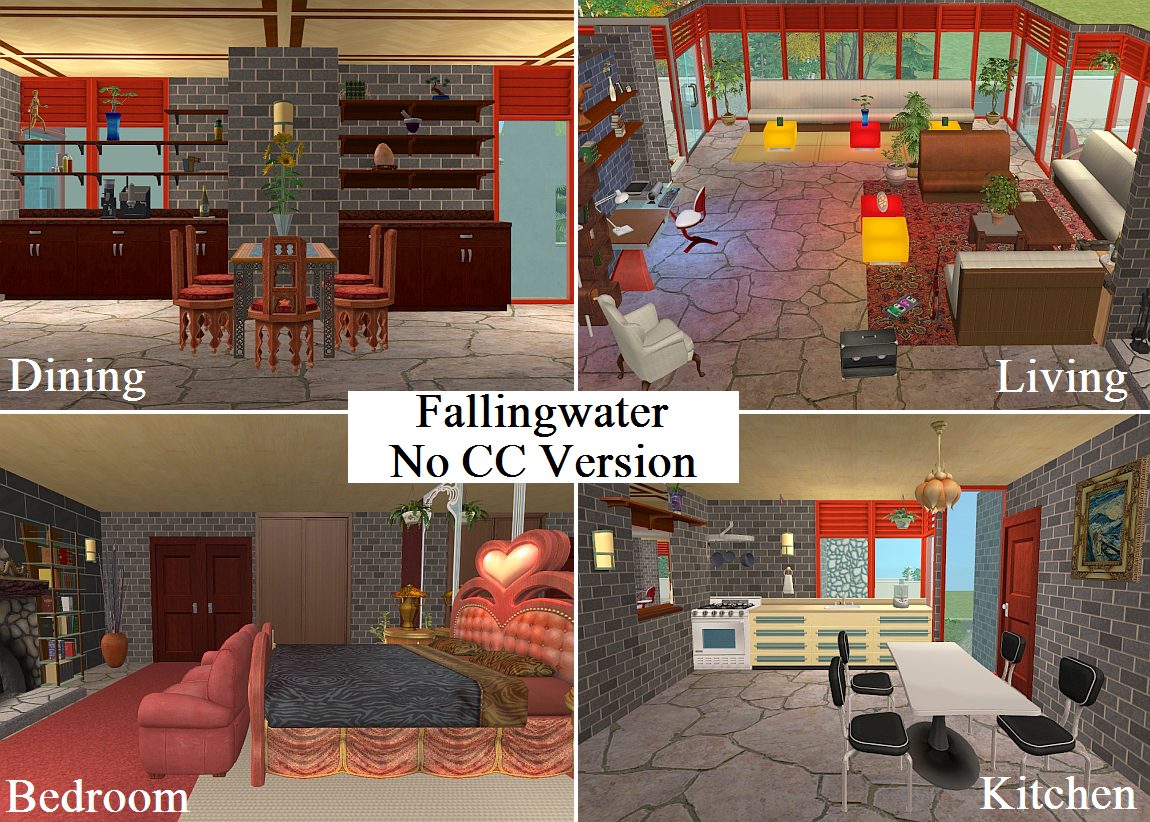 Size
: 5x5
I have provided the floor plans for the lot without a helicopter. The helicopter lot is identical to the "no helicopter" lot, with the exception of the exterior rooftop being slightly altered to fit the helicopter in place.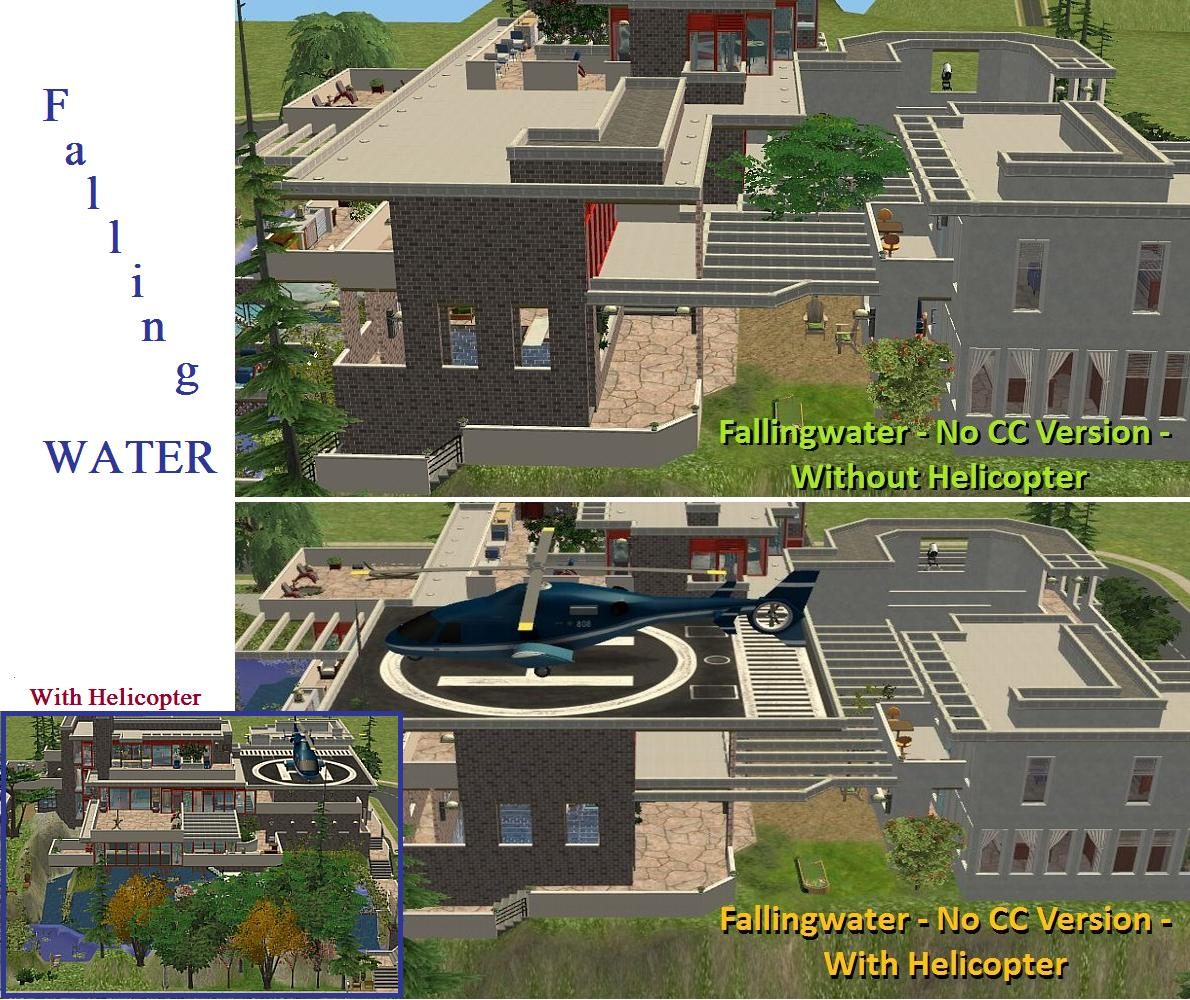 Expansion Packs Used

Both versions of this lot were built using
University, Night Life, Open For Business, Bon Voyage and Apartment Life
.
Cost
:
Maxis Only (No CC Without Helicopter) - 689,647 Simoleons
Maxis Only (No CC With Helicopter) - 707,265 Simoleons
Buildings
: 3 Total - Main House, 2-Story Garage and a Guest House (with an Upstairs Servant's Quarters)
Bedrooms
: 5 Total - Main House 2, Guest House 1, Servant's Quarters 2 (Sleeps 8 comfortably)
Bathrooms
: 7 Full and 3 Half Baths Total - Main House 5 and Two 1/2 Baths, Guest House/Servant's Quarters 2 Full Baths, Garage 1/2 Bath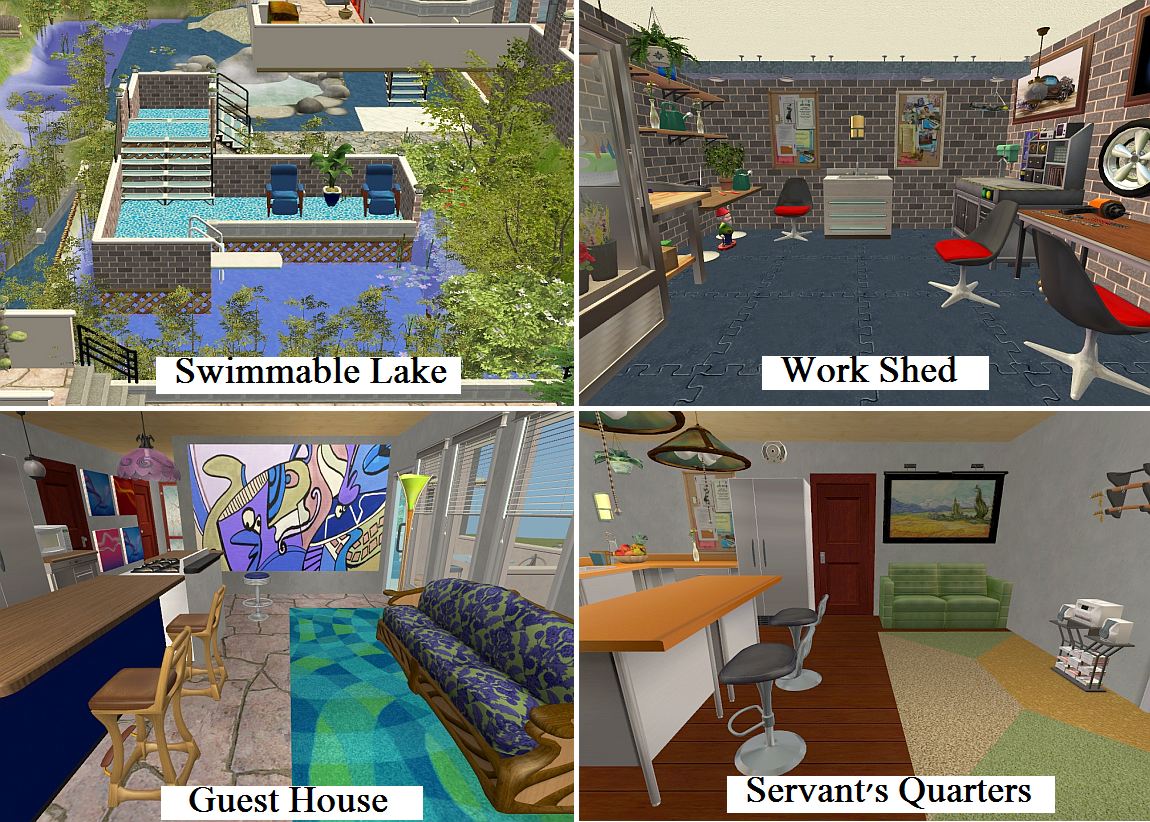 Main House Description
:
There are 4 Levels to this house.
-
Level 1
: Basement Level - Basement Cellar, Gym and Bathroom, Connected Swimming Pool, Swimmable Lake, Hot Springs Jacuzzi
-
Level 2
: Main Floor - 1/2 Bath, Kitchen, Staff Office, Dining Room, Living/Entertainment Room, 2 Balconies
-
Level 3
: 2nd Floor - 2 Bedrooms, Private Dressing Room, Buffet Dining Room, 4 Bathrooms, 3 Balconies
-
Level 4
: 3rd Floor - Small Lounging Room, Sitting Area, Study/Library, Bar Balcony (with access to Rooftop)
Guest House/Servant's Quarters Description
:
The Guest House and Servant's Quarters can only be reached from the second floor connecting bridge. The Guest House occupies the lower level and the Servants Quarters the upper level of the back building. The Guest House has a courtyard entrance, 1 Bedroom, 1 Bathroom, a small office, and a opened Living/Dining area with a private Balcony overlooking the pool. The Servant's Quarters has a small entry Living/Dining Area, 2 cozy Bedrooms, a Small Private Balcony and 1 Bathroom. There is also a small Laundry Room attached to the Servant's Quarters.
Garage Description
:
This lot
does not
have a proper garage, but instead a Carport and Work Shed. One car can be parked under the carport. Although, your Sims can park up to 5 cars on the extended driveway. The attached Shed uses gates instead of doors, so your Sim visitors will enter the house on the main level. When the newspaper is delivered, it is neat to watch the path the Sim takes.

The
Work Shed
has several work areas (floral arrangement, toy building and robot building). There is a simple reststop styled toilet as well.
Exterior Description
:
The landscape of Fallingwater is sure to make your Sim feel as though they are a part of nature. It includes a cascading waterfall which extends below the building, a Swimming Pool, a separate Swimmable Lake, a Cascading Waterfall, Mountainous Rock for exploring (your Sims can climb the rock on the left side of th house or walk along the path there), and a variety of outdoor activities.
---------------------------------------------------------
OTHER THINGS JUST FOR YOUR INFORMATION
*
Simtopia Delta Neighborhood Map
I suggest using the
Simtopia : Delta neigborhood map
for this lot. I built the lot using that map and the house sits on the center island. I added the helicopter versions, because that is really the only way to get to the island. Of course, this means that when your Sims drive, they literally are driving around in a circle.

*
Front Door Recognition
Due to the lot being built on various elevations, I decided not to build a proper garage. By creating a Carport Shed instead, this allows visitors to use the main stairs and one of the balcony doors as the main door.
If you decide to add a proper garage, visiting Sims may use any door you add to the garage as the Front Door. If this happens, you may find the Front Door Hack useful in this situation. Keep in mind that the hack works in most cases, but this house design is very complex when it comes to levels. You
DO NOT
need the Front Door Hack for this lot unless you turn the carport into a garage. At any rate, for those who love garages, here is a link to the Front Door Hack.
*
Automatic Bill Paying Calculator
Because it is a long walk to the mailbox, you may wish to download the
"Automatic Bill Payer"
from
Paladin's Place

Sim Wardrobe
Important!
-I could not direct link to the page without it reverting back to Home Page, so
Click on Sims 2, then Objects, then Home Life Improvements and finally on Automatic Bill Payer
.
---------------------------------------------------------
Lot Size:
5x5
Lot Price:
689,647 and 707,265
~*~StephSim's Creations~*~
❤ Welcome to my little space of the Simming Community!❤
As of July 2016, I've decided to reinvent myself (again). Basically, my Sim Creation Renaissance is long overdue! It's time to release the old and move forward, doing things that sustain me in meaningful ways. ◕‿◕
I shall start with a wonderful new Sim Place to call home! And now the Official Unveiling (....drum roll...):
CLICK HERE to experience StephSim's BRAND NEW SIMS 2 WEBSITE called *** Proudly Banished *** !!!
Proudly Banished is my little storage place for a select few of my Sims 2 creations. Since I will NOT be Simming as much, I wanted to provide a small landing pad for random creations I will be sharing. I will on occasion share NO CC/ LOW CC Lots and MTS related recolors here on MTS. However, my CC LOADED Lots will be Housed at Proudly Banished. I've also add the updated Fully Loaded Versions of the American Gothic Mansion. Be sure to click on the Slideshows when available! You will find a few lots, object recolors, clothing recolors and the Regina Mills Sim (from Once Upon a Time)! There should be a little something for everyone!
Take your time and explore the site and be sure to check out *Sherwood Forest* for my PBK Community Goodbyes!
See you there. (。♥‿♥。)
POLICY
All StephSim walls, floors, and ground covers can be freely used in lot creations on any free or pay site. Feel free to use my neighborhood maps/terrains for any and all of your Simming needs. Feel free to use any objects or object recolors shared on MTS or elsewhere in the Sims 2 community in your creations (lots, movies, stories) Feel free to recolor objects I upload and include the mesh. Feel free to use any Sims I create or my lots for your Sim movie making purposes! In using any of my creations. Credit is not necessary, but please do not claim any shared creations by myself,
Sophie-David
,
Jason Duskey
or anyone who I team with as your own.