Tab-collared clergy shirt for adult and elder women
MTS has all free content, all the time. Find out how YOU can help to keep it running.
Tell me how...
3,664

Downloads
114

Thanks Thanks
16

Favourited
21,012

Views

Uploaded: 30th Jan 2012 at 1:38 AM
Updated: 13th Feb 2012 at 11:50 PM - improving contrast and updating images
This is a complete revamp of my first piece of custom content, which I created when I realized that there were
absolutely no clothes for female clergy
. Anywhere. There are gorgeous clothes for nuns and even
a tab-collar shirt for male priests
, but none for the ordained (or preparing-to-be-ordained) ladies. This has to be corrected! Even if none of your Sims are feeling the call to ministry, you might need a priest for your wedding, or maybe you're looking for an unconventional costume for All Hallows' Eve.
The mesh is from the base game outfit labeled "
afbodytweedjacket
" for adults and "
efbodytweedjacket
" for elders. Since it's a Maxis mesh, it already includes a fat morph. The adult version works for young adults, also. The elder version is slaved to the adult textures, so
you must install the matching adult recolor in order for the elder recolor to show up
. In the pictures below, the grey-haired model is demonstrating the elder mesh and the shorter-haired blonde model is showing off the "fat" morph.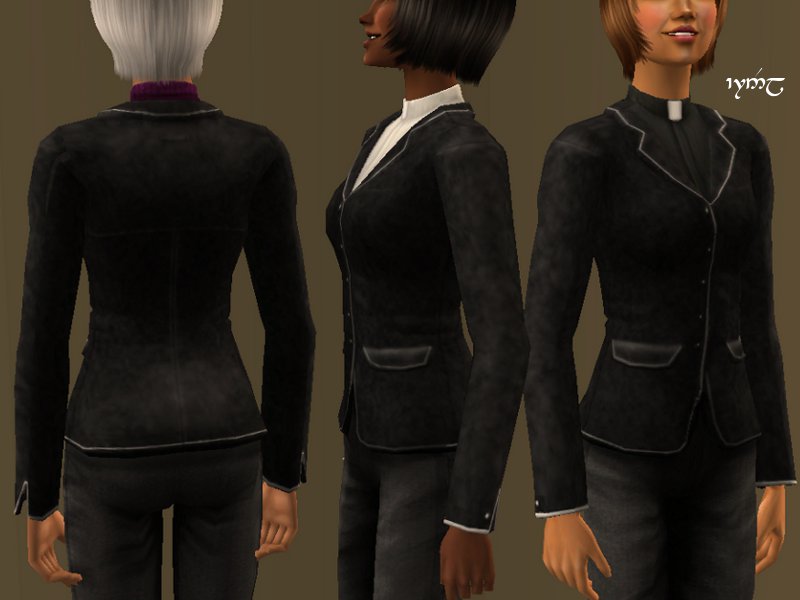 Color options
So that your female priests, pastors, preachers, ministers, and seminarians don't have to wear the same thing every day, I've done some recolors to give you a little variety.
There are 9 colors in all: the standard formal black (full outfit); the black shirt with red, green, and blue jackets; the black outfit with white and purple shirts; the original Maxis blue outfit, with both white and black shirts; and the original Maxis red outfit (previously available only for elders) with the white shirt. In all cases, the shoes have been replaced (with textures from another Maxis outfit) because I can't stand the originals.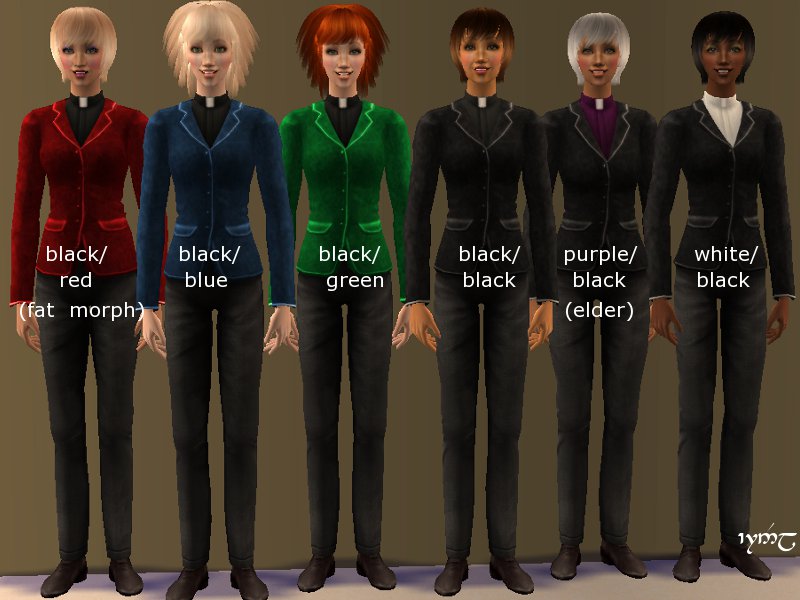 These are all categorized under Casual, Formal, and Outerwear, so your officiant can show up in the right outfit for your winter wedding (try not to let her get too envious of the bridesmaids' gorgeous dresses).
About the design
Most of the special clothing worn by clergy is deeply symbolic. The tab-collar clergy shirt, however, is not. Basically, it is based on old-fashioned men's dress clothing. (I bet you didn't know that.)
Some clergy prefer to wear a white collar that encircles their entire neck—others prefer a "tab" collar, which is a little piece of white plastic that you can insert into the collar of your shirt. (This is convenient because you can make a quick substitute with a folded-up piece of white paper in a pinch.
Not that I know anyone who would do that.
)
In some traditions, purple clergy shirts are reserved for bishops. For maximum accuracy, have your Sim bishop wear a large cross necklace as a symbol of her office.
Here's one that works
--a typical pectoral cross would be larger and on a longer chain, but that wouldn't work with this outfit.
About the mesh
I can't believe that no one has done this yet, but I can't find it if they have, so...the basegame meshes afbodytweedjacket and efbodytweedjacket both reference the same textures...but for some reason, I can only find two of them in the game. The blue version is available for both adults and elders and the red version is available for elders only. There is also a third version, a brown one with a lovely pink sweater underneath, that I learned about when I found
this wonderful separate version of the elder top
, but cannot find anywhere in BodyShop. So, I went ahead and converted the red outfit to adult and made the brown one available for both. The files are very small as they reference the existing Maxis textures that are already in your game. They are categorized as Everyday/Casual and Outerwear, because everyone needs more outerwear (and that jacket looks pretty cozy to me).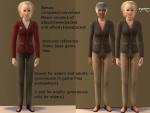 Additional Credits:
Models' skins:
Lilith
Eyes:
jessi
Makeup:
bruno
,
anva
,
Helaene
Hair:
My recolors of Raon hairs
Other Resources:
Special thanks to everybody who ever wrote a tutorial about repository-ing clothing. (I'm not sure what my problem was, but it seems to work now.)
About Me
Since I have gotten so much enjoyment out of free custom content, I finally decided to share some of my dabblings in order to, in some small way, give a little bit back to the community.

Since all I make is free stuff made with other free stuff (except for the games, half of which I bought used, I am not even using any not-free software--hooray for the GIMP!), and it is made possibly entirely by other people who have shared THEIR free stuff, I am entirely sharing-friendly. Do whatever you like with any of my stuff. Make recolors, pull it apart and make it better, mix it with your own stuff, upload it with your Sims or lots or whatever, or print it out and use it as a background on your dart board.

In order to make sharing easier, crediting me is nice, but not required. If you forget where you got it, 'er...someone somewhere' is acceptable credit. (Basically, anything short of claiming to have made it yourself.)

I would prefer that you not put anything made with my stuff on pay sites, because I figure if I make free stuff using other free stuff, it should stay free. Obviously you should never try to make money off of somebody else's stuff, but as for just posting for free on sites that have some pay content...since I don't actually frequent any pay sites, I wouldn't know if you did. Use your best judgment.