Pets

>

>

Eyes, fur (probably), and aggressive tendencies!
View Old Style
Pretty Pony Panda
MTS has all free content, all the time. Find out how YOU can help to keep it running.
Tell me how...

Created by tachyglossus View Policy / About Me View Downloads Home
Uploaded 7th Mar 2012 at 1:35 PM
Originally I was not going to do markings for the horses. However, I had a compulsion to 'complete the set' so to speak. However, I did sit on my thumbs and procrastinate a fair amount before finally sitting down and whipping this together.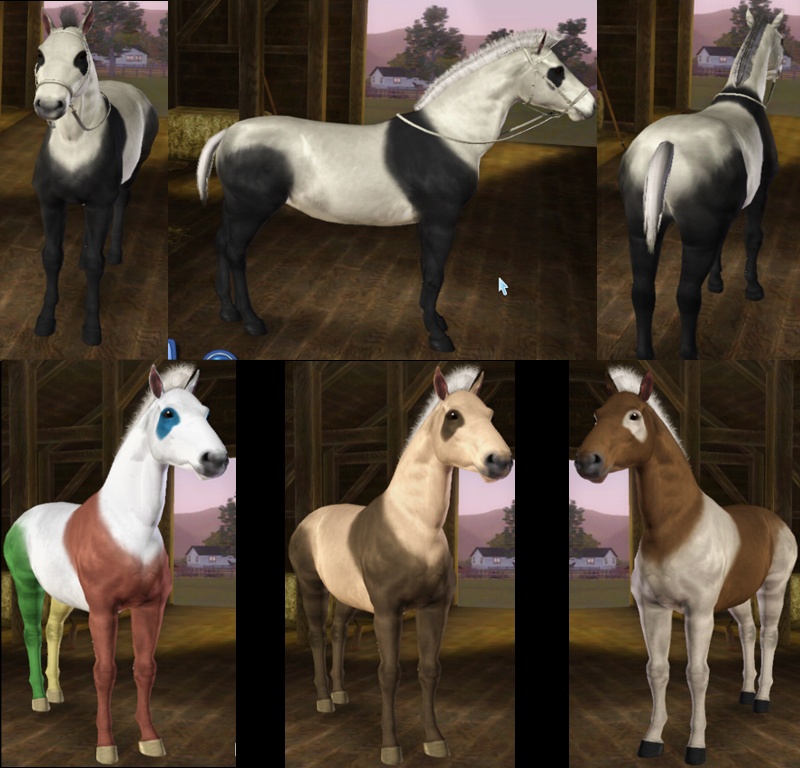 I did things a little differently with this set. First off, the eye-patches stand alone. They don't also include ear patches. There are no ear patches. It just looked wrong when I tried to make them. Second, the RegionsAll Panda marking is only the front area, whereas I separately made really tall socks for the rear quarters. Right and left rear legs are independent as you can see from that gaudy colourful horse, but are packaged together.
All markings were thrown together into one zip. If you want to be selective about which parts you want, then just don't unzip the ones you don't want, or delete them after.
Just so you know...
Tachy_ahRegionsHead_panda is the file name for the eye patches.
Tachy_ahRegionsAll_panda is the file name for the front legs/shoulder/chest area.
Tachy_ahRegionsLegs_panda is the file name for the rear leg socks.
Right then! Consider this project completed! And I must say, for a first project it turned out better than I thought, but not as nice as I would like.
Now you, too, can make custom regional markings, for I have written up a
Tutorial
that can be found in the MTS forums.
By the way, at this point, I don't care what you do with this custom content so long as you don't use it to make money.... well unless you cut me in on it.
So no using it as premium or pay content on pay sites.
Anything else goes.
In fact, I would love it if you showed me screenshots of your use of my custom content.
Additional Credits:
CmarNYC for helping me figure out important stuff
Maxis for making The Sims 3
People who shall remain nameless but know who they are for bugging me to finish the set.
Tags: #Horse, #Horses, #Create-a-pet, #Panda, #Regions, #Regional Markings, #markings, #Eye-patch, #patches, #socks
About Me
I'm all about sharing. Actually, I'm not that good at sharing. It's all mine! MINE MINE MINE! Which is why it is so strange that my policy is do whatever the heck you want to custom content I create and upload here. I don't mind if you feature it in screenshots, make a sim/pet with my content and upload it, all I want is credit, or at least you saying you didn't create if you forgot who the heck I am. Oh, well I would get annoyed if you used it one a paid site because I'm not getting anything for this, neither should you. So neiner neiner.