Sims 3

>

>

Programs and utilities either to mod the game or to make it easier to install content.
Sims3Pack File Generate Tool(package to sims3pack)[8/27/2012 update to v1.4.1.36]
35,871

Downloads
864

Thanks Thanks
157

Favourited
173,453

Views
Uploaded: 27th May 2012 at 9:11 PM
Updated: 27th Nov 2013 at 3:49 PM by Nysha
This tool can be a single (or multi) object Package(DBPF or DBPP) File packaged become to
Sims3Pack
file.
Integration of multiple single-object Sims3Pack file (e.g: TSR Workshop Sims3Pack) as a Official format multi-object Sims3Pack file object.
NOTE:
* Packet files default need to game the base version 1.26/1.33(v1.3.1.33)/1.36(v1.4.1.36) to install! You can free definition file version (v1.3.1.33 later version).
* Do not functional class MOD (NRaas Master Controller) integration. Game Launcher not support the installation of such objects!!!
Support the Content Type
Support:
Object, CASpart, world, sim type (*.package)(world, sim type only v1.3.1.33)
Non-Support:
world type (*.world) (only v1.2.1.26)
Update Function Description:
What is the Index file:
Multiple objects packets after the Game Launcher in the first display object.
Import Language XML:
Format reference TS3Pack (*.Sims3Pack) XML.
Set Sims3Pack File Version:
Definition you need to package version of the file, the version can refer to the official Sims3Pack file.
Update Info:
2012-08-27 Version 1.4.1.36
Add get from Sims3Pack file version information.
2012-06-04 Version 1.3.1.33
Add support for the world, the sim type.
Add language Import function.
Add version number of Custom.
Use Steps:
1. Select the packet you want to Sims3Pack (single or multiple Package [or Single Object Sims3Pack File]).
2. Fill in the content contained by the file name and description.
3. Packet to select the desired file is added to the list.
4. Click the Generate Sims3Pack button to generate.
Specific as shown in Figure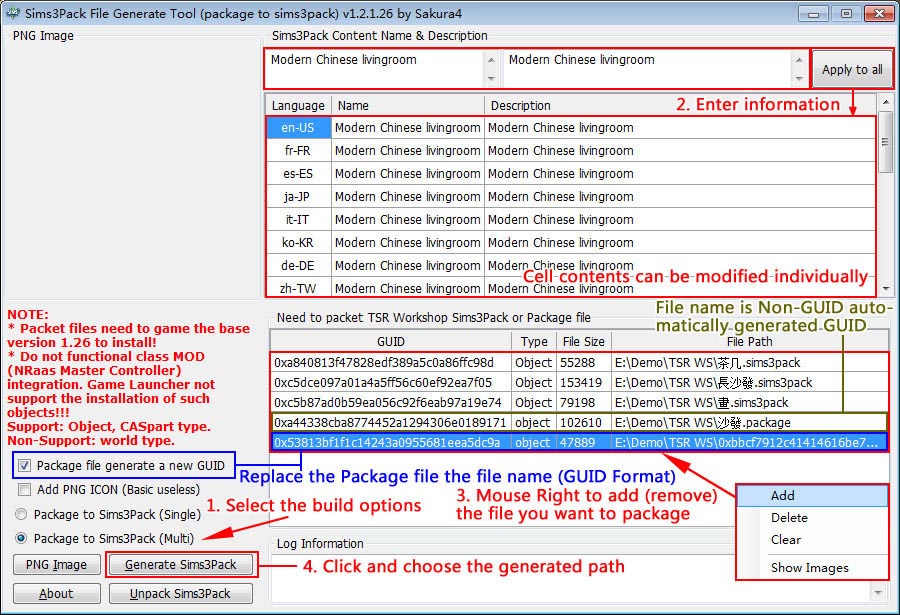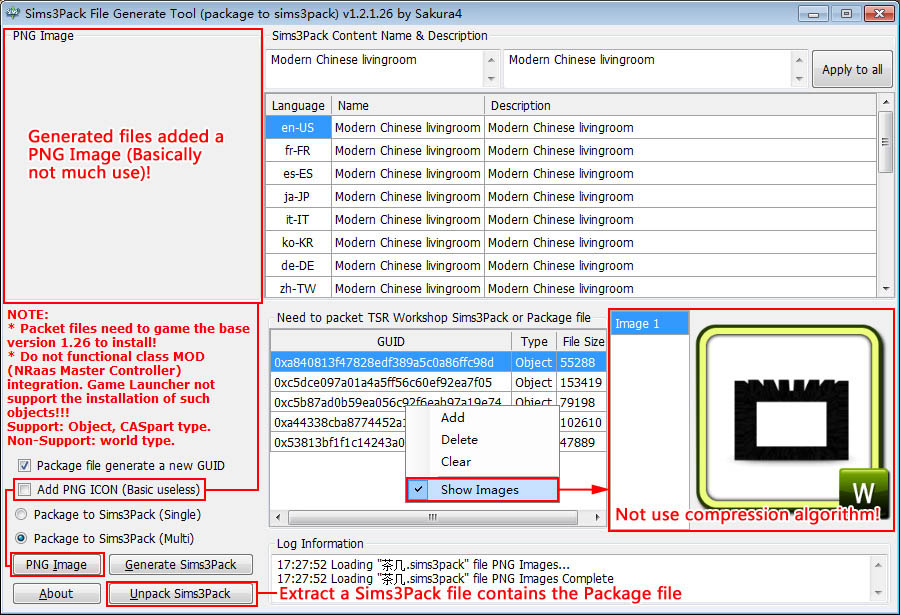 Re-packaged the Official Items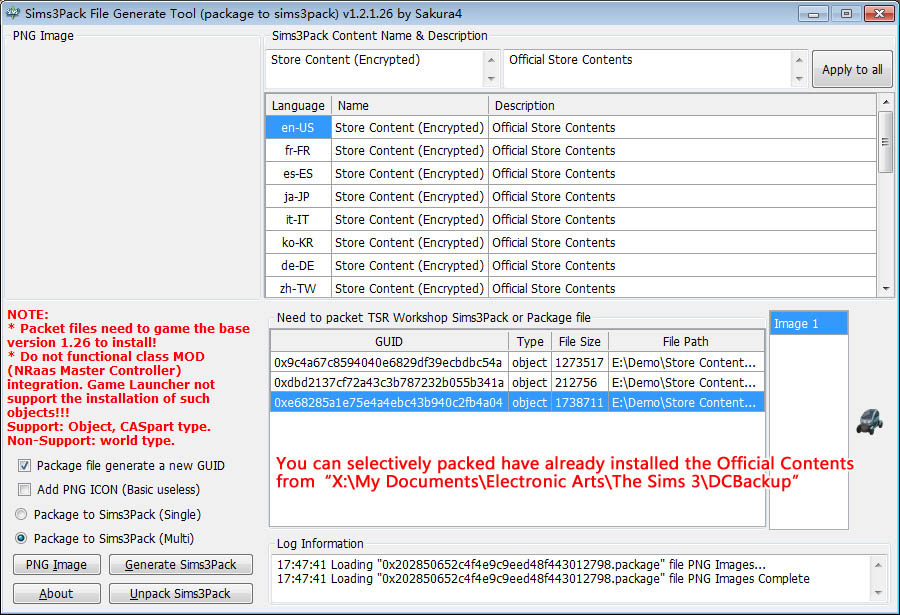 v1.3.1.33 Functional Description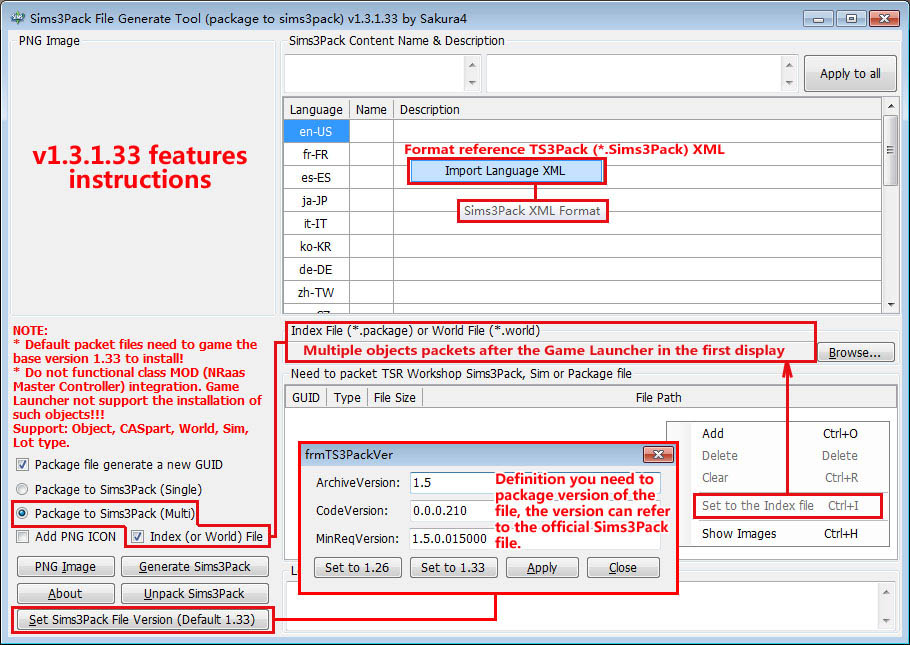 v1.4.1.36 Functional Description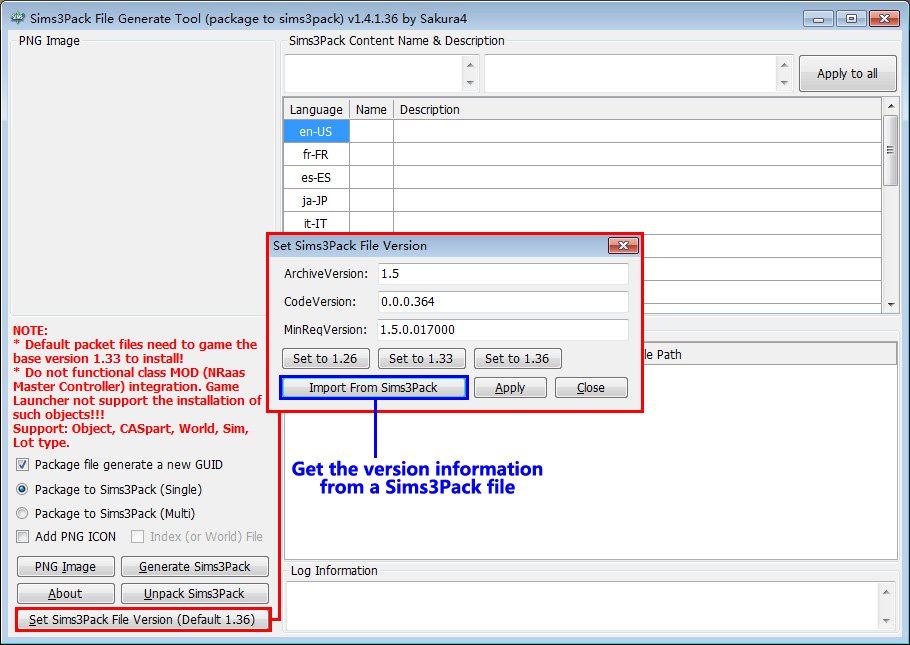 *This program needs .NET Framework 2.0
.NET Framework 2.0
Additional Credits:
simswiki
Packs Needed
None, this is Sims 3 base game compatible!
Other Information
Operating System
:
– Windows : Windows XP, Windows Vista, Windows 7, etc
Utility Type
:
– CC Editors : Tools for modifying .package files, sims*pack files, and resources contained within those files.
Plugin Type
:
– Not Applicable : Standalone tools