Tattooinator, a tool for creation of custom tattoos - update 8/28/13
MTS has all free content, all the time. Donate to help keep it running.
40,569

Downloads
1,653

Thanks Thanks
371

Favourited
237,206

Views

Uploaded: 10th Jul 2010 at 1:43 PM
Updated: 27th Nov 2013 at 3:58 PM by Nysha
This started as a quickie tool to package tattoos for the game, but several people requested a previewer so after lots of hard work here it is.
Tattooinator takes your name for your tattoo, a 512 x 512 DDS file with the image, your CAS preset colors, and your sort order for CAS (high to low) and creates a package for the game. Tattoo images show up in the game somewhat differently than in an image editing program or a viewer, but the previewer will show you how your tattoo will look with each of your presets.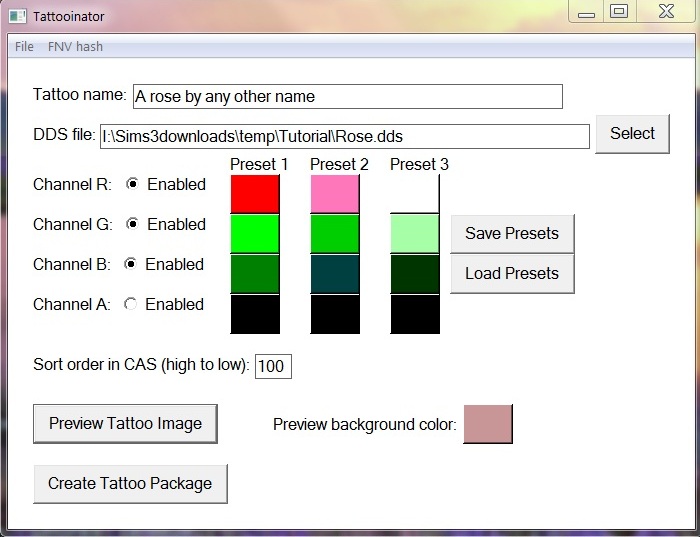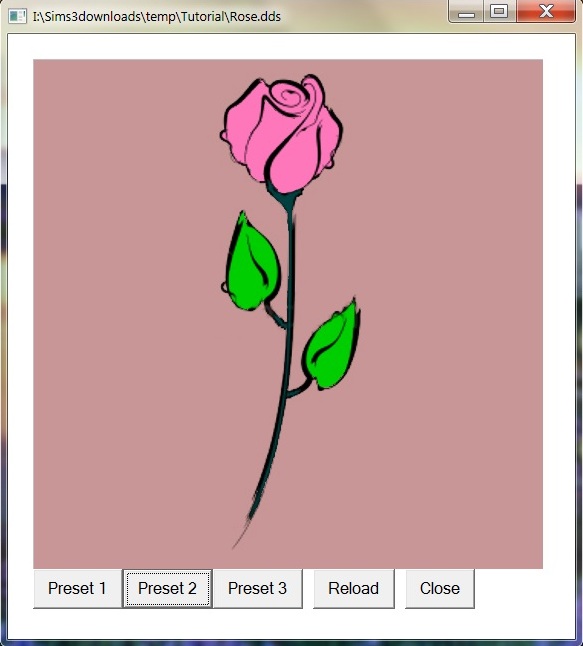 Compatibility
Windows only, sorry. Under Windows 7 you may occasionally have weird delays browsing for files. This appears to be a limitation of the platform I use for my programs.
You must have your game patched up to version TS3 1.12 / WA 2.7 / HELS 3.3 and up, or have Ambitions installed, to see CAS tattoos in your game.
Installation
Extract Tattooinator. exe and Salflibc.dll, put them in the same folder, and run Tattooinator.
Tutorial
A tutorial using GIMP is here:
http://www.modthesims.info/showthread.php?t=411332
A huge thanks
goes to
TwinHerder
for patiently explaining layers and color blending and providing the equations that make the previewer work, not to mention kicking my butt to attempt it in the first place.
Another big thanks
to Bordew5 for creating the icon I've built into version 2 and up.
Troubleshooting
Tattooinator randomly freezes when browsing for a file! - This is a known problem under Windows 7, and seems to be a glitch in the platform I use to program. Wait half a minute or so and it should start working again.
I don't see my tattoo in CAS! - Most likely either you don't have Ambitions or the 1.12 (minimum) patch installed, or your game is not correctly set up for custom content. Please, if you post here with this problem tell me whether other custom content works in your game and whether you have Ambitions and/or the patch. If you don't I just have to waste everyone's time asking.
Additional Credits:
The folks at the Wiki
PL Jones for
S3PE
Echo for Postal
*** Update 8/13/2010 ***
I assumed custom tattoos just don't work without Ambitions, and you know what they say about people who assume. They do in fact work with just the patch, and Tattooinator V1.1 fixes a compatibility problem and will package tattoos that work with TS3 1.12 and up / WA 2.7 and up / HELS 3.3 and up, and Ambitions.
*** Update 1/22/2011 ***
Version 2.0 of Tattooinator is uploaded. Changes/new features:
Convert function - takes an image and converts it to a format suitable for a tattoo
Will accept up to a 1024 x 1024 image as long as it's square
A very nifty icon created by Bordew5.
I've done a tutorial for the convert function which is in the Create/CAS Parts forum:
http://www.modthesims.info/showthread.php?t=432168
*** Update 5/30/2011 ***
Version 2.1 of Tattooinator is uploaded. The ability to select the genders and ages that the tattoo is valid for and will appear in CAS for has been added.
*** Update 9/8/2012 ***
Version 2.11 uploaded.
This is an update only to the underlying platform - salflib.dll. It improves file selection performance when running on Windows 7 so that you should be able to select significantly more files before it freezes for a minute or so.
*** Update 8/28/2013 ***
Version 2.2 uploaded.
Another update only to the underlying platform, for compatibility with Windows 8. You must replace both Tattooinator.exe and salflibc.dll.
Packs Needed
None, this is Sims 3 base game compatible!
Other Information
Operating System
:
– Windows : Windows XP, Windows Vista, Windows 7, etc
Utility Type
:
– CC Editors : Tools for modifying .package files, sims*pack files, and resources contained within those files.
Plugin Type
:
– Not Applicable : Standalone tools
About Me
If you have a problem with one of my mods, please post in the thread for that mod. There's no reason to pm me - it fills up my inbox and means no one else is going to be able to learn from your problem and my answers.

My policy on use of my work:

Feel free to use any of my meshes, morphs, skins, or whatever as a base. If you change, convert, or enhance my stuff you may post it without asking, but please give credit. If you use them without changes, please post a link to my downloads rather than reposting. However, you may include them with Sims or lots without asking, but with credit.

Please do not post anything using my creative work on any pay site or the Exchange, unless it's in a free section of a pay site. If you want to post your own original creation made using my tools to a pay site or the Exchange, you may do so, but give credit for the tool.

Obviously my tools are for free use by anyone, but I'd appreciate a credit if you post something created with them.

So basically: no pay site, no Exchange, give credit. Other than that, meh.

If at some time I lose interest in Sims 3, or am too busy, or die, anyone who wants to may update/modify/add to any of my work as long as they follow the MTS policy on updating broken or outdated custom content.

I don't take requests. Suggestions for enhancing work I'm doing or have done are welcome, whether or not I act on them, but please no requests for totally unrelated stuff that I probably have no idea how to do.