(Updated) A Slot for Maxis Toilets
14,133

Downloads
582

Thanks Thanks
68

Favourited
25,639

Views

Uploaded: 21st Aug 2012 at 6:13 PM
Updated: 12th Sep 2012 at 6:47 PM
In real life, people put things on the backs of their toilets, so why shouldn't we do the same in game? I think we should, so I decided to add a slot to the back of all Maxis toilets. I couldn't find it anywhere on modthesims, so I decided to upload. This is not an OMSP in the sense that it is a separate object you can make invisible with a recolor, nothing more is needed for you to do but place the toilets in game and freely decorate. I didn't include the Seasons toilet because it doesn't really have a back you can put things on. The toilets are repository linked to Maxis. The toilets are non-default replacements. If you have Base Game only, you should download the base game file. If you have both Base Game and Kitchens and Bath, you should download the Base Game and Kitchens and Bath file. Of course you can have other EPs, but you need Kitchens and Bath Stuff Pack for the two toilets pictured on the right.
Also, I found a toilet paper roll
Here
thanks to HugeLunatic in my wcif post here on MTS.
Updated on 8/25/2012. There is an updated version. I am leaving the old version up, because only one person mentioned something as being wrong with it, and I haven't had a chance to test it myself yet. This updated version is NOT repository linked. The updated version includes the toilets with slots and recolors to match the Maxis recolors. The updated version does not pull any other recolors but my own if you have them installed. The same goes with the updated versions if you have base game only, you should download the base game file. If you have both kitchens and bath stuff and the base game you should download the other file.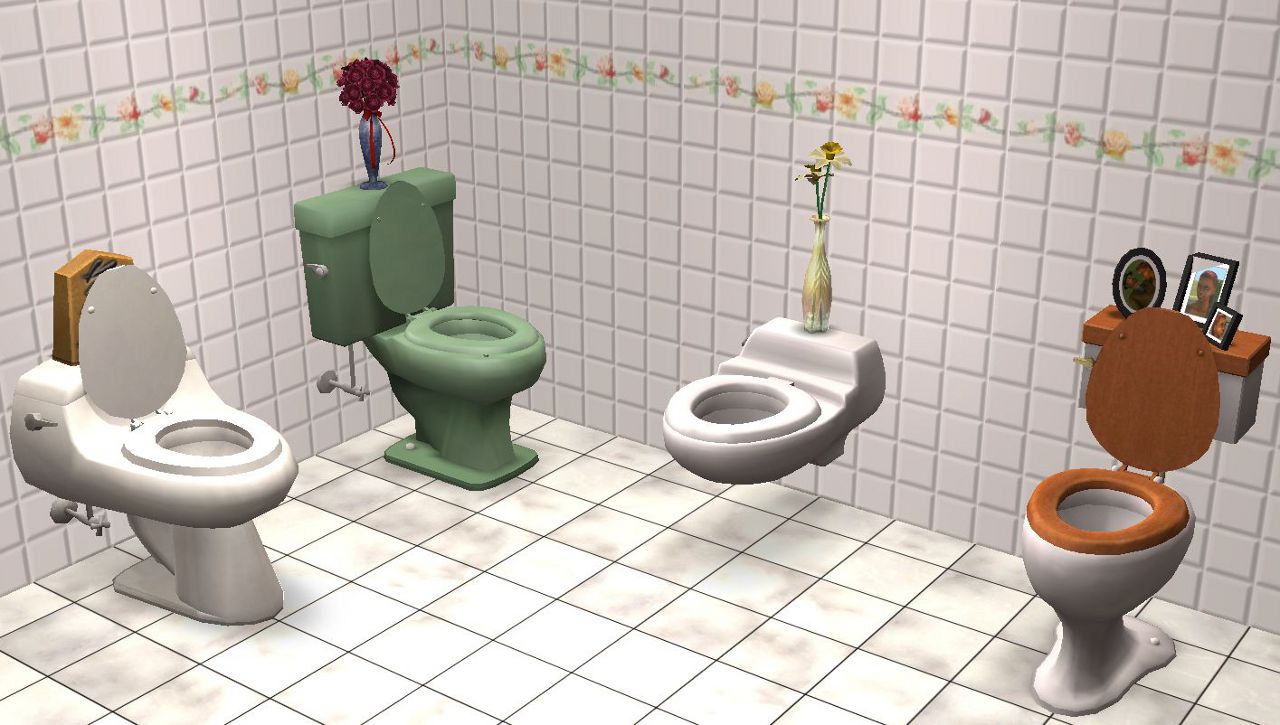 Polygon Counts:
Kitchens Modern (unchanged from Maxis) - 1,588
Kitchens Romantic (unchanged from Maxis) - 1,489
Base Game Expensive (unchanged from Maxis) - 1,456
Base Game Cheap (unchanged from Maxis) - 1,480
Additional Credits:
Leesester for the incredibly easy to follow tutorial on slots
Ignorant Bliss for the repository link tutorial
Packs Needed
None, this is Sims 2 base game compatible!
Other Information
Style
:
– Antique : Antique or Historical
– Retro
– Contemporary
– Modern
– Ultra Modern
Maxis Flags
:
– AddOn : Maxis Add-Ons (like an armchair that matches a Maxis couch)
About Me
Welcome to my profile page. I hope you enjoy my downloads here as much as I enjoy making them and sharing them with you!
My Policy - I think my policy is pretty fair. You can use my creations with sims, or lots. You can recolor my creations as well. You may also clone my objects with extra functionality. There is no need to clone any objects that use standard functionality. You may also edit my meshes. Feel free to convert for other Sims games. I ask that you please let me know if you use any of my creations first and provide me with a link after uploading so that I can see the work you have done! Please give credit, and a link to the original download in your upload. No Paysites, Please
Regarding Requests - I have received many requests here that I feel are unnecessary, or something I think that others would not find very useful. Also I like to share what I can think of myself with my own creativity, and not someone else. I ask that you respect my wishes not to fulfill any requests. The only request I take are for custom Sims 2 majors.
For movie making, picture taking, and storytelling there is no need to provide any credit. You may freely use any of my creations for this purpose.