Sims 3

>

>

Custom careers - more choice for your working Sim!
Medieval/Fantasy Brewing Career
MTS has all free content, all the time. Find out how YOU can help to keep it running.
Tell me how...
6,933

Downloads
179

Thanks Thanks
50

Favourited
27,094

Views

Uploaded: 21st Aug 2013 at 4:24 PM
Updated: 21st Aug 2013 at 8:40 AM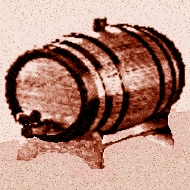 Brunhilderina Gurglesmith MacToddle, Mistress of Winowyn Brewery, is in dire need of additional workers! It seems that demand for the spirits she provides has risen sharply in response to the Seventeenth Spiritual Revolt of Ye Gloome und Doome Catacombs. Apparently, the resident ghosts are very perturbed by the realm's recent general indifference to spectral parlor tricks and have taken to following folk and warbling "Me Cursed vith Grate und Enduering Plegues uv Ye Pixies und Gnomes," which is most certainly a curse on the ears as well as morale.
This career does not overwrite EA careers.
Languages
: At this time the career is English only. Download the Language Strings file, send translation file to
[email protected]
, and then PM me on MTS so I will check the gmail account.

Instructions
:
1. You need Twallan's Career Base-Mod correctly matched with your game patch number, found here:
Nrass Career Mod
2. I made this career with patch 1.50. Testing shows that it does not seem to matter if you have a lesser or higher patch than I had when I made the career. The Base-Mod just has to be matched to your EA update/patch number.
3. I will only use Base Game rabbit hole classification for my careers. These include Grocery, Restaurant (Bistro), School, Bookstore, Theatre, City Hall, Mausoleum, and Hideout rabbit holes.
4. You need the EA rabbit hole lot OR a custom lot with a Rabbit Hole Rug/Door already placed in your town before putting the career in your mod-package folder or it will not show up. Find the rugs/doors here:
Rabbit Hole Replacement Project
5. I have not assigned a career outfit. The game randomly assigns one; you can choose to assign a second outfit in game, or you can choose to use
Shimrod's No Career Outfits Mod
Additional Credits:
Tutorials/files used:
Complete Guide to Career Modding for Beginners!
by Creon
http://nraas.wikispaces.com/Design+Discussion
by Twallan
http://www.modthesims.info/showthread.php?t=469640
MTS Q&A page for Creon's Tutorial
http://www.modthesims.info/download.php?t=475397
missyhissy's Banking Career as a guide/template
-advice by ThomasRiordan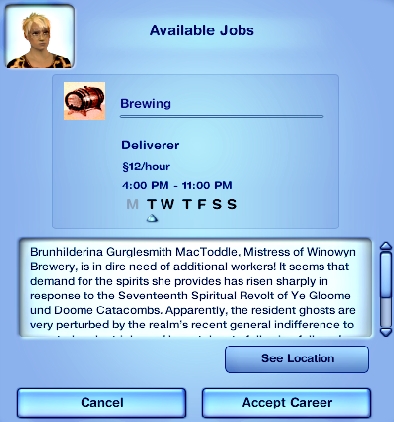 Brewing
Rabbit Hole: Grocery
Environments: Fantasy, Medieval
Opportunities: None
Work Tones: Standard
Skill Tones: None
Skills Needed: Cooking, Handiness, Athletic
Descriptions and Wages *CHEEKY INNUENDO ALERT*
1. Deliverer
Yer auld Mam once toiled at a brewery into the wee hours o' the night, then stumbling home, woke you from your sleep with slurred stories about being chased by vicious Teetotaling Moles, which no one but you ever believed. Now that you are a Deliver, you will no doubt soon find the proof you need to shut up those naysayers. Or, at the least, you will find the scars. I've heard those preachy biters are hard to catch. On the bright side, it's party time! Well, not for you. You are just delivering the casks.
Wage Per Hour: 12
Wage Per Week: 504
Pension Per Day: 36
Hours: 4 p.m. - 11 p.m.
Days: TWRFSU

2. Presser
"Stomp, stomp, stomp. Squish, squish, squish. A Presser's life for me!" Memorize this verse, for you will be singing it repeatedly as grape and berry gut geysers erupt between your toes. You'll soon earn what folk call Fruity Legs; don't fret about it, for the lasses and lads at the tavern will find the deep, colorful stains creeping up to your knees quite attractive. When they pepper you with questions about your pedicure habits, just smile in a mysterious manner. Just between you and me, though, you do scrape under your toenails twice a day, right?
Wage Per Hour: 15
Wage Per Week: 540
Pension Per Day: 38
Hours: 8 a.m. - 2 p.m.
Days: TWRFSU

3. Casker
You have the very important job of bottling spirits and casking wine. You are also the unofficial taste-tester, but don't get caught by Mistress MacToddle! I declare, nothing smells so delectable than Elderberry Ale freshly poured into an oak cask, a heady fragrance that clings to you and charms all, even the Tippling Tiger. Ah, here comes one now; I hope you know how to climb very tall yet slender trees! No, I'm serious, RUN FOR YOUR LIFE!
Wage Per Hour: 18
Wage Per Week: 648
Pension Per Day: 46
Hours: 10 a.m. - 4 p.m.
Days: TWRFSU

4. Malter
Congratulations! You've been promoted to the Malthouse! You get to enjoy the slow, arduous process of malting: drying and storing grain for weeks, followed by soaking the grain in water, then spreading the soggy oats out over the floor and turning them over again and again and again until air-dried. After this, the green-malt must be kiln-dried, and Yershrieka! The final malt, of color desirable to the specific drink to be distilled. Those skills you learned during your stint as a Manurist in Laird Snootimugg's chickpea fields will surely come in handy. Also, in your free time, you get to apprentice under the Aleber at no charge or pay to you!
Wage Per Hour: 22
Wage Per Week: 792
Pension Per Day: 56
Hours: 8 a.m. - 2 p.m.
Days: MTWFSU

5. Aleber
No one at the tavern could remember your name, but they knew you would soon be the source of that fine ale they guzzle, so some clever lush proclaimed you to be Sir Aleber de Brewery, Esquire. You'll get flattering toasts when the beer tastes great and slobbery complaints when it is more filling. Those off-key louts just don't understand how complicated the art of fermentation and distillation is, especially when you have to continuously sample the product for quality!
Wage Per Hour: 40
Wage Per Week: 1200
Pension Per Day: 85
Hours: 8 a.m. - 2 p.m.
Days: MTWFS

6. Ciderier
You've added cider and vinegar to your list of liquid creations. The more discerning constituents of the taverns praise your hard strawberry cider, but alas, they all seem rather soured by the vinegar. At least cooks, maids, apothecaries, and healers appreciate the eye-watering reek of your lesser product. Which reminds me, would you please take a hard scrub in the stream before coming over to my cottage for dinner? Thanks!
Wage Per Hour: 60
Wage Per Week: 1800
Pension Per Day: 128
Hours: 8 a.m. - 2 p.m.
Days: TWRFS

7. Licker
Ale's fine for thems as likes to think and blink, but liquor's the thing for thems as likes to squint and retch! *Hic* O'course, when the stout stuffs in this here itty bitty cask ye brunged me for me birdday goes down yer trout...thrate...down into me tummy, its all mellow-like, and leaves ye licking me lips, wishing fer more. *Burp* By tha wey, it's a wee bit odd how ye whizkee-wizzerds allwez go aboot lickin' yer fingers-oh, tha's why yer called Lickers, eh? Ne'er thawt o' such! *HICBURPBRAPP* Och, hey, had ye heered the new ditty sung down in Punkepoodle Alley? It goes, "Rum, rum, rum yer goat! Gently as he beams! Pyookity, pyookity, pyookity, pyookity - Bleed 'im with a fleam!"
Wage Per Hour: 87
Wage Per Week: 2610
Pension Per Day: 186
Hours: 8 a.m. - 2 p.m.
Days: MWFSU

8. Vinter
Ah, finally, the noble vocation of creating the most noblest of noble wines and brandies for the most civilized of civil society. The Highest of the High Ranks of the Higher Ups, mindful of your contributions to their soirees and galas, graciously deign to daintily twitch a small muscle at the tips of their uplifted noses ever so slightly at you as you grovel from a respectable distance of fifty paces. Puff up with overwrought pride, for at the finer events, your best offerings are repeatedly swished, judged, spat out, and topped off with unpronounceable cheeses. At the more bacchanal events, hearty toasts and bawdy songs are given in your honor; occasionally a well-to-do fellow will weep copiously while proclaiming the Vigneron and you his BFFs! Not that Laird Snootimugg will ever acknowledge this in public, of course, so keep to your proper place, knave, tuck your nose back in, and don't put on airs!
Wage Per Hour: 128
Wage Per Week: 3200
Pension Per Day: 228
Hours: 8 a.m. - 1 p.m.
Days: TWFSU

9. Brew Dealer
Mistress MacToddle doesn't care for all that running about from tavern to inn to tavern to docks to tavern. Therefore, she has decided you shall be in charge of swindlin-that is, negotiating-with the Tavern Keepers and Shipping Merchants. She'll stick to negotiating with the Stewards of the Nobility, groveling for the coin they have in such disgustingly abundant supply. Mind you keep those books in order, for Mistress MacToddle's eyes are as sharp as her nose is red! As for that shady business the local Smuggler approached you about, of course you won't get involved in such criminality!
Wage Per Hour: 160
Wage Per Week: 4000
Pension Per Day: 285
Hours: 12 p.m. - 5 p.m.
Days: MTFSU

10. Brewery Owner
As a Brew Dealer, you astutely observed that Mistress MacToddle was too staid and superficial, not understanding why the younger set of lushes want their spirits delivered in vintage rainbow-striped casks or uniquely-dimpled gnome-created bottles and represented by exclusively unimportant mascots who are preferably adorned with quirky fingerstaches! She simply doesn't get how important presentation is to the AGyRG (Avant-Garde yet Retrospective Generation). It wasn't betrayal at all for you to buy Burppersmith's Brewery and fix it up neat to brew for a more progressive and dynamic group of imbibers! Nor was "borrowing" her secret recipe for Old Reliably Generic Rum. Anyway, you made it more obscurely original by adding your own underground ingredient, so Captain Smackground's Accidentally Pirated Rum is not the same drink at all, no Sirrie Bobgnome's Giggler Gin! An ironic toast to you and your success as the new owner of Ye Hippestaire Brewery!
Wage Per Hour: 300
Wage Per Week: 4800
Pension Per Day: 342
Hours: 12 p.m. - 4 p.m.
Days: TWR
Packs Needed
None, this is Sims 3 base game compatible!
Other Information
Age:
Adult
Elder
Career Type:
Fantasy: Sci-fi, fantasy, aliens, magic, tribble-breeding etc.
Historical
Chance cards:
None