I Saw Three Ships : The Sailors
6,359

Downloads
92

Thanks Thanks
13

Favourited
15,620

Views


Uploaded: 24th Dec 2014 at 8:01 PM
Updated: 25th Jul 2018 at 10:46 AM
.
Merry Christmas!!



It's blue, it's beautiful, and it's yours. It's my gift to MTS and to you for this year 2014!



I SAW THREE SHIPS - THE SAILORS
Remember my set of last year with Hexameter (as Rue St-Germain),
I Saw Three Ships
? A set of 4 ancient careers for navigators. Back then, you only had my 3 pirate sims to play it with, along with other pirate sims you may have found out there.
Well, here's some more navigators just for you!

ERNST
is a Cartographer from Amsterdam, Holland.

He has read many geography and history books but how can that be enough? The known world is nice, but Ernst would like to find out what else is out there and how other people live outside Europe. Is there other lands? Are there other cultures? What is there to see?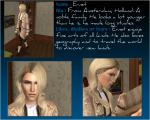 PIETRO
is a Treasure-Hunter from Genoa, Italy.

He's been a long time without knowing what he wanted out of life. He's always been a bit of a jester and a risk-taker. His curious nature drives him to always seek treasures, rare animals, natural wonders, cultural artifacts and strange new plants. The one thing he doesn't enjoy as much as before about life? Loneliness. The sea has always been his cure for it, but lately he's been itching to meet a special someone.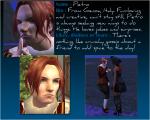 ALI
is a Carpet Trader from Istambul, Turkey.
He suffered a lot from being poor while growing up, so he wants to become rich to better his life and the lives of his children and grandchildren.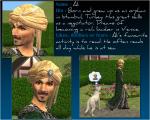 OTTO
is a Privateer working for London, Great Britain, originally from Hamburg, Germany.

His hair turned grey before he turned 20, and he took advantage of this apparent maturity to raise rank early and inspire respect. With his Lettre de Marque and along the battles done in the name of the King, he is hoping to eventually become a Duke in England. Why not?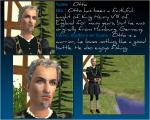 CIZZARO
is a Gunner from God knows where.

Some say he's half-Italian, half-Asian, but he prefers to say he's 100% Pirate. The youngest son of a family of homeschooled workers, his desire to prove himself drives him to risk his life for peanuts sometimes, but don't let that fool you. He is strong, loyal and a fast learner, and he will soon become irreplaceable on your gallion.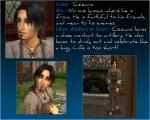 VEE
's real name is Shastara-Vidiya.

It means "Science of the Blades", and
she
is indeed a Mistress of ancient martial arts with blades. Her friends call her Vee. Her job? something dangerous. She likes action. No one knows where she is from.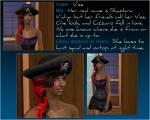 They carry a lot of stuff with them, and
everything is included!
I checked all the creators policies and they are all generous enough to allow the sharing of their files. Each sim should install properly with everything they need, but in case something doesn't work as expected, with each sailor, I added a folder containing the meshes required.
Fun fact :
Ernst comes with silver hair.
If you look at the pictures, you will see him with blond hair in some, silver hair in others. If you think he is more handsome in blond, you can get it
here
.
Other fun fact :
All together,
they make a great crowd in old-tavern settings
or other settings. Feel free to use them in your pictures or movies. These travelers of different styles, ages and backgrounds give a nice touch of human variety to Ancient neighborhoods!

Other fun fact :
Cizzaro
is awesome.
Click on the button below for the detail of the credits for the provided content.
EVERYTHING IS INCLUDED WITH EACH SIM.
The credits are only here to pay respect to each creator for the content they kindly allowed me to share with you!



_ERNST___
Facesculpt by me
Skintone Oepu edit by Corvidophile2 in pale
Eyes, Endsong by Yumedust @ MTS
Eyebrows, F-IN brows lbrown3 by Navetsea @ MTS
Face kit, lips by SimpleLife Chagasi
Hair mesh convertion & texture GOS - Rose 99 for males by Yuxi @ GoS
Clothing mesh & texture by lidiqnata @ MTS



_OTTO___
Facesculpt, beauty mark & facial hair by me
Skintone Oepu edit by Corvidophile2 in pale
Eyes, Realistic Eyes 10 by Kamikitten
Eyebrows, brow set 5 in black by dragonmandy @ MTS
Face kit by SimpleLife Chagasi
Lipstick by Nabila Ici @ MTS
Clothing AAS
Hair, April Project - Fantasyrogue @ GoS - Grey color made available for all ages
Clothing mesh by SussisSoGoodSims @ MTS



_PIETRO___
Facesculpt by me
Skintone Oepu edit by Corvidophile2 in pale
Nose mask by Corvidophile @ Sironasims
Eyes, Jaded Eyes by Shady @ MTS
Hair texture by Neithan @ GoS
Eyebrows, Madness Brows by Louis/Rensim @ MTS in Titian Red
Face kit & lips by SimpleLife Chagasi
Clothing AAS
Hair mesh by Him666
Clothing mesh by SussisSoGoodSims @ MTS



_ALI___
Stray dog by Maxis
Facial hair by Maxis
Facesculpt, hair texture & stubble by me
Skintone Oepu edit by Corvidophile2 in tan
Eyes by Barcelonista @ MTS
Eyebrows & face kit by SimpleLife Chagasi
Clothing Texture by Sherahbim @ MTS
Turban and accessories by Louis/Rensim @ MTS
Clothing Mesh by Besen @ MTS (The Dark Project)



_CIZZARO___
Facesculpt by me
Skintone Oepu edit by Corvidophile2 in tan
Eyes, Jaded Eyes by Shady @ MTS
Eyebrows by SimpleLife Chagasi
Facial hair, Barbers Cut, 'Nero', by [Nymphy] @ MTS
Lipstick by Nabila Ici @ MTS
Baron Calvaria's Arm Skull Pendant, by SilentApprentice @ MTS
Pendant Mesh by Aikea Guinea
Hair, mesh & texture by sephiroth1 @ MTS
Clothing, mesh & texture Blacksmith by Tig/[email protected] (Dark Project)
Pendant Mesh by Aikea Guinea



_VEE___
Facesculpt & Pirate hat texture ("for Black Beard") by me
Piercings (make up) and Eyes (Jaded Eyes) by Shady @ MTS
Eyebrows, Madness Brows by Louis/Rensim @ MTS in Black
Eyeshadow by Kamikitten
Mascara by Wicked_Poppies @ MTS
Lipstick, Fleurs du Mal, Mandragora by Bruno @ MTS
Skintone by Corvidophile2
Hair texture by Time Paradox @ GoS
Clothing texture by Destro Boom @ GoS
Pendant texture by Shatarja @ GoS
Earrings texture by Azaya @ GoS
Hair mesh edit by Trapping @ GoS
Clothing mesh by Ghanima Atreides
Pendant Mesh by Aikea Guinea
Earrings mesh by Liana
Nails by shadylady482 @ MTS
Pirate hat mesh by generalzoi @ MTS
Food by bibidoublezero @ MTS



Most of the pictures got taken in the lot Anno 1790, by Hexameter.
The male characters were loosely inspired from the game New Horizons, released on the SNES, Genesis and PC, back in a time when a gazillion of tiny images (the size of a thumbnail or less) and 6 medium pictures in 256 colors were considered great graphics in a game, lol. Vee's one of my clothing models (she has another name on my "14 tees" posts) who decided to change style, go nuts and do something more interesting of her life.

I hope you will have lots of fun with these guys!
Enjoy! :D
Billie xx
Packs Needed
None, this is Sims 2 base game compatible!
Tags
#I Saw Three Ships, #sailor, #sailors, #navigators, #pirate, #piracy, #pirates, #exploration, #trading, #trader, #explorer, #discoverer, #cartographer