Buy Mode

>

>

Dressers, children, party, and miscellaneous. Also, career & aspiration rewards are here, too.
Deco Objects as Playable Toys
MTS has all free content, all the time. Find out how YOU can help to keep it running.
Tell me how...
17,774

Downloads
453

Thanks Thanks
125

Favourited
24,791

Views
Uploaded: 29th May 2015 at 2:22 AM
Updated: 21st Jun 2018 at 9:32 PM
Hi guys,

and improved!
It always annoyed me that I had to make custom thumbnails since the game created ones wouldn't line up properly, but after learning how it's done I decided my toys need an upgrade! I deleted my custom thumbnails for the packages and realigned their settings. This means the packages are smaller and
the thumbs are now game generated and seamless
.

Unfortunately I couldn't find a program that is capable of changing the tags to include the toddler related skills yet, but these are just catalogue descriptions.
All the toys work as they should

------------------------------------------------------------------------------------------------------------------------------------------------------------------
I made some more toys out of some decorative objects.
I thought the Llama was pretty cute, but I hardly ever use it because it's just too big, same with Denny the Dinosaur, so I decided they might make cute toys instead. Both of them use the medium detail meshes to lower their polycount, tweaked slightly to make them look a little better.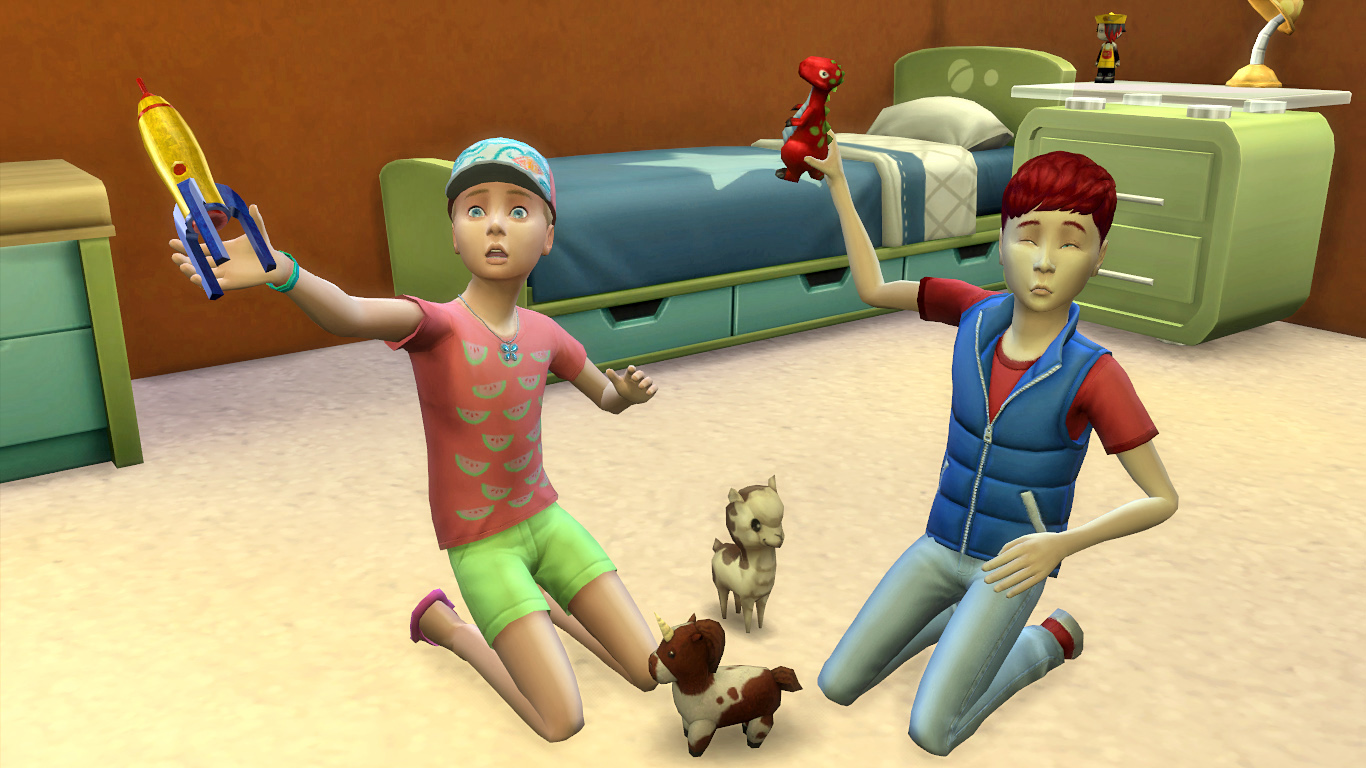 I changed Denny's eyes though, he looked a little more drowsy than daring to me, so I opened them. Left a bit of the eyelid though, he looked like he'd seen a ghost without them :P
I changed his colours to make them stand out more too, they looked a little dull, especially with the much smaller size.
Here's the line-up...Mine on the left, EA's on the right: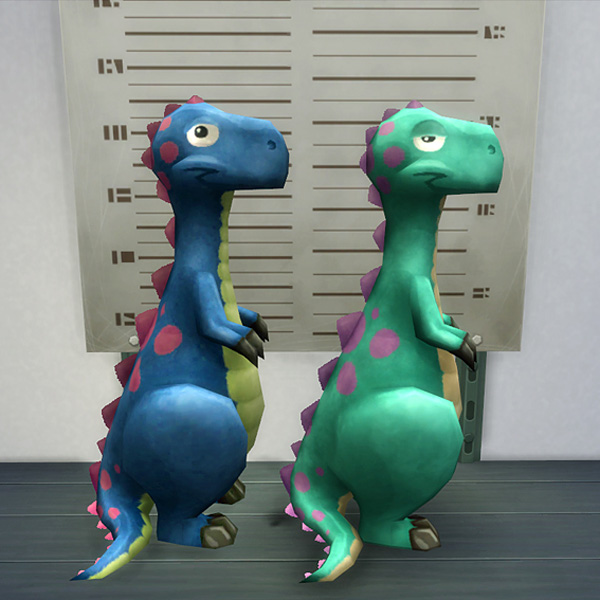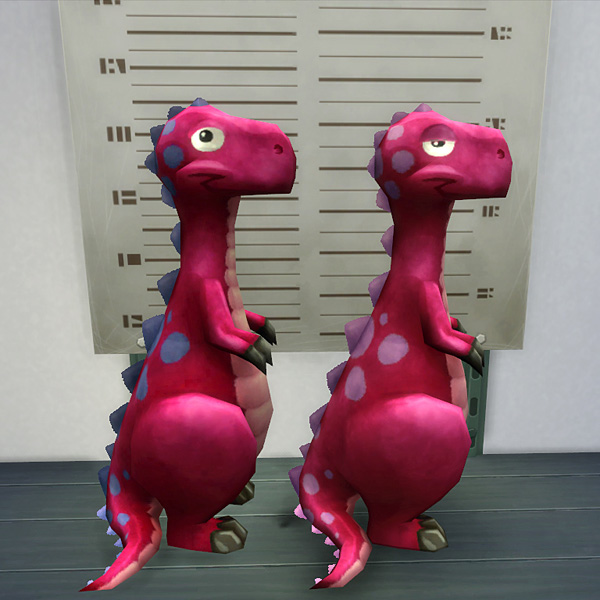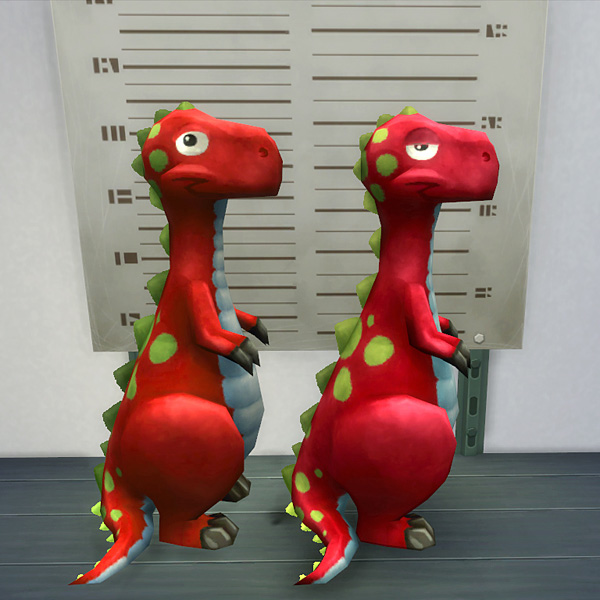 The unicorn's long tail clipped the kid's hand and didn't look good, so I edited the mesh and gave it a little bob-tail, like a foal would have

Lastly, I made the rocket...I wasn't sure about it's safety since the kids smack themselves in the face with their toys every two seconds! But I couldn't deny the future astronauts a special toy, so...I made the pointy spike retractable, got a little spring under it and everything...so it's now totally safe...I swear!!

For the shadow detail meshes I use the lowest ones, these still look fine.
I'm trying to keep the polycounts as low as possible so you can fill your toy stores properly.
All toys are well within the polycount range of the EA in game toys (the highest there being 738), so they shouldn't cause problems.
P.S. If you'd like to use these as deco objects and don't want your sims to pick them up you can use the "bb.moveobjects on" cheat:
When in buy mode, with the cheat on, put the toy down where you want it (literally put it down), pick it up again and move it away. It will float. Hold down the alt key and move it back where you want it. Now your sims won't be able to "reach" it.
Made a few recolours for each, hope you like 'em!
They can be found in the catalog under Kids/Toys:
- Denny the Dinosaur: 65§
- Llama Toy: 65§
- Rocket Toy: 165§
- Unicorn Toy: 165§
Enjoy!
Polygon Counts:
Denny Dino Toy: 409
Llama Toy: 408
Rocket Toy: 472
Unicorn Toy: 438
Additional Credits:
Made with Milkshape and TSRW
Hi guys,
So sorry I haven't been here in so long. Haven't been doing so well, not ill from Corona, but it's been hard to get things done.
Going through my mods now...and wow, just about everything is majorly different..and I am majorly annoyed, lol! It might take a while, but I'll get it done!