>

Mods that replace game resources other than the script core.
The Sims 2 Style Need Decay
MTS has all free content, all the time. Find out how YOU can help to keep it running.
Tell me how...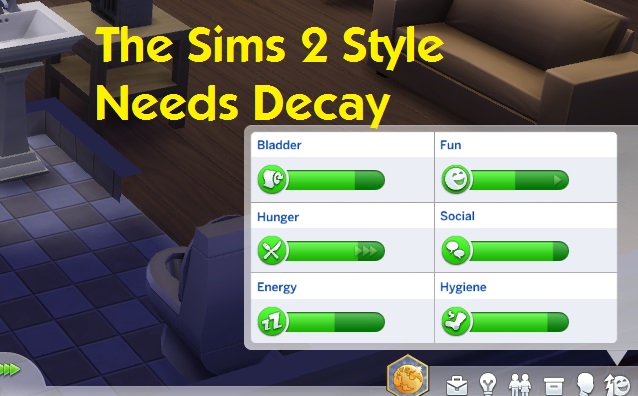 Created by simmythesim View Policy / About Me View Downloads Home
Uploaded 31st May 2015 at 9:41 PM · Updated 1st Jun 2015 at 5:42 AM by simmythesim
A minor tweak but a tweak nonetheless, this changes the default The Sims 4 need decay speed to one that is used by The Sims 2. I did this because people said that needs were unbalanced, and by considering that hunger decay rate is 30% more than The Sims 2, I can see why.
Note: This is different from the other needs decay mod as this one sets it to The Sims 2 levels, while that one you set the change for all needs equally
Changes (All of these are in per sim minute)
Hunger's decay rate was decreased from 0.2083 to 0.1405
Bladder is almost the same, changed from 0.1736 to 0.171
Fun's rate was decreased from 0.1488 to 0.1161
Energy is almost the same, changed from 0.1389 to 0.134
Social's decay is increased from 0.0868 to 0.1161
Hygiene's decay was increased a lot, from 0.0694 to 0.134
I hope this mod leads to a fun sims experience!
Compatibility
Made with version 1.7.65
Changelog
v1.0 release!
Will conflict with any mod that tries to modify the following files
S4_339BC5BD_00000000_000000000000410C
S4_339BC5BD_00000000_000000000000410E
S4_339BC5BD_00000000_000000000000410F
S4_339BC5BD_00000000_0000000000004110
S4_339BC5BD_00000000_0000000000004111
S4_339BC5BD_00000000_0000000000004112
Additional Credits:
velocitygrass for sims4xmlextractor
Kuree for s4pe
Type: Other

About Me
Semi-retired from modding, still making new discoveries for The Sims 4, though.