>

Multi-family homes/For Apartment Life EP/Annoying neighbors.
Dead End Tenements - NO CC
MTS has all free content, all the time. Find out how YOU can help to keep it running.
Tell me how...
4,726

Downloads
240

Thanks Thanks
85

Favourited
27,425

Views


Uploaded: 23rd Feb 2016 at 4:15 AM
Updated: 31st May 2016 at 6:33 PM - Warning
"Good afternoon everyone. I know you're used to seeing my remarks given behind a podium, but if I'm going to run for Mayor of SimCity, there is much more to it than just prepared remarks given on prepared stages to prepared audiences. SimCity is facing many serious problems, and addressing them is one of the things I hope to do as the next Mayor, if I manage to earn your votes!"
"Millions of Sims call this grand city home, taking advantage of the opportunities afforded to its residents, and doing as every Sim hopes to, gradually climbing up, providing better and better accommodations and lives for themselves and their families. We should all strive to do the same, and to make it possible for everyone who lives in this city to do the same!"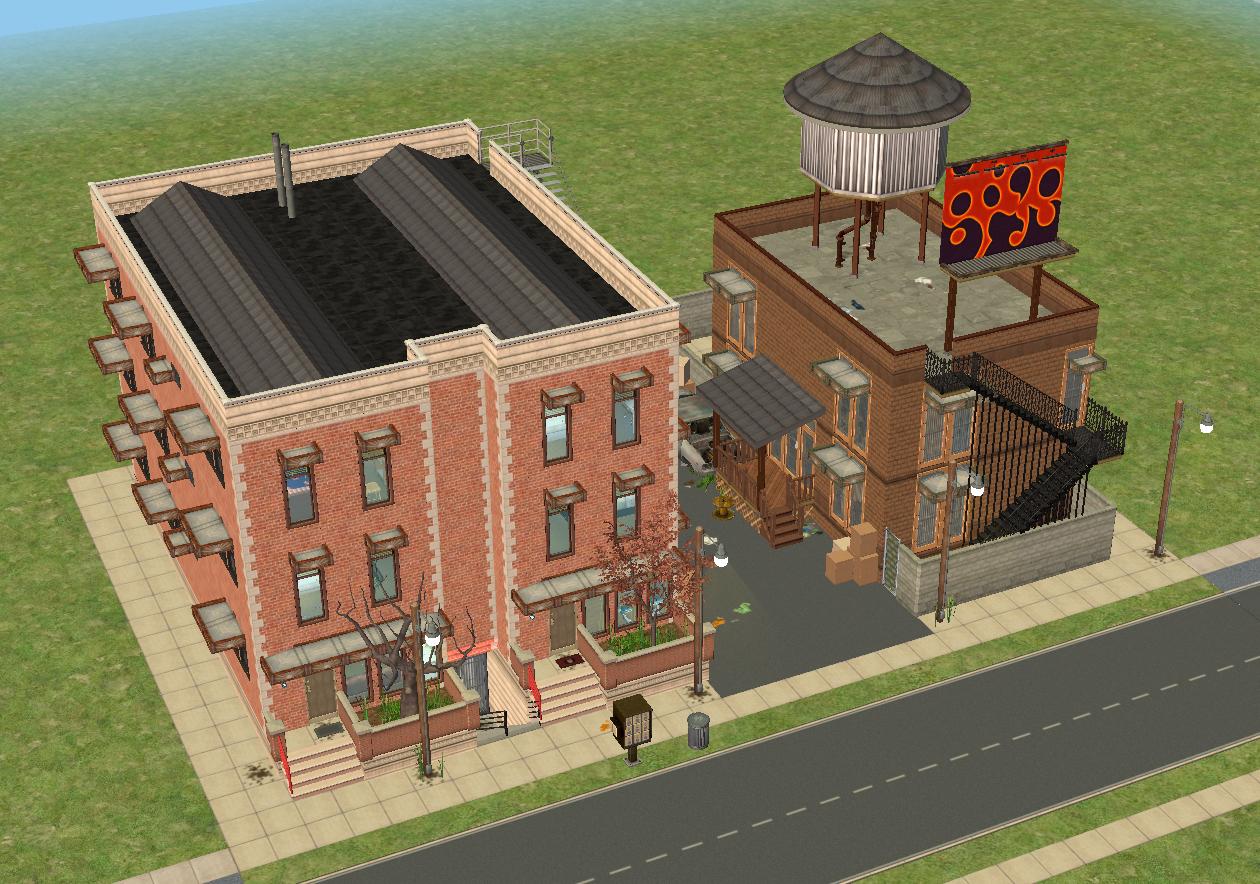 "Yet there are those who have not been able to take advantage of this city's gifts- those who are still living in poverty and kept down, unable to change their lives for the better. Residents of SimCity who are trapped living in conditions like those in this apartment block behind me deserve our attention and our help just as much as the wealthy Sims who can afford the penthouses and luxury condominiums in the glittering skyscrapers of downtown, and as I run for Mayor, I intend to make sure that this campaign will address their needs too."
"See this alleyway behind me? Littered with cast-off clothing and abandoned cars, filthy pools of sludge after every rainstorm, and fire escapes that children play on instead of jungle gyms and monkey bars... this is not the SimCity that I want to see as we move forward. When I take office, I will do everything in my power to help the families who live in these conditions to find solid footing, and be able to improve their lives, just like all the rest of us strive to do. We should ensure that the schools these children go to provide the education they need, we should ensure that the civil servants in this neighborhood are held to the same high standards as those who rub shoulders with the rich and powerful, and we should ensure that no one finds themselves trapped in this situation year after year after year."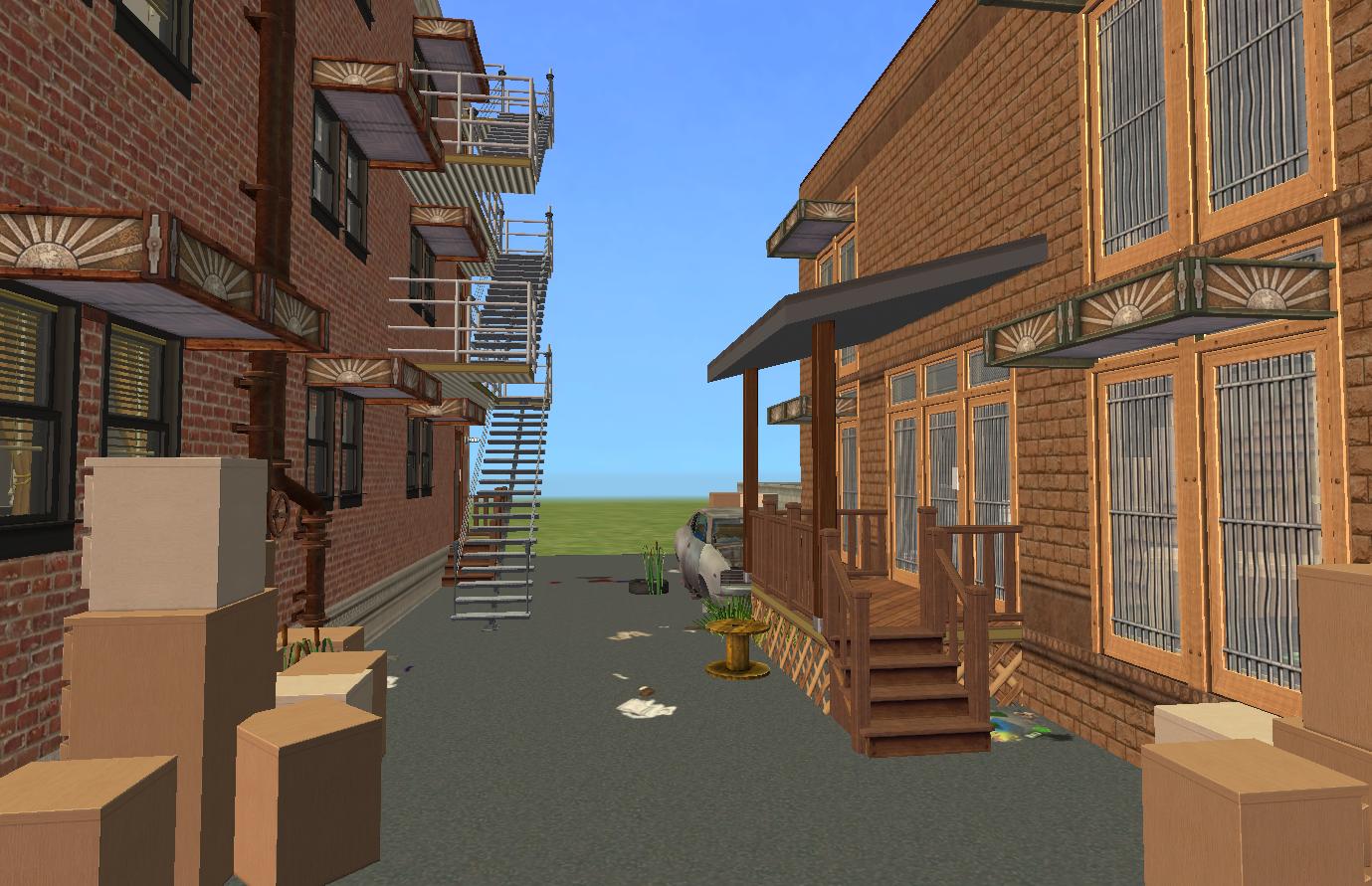 "This neighborhood used to be a bright, cheerful place, just like many others in SimCity. But sadly, over the years, the buildings fell into disrepair, the services dwindled, and the Sims living here lost the optimistic spirit that has allowed SimCity to thrive. You can see this in just these two buildings... an block of townhouses that's been gutted and now instead of housing two families, has ten squalid apartments shoehorned into it, and next door, a building that could have housed the offices of a legal firm or spent its time serving the thriving business community that once existed here now sits unfinished and abandoned, only ever used by Sims who've fallen victim to the epidemic of bubble blowers that's been sweeping the poorer areas of SimNation."
"Seeing a once-thriving neighborhood like this fall into ruin, it breaks my heart. I love this city, I love the people who call it home, and I want to ensure that each and every one of them is given the opportunities they need to succeed. No one should spend their life unemployed and living in a windowless basement, surrounded by crime and poverty. We can do better, and when I take office, I promise to you, we will do just that!"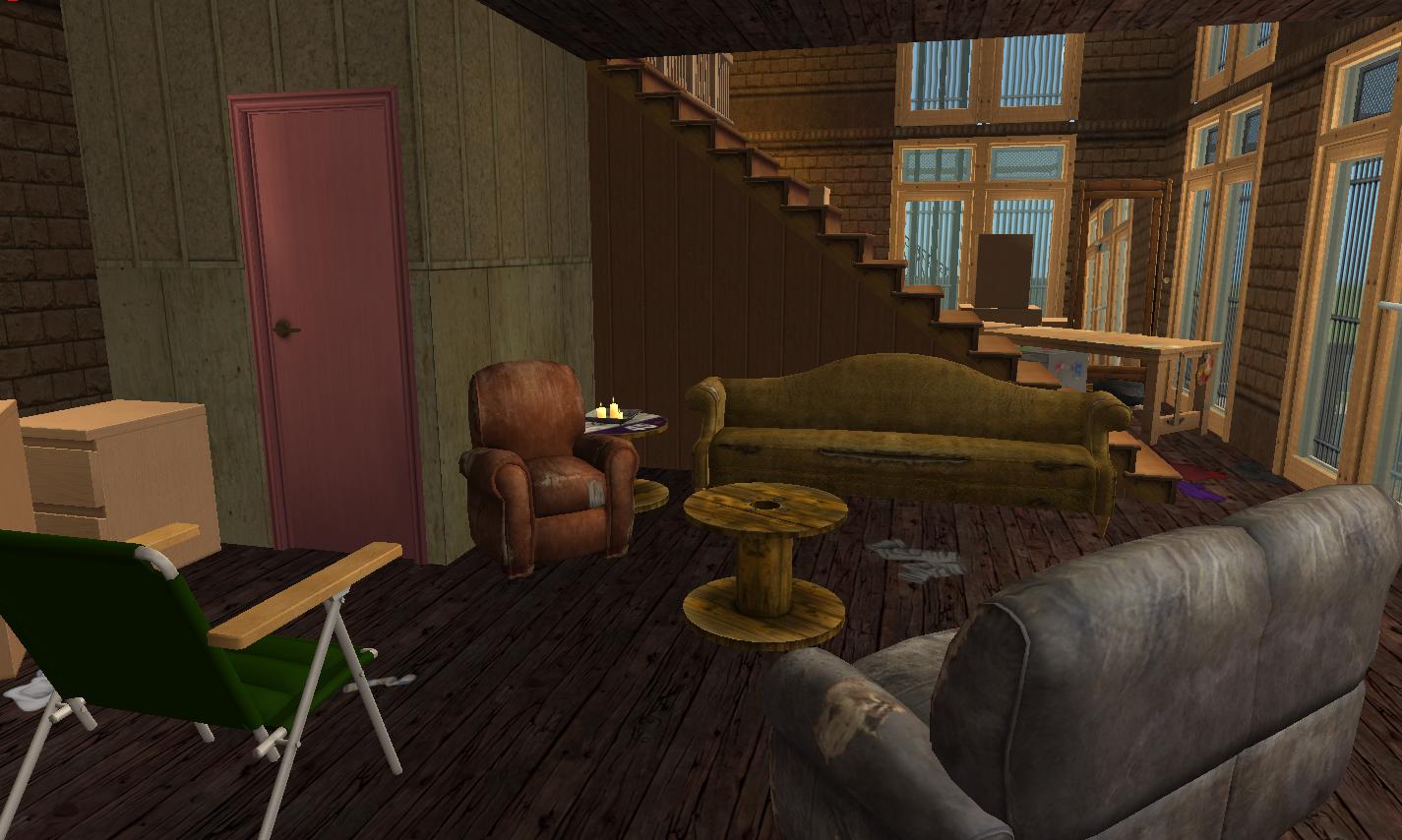 "I believe this entire city still has the potential for greatness, and when I'm elected I promise that I'll work every day I'm in office to ensure that it reaches it. Neighborhoods like this are still found all across this city today... but when I leave office, I hope we can say that they've vanished into the past, and that we've made life better for each and every Sim who was once living in such tragic circumstances. This is what I want this election to be about... an optimistic vision for the future of SimCity, and a bright tomorrow for all its inhabitants! Thank you all, and be sure to get out the vote come election day!"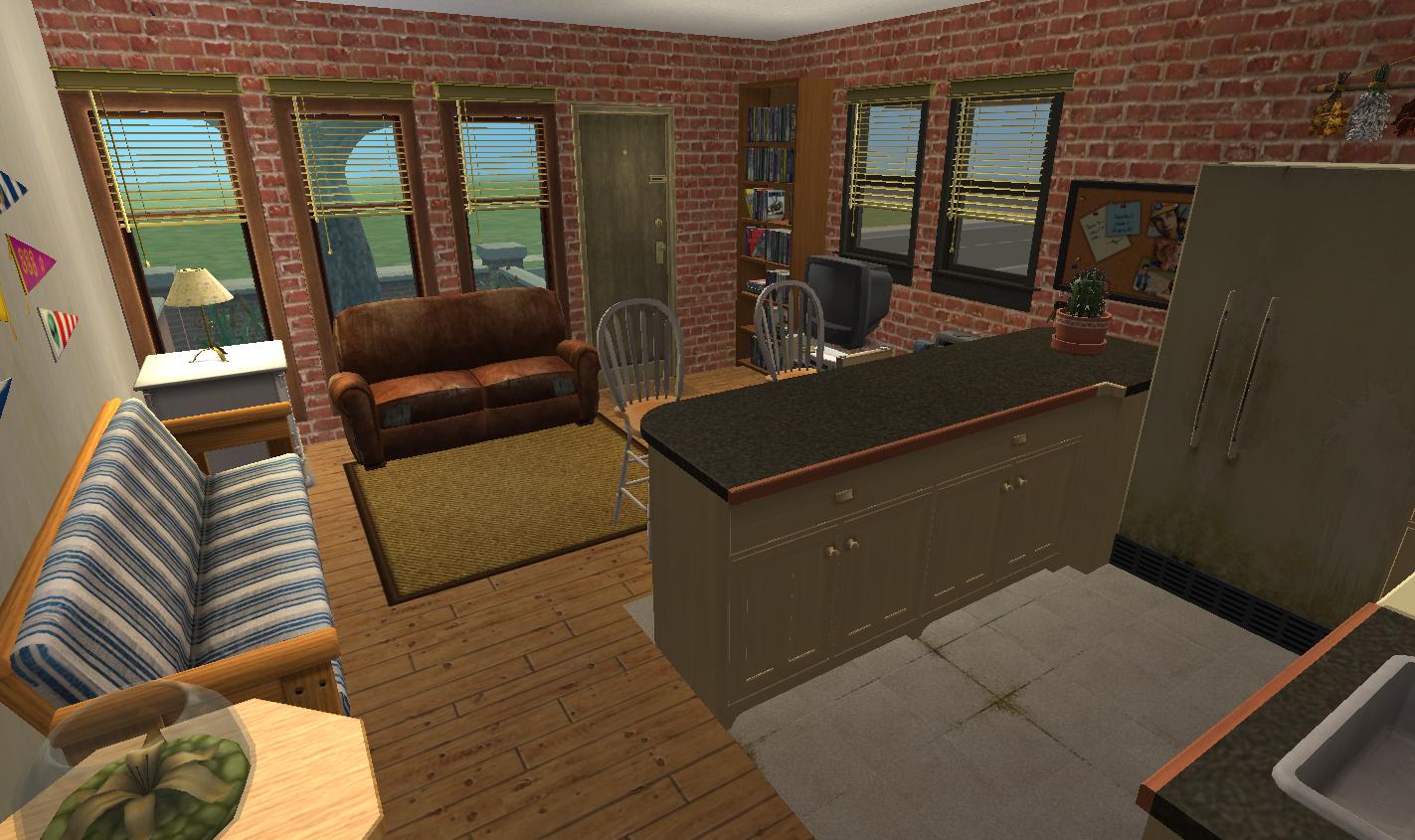 Now... a politician's campaign speech- do you believe them? Do you think conditions here will
really
get any better?

Well, I suppose that's up to you, isn't it? Right now, conditions here are as bad and worse than our esteemed Sim politician friend just described. You can leave it that way, and force your Sims to struggle to get by, or you can do everything you can to improve the conditions found here, and make this neighborhood a jewel of SimCity! It's up to you!
There are 10 different apartment units in this lot, all found in the red brick building on the left- two basement apartments, two ground-floor townhouses, and three small apartments made by subdividing the upper floors. Apartments on this lot range from $360 to $990, so they are pretty inexpensive... hopefully your Sims can earn enough money to escape from this area quickly! The brownstone next door is empty (relatively speaking), with nothing but ratty old furniture and, yes, a bubble blower on the upper floor.
As with all my lots, there's no CC that you'll need to download, and I playtested a clone of it to make sure there weren't any hidden problems lurking... I only want your Sims to be stuck dealing with the problems of poverty and despair that ares
supposed
to be in a lot like this!

Wishing you "fun" with this lot may be a little off-base, so instead I'll just say- I hope it works well in whatever tragic story you've got going for your Sims!
Lot Size:
2x3
Lot Price (furnished):
$360 - $990
About Me
Sims? What are Sims? I almost always just use this game to create buildings!

You might call me a CC-atheist. While I'll use every cheat code in the book, I won't use anything that Maxis didn't ship with the game in one fashion or another. Ergo, you can rest assured that all my lots are CC-free.

Some creators describe themselves as constantly juggling projects. I suppose I do that too, except I'm really really bad at juggling, so I just throw lots of projects as high as I can, and sometimes forget all about them until they come crashing down on my head!

I won't *exactly* do requests, but since I pivot from lot to lot constantly, if there's a place you hope to see from me, there's a good chance that I've already started it! I make no promises, but feel free to ask about lots you want to see- you might inspire me to finish something!

My lots are my own work- I put a lot of effort into them, so have fun with them, use them for storytelling or making Sim movies, but please don't reupload them, in whole or in part, anywhere, including here on MTS!

One day I will rule the world with an iron fist and all will kneel before me.