>

Bon Voyage type lots/Such as hotels and camp grounds/Home away from home
Elk Ridge Campground - NO CC
MTS has all free content, all the time. Find out how YOU can help to keep it running.
Tell me how...


Created by Zarathustra View Policy / About Me View Downloads Home
Uploaded 16th Jul 2016 at 5:41 AM · Updated 16th Jul 2016 at 5:53 AM by Zarathustra
Today, campgrounds are almost inseparable from the idea of National Parks, with millions of people every year setting up camp out under the stars and clear night skies of these spectacular landscapes. Temple Mountains National Park, like many large National Parks, has several campgrounds spread throughout the park's frontcountry and backcountry. The main tent and RV campground is Albright Campground, named for the second director of the National Park Service, Horace Albright. However, there is also a smaller hiker's campground, the Elk Ridge Campground, located near the Union Grove Visitor Center in the northern part of Temple Mountains National Park, and it too has played an important role in the history of the Temple Mountains region.
In the earliest days of people visiting the Temple Mountains to see the spectacular mountain scenery, there was no alternative BUT camping, and this meant that only the most ambitious and adventurous people came to see this region. In the early 1900s, the railroad opened the southern reaches of the park to more visitation, and the Silverado Lodge was constructed, giving visitors who weren't so willing to spend the night outdoors an alternative for their visit to the then-Temple Mountains National Forest Preserve.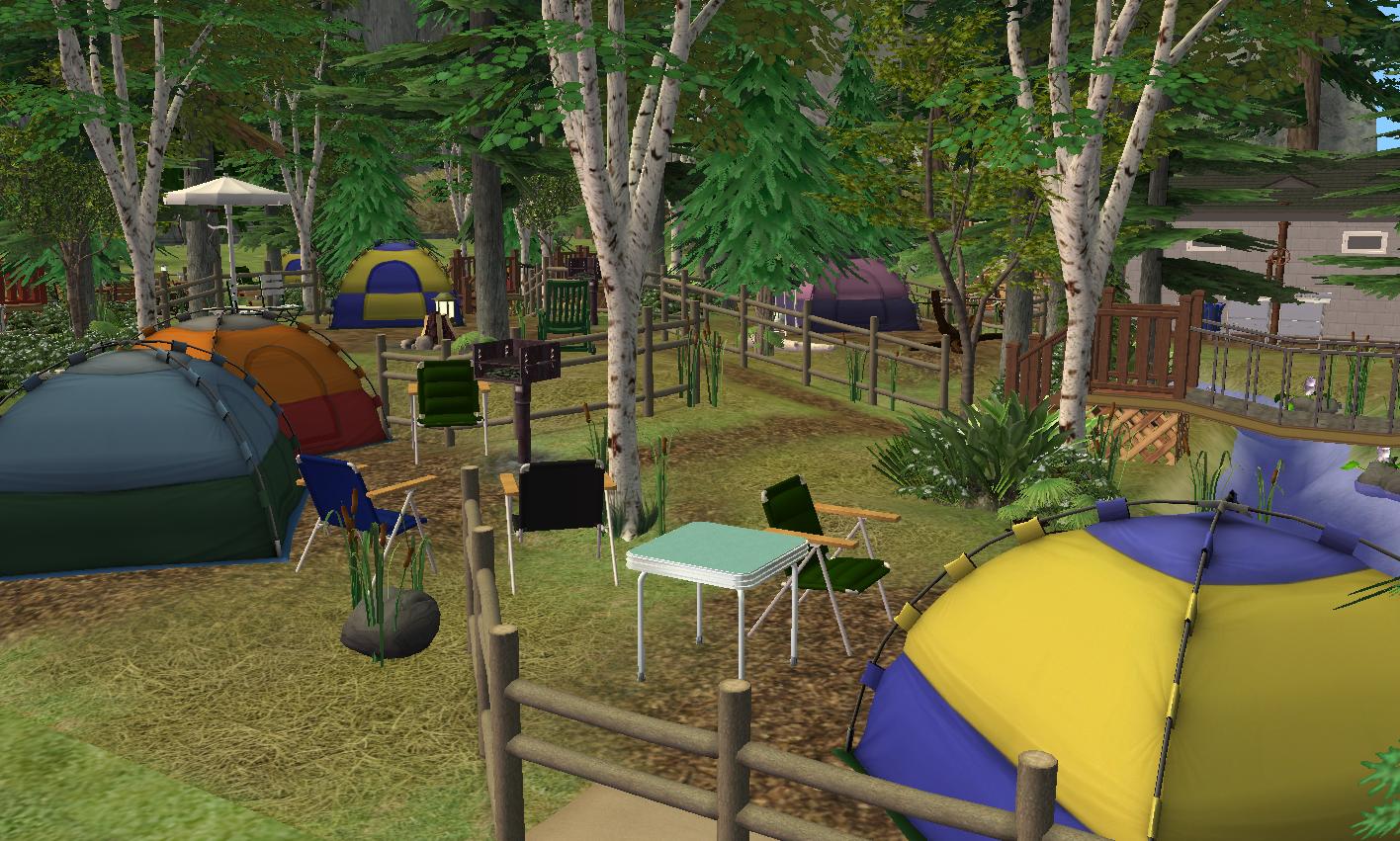 For several decades, the railroad and its hotels were the primary way for people to visit and spend the night in the Temple Mountains, and with no developed campgrounds within the Forest Preserve's boundaries, the only people camping were those who chose to take long treks into the backcountry, spending several days or weeks among the trees and mountains. Places like the Union Grove district and the nearby Salvation Creek became destinations for short day tours from the southern Silverado District, and small rope bridges and trails were constructed through the forest and over the creek, but with the exception of the Forest Reserve Rangers who stayed in a small logger's cabin nearby, it was rare for anyone to spend the night in this part of the park.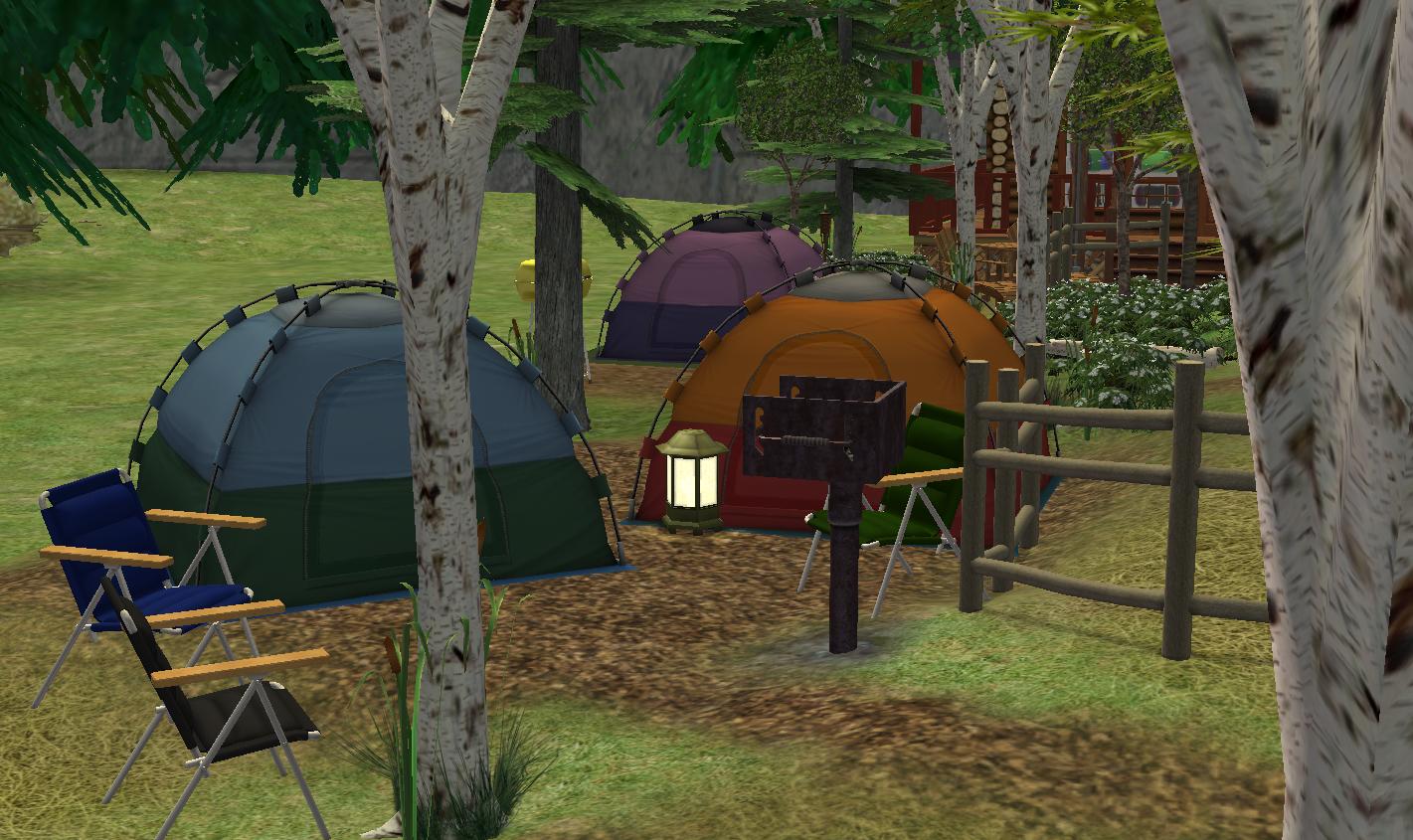 After the end of World War Two, however, cars began to surpass trains as the way most people arrived in National Parks, and more and more people chose to bring tents and camp at the places they visited, rather than paying to stay in the grand hotels of the area. With no developed campgrounds, these visitors would often just set up their campsites along the roads or in the meadows of the park at will. At first, this presented little difficulty, as there were still relatively few people visiting the more remote parks like Temple Mountains, but in the 1950s and 60s, visitation began to reach levels that meant such disorganized camping presented a problem, as it was having a noticeable impact on the natural landscape of the park. As the
Saturday Evening Post
put it, "The people… …are wearing out the scenery."
Fortunately, this problem had an obvious solution, and in the 1950s and especially the 1960s, a massive infrastructure project known as "Mission 66" was undertaken throughout the nation's parklands, prior to its 50th anniversary in 1966. Many new roads, visitor centers, trails, and designated campgrounds were constructed throughout the West, and in Temple Mountains, it led to the construction of the Elk Ridge Campground (as well as a massive enlargement of the Albright Campground in the Silverado District)
While the Albright Campground has many spots large enough for an RV or a fifth-wheel, it was decided that the Elk Ridge Campground would be smaller, and limited to tent camping. To preserve the historic trails and structures in the area, it was also decided that no roads would be built within the campground itself- instead, a small parking area would be constructed south of the Salvation Valley Drive road, and campers would bring their tents and gear along the footpaths into the campground.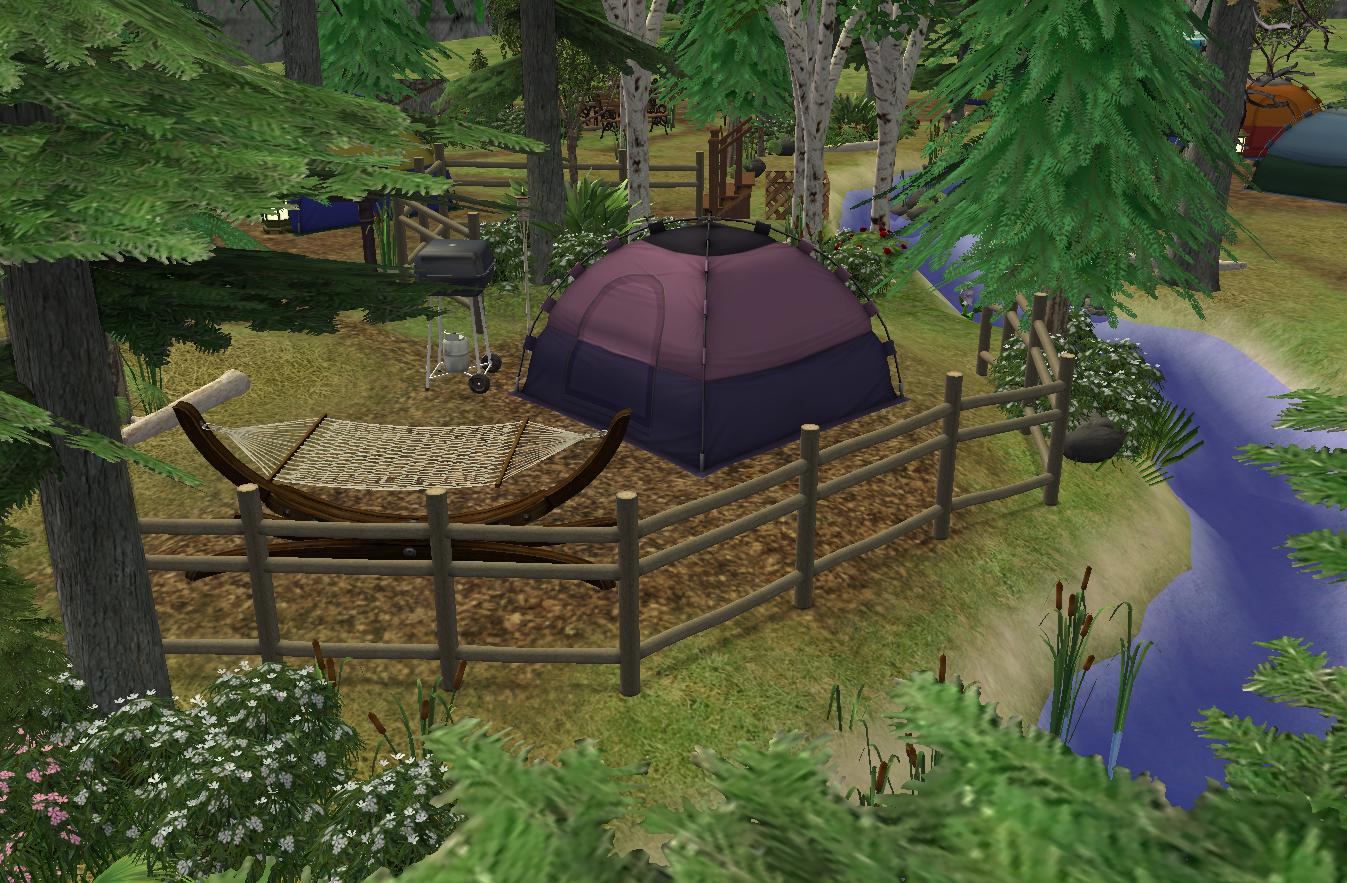 A small logger's cabin had stood a short distance away from the Salvation Valley Drive, and while it was initially proposed that the cabin be torn down when the campground was constructed around it, it was eventually agreed that it would remain standing, and be turned into a small country store, to provide the campers with access to food, gear, and a few souvenirs for their visit. Inside, much of the first floor is given over to portable grills and popular camp foods like hot dogs and s'mores, while the attic has more souvenirs, as well as a small selection of outdoor and hiking wear.
Next to the country store is a small picnic area, perfect for day-use visitors, or for those who want to get away from their campsite for a short while. Several installation BBQs are available, as well as picnic and chess tables, perfect for a dinner under the fading alpenglow of the mountains, or a picnic lunch before heading out on one of the Temple Mountains'' many hiking trails.
Part of the Mission 66 development of this campground was the construction of a public restroom, complete with showers for those visitors who don't care to wash themselves with a swim in Salvation Creek. While not the most architecturally interesting of buildings, this concrete-and-rebar building has stood the test of time remarkably well, requiring far less maintenance and upkeep than most park structures of its age. A nearby bulletin board is often plastered with notices, warning visitors of nearby wildfires, or reminding them to dispose of food waste properly (unless they want a black bear to come tearing through their tent in the middle of the night, looking for leftovers!)
Overall, for visitors looking for a place where they can feel more connected to the landscape, and who don't want to have the distant song of a coyote drowned out by the hum of an electric generator in a nearby RV, the Elk Ridge Campground is a great choice, and is in fact so popular that reservations for these campsites often sell out months in advance during the park's busy summer season! Be sure to call ahead if you'd like to stay here during your visit to Temple Mountains National Park!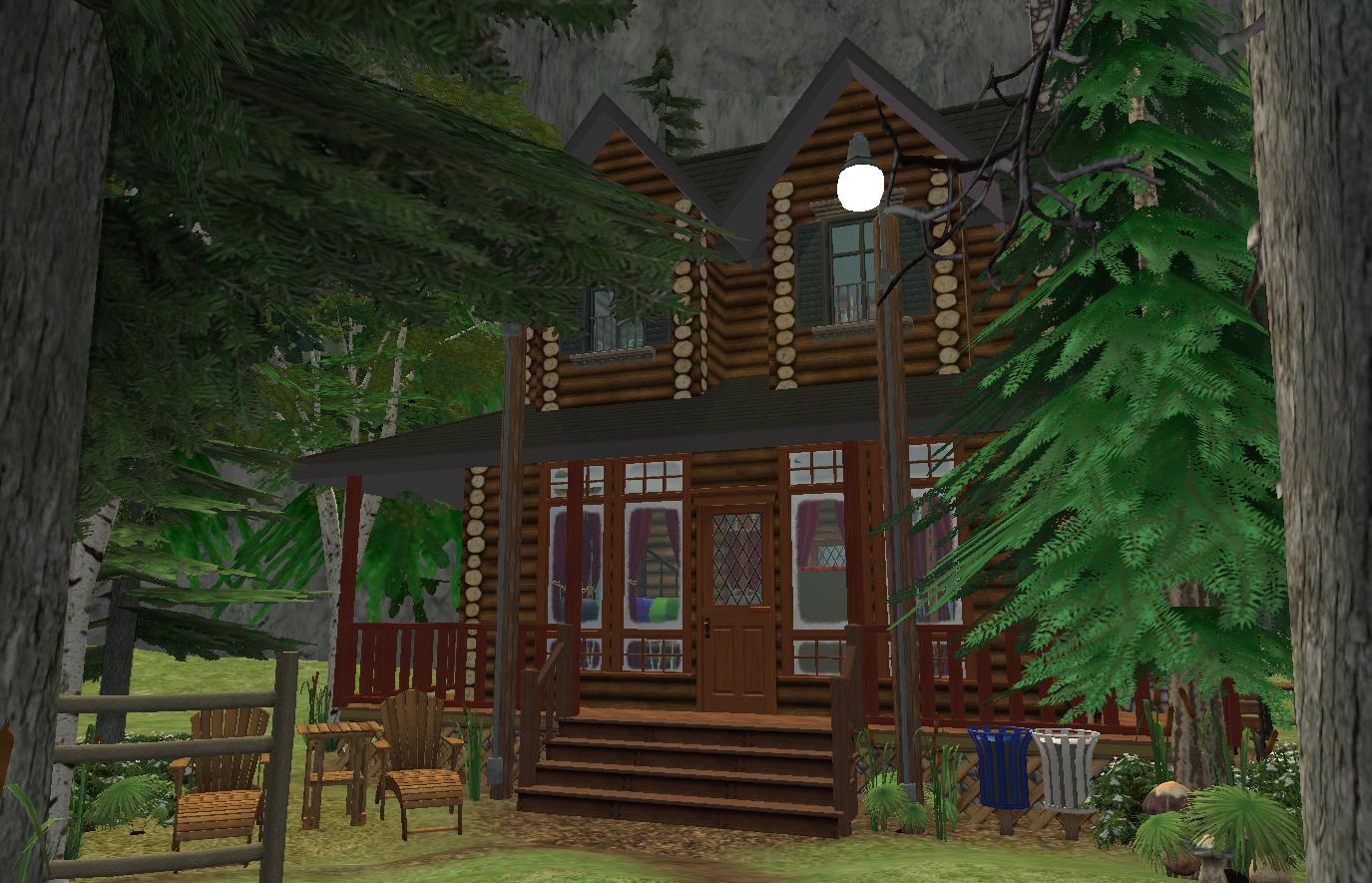 This campground has just shy of $150,000 worth of objects present, though for lodging, I'm not sure if that's ever really useful information to have!

This lot was originally created for a contest, and as such, was not initially playable. However, I think I have managed to fix all the problems that would have prevented Sims from being able to use the lot- there are a few idiosyncrasies leftover that may not be useful in normal gameplay, but they shouldn't detract from it either. I have playtested a clone of the lot as uploaded and found no glaring issues- if you find any in your gameplay, please let me know! Enjoy your visit to Temple Mountains National Park, and get out there and explore some of your REAL National Parks sometime this year too!

Lot Size:
3x4
Lot Price (furnished):
$149,396
Number of bedrooms: Not Applicable
Custom Content Included: None
Furnishings: Fully Furnished
Special Flags: Not Applicable

Tags: #no cc, #vacation contest, #national park, #national park service, #temple mountains, #Utah, #mountains, #cliffs, #west, #forest, #campground, #camping, #camp, #tent, #hammock, #stream, #creek, #cabin, #campsite
About Me
Sims? What are Sims? I almost always just use this game to create buildings!

You might call me a CC-atheist. While I'll use every cheat code in the book, I won't use anything that Maxis didn't ship with the game in one fashion or another. Ergo, you can rest assured that all my lots are CC-free.

Some creators describe themselves as constantly juggling projects. I suppose I do that too, except I'm really really bad at juggling, so I just throw lots of projects as high as I can, and sometimes forget all about them until they come crashing down on my head!

I won't *exactly* do requests, but since I pivot from lot to lot constantly, if there's a place you hope to see from me, there's a good chance that I've already started it! I make no promises, but feel free to ask about lots you want to see- you might inspire me to finish something!

My lots are my own work- I put a lot of effort into them, so have fun with them, use them for storytelling or making Sim movies, but please don't reupload them, in whole or in part, anywhere, including here on MTS!

One day I will rule the world with an iron fist and all will kneel before me.