>

Community lots/For when sims leave their houses/It's scary outside
Jambalaya Musee d'Arte - NO CC
MTS has all free content, all the time. Find out how YOU can help to keep it running.
Tell me how...
3,802

Downloads
224

Thanks Thanks
61

Favourited
19,287

Views
Picked Upload! This is a picked upload! It showcases some of the best talent and creativity available on MTS and in the community.


Uploaded: 2nd Oct 2014 at 11:02 PM
Updated: 3rd Oct 2014 at 12:39 AM
Every artistic quarter of the city needs a plethora of galleries, showrooms, studios, and museums, to illustrate the outstanding artistic abilities of the citizens of the neighborhood. For your city's artistic quarter, the Musee Jambalaya perfectly fills this need! Whether for pretentious Sims who want to pretend that they understand the subtle details and nuances of the weltanschauung of an artist, or for everyday Sim couples just out on a romantic date for the evening, this lot will surely provide exactly what they need!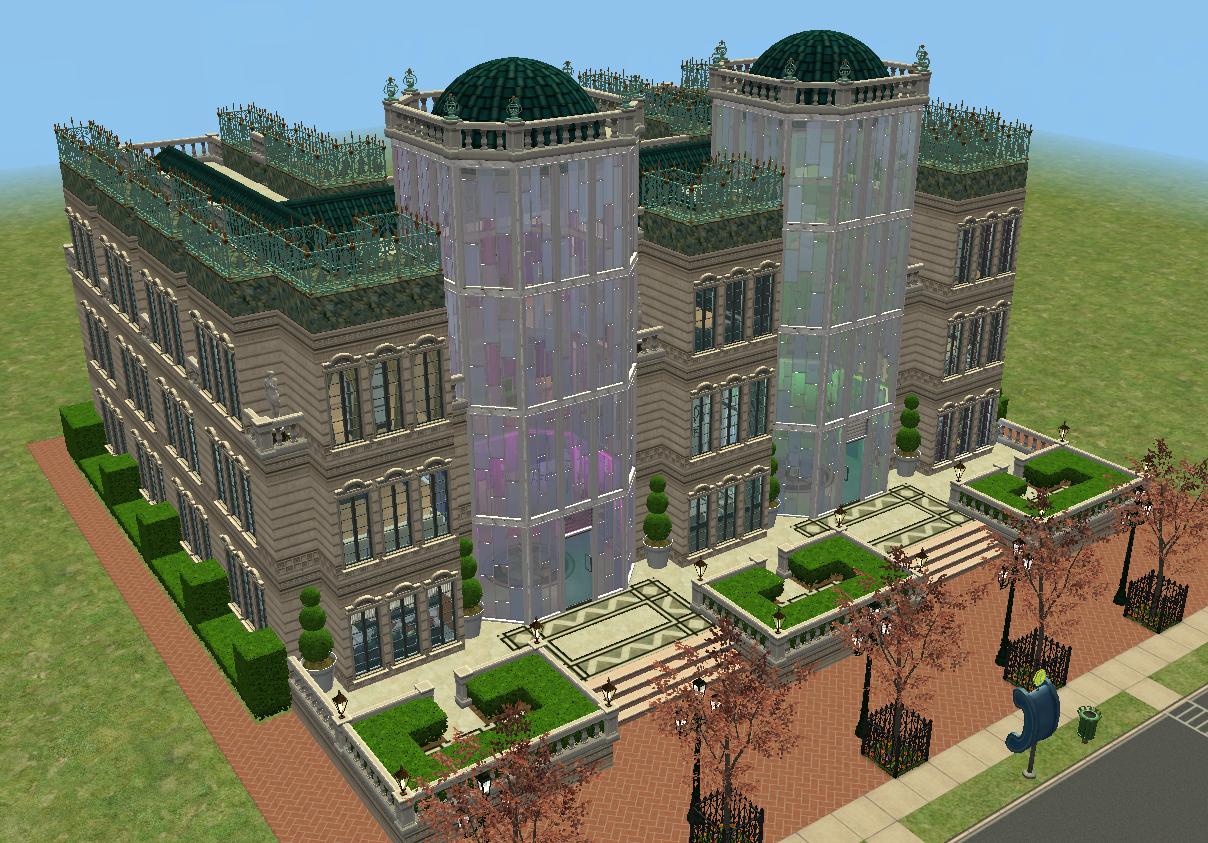 The facade of this building clearly shows that it is a structure steeped in history and culture, having stood over the city streets for decades, maybe centuries, with a tranquil courtyard in back, perfect for contemplating the verdant colors of nature that have inspired so many of history's greatest artists. Yet, the twin atria that provide entrance into this artistic hub tie the building to the modern era, without overwhelming its historic details. Thus, this building establishes any neighborhood in which it is placed as being one with deep historic roots and a rich cultural heritage, while still being willing and eager to adapt to the changing world around it, and determined not to fall behind the times. This means that it will look just as at home in a bustling downtown metropolis as it would in a quiet artist's quarter of the city.
Inside, the building continues to retain its classic aesthetic, while still providing all the modern conveniences that today's urbane Sim will demand from any establishment they visit. Coming in from either of the towering, 4-story atria, a sophisticated coffee shop takes up the center of the first floor, with a bank of elevators providing quick access to the galleries on the floors above. To the right, a gallery for travelling art shows is provided, with temporary displays that can quickly be adapted to fit any portfolio displayed in the room. (I trust that you can figure out how this room can be "adjusted" if you want to rotate the collection here!

) Currently, the Visitor's Gallery is hosting an exhibition of fine oil paintings from the Sim Renaissance all the way up through the colonial period. Also found in this wing is the Curator's Office, with access to the archives beneath the building (more on them later)
On the lefthand side of the building is the museum gift shop- perfect for Sims who feel that their home life isn't cluttered enough with useless tchotchkes already, as well as the lower level of the museum's Grand Gallery, home to an immense abstract oil painting recently donated to the collection by an wealthy and anonymous benefactor.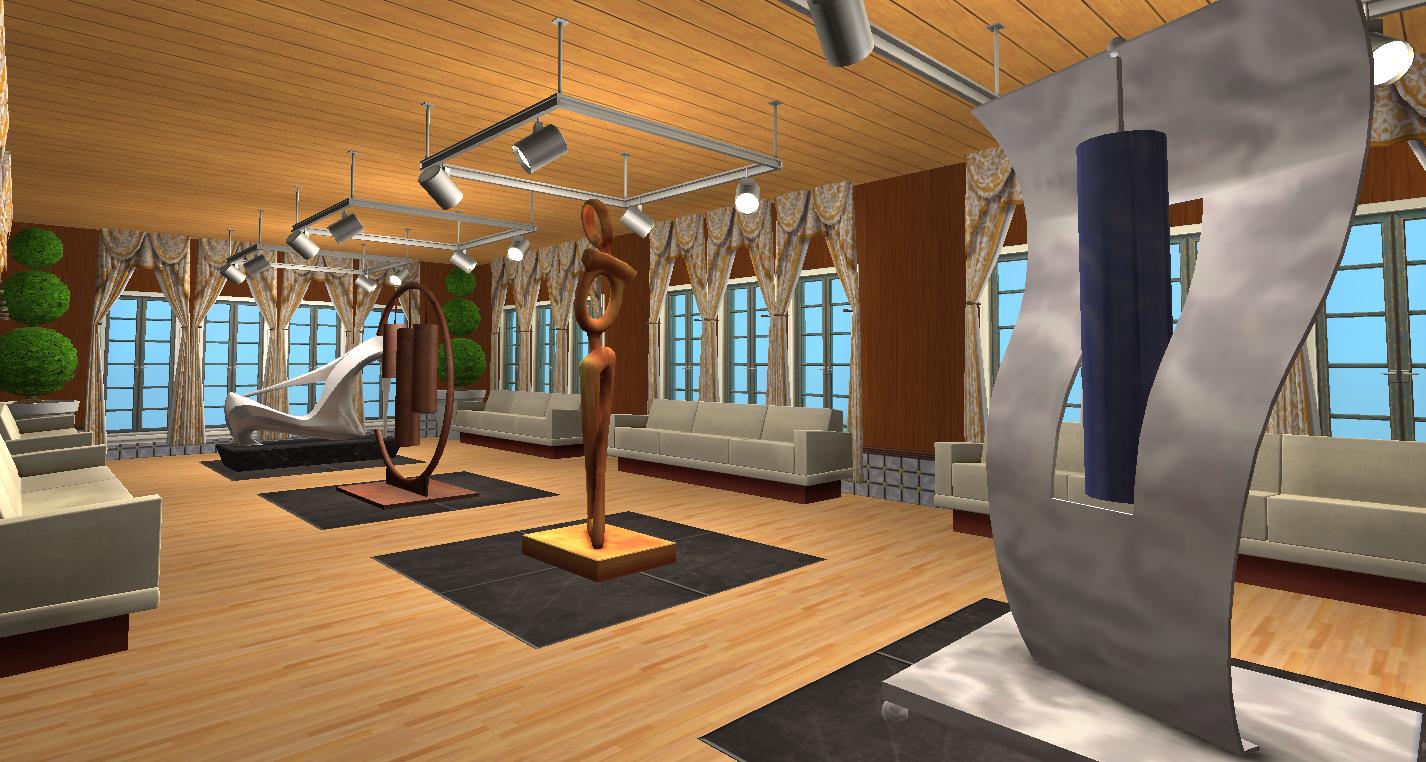 The upper floors contain a variety of galleries as well. The righthand wing houses the Sculpture Gallery, a sculpture exhibition, as well as a smaller room for prized pieces Modern pieces line the middle of a long gallery, providing Sims with any number of angles to view them from as they try to understand the significance of a piece.
On the left, in addition to the upper viewing area of the Grand Gallery, Sims will find a small room dominated by an aquarium- while much of art is still, some of the more avant-garde artists in the city feel that life brings something to art that still canvas and marble can never do. If your Sims are of a similar mind, they can sit and enjoy the view of schools of colorful fish circling the tank, changing this exhibit constantly from moment to moment.
On the third floor, both wings are dominated by two large galleries. The right side of the building houses an exhibition known as fACEs, a collection of masks created by renowned local artist Nadia Mamazartsho. (

) Nadia feels that all Sims everyday walk around with their faces concealed by masks of one sort of another, and in her exhibition, she invites Sims to find the mask that they most identify with. (Prices are high, but Ms. Mamazartsho is willing to sell some of her pieces to select clients)
The lefthand gallery is an exhibition of art collected from temples and monasteries of the far East, from Takemizu Village and beyond. These tapestries and prints may seem minimalistic, but they can still convey a great deal of meaning with their few brushstrokes, and after seeing so much other art throughout the galleries below, this ancient, meditative style can be a fitting end to a Sim's tour of the the Musee Jambalaya.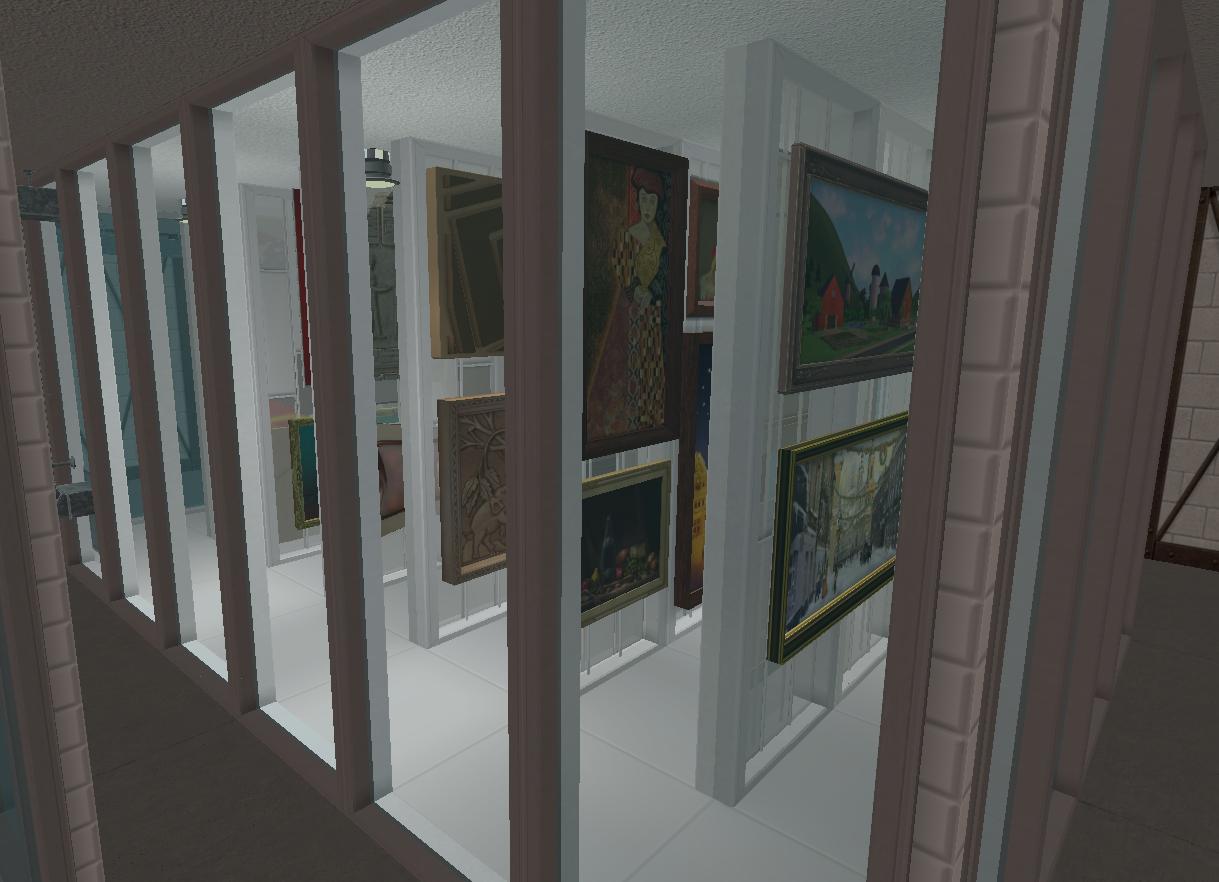 Finally, before I get to the technical aspects of this lot, I promised I'd mention the archives in the basement. As anyone who's worked in a museum or gallery well knows, not all of the pieces in an institution's collection are ever on display all at the same time. Still, the pieces that aren't currently gracing the walls of the gallery upstairs must be carefully tended and preserved, so for the Musee d'Arte, there are two hermetic vaults in the foundation, accessible through the Curator's Office on the first floor. Each vault is filled with thousands of Simoleans worth of fine art, which can either be used just as a curiosity (more for the player than for any Sims), or if the museum becomes an owned community lot, as it is in my game, these vaults can be used as a source of income, stocked with valuable pieces whose value will appreciate whether they're on display or not.
This lot isn't as enormous as many of the other building's I've shared, but it does still ring in at more than $600,000, so on older or slower machines, it may lag slightly. Still, as per usual, there is no CC to be found anywhere on this lot, so you won't have to trouble yourselves with hunting around for objects and textures that aren't included. The lot as uploaded has also never been visited, so there should be no trouble with "ghosts" of Sims from my game causing trouble in yours. Finally, as always, if there are any problems that you encounter with this lot in your gameplay, please don't hesitate to let me know, and I'll do my best to address them! Enjoy!
Lot Size:
3x3
Lot Price:
$665,755
About Me
Sims? What are Sims? I almost always just use this game to create buildings!

You might call me a CC-atheist. While I'll use every cheat code in the book, I won't use anything that Maxis didn't ship with the game in one fashion or another. Ergo, you can rest assured that all my lots are CC-free.

Some creators describe themselves as constantly juggling projects. I suppose I do that too, except I'm really really bad at juggling, so I just throw lots of projects as high as I can, and sometimes forget all about them until they come crashing down on my head!

I won't *exactly* do requests, but since I pivot from lot to lot constantly, if there's a place you hope to see from me, there's a good chance that I've already started it! I make no promises, but feel free to ask about lots you want to see- you might inspire me to finish something!

My lots are my own work- I put a lot of effort into them, so have fun with them, use them for storytelling or making Sim movies, but please don't reupload them, in whole or in part, anywhere, including here on MTS!

One day I will rule the world with an iron fist and all will kneel before me.