Sims 4

>

>

Mods that replace game resources other than the script core.
Labor Puddles PLUS Pets!
MTS has all free content, all the time. Find out how YOU can help to keep it running.
Tell me how...
164,405

Downloads
562

Thanks Thanks
148

Favourited
130,909

Views

Uploaded: 8th Mar 2017 at 6:48 PM
Updated: 9th Nov 2022 at 1:12 AM - Patch Update 9/5/19
Hi everyone! Welcome to my first mod!
Checked with Patch:
11/1/22 <-- No Changes needed


PANDORA SIMS stole one of my mods!
Please read spoiler to see what you can do!
Please don't support them. They steal other modders mods and then sell them. NEVER pay for my mods. They will always be free!. Please come to my sites only to download my content that way you know you will always get free up to date content.
PANDORA SIMS even changed the name of my mod but it is mine.

Quote:

Sims can pee in the shower: sims with certain traits will relieve their bladder in the shower based on the bladder motive levels. These are the traits that determine which sims will relieve their bladders in the shower: Slob Shameless Childish Lazy Elders

<--I added this to the Bladder Reliever Update that I did. These are my customizations of that mod.
How can I help?
Boycot them. Cancel your account, stop downloading or visiting their site. The less traffic, the less downloads they get the lower they will get on the search engines.
Encourage other modders that you know to take a stand by Send a DMCA to their Host, Send a DMCA to Patreon [email protected], Send DMCAs for each Link to Google HERE Each link needs to use a new group. The more DMCA's that are sent to good the farther down they will get on the search engine.
Please Please help, not just for me but for all modders and all future modders out there. This has been an on going thing with them for years.
Thank you so much for helping!

I don't mind if you make changes to any of these files in any of my mods as long as it is
PERSONAL USE ONLY
Out of respect to me and any other modder you should not change something in their mod and upload it for others to download. It takes time on a mod regardless if its a core mod, script mod or just and XML mod. With all my mods so far, it takes time to go through the files, find what ones you want, decided where you want them, get them placed, make the necessary code changes, add new codes, and collect all of the loose ends to make even a XML mod to work properly. Plus with all mods regardless of their type, you have to test it, test test test over and over just to make sure you have all your codes in a row. Some of mine have enough code changes that I had to do a lot of trial and error just to find what ones I prefered and some had extra files that had to be tended to as well. So again: It is disrespectful, and hurtful to make even a small change in one code in any mod and upload for others to use.

THANK YOU


Always remove old files before adding new!

Change Log 5/1/21
<--Check for new items!

5/1/21
Patch Update: 4/27/21<-- An idle was added

12/15/19
Patch Update: 12/12/19 <--Icon was changed

6/21/18
Patch Update: 6/19/18<--Only 2 flavors needed updated

3/1/18
ADDED: Pets now have puddles when they go into labor

11/08/17
Patch Update 11/07/17

8/3/17
ADDED: Labor Puddles Male Flavor 2

4/18/17
CHANGED: Changed file name to have no spaces.

3/10/17: Added new flavor that only has one puddle at the start of labor.

This mod creates puddles of water under your sim during labor. There are 3 flavors to choose from. They both modify a different .xml file so they won't conflict.

What you will get with this mod, this will also show anything new I may be working on:
Cats and Dogs will also have labor puddles
1 puddle at the start of labor
Puddles for each contraction
Males will have labor puddles

Only use 1 Flavor! They will conflict
The flavors:
Labor Puddles:
Will have a puddle of water under your sim each time they have contractions.<--
Includes Male Pregnancies
Labor Puddles Flavor 2:
Will have only 1 puddle of water under your sim at the start of labor.
Labor Puddles Male Flavor 2
Will have only 1 puddle of water under your male sim at the start of labor.
Labor Puddles Pets:
Will have a puddle under your pet each time they have contractions.
Labor Puddles Pets FL2:
Will only have 1 puddle of water under your pet at the start of labor.
This will conflict with any mod that modifies the same XML's files
XML's Modified:
S4_E882D22F_00000000_0000000000012CA8
S4_6017E896_00000000_0000000000012607
S4_6017E896_00000003_000000000001903F
S4_6017E896_00000019_000000000002950D
S4_6017E896_00000019_0000000000029523
S4_E882D22F_00000019_0000000000028B6E
Since this is an override of an XML file they will more than likely conflict with any other mod that modifies the same XML file. Use at your own risk.
Want to see how it works?-->
VIDEO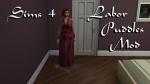 This mod is base game and doesn't require any expansion or stuff packs.
If you have a mod that allows teen pregnancy, it works with teens as well.
I have tested the mod with no mods in my folder and with MCCC. I used MCCC to force my sim into labor for testing. I have tested this mod multiple times and has worked good so far in my game.
With my testing, as of right now it is compatible with MCCC and has not had any problems.
Do not
upload this mod as your own and ask permission before posting to another site. Thank you

Thank you all for your support!
~ENJOY~
Additional Credits:
MCCC for cheating my male sim into pregnancy and labor for testing.
Notepad
S4PE
Packs Needed
None, this is Sims 4 base game compatible!