Buy Mode

>

>

Creativity, knowledge, exercise, and recreation.
10 "Apology" Cards for MogHughson's Postal System
MTS has all free content, all the time. Find out how YOU can help to keep it running.
Tell me how...
838

Downloads
75

Thanks Thanks
16

Favourited
6,895

Views

Uploaded: 31st Mar 2017 at 9:03 PM
Updated: 31st Mar 2017 at 8:11 PM
Happy March Everyone! This is the second set of cards for
MogHughson's Postal System
as requested by
Goldenbtrfly.
Originally, she had requested a set of "Apology cards," or cards that express sorrow for wrongdoing to go with the awesome postal mod. But just like the set of twelve friendship cards I posted back in February, we worked together on this project as well! In this set you will find
a mix of friendly, heartfelt, romantic, and goofy apologies
for all kinds of your Sim's mistakes.

The concept of an apology card has not even been touched as far as the mod goes, so we hope you enjoy our set of
ten cards
to add some variety and new interactions into your game!
For those of you who are unfamiliar with
MogHughson's Postal System,
it is a mod that allows your Sims to write, send, and receive cards via their mailbox. It is by far my favorite mod because not only can my Sims send cards, but once received, I can display them in my house! And since every household has a mailbox, it is the perfect add-on to your Sims game. (Trust me...you'll want this mod!) The cards I have made here (and in the past) are cards that work with this particular mod.
MogHughson's original upload post has plenty more information about this if you are curious.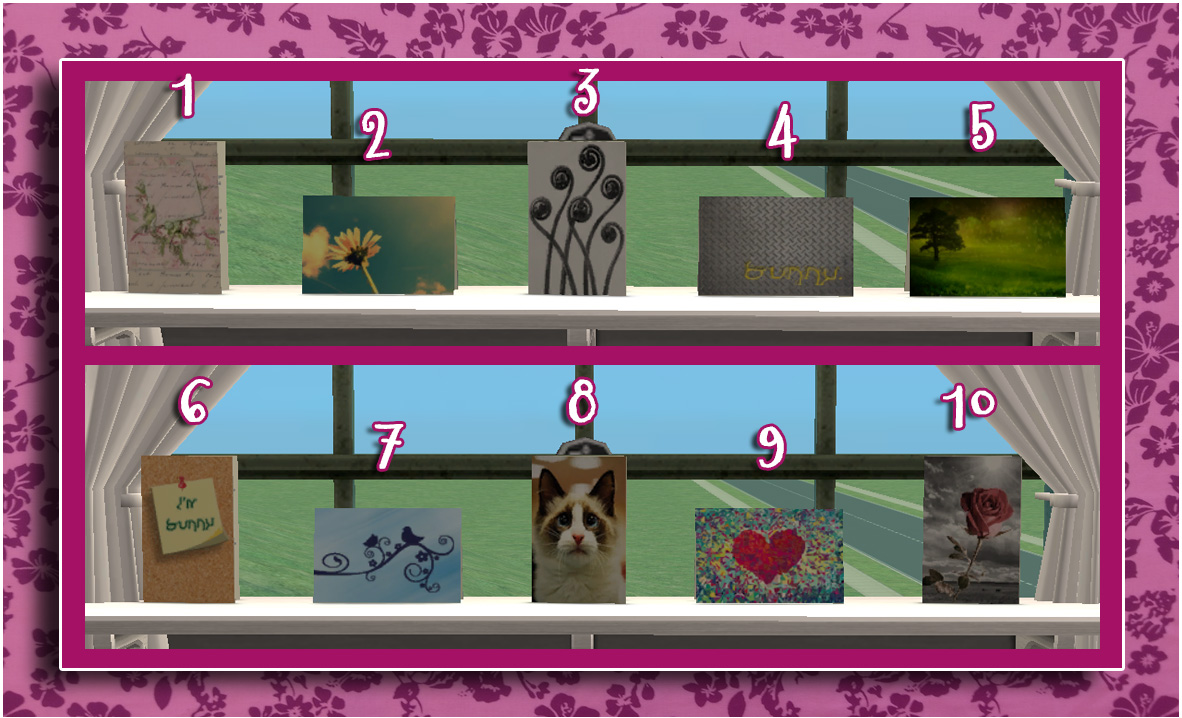 As there is not an "Apology" category of cards for the postal mod, I placed all ten of these under the "Sympathy" category as I figured that was the next best thing!

Card 1: Is entitled, "I Messed Up," and reads, "I messed up, and I am sorry for that. Would you forgive me, please?"

Card 2: Is entitled, "Feeling Terrible," and reads, "I feel terrible about what happened. I want you to know I am sorry."

Card 3: Is entitled, "Meet in the Middle," and reads, "Let's meet in the middle and forgive each other."

Card 4: Is entitled, "Truce?" and reads, "What do you say? Truce?"

Card 5: Is entitled, "My Mistake" and reads, "You complete me. I'm sorry for my mistake."

Card 6: Is entitled, "Sorry x Infinity" and reads, "Sorry x Infinity - I know I Screwed Up!"

Card 7: Is entitled, "Talk this over" and reads, "I hate when we fight, let's talk this over, okay?"

Card 8: Is entitled, "Forgive Me" and reads, "Turn my frown upside down, please forgive me!"

Card 9: Is entitled, "Make Up ASAP" and reads, "My heart is breaking! Let's make up ASAP."

Card 10: Is entitled, "Without You" and reads, "Roses are red, but without you I'm blue. Please forgive me!"


Final Thoughts...
It has been a lot of fun working with Goldenbtrfly on another set of cards, and we still have one more to go! All comments, suggestions, thanks, and smiles are welcome as always. I wish your sims the best of luck in earning another's forgiveness.

Have a great day!

Curious about my request policy or what I am working on next? I keep a brief and updated segment dedicated to this on my profile page.
Additional Credits:
Custom Content Featured in Photos:
-Always Sim's
'AF Top: Long Sleev Trim Dress'
in Grey and
"Brown to Blonde" 'Ombre Braid'
(part of 10 piece set)
-pepette01's Black Pearl Necklace from
"Pisces wardrobe"
collection
-
"Deliciously Indulgent Bakery 3t2,"
'Rustic Rack' by Veranka
-'Assorted Bouquet' in Honeywell's
"Table Centerpieces: 5 Assorted Bouquets"
-'Purple Flower' recolor in SPOILEDROTTEN165's
"Curtain Set"
-White recolor of
"Tie-Back Curtain Recolor"
by zedrik (Photo 9)
-Liz's
"Rose Painting on Suspense"
in dark purple color
Design:
(this one is a bit of doozy so I hid it for your own sanity)


Card One:
Antique Pink Background (scroll down a bit) offered for use of any public viewer by original poster, Sandy Steele. This photo was found on pinterest posted and created by the orignal poster (Steele). If you do not have pinterest, try this link to go to the picture directly.
French Script Overlay for use by the GraphicsFairy.com, Karen Williams.

Card Two:
Somber Yellow Flower posted by EskiPaper.

Card Three:
Swirled Iron Decoration, public domain, by Karl Blossfeldt.

Card Four:
Industrial Steel Texture (part of Wallpack) by Miatari.

Card Five:
Raining on Green Lawns by kanhangadvartha.com.

Card Six:
Yellow Post-it Note, public domain clipart on clipartpanda.com.
Cork board, public domain picture on publicdomanpictures.net.

Card Seven:
Birds on swirls, public domain clipart on pixabay.com.

Card Eight:
Sad Cat Photo, I unfortunately could not find the link to this one. I found a similar one using the reverse google images method but the lighting was different and did not have the same .jpg name. Credit: Unknown

Card Nine:
Geometric Heart Background, posted by EskiPaper.

Card Ten:
Red Rose, (can be free with sign up) by Vasina Natalia.
Black and White Scene, I believe along the way I accidentally added something into the picture name, as I cannot find the actual picture again. I remember picking it up from a stock photo site but I cannot seem to find it for the life of me. Credit: Unknown

Technical: And finally, a huge thanks to SimPE, Adobe Photoshop Elements 13, Nvidia DDS Utilities (SimPE help), FRAPS (screenshot help),
SIMale (Simlish Font Download)
,Mod The Sims, MogHughson for her lovely postal system, and my partner in crime, Goldenbtrfly for all her help and original request.
I could not have done this without all of their awesome hard work before me!

About Me
Policy: Feel free to use whatever recolors of mine you want on MTS. But if you use my work, I'd like credit for it listed in the description etc. Also, if you do end up using my work for something and posting it, let me know :) I'd like to be aware of it and see what kinds of cool things you've created with my work :) On a further note, feel free to use my uploads to go inside of your pictures, uploads, or things like that. But once again, please let me know that you've done so. Thank you so much!

What am I working on now? Took a short hiatus but am slowly getting back into the creating zone. It's been hard for everyone. Anyways, I've taken a break from the giant bout of cards for Mog's Postal System I was working now. Instead I posted crew neck recolors for adult males I had been working on (they're so neglected!) and I'm looking through old files to finish up forgotten projects. [Updated as of 11/7/20]

Love,
Red