Sims 4

>

>

Pixel dollhouses/For sims to live their lives in/Nice houses for sims
Volcanic Manor (CC Free)
MTS has all free content, all the time. Find out how YOU can help to keep it running.
Tell me how...
2,964

Downloads
37

Thanks Thanks
10

Favourited
7,547

Views

Uploaded: 27th Jun 2019 at 8:05 PM
Updated: 2nd Jul 2019 at 7:28 PM - Corrected wrong file attachment

Please re-download! The correct file for this lot should now be attached! Sorry about that!
The backstory of this lot is much like a fairytale. It's the story of a sim and an ancient island spirit and how a fortune was made throughout generations. Over the generations the descendants of the Fishersim who built this house have grown and added to the house, until it has become the manor it is today.

This lot has Grim's Ghoulish Guitar. A freebie from the the sims. If you do not have it, it might be replaced by a base game guitar, or just not have one.
The story of this place, kept growing and becoming longer, until it became an actual fairy tale. It is the story of not only the house, but of the Original Fishersim and his family. You can read a small part of it below...

This is the story of a sim and an ancient island spirit and how a fortune was made.
The spirits had ancient magic and appeared to different sims throughout time. If the sims it came across were honorable they were to grant them a wish or desire. If the sims did not honor their culture however, they would receive a curse and misfortune would befall them. Those sims eventually became island spirits and were tasked with testing the sims to see if they truly honored their culture and past. They were to do this until they came across an honorable sim who would set them free.
There once was a sim, who caught a fish. Little did the fishersim know that the fish they had caught was one of the island spirits in disguise. As they pulled the fish from the water, they saw that the fish was as beautiful as a shiny new simoleon. The fishersim said to no one in particular, "I cannot take this fish from the sea, the sea would be robbed of such beauty." As they were just about to release the fish back into the sea, the fish spoke, shocking the poor fishersim.
"My dear Sulani child, you have done me a great service, and I mean to reward your honorableness. What is it that your heart desires?" The fishersim quickly got over their shock and said "Oh great ancient one, I do not wish to cause harm to my land, but I must eat and I wish to provide for my future family."
The Spirit thought about this for a moment and finally said. "A series of events will come upon you throughout your lifetime and you will be rewarded. All you need to do is listen closely for the heart of Sulani to speak to you child, and your wish will be granted. And with that the fish spirit did a backflip and a sea of bubbles rose from the water to envelope it and it was gone.
The fishersim sat a moment more and then resumed his fishing, for after all they still needed to eat that evening! The fishersim fished until he caught enough fish for his supper and then headed back to his lonely shack near the shore. As they were settling into sleep that night, they thought about what the spirit had said, then drifted off into dreamland. In the sims dreams that night, a soft and gentle voice whispered to him, and fleeting images of someone with the most beautiful hair he had ever seen came to him.

Over the next few weeks the fishersim, continued to have vivid, but fleeting dreams. Each night a voice that became more clear with every passing dream spoke to him and an image would form in his mind. On the last night of these dreams a vivid image of an erupting volcano and the voice encouraging him to go out earlier than usual and to fish in a lagoon unfamiliar to him.
The next morning rumbling awoke him and he remembered his dream from the night. He then gathered up his meager belongings and headed out to his boat. As he set out to sea a swift but gentle wind, encouraged him to sail in a new direction. As he settled in to his journey, he broke his fast with the last of his bread, he looked out at the sea and noticed something shining following his boat. All the sudden a pod of dolphins surfaced and started to play along the side of his boat. He watched in marvel at the graceful movement of the family and wished once more that he had a family of his own to care for. The wind had been steadily pushing his boat toward a new island he had never before seen. Along its shore there was an inlet that looked promising for a bit of fishing. As he navigated closer to the island he saw it was not just an inlet, it was a large lagoon! He pulled up to shore and brought his boat up and beached it where it would be safe from the tide. He wandered around for a while, exploring the beauty of nature and yawned. He was tired, he had been sailing for hours and he had left before the sun was even close to rising. He then found a good spot to lay his pack and settled in for a bit of fishing. Before long he found himself nodding off. The gentle breeze teasing his hair soon lulled him into a deep sleep.
A voice, he heard the most beautiful voice! He could have sworn he had heard this voice before! He roused himself from sleep to try and listen more closely and sure enough it wasn't a dream! Along a small tide pool, on some rocks was a woman sitting and singing to the little fish in the pool, dangling her feet into the water. The fishersim rose and walked up to the small pool, listening and watching the young woman. The young woman noticed the fishersim, but did not stop her song.
As the song came to an end, the fishersim asked "Who are you, why do you look and sound so familiar?" The young woman glanced at the fishersim, and said, I am Meralynn, and Sulani herself has sent me here on this day.
END, PART ONE.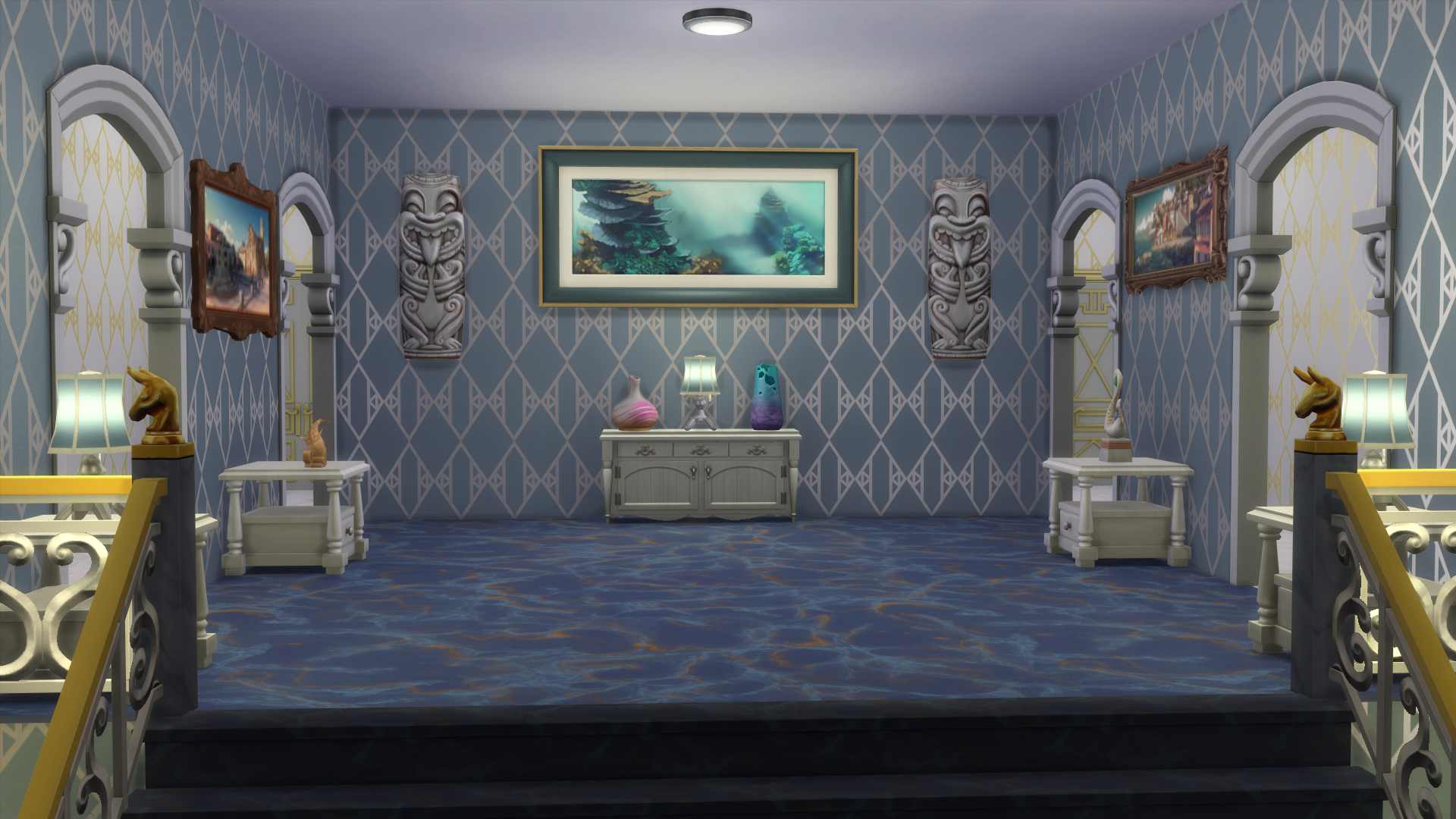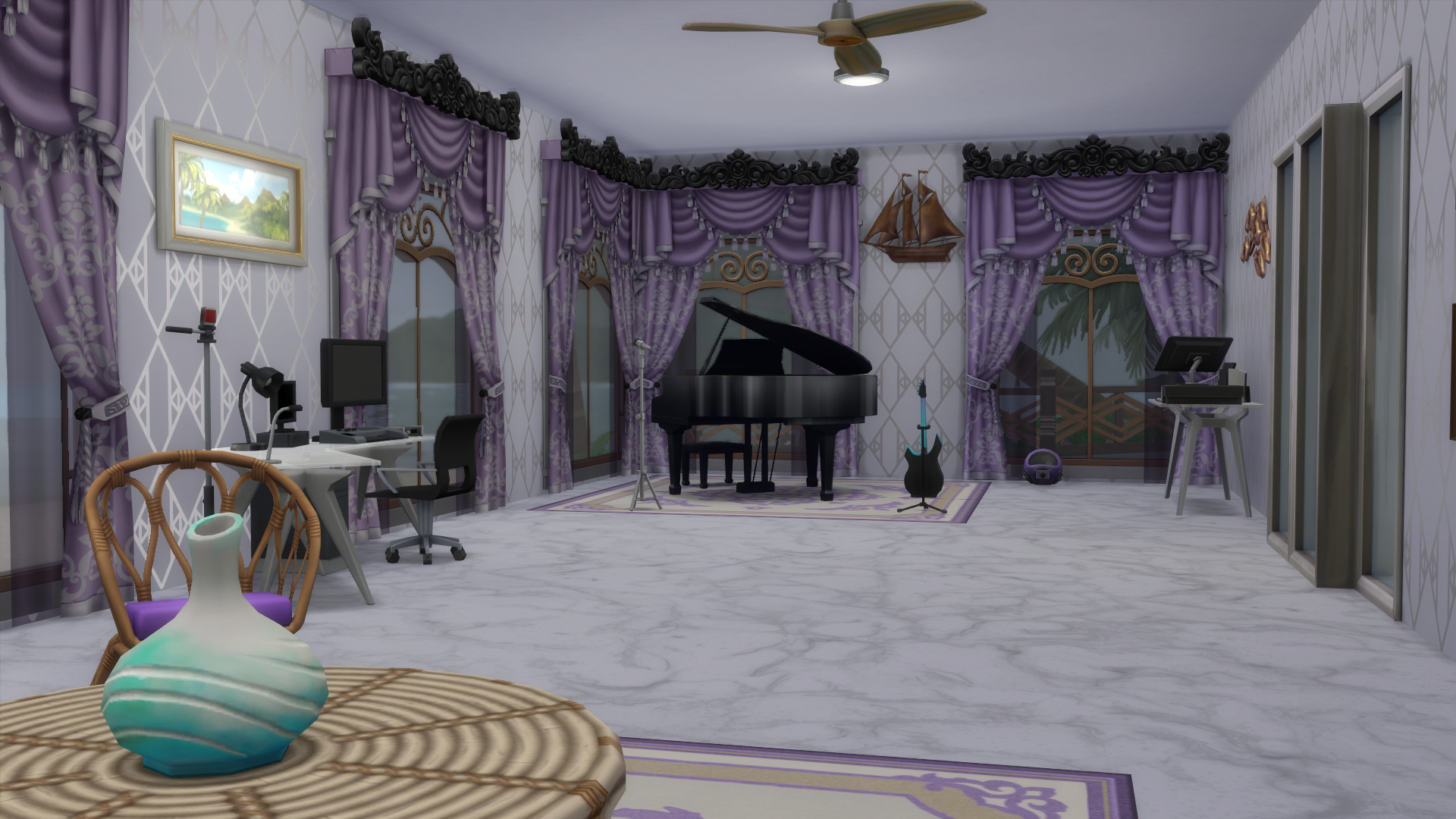 Lot Size:
40x30
Lot Price (furnished):
200,586
Lot Price (unfurnished):
77,683
Other Information
Number of bedrooms:
5 or more
Custom Content Included:
None: No Custom Content included
Furnishings:
Fully Furnished: Lot is completely decked out in furnishings
Special Flags:
Beach Lot

Packs Needed
| | Base Game |
| --- | --- |
| | Sims 4 |
| | Expansion Pack |
| --- | --- |
| | Get Together |
| | City Living |
| | Cats and Dogs |
| | Seasons |
| | Get Famous |
| | Island Living |
| | Game Pack |
| --- | --- |
| | Spa Day |
| | Dine Out |
| | Vampires |
| | Parenthood |
| | Jungle Adventure |
| | Strangerville |
| | Stuff Pack |
| --- | --- |
| | Perfect Patio Stuff |
| | Cool Kitchen Stuff |
| | Movie Hangout Stuff |
| | Kids Room Stuff |
| | Backyard Stuff |
| | Vintage Glamour Stuff |
| | Fitness Stuff |
My Rules:
All my creations are to be distributed on free sites only with a link back to me here on MTS2.