>

Mods that replace game resources other than the script core.
View Old Style
Fairy House motive tuning: Bladder and Hygiene
MTS has all free content, all the time. Find out how YOU can help to keep it running.
Tell me how...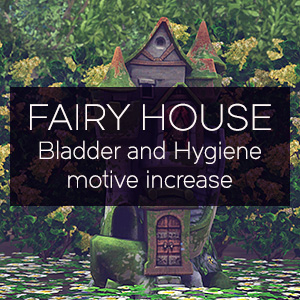 Created by sweetdevil View Policy / About Me View Downloads Home Tumblr
Uploaded 2nd Jul 2020 at 12:21 PM
This has been giving me a headache for a few days, so I'm glad to finally be able to bring you these mods!

These mods require the Supernatural EP
and the fairy house object to work.
They were made on patch 1.63 but work on newer ones.
These perks apply to all species of sims that can enter the fairy house, from toddler to elder.

What they do:
FairyHouseMaxBladderHygieneOnEnter_163
(1) - Bladder and Hygiene motives max out when entering the fairy house.
FairyHouseMaxBladderHygieneOnSleep_163
(2) - Bladder and Hygiene motives max out when sleeping in the fairy house.
FairyHouseMaxBladderHygieneOnSleepNoSocialDecay_163
(3) - Bladder and Hygiene motives max out when sleeping in the fairy house, and their Social motive won't decay while sleeping.
(3) simply incorporates the edit that Twoftmama made in her
Toddlers Sleep With No Social Decay mod (v2)
.

How to use:
Can be used together:
- (1) + (2);
- (1) + (3);
- (1) + Twoftmama's mod (any flavor).
Don't use together:
- (2) + (3);
- (2)/(3) + Twoftmama's mod;
- any flavor + anything that edits the following ITUN resources: GetIn_FairyHouse (used in (1)), Sleep_FairyHouse (used in (2) and (3)).
Edited resources:
For (1): GetIn_FairyHouse ITUN (0xA1072E8AC3865F28)
For (2) and (3): Sleep_FairyHouse ITUN (0x1E9A7DAE0F1DB9C0)
Additional Credits:
Twoftmama, for the idea of making the Social motive non-decaying.
Type: Motive gain

Tags: #fairy house, #supernatural, #tuning mod, #fairy, #bladder, #hygiene, #motive increase
Ayy, here's what I do!
If you encounter any issues with my creations or have questions about them,
please private message me or send me an ask on Tumblr!
If you have questions about something, I'd be happy to do my best to help (unless it's about script modding!).
Feel free to pick apart, reuse, reupload etc. what I post - just don't stick it behind a paywall, ad link, donation wall or whatever else "make money off the work of others" system is trendy nowadays.
My things:
sweetdevil-sims
- main Tumblr; also has a lot more downloads than what I posted here.
TS3 CAS Conversion Catalog
- for basegame, EP, SP, and Store clothing!
Mega
- folder with my downloads (with previews).
SimFileShare
- folder with my downloads (no previews).
CC reuploads:
gelina
|
Hal's Archive
|
Iggysaurus-rex
|
Kewai-Dou
|
mitarasi
|
Modish Kitten
|
pocci
|
Yesod Sims
Others:
generic Mega folder
|
generic Box folder