Site Map

>

Sims 2

>

General - How to safely move all characters to a new neighborhood

>

Gameplay strategy and discussion for The Sims 2.
Replies: 8 (
Who?
), Viewed: 4531 times.
#1

16th Apr 2016 at 12:16 AM

How to safely move all characters to a new neighborhood
Picture this: you've just downloaded a cool new uninhabited neighborhood. At the same time, you'd
really
wish to keep playing your legacy neighborhood with over 150+ dead Sims, a good storyline developed, and all the drama going on. Then, you think of an idea - wouldn't it be great if those legacy Sims were to live in the newly downloaded neighborhood, but without the hassle of having to recreate them all
one by one
in CAS, move them in, kill 150+ of them, etc.?
In short, by following this tutorial, you'll completely swap the lots and terrain of the neighborhood while leaving your current garniture of Sims intact. This means that:
a) you cannot "skip" a few Sims while "moving" them over. With this tutorial, you're not copying Sims - you're copying lots and neighborhood terrain,
b) any existing neighborhood corruption won't magically get fixed.
In the end, this won't be a fresh start for a neighborhood, but instead, you'll be giving your neighborhood a complete makeover (from a template).
Things you'll need:

WARNING!
This method only works with neighborhoods with absolutely
no subhoods
(and this includes stealth subhoods!). I haven't tested it with neighborhoods with subhoods, but I assume that in such case you'd have to pay very close attention to what lot strings, descriptions and packages you're moving over. I strongly suggest you refrain from following this tutorial if you're working with a subhooded neighborhood.

Before we start, here's a general overview of names I'll use in this tutorial:
TEMPLATE - FI40, Felicity Island - this is the neighborhood with NO Sims, the neighborhood you'd like your Sims to live in
HOME - N123, Wanmami Peninsula - this is the neighborhood with all your Sims you wish to "transfer"
Of course, your neighborhood IDs may differ from mine.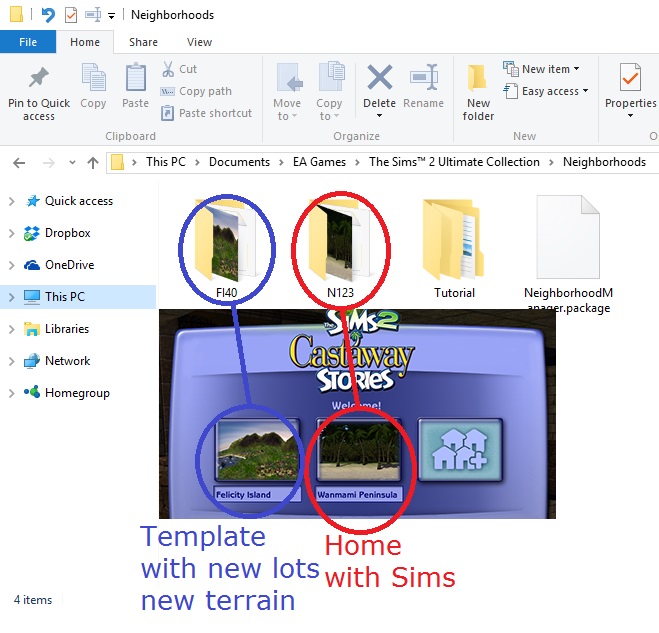 Make a backup of your Documents\EA Games\The Sims 2 folder.
==============================================
Install your "template" to Documents\EA Games\The Sims 2\Neighborhoods.
==============================================
Open the game, load the "home" neighborhood. Sell all owned lots back to the community using the computer or the phone. Make sure you sell any deeds to those lots that your Sims may have.


==============================================
Load a family, and have a Sim travel to every community lot in the neighborhood that has a grave (tombstone or urn). Put every grave in the neighborhood into the Sim's inventory using the pie menu option.


==============================================
Make sure no residential or apartment lots have graves. If some do, temporarily move a Sim in that lot, put the graves into their inventory, and move them out to the family bin.
==============================================
Move every household to the family bin. At the end of this step, you should have 0 occupied lots in your neighborhood, 0 owned community lots, and all of the graves should be stored in Sims' inventories.


==============================================
If your "template" neighborhood is also inhabited, make sure all Sims have been moved out of their homes, and that there are also no graves present on any of the lots, and that there are no owned community lots in the neighborhood.
==============================================
Close the game. Open SimPE, and open your "template" neighborhood. From the Resource Tree, select Text Lists (STR#). From the Resource List, sort the elements by Instance (click on that tab). Then, select all [Text Lists] elements with an instance number equal or greater than 0x00008001. Right-click on them and select Extract, and then extract them to your desktop.


==============================================
In that same package, from the Resource Tree, select Lot Description (LTXT) and from the Resource List, select all elements, and Extract them to the desktop. Close the package.


==============================================
Still in SimPE, open your "home" neighborhood. From the Resource Tree, select Text Lists (STR#). Select all [Text Lists] from the Resource List with an instance number equal or greater than 0x00008001. Delete those elements by right-clicking on them and selecting Delete.


==============================================
Select Lot Description (LTXT) from the Resource Tree, and select all elements from the Resource List and delete them the same way. Save the package.


==============================================
Minimize SimPE. Navigate to Documents\EA Games\The Sims 2\Neighborhoods\["home"]\Lots. Delete all files from that folder.


==============================================
Open HoodReplace. On the Copy From panel, select your "template" neighborhood, and on the Copy To panel, select your "home" neighborhood. Uncheck Fix Elevation of Lots. Click Copy, and then quit HoodReplace.


==============================================
Back in SimPE, open your "home" neighborhood again. Right-click anywhere in the Resource List and click Add. Find the Text Lists on your desktop that you extracted in step 6 (should be in a folder named xxxxxxxx - Text Lists), add those, and then save the package. Then, add the Lot Descriptions the same way, and save again. Close SimPE.


==============================================
Go to ...\Neighborhoods\["template"]\Lots and copy all files from that folder to ...\Neighborhoods\["home"]\Lots.


==============================================
Either by hand or by using a program such as Bulk Rename Utility, rename all prefixes (and only the prefixes!) of the moved files in the ...\["home"]\Lots to match the parent neighborhood ID. In my particular example, I copied lots from FI40 to N123, so I'm off to rename all freshly copied files from FI40_LotXX.package to N123_LotXX.package. Here's what's to do in the Bulk Rename Utility:


==============================================
Your neighborhood has been transformed. In-game, it will still appear under the old name. You can now proceed to delete the "template" neighborhood if you wish. That neighborhood remained virtually untouched, and will still feature all lots and its original terrain. Your "home" neighborhood, on the other hand, looks like as if you just spent hours on end recreating all Sims, while in reality, this entire process took you just under fifteen minutes. Give or take.


==============================================
Before you start playing, I'd advise you to first move in all families that contain Sims that carry graves in their inventory. Place all graves in world, and either keep them on that lot, or send them to a community cemetery by clicking on a grave and selecting "Move All Graves." It's not advised to keep graves in a Sim's inventory for a long time, as the Sim might accidentally die. Corruption arises when a Sim dies while carrying graves in their inventory.

Additional Credits:
This tutorial is actually a reverse process of Mootilda's tutorial on removing all Sims from a neighborhood (in a way of transferring lots and terrain to an uninhabited new neighborhood). Without her work, I probably definitely wouldn't be able to figure this by myself.
#2

16th Apr 2016 at 11:55 PM
Thanks for this tutorial! This really is helpful! But wouldn't it be easier to just bulldoze the lots in-game. Then, this tutorial could be used on neighborhoods with subhoods attached.
I hope the mods consider moving this into the 'Tutorials' section.
#3

17th Apr 2016 at 3:29 PM Last edited by DJ. : 17th Apr 2016 at
3:44 PM
.
I haven't tried it, but I believe bulldozing lots in-game could be done as well, instead of steps 10-12.
However, I'm still unsure about whether that will make this tutorial doable with subhooded neighborhoods. I still haven't tested it, but here's a scenario that I'm afraid that will happen if the home neighborhood has subhoods:
1. Create a neighborhood, create five lots. In N001\Lots, those are named N001_Lot1.package through N001_Lot5.package.
2. Create a subhood, create three lots. In N001\Lots, those are named N001_Lot6.package through N001_Lot8.package.
3. Add another lot in the base neighborhood. This becomes N001_Lot9.package.
4. Only bulldoze base neighborhood lots in-game. You should then remain with lot packages 6 through 8 (subhood lots).
5. When you follow the tutorial, your template neighborhood may already have lots named Lot6, Lot7 or Lot8. By copying over those, two issues arise:
a) both subhood and base neighborhood LTXTs would link to the same lot package
b) instant corruption if the original lot (before copying over) was occupied, owned or had graves
The only idea that comes to my mind regarding the issue encountered is to change the lot number.
Perhaps
this can be done by changing the LTXT instance number and the lot package number only (the instance of LTXT, converted from hex to dec, is the number that appears in the package name, as in:
LTXT instance - lot package name
0x008 - N001_Lot8.package
0x009 - N001_Lot9.package
0x00A - N001_Lot10.package
...
0x00F - N001_Lot15.package
0x010 - N001_Lot16.package
etc.).
The thing that bothers me about this, though, is that Mootilda was discussing something with simsample in her thread I linked to. Simsample had issues with adding some lots, as some strings would become lost if they didn't also copy the STR#s over. Therefore, if we were only to do the above "fix" I proposed, we'd end up with either missing lot names, orphaned STR#s or both.
(On the other hand, if it's the template neighborhood that has subhoods, perhaps it is possible to write down all LTXT instances that appear in the base neighborhood package, and only move lot packages that those LTXTs link to (and leaving the subhood lot packages behind!). Maybe.)
#4

17th Apr 2016 at 9:59 PM
If you convert the neighborhood into a subhood, add that subhood to the empty neighborhood and delete the subhood again, wouldn't the game transfer the sims over? But of course, neighborhoods with subhoods cannot be changed into subhoods.
#5

17th Apr 2016 at 10:31 PM
...
I actually think your method works far better and is far more simple
and efficient
- this way, the template can have subhoods from the start, while the home neighborhood would act more like a Pets or Seasons stealth subhood (bringing only characters and no lots, as the subhood would get deleted). However, your method does rule out the home neighborhood having subhoods completely.
A random thing I thought of that I don't recall being discussed anywhere: will the graves be safe if they're in the inventory of a Sim while attaching the subhood the Sim is from to another neighborhood? Or is it mandatory to leave the graves on lots, and placing them in inventories only after the subhood's been attached?
#6

18th Apr 2016 at 4:20 PM
I consider it as dangerous to have a sim in subhood with urns in his or her inventory and add that subhood to a neighborhood. There's a chance that the game corrupts the grave inside the inventory.
So I'd add the neighborhood as usual and then move all urns into the inventory (after the subhood was attached) and move the sims out and then delete the subhood itself. That would be much easier.
#7

27th Nov 2016 at 6:04 PM
HI!
I'd tried to create a Ãœberhood on my own (packaged inhabited lot to another clean hood) and i'd just learned that my hood will explode in any minute by corruption..
So I was wondering, if your method could work many times?
For example, I do your method with pleasantview and my new hood; Can I do this again with Veronaville and my hood occupied with pleasantview sims?? And again with strangetown and my hood occupied with veronaville+pleasantview sims??
If possible, do you think the corruption (if there is with ea premade hood... I don't doubt it but I don't know either) of each hood will crash my hood??
Thanks for your tutorial and i'm waiting for your answer!!
#8

27th Nov 2016 at 8:10 PM
I'm afraid not. This tutorial can only help you if you, for example, downloaded a brand new neighborhood
with NO Sims
. Then, you can transfer ALL your Sims from a neighborhood you're currently playing to a new neighborhood.
Therefore, you only have one set of Sims that you move to new neighborhoods. For example, with only shipped neighborhoods, you can't move Pleasantview Sims to Veronaville, because Veronaville is already inhabited.
(The reason why you can't transfer Sims to an inhabited neighborhood is because with this tutorial, you're not transferring Sims, you're transferring lots and neighborhood terrain. And if the neighborhood whose lots and terrain you want previously had Sims living in it, those Sim references are still going to remain present in the lot packages, and that would cause corruption because the game would reference Sims that don't exist.)
Instead
, to create an uberhood from shipped neighborhoods, try downloading
shopping district versions
of shipped neighborhoods from
here
, and then merging all of them in a single neighborhood.
#9

27th Nov 2016 at 10:50 PM
Oh my!! Thanks a lot!! I didn't think that ''simple'' solution existed already. You save my day!!
And sorry for being such a noob i guess... that's a really long time that I didn't explore the sims community
Have a nice day ! and thanks again!
Back to top